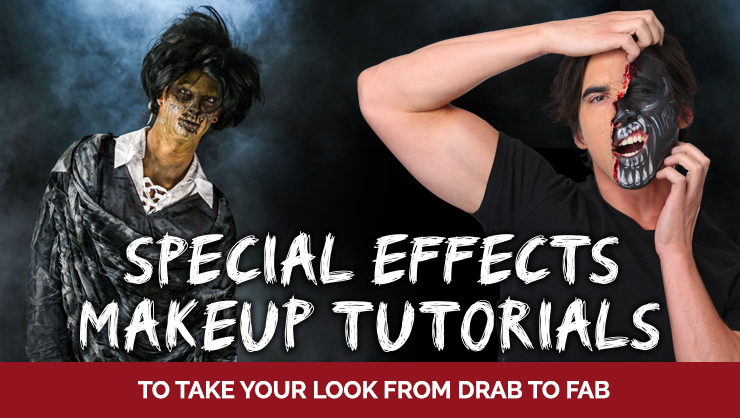 If there's anything we love more than scary costumes, it would be excellent makeup to match! Special effects makeup is a great addition to a plethora of costumes, so we gathered a few makeup tutorials to show you how to do your own blood and special effects makeup! In this makeup tutorial video roundup, we included videos for zombie makeup, vampire makeup, witch makeup and werewolf makeup as well as plenty of gory goodness. We can help you scare because we care!
Billy Butcherson Zombie Makeup Tutorial
"He could not tell her secrets even in death!"
This video will show you makeup techniques so that you can look like Billy Butcherson from Disney's Hocus Pocus. Even if you aren't cosplaying as Billy, you can still use these special effects makeup techniques to make an equally convincing zombie makeup look. (He comes back from the dead so he's basically a zombie, right?) Check out these zombie costumes if you're looking for something to go with some zombie sfx makeup!
Scary Vampire Makeup Tutorial
The veins will make you look like a vampire that's extra hangry. [source: Giulianna Maria]
This makeup tutorial from Giulianna Maria is great because it's actually scary, as opposed to the plethora of sexy vampire makeup looks that are incredibly plentiful and easy to find. With perhaps a little less emphasis on the eye makeup, this tutorial is also great for guys willing to do a little makeup too! Vampire costumes are very popular costumes for Halloween, so set yourself apart from the rest by complimenting your costume with some great vampire makeup!
Burnt Witch Makeup Tutorial
With witch makeup this creepy, you may want to distress your costume to match your makeup. [source: RawBeautyKristi]
Learn how to look scorched and sooty all at the same time! Colored contact lenses make this feel even creepier. Pair this with a disheveled looking witch costume so you can "double, double toil and trouble; fire burn and cauldron bubble"!
Clawed Werewolf Makeup Tutorial
Beauty makeup, face painting techniques and fx makeup come together to complete this werewolf look. [source: Bella Makeup]
This werewolf makeup tutorial by Bella Makeup on YouTube does a great job of mixing glam and gore elements together for a seamless werewolf transition. We love the feathered makeup technique she used to help make her eyebrows and hairline appear furry! (It's certainly a better alternative to attaching faux fur to your face with spirit gum!) Many werewolf costumes come with a hood or mask, but if you know that you or your child isn't fond of wearing masks, makeup is a great alternative! (You also won't get stuck carrying their mask when they decide to ditch it after three blocks.)
Corpse Bride Skeleton Makeup Tutorial
Get ready to use some fun makeup products! Glow-in-the-dark makeup is fun if you have a good costume to match. [source: Alexa Poletti]
While this isn't a movie-accurate Corpse Bride makeup tutorial, you will learn different techniques to effectively use makeup face paints. The advice given by Alexa can be applied to other paint-heavy costumes like Day of the Dead costumes, skeletons and clowns.
Alien Torn Face Makeup Tutorial
Two faces are better than one.
Watch this video to see how to create a ripped face look. Not only is this good Alien makeup, but it could also work for zombies and other strange and grotesque creatures with peeling skin.
Gore Makeup Tutorials
This video is jam-packed with gore and creepy face paint goodness. [source: MODA E. M. Design]
This gore makeup tutorial video is such a wonderful mash-up of gory goodness like the Glasgow smile, a slashed throat, ripped faces and more! You can certainly do a lot with some liquid latex and tissues. There are plenty of scary costumes you can pair with these special effects makeup looks, such as scary clown costumes. No one wants to meet someone in a clown costume with a Glasgow smile. "Now I'm always smiling!"
With so many tantalizingly terrifying makeup tutorials available, we certainly hope you try some of these makeup tutorials for Halloween! With so many types of special effects makeup supplies available, these videos will help you figure out what supplies you will need in order to get started. Have you ever done any special effects makeup before? Are there any theater makeup techniques you're looking to try? Please feel free to share your experiences and wishes with us in the comments! We're always on the lookout for cool new makeup techniques too!