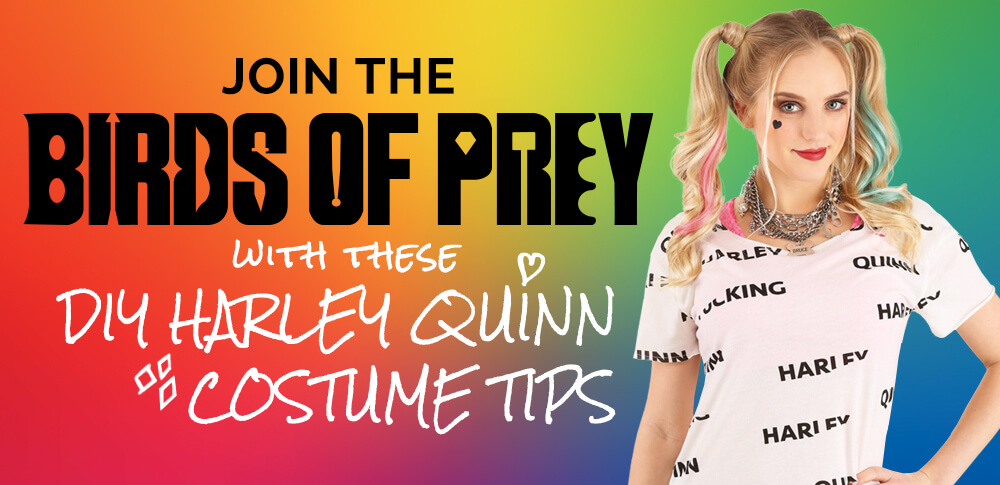 Harley's back! One of the best parts about Harley Quinn: Birds of Prey was seeing all of her new outfits. She had quite a few new outfits in the film, some of which are easier to recreate than others. (We're looking at you, clear caution tape and ribbon-sleeved jacket!) One of the easiest Harley Quinn outfits to recreate from the new film is her distressed tee and shorts look. If you're looking for a Harley Quinn cosplay that's comfortable, recognizable and a lot of fun, this is the costume for you!
Birds of Prey Harley Quinn Costume Accessories

The main part of your Harley Quinn cosplay is already done for you with this Birds of Prey distressed t-shirt and Harley Quinn's Bruce necklace. With some distressed denim shorts and fabric paint, making Harley's shorts from the movie should be a breeze. You will also need some pink and blue colored hair spray, and some pale matte face powder to achieve Quinn's complexion. You can find some good quality white face powder in the WWE makeup kit, which you can add on top of your regular beauty makeup. (We don't recommend using white greasepaint if you don't want to go full clown mode!) You also have the option to add other accessories like Harley Quinn's mallet or a cosplay wallet to keep your essentials covert at the con.
Harley Quinn Pink and Blue Pigtails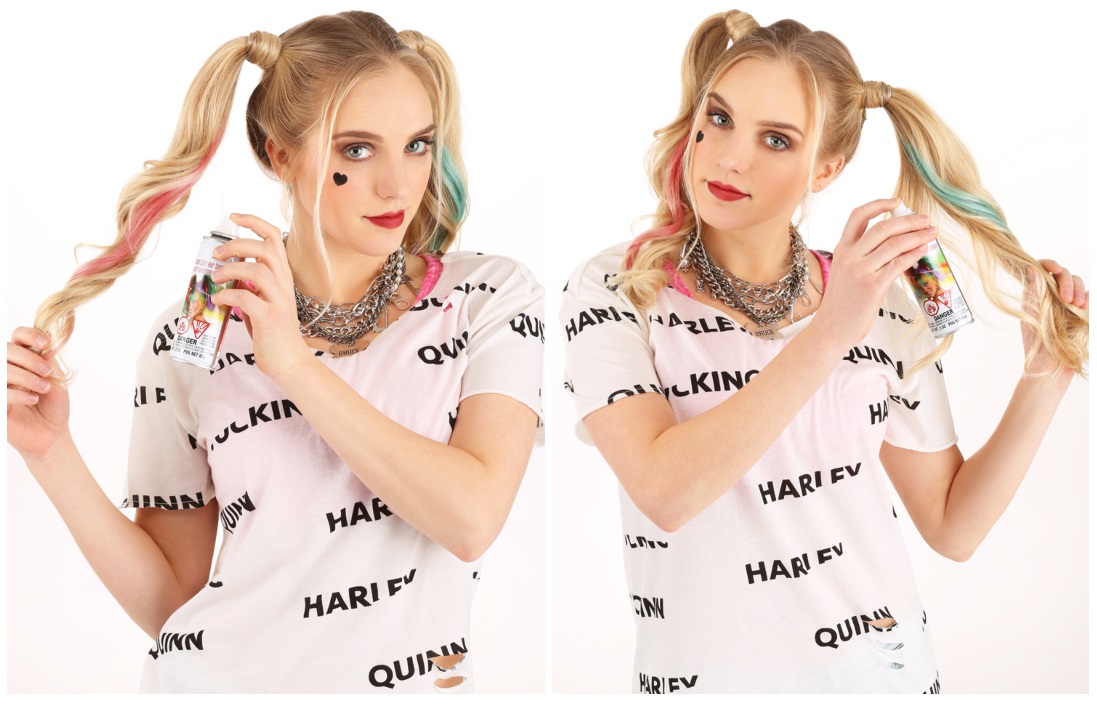 Blondes already have a head start, but you can always color and style a blonde wig.
No matter how you decide to do your hair, you'll want a blonde base in order to start. If you have been blessed with blonde hair you almost have this step down, but non-blondes will want to acquire a blonde wig to style and color. Cans of colored hair spray will certainly do the trick, especially with natural hair. If you want a more permanent solution for your cosplay wig, you can always try the sharpie marker or other dying method to get colored pigtails.
Birds of Prey Harley Quinn Makeup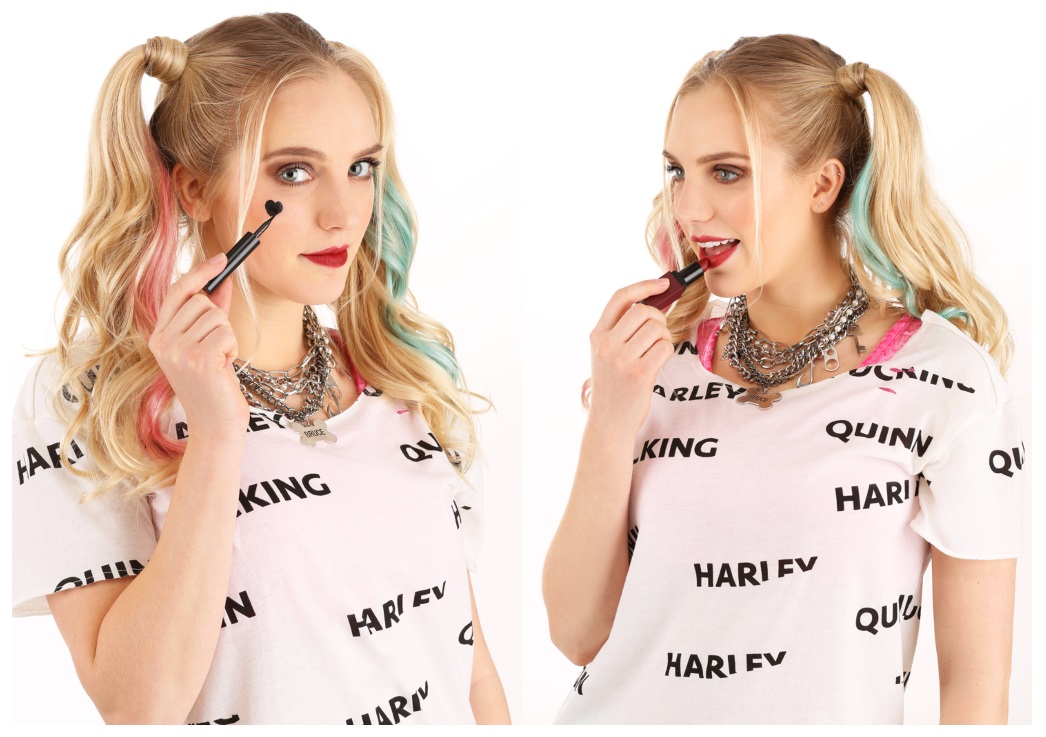 Eyeliner and a good lip color are key.
Harley Quinn's makeup in Birds of Prey is fairly simple, but you don't want to forget any od the finishing touches. After doing your normal beauty makeup routine, we recommend using the matte white face powder from the WWE makeup kit that we mentioned earlier to take your complexion down a few shades. (Without looking like a ghost!) Birds of Prey Harley Quinn's facial tattoos can also be drawn on using a precision liquid eyeliner. Last but not least, you'll want to use a bold yet fairly matte red lip color to look like Harley in the BoP movie!
Completed Birds of Prey Harley Quinn Costume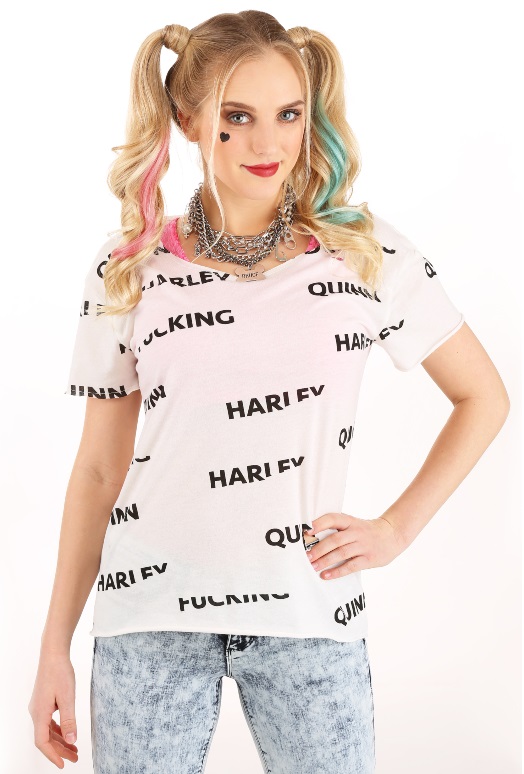 It was time for Gotham to meet the new Harley Quinn.
Once you put it all together, you have yourself a really cool Harley Quinn costume. (And as an added bonus, it's also pretty comfy!) Even if you aren't planning on going out to a comic book convention or a Halloween party, you can get away with wearing some of these Harley Quinn costume accessories as part of your geek chic outfit. A pop culture tee? That's everyday wear for some of us. Do you want a temporary pop of color in your pigtails? If you can't get away with it at work, you can always get a little crazy in the stands at a game. We're also reasonably sure that you can use a Harley Quinn wallet any day of the week.
Other Harley Quinn Costume Ideas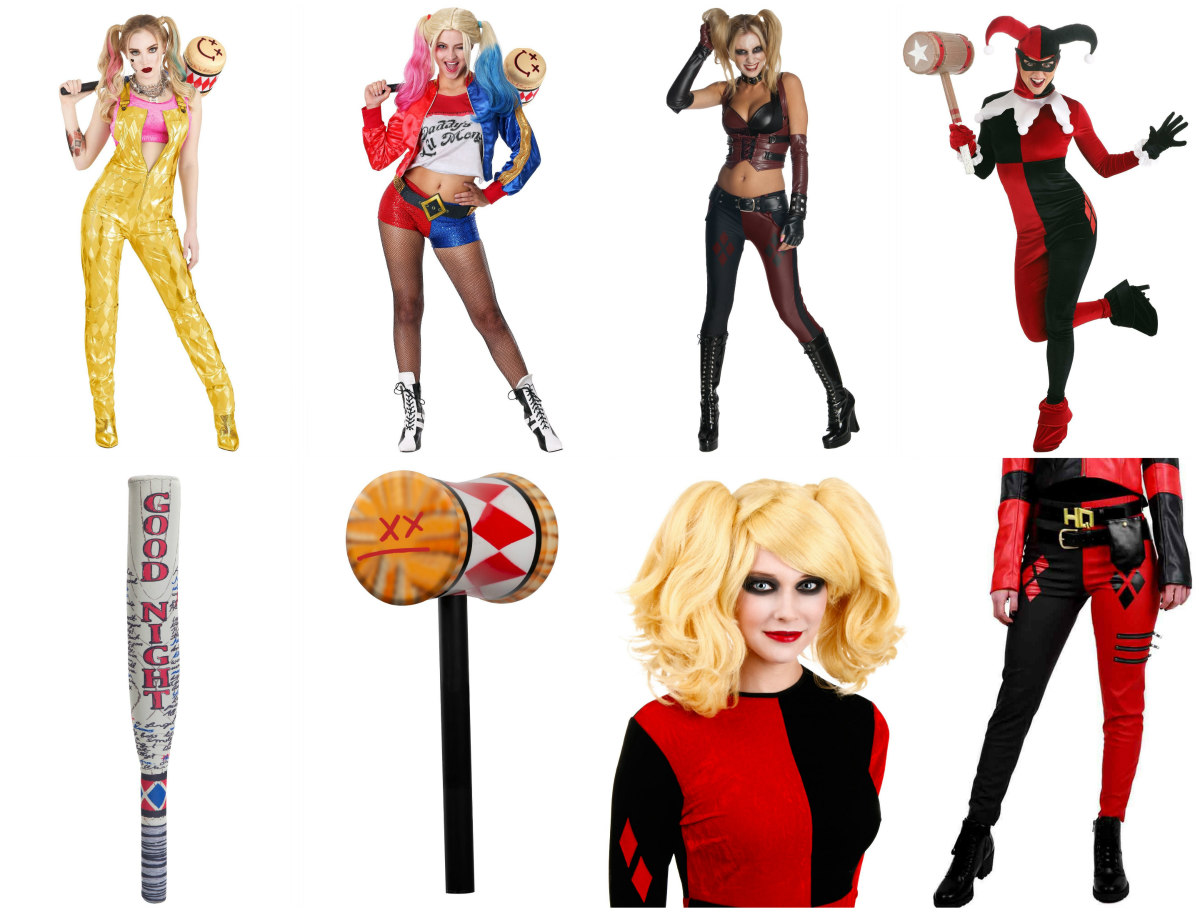 As we all know, Harley Quinn wears whatever she wants, and she has a ton of other costumes perfect for your next Halloween party or comic convention. You can pick your favorite DC costumes or even craft a custom Harley Quinn outfit using some of your own clothing and a few harlequin accessories. As long as you have alternating black and red or black and blue accessories with diamond patterns, you're sure to be recognized as Harley Quinn.
We hope you have plenty of ideas for your next DIY Harley Quinn cosplay. Do you have a favorite Harley Quinn outfit? Do you prefer her bat or her mallet? Are there any other DC characters you're interested in cosplaying? Feel free to share your thoughts with us in the comment section below. Get ready, ladies!