Avengers Costume Ideas
In a world full of super villains who are just itching to unleash their latest plan for total world domination, there's only one true hope for Earth… the Avengers! They come from every corner of the Earth, and these powered up Marvel heroes have no problem walloping a few bad guys in the name of justice. Of course, they do get to wear some pretty awesome superhero costumes while they do it! Thor gets to wear that crazy glowing armor, Captain America gets a full suit of stars and stripes, and Iron Man? Well, he gets a set of mechanical armor that looks like it came off of a hot rod showroom! Being the Avengers costume experts that we are, we couldn't help but bring together the best of the best when it comes to Avengers costumes, along with some friendly tips for anyone trying to take their first steps into the world of being a true superhero.
Couples Superhero Costumes
The Avengers are always stronger when there's more than one, so bringing along a partner is always a better idea than going alone. If you plan on heading into the fray, then you should definitely bring your significant other with you. It just so happens that there are plenty of great Avengers costume combinations that work for creating a team of two to take down villainy at your next costume party. Here are just a few ideas to spark your creativity!
Hulk Halloween Costume and Women's Iron Man Costume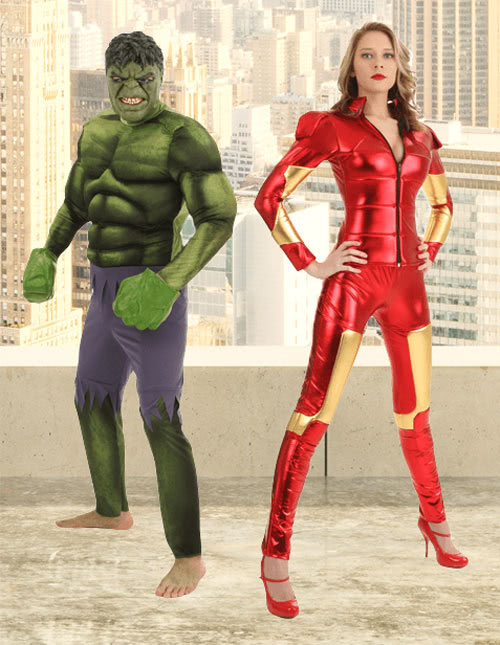 If you've seen any of the Avengers films, then you know that Tony Stark and Bruce Banner make a great team. It makes sense since both of them are brilliant scientists with IQs that are off the charts. (Yay science bros!) They're a perfect duo. The Hulk costume is kind of obvious, since that just takes a green suit and some attitude. Of course, you'll have to do a little gender-bending with the Iron Man role, but we have the perfect female Iron Man costume for the job. Just make sure that you don't destroy an entire city if you get in a scuffle (like what happened in Age of Ultron).
Captain America and Black Widow Halloween Costume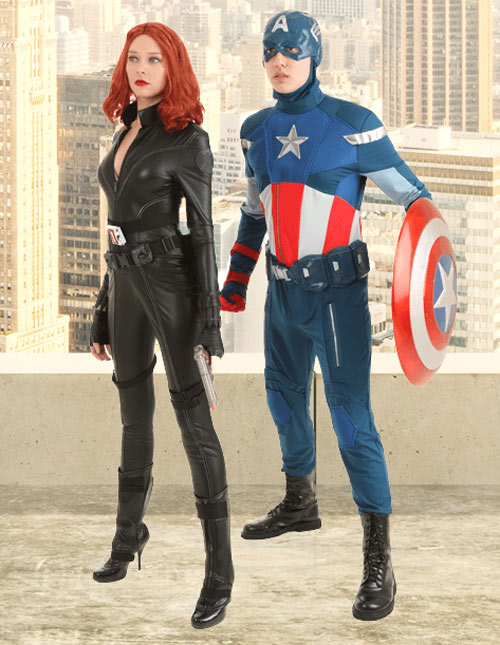 Cap and Black Widow seemed to have some pretty strong chemistry in The Winter Soldier… but alas, romance was never meant to be for those two. Endgame made extra-certain of that. However, that shouldn't stop you from living out that fantasy with your significant other. We have plenty of great Black Widow costumes and Captain America costumes for you to choose from so you can craft the perfect Avengers couple's costume. You can head out on secret missions for S.H.I.E.L.D., or you can just head to the next costume party to fight against the forces of evil! Just make sure you grab a few of our Marvel superhero accessories to round out your crime-fighting look!
Hulk and Black Widow Costume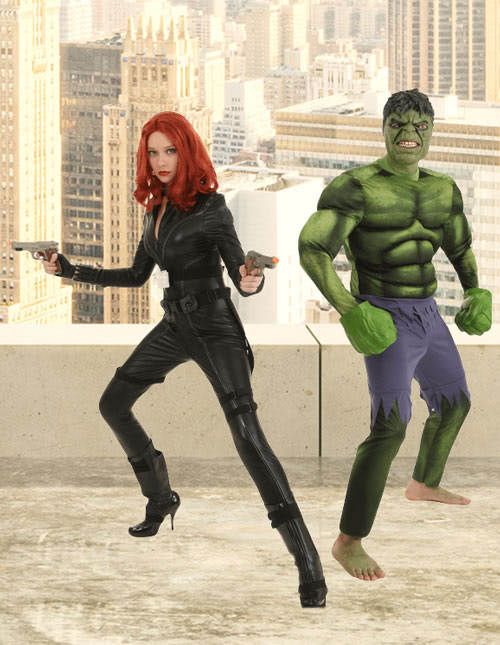 And now, for the canon couple! In Avengers: Age of Ultron, Ms. Romanoff and Dr. Banner seemed to have the hots for each other, even in the midst of fighting against Hydra. Becoming this iconic silver screen couple is quite easy. Just mix your favorite Hulk costume with one of our sexy Black Widow costumes and you'll have a look that's deadly enough to make any Hydra agent cower in fear. Just make you channel the chemistry of Nat and Bruce, since you'll want to be able to calm down quickly after taking down bad guys.
Avengers Costumes for Kids
It's no surprise that kids love the Avengers. After all, what kind of kid doesn't pretend to run around the house using their superpowers to save the world from villainy? Well, the good news is that we carry plenty of Avengers costumes for kids. If your child is feeling ready to take on Ultron, Loki, or even just an army of pretend ninja bad guys, then he may just be ready to jump into one of these outfits!
Marvel Halloween Costumes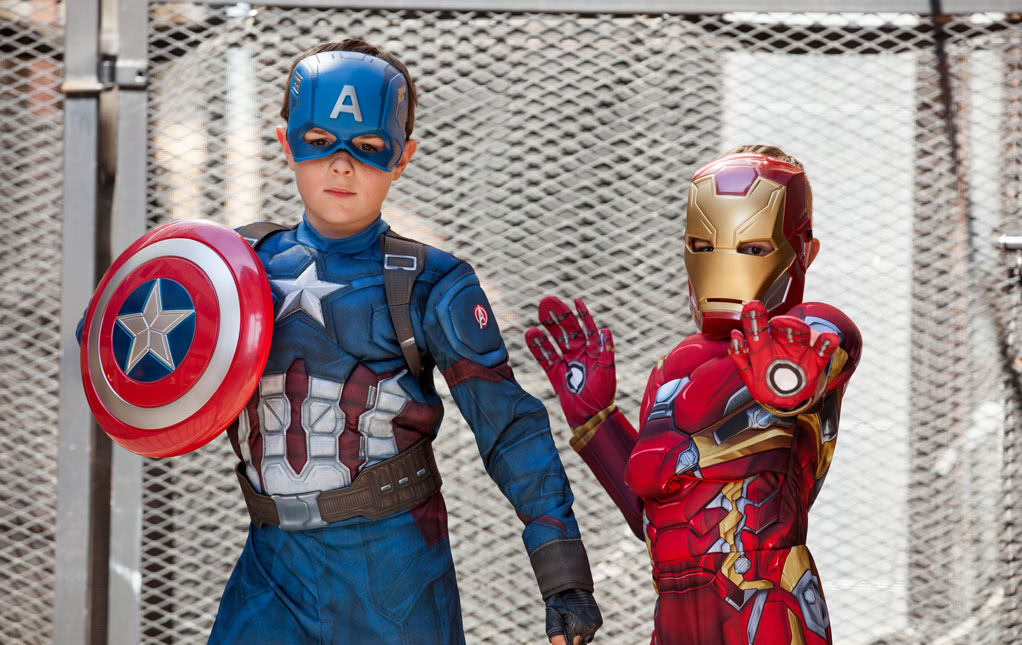 It might be a bit daunting to figure out which Avengers costume to pick for your child, but when it comes to Marvel superheroes, pretty much every single one has been a part of the Avengers team. That's why you can select any of our Marvel costumes for kids and they'll feel right at home joining the team. Every character from Ant-Man, to Vision, and even Spider-Man are all fair game for costume selections. Even wild cards like Wolverine and Deadpool have technically been a part of various Avengers teams in the comic books!
Iron Man Costume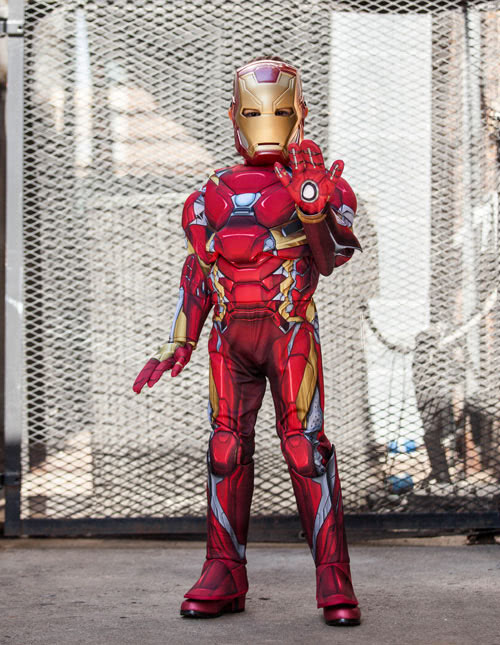 Iron Man has been in the driver's seat of the Avengers team for many of the movies and also in the comic books. And lately, he's been doing it with a spark of flair not seen in any of the other heroes. If your child has an affinity for bright colors, flashy moves, and some seriously sarcastic banter, then he might be ready to jump into the role of Tony Stark with a kids Iron Man costume. You don't even need to break out your power tools to give him this look, since this version of the Iron Man costume comes with a full-body jumpsuit and mask that look like the ones that Tony wears in the movies.
Captain America Avengers Costume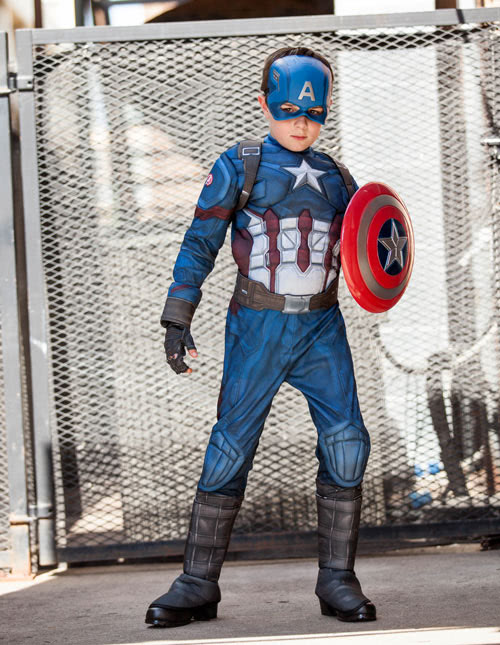 Iron Man may be the intellectual force behind the Avengers, but Captain America is definitely the heart and soul of the team. He's willing to sacrifice life and limb to make sure that the world, and the rest of his teammates, can breathe a sigh of relief. If your kid has an unshakeable resolve and a heart of gold, he might be ready to suit up as the star-spangled hero with a Captain America costume for kids. He can give bad guys a little taste of the old stars and stripes as he wears this full Captain America jumpsuit that comes complete with a hero mask! It even makes for a great 4th of July outfit. Just make sure you equip him with one of our Captain America shields so he can defend himself from the likes of his buddy in the Ultron costume.
Avengers Words of Wisdom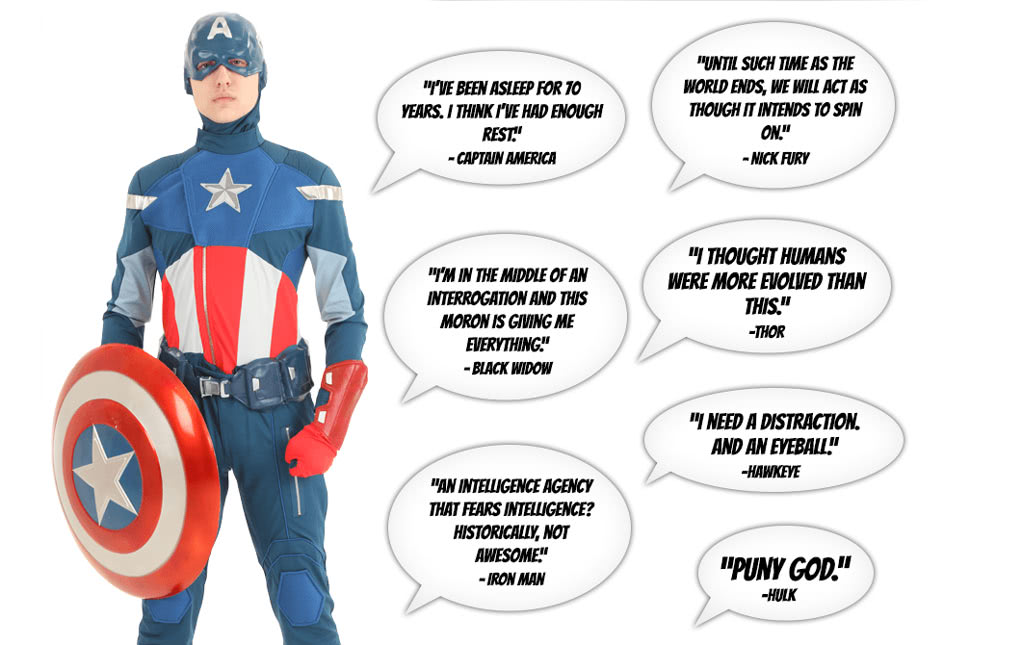 "I've been asleep for 70 years. I think I've had enough rest." - Captain America
"Until such time as the world ends, we will act as though it intends to spin on." - Nick Fury
"I'm in the middle of an interrogation and this moron is giving me everything." - Black Widow
"I thought humans were more evolved than this." - Thor
"An intelligence agency that fears intelligence? Historically, not awesome." - Iron Man
"I need a distraction. And an eyeball" - Hawkeye
"Puny God." - Hulk