Military Halloween Costumes
Everyone dabbles with the idea of joining the Army at some point in their life. After all, Army soldiers are some of the bravest people on the Earth, protecting the citizens of their nation. The U.S. Army has a long history of ensuring the safety its citizens, dating all the way back to the nation's founding. They courageously fought in both World War I and World War II, and they have never backed down from a fight that they deemed worthy of America's attention. If you ask us, they're basically like real-life superheroes.
Of course, being a soldier isn't exactly a walk in the park. You need to engage in intense training and it can be quite dangerous—that's why so few people actually join. That doesn't necessarily mean that you have to give up that dream of dressing like a military professional. Costume parties and Halloween give you the opportunity to dress up like the real heroes of our nation and this guide to army costumes should help you select the perfect look for dressing up like your role-models from the military.
Now, we'd like to take this opportunity to state that these are military Halloween costumes. They're meant for costume purposes and should never be used as an actual uniform, or as a method to attempt to misguide anyone into believing that you're an actual member of the U.S. Army. Keeping this in mind, if you plan on paying homage to your favorite soldier or branch of the military, then let us begin exploring the many options you have! From army outfits for men and women, to airforce and navy costumes for kids, this guide should help you select the perfect army outfit for you and your friends and family.
Army Costumes for Men
Let's start out the guide with some Army costumes for men! We do carry plenty of realistic looking costumes based on the modern military man, but many of our military costumes also draw inspiration from video game portrayals of tough soldiers. Whether you decide to play it straight as an honorable member of the Army, or you want to cosplay as your favorite character from the Call of Duty games is completely up to you.
Army Halloween Costume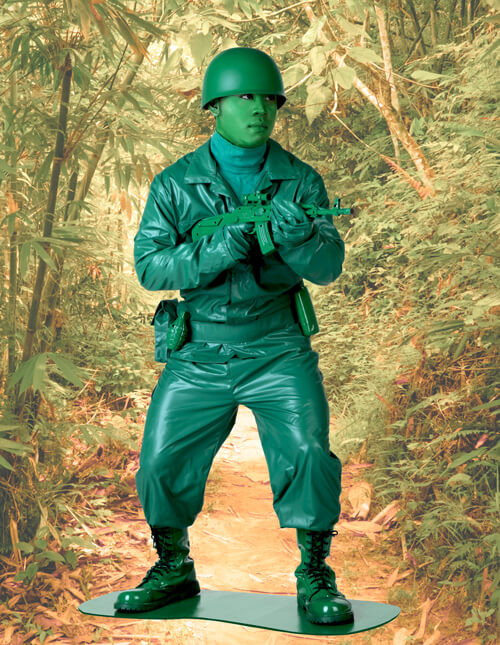 Nothing evokes the image of the military more than the humble plastic green Army Man figure. Kids used to buy them in droves, setting up complex battles in their room. They made their way to plenty of movies, like the Disney classic Toy Story. So, it seems quite fitting to begin your search for a costume there. This army Halloween costume has a molded plastic kind of look, so you can wear it to look like the popular children's toy. Just make sure to pair it up with some of our green accessories to complete the look.
Skull Army Outfit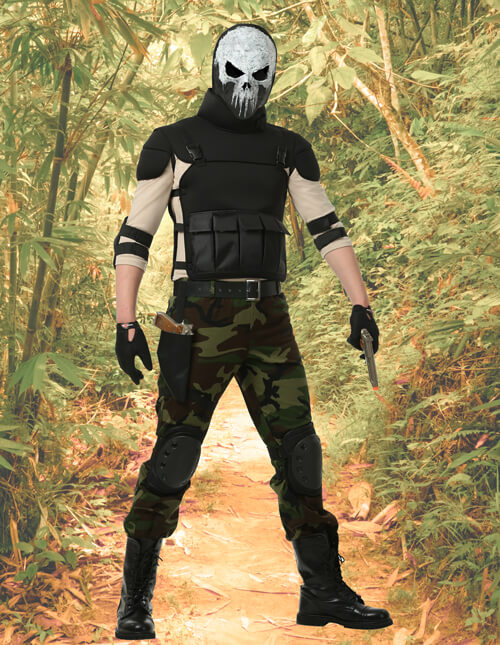 Military themed video games have become quite common in the last few decades. Games like Call of Duty, Medal of Honor, and the Battlefield series have all cultivated a certain tough-guy kind of appearance. Although these types of army outfits might not be common in actual military service, this adult Skull army outfit presents an intimidating look that would fit right in with Call of Duty style games. Don this deadly-looking skull soldier costume and you'll look ready to head out on any secret ops mission.
WWII Army Costume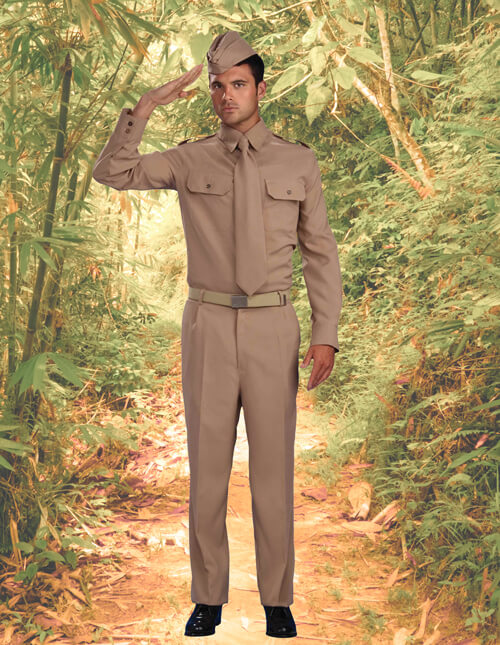 World War II presents perhaps one of the darkest times in humanity. However, it also bred some of the bravest men and women that the world has ever known. They aren't known as "The Greatest Generation" for nothing! If you want to dress up like one of the many WWII soldiers who fought for the Allies during the Great War, then you're going to want this WWII Army Costume. It has a vintage appearance and will make you look like an enlisted man returning from a great victory!
Military Drill Sergeant Costume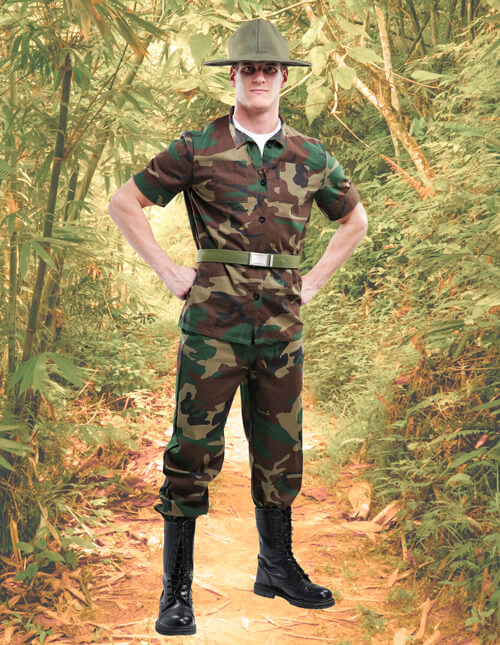 Ten-hut! Ever had the dreams of whipping some green cadets into shape? Do you like giving the orders, instead of taking the orders? Do you have a really loud talking voice, even when you're just trying to have a calm conversation? Well, perhaps you'd fit right in as a drill sergeant. This military drill sergeant costume is exactly the outfit you need. It has the iconic look of that bad mother shut-your-mouth that gives those grunts a good talking to. Make sure to pair this drill sergeant costume with your loudest and grittiest shouts!
Army Costumes for Women
Next up is our army costumes for women. We offer a pretty large variety of costumes, including some rather realistic looking ones and others that are designed more with a sense of fashion in mind. You just need to make the decision on whether you'd like to wear a sexy outfit, or if you want to keep it real when you rock the camouflage. Here are some of our best women's army costumes.
Sexy Army Costume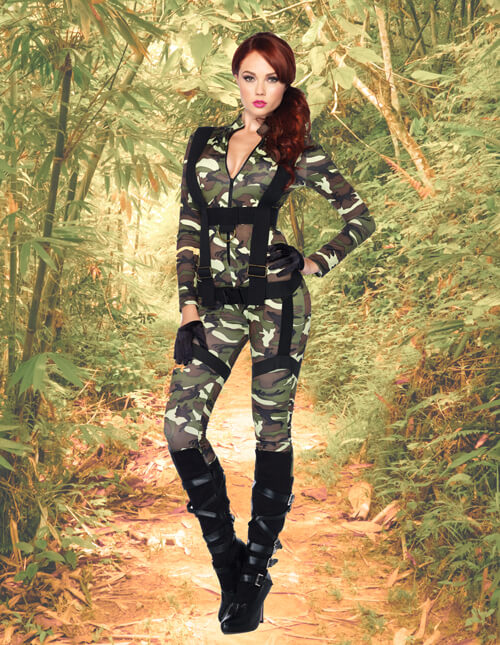 This first costume is definitely not a standard issue outfit. This sexy Army costume is one of our many sexy costumes for women. While it's not exactly what women of the military actually wear into combat situations, it will give you an ultra-cute look that will have you feeling confident enough to play the role of a soldier. It comes with a form-fitting jumpsuit with a zip up front, allowing you to control just how sexy or conservative this camo outfit looks.
Women's Army Outfit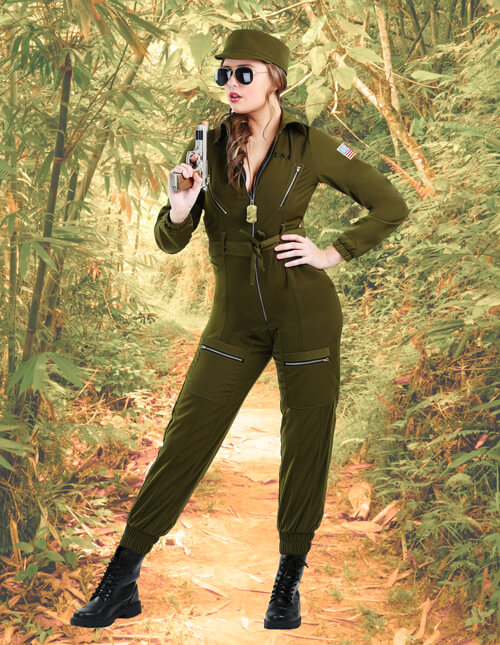 This women's Army outfit is one of our many exclusive costumes, designed by our very own costume designers. It looks a little more like something that you might actually see in the military. The outfit does take a few liberties with design to create an outfit that is both functional and stylish. You can assume the role of one of the Army's top pilots, since it comes with a full flight suit style jumpsuit. The zip up front and the waist belt help you adjust the look and to finish it all off, it comes with a cadet hat. You'll look like you just finished your cadet training when you put this ensemble on!
Women's Camo Military Costume
Sometimes, simplicity is the best rule when creating your costume. The tried-and-true toga is a prime example of this concept. This women's camo military costume uses that idea to create a look that's fresh out of boot camp! This army costume comes simply with a green top and a pair of camo pants, which can be combined with any of our many military accessories to create a miliary costume that can make you look like a full-on commando or a fresh from training recruit. It's really up to how you use your accessories!
Sexy Military Costume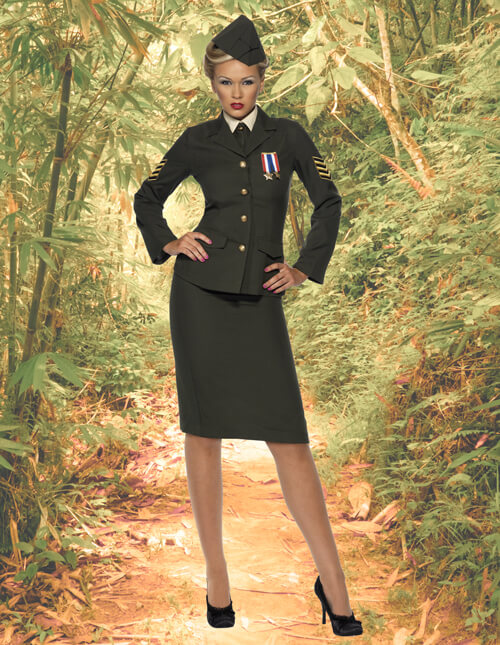 Vintage outfits have a way of capturing timeless looks, don't they? This sexy military costume helps marry the classic look of a World War II officer with a vintage flight girl. This particular army outfit has a skirt that's cut a bit higher than probably would have been acceptable for actual enlisted women from the 1940s, but it does help add a cute style that fits in with contemporary fashion. It comes complete with a jacket, skirt, tie, and hat. It really does blend the best of both worlds into one great outfit.
Army Costumes for Kids
Some kids have dreams of growing up to be the heroes from their favorite movies and tv shows. Others dream of being firefighters, but some kids have dreams of serving their country like their family members, even at a young age! After all, the brave men and women who serve their country are a little bit like superheroes… without the tragic backstory or exposure to gamma rays, of course. We think it's a great idea to dress your child up like an army soldier to remind them of the many people who protect our freedoms. Here are some of our favorite army costumes for kids.
Army Girl Costume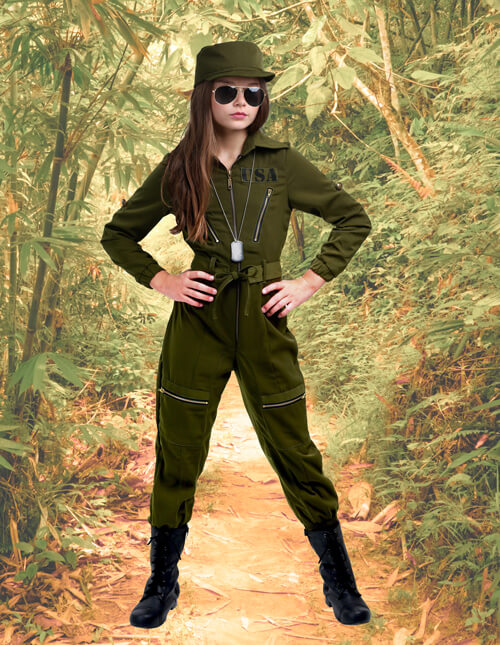 If you have a little girl looking for realistic army costumes, then she may want to try this army girl costume. It's an exclusive design which recreates the look of army flight suits, except it's in a size that's perfect for your young recruit. It also comes with a hat, which is important in creating any great military outfit for a kid!
Army Costume for Kids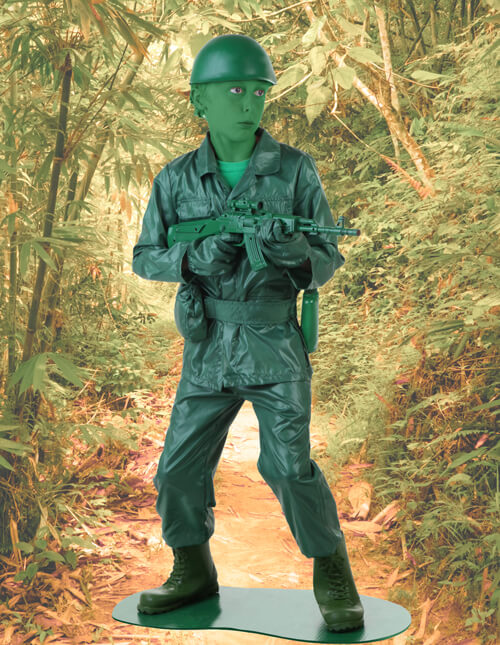 Does your kid ever play with Army Men, the little plastic toys from your childhood? These days, green army men might not be quite as popular as they once were, but it's still certainly an iconic look. This army costume for kids helps recreate that look with a full outfit that looks like it's made out of molded plastic. You can use some green face paint to really finish the look.
Toddler Military Costume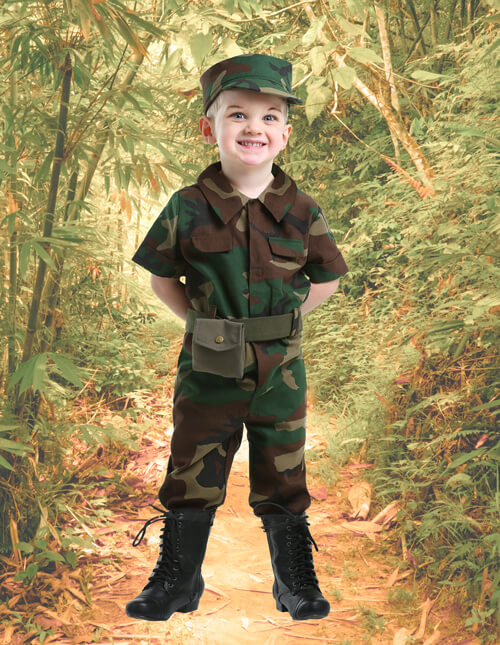 Who would have ever thought you'd be taking orders from a little tot? Well, that's exactly what's going to happen when you dress your little one in this toddler military costume. It's one part adorable and one part military soldier, so you won't know whether to salute your little one or give him a hug. The camouflage style makes your toddler look like one tough little drill sergeant.
Kids' Army Costume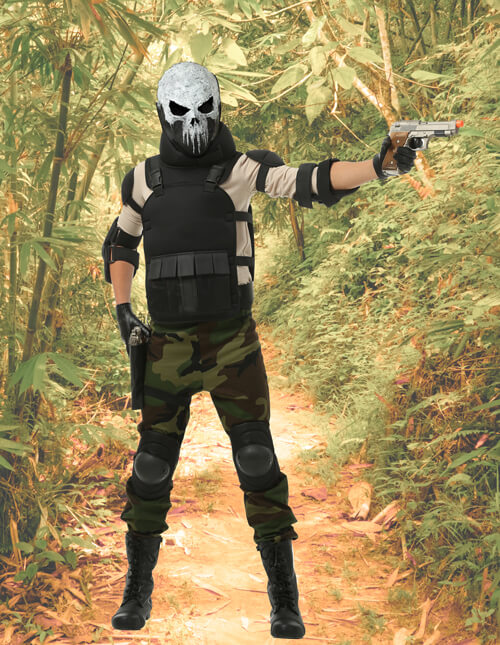 This intimidating kids' army costume might not exactly be the kind of outfit that real soldiers wear on the battlefield, but it does make for an imposing costume for your child to wear! It takes inspiration from various military video games and comes with a skull mask, along with camouflage pants and black faux flak jacket. He might even evoke the style of The Punisher with this kind of look!
Realistic Military Costumes
For some, a costume isn't complete until you have a look that's downright indistinguishable from the real thing! They want the absolute most realistic look possible. With our realistic military costumes, it's quite easy to craft an appearance that looks like it came straight from the barracks. We have plenty of outfits that are actually licensed by the U.S. Army. They use plenty of brilliant digital camo patterns and faux flak jackets to help you attain a truly authentic style.
Soldier Costume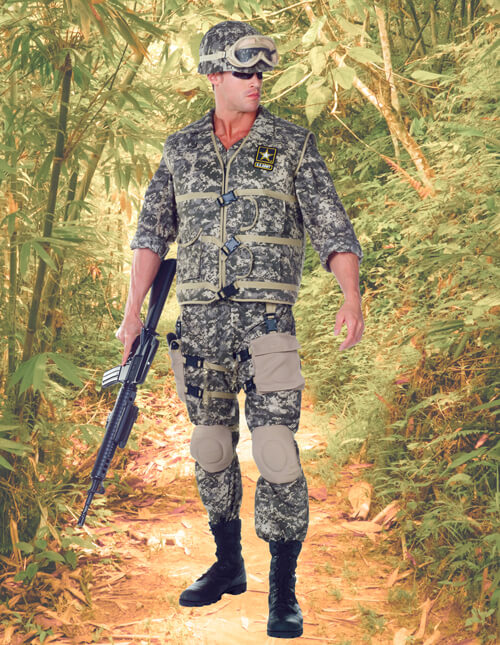 This soldier costume captures the undeniably iconic style of the Army. It's even licensed from U.S. Army, so it's about as accurate as you're going to get without joining the military. It comes with a full digital camo outfit and it even has a faux flak jacket to really make you look ready for an elite mission on the battlefield. Pair this up with some of our toy weapons and you can finish the look with ease.
Vintage Army Costume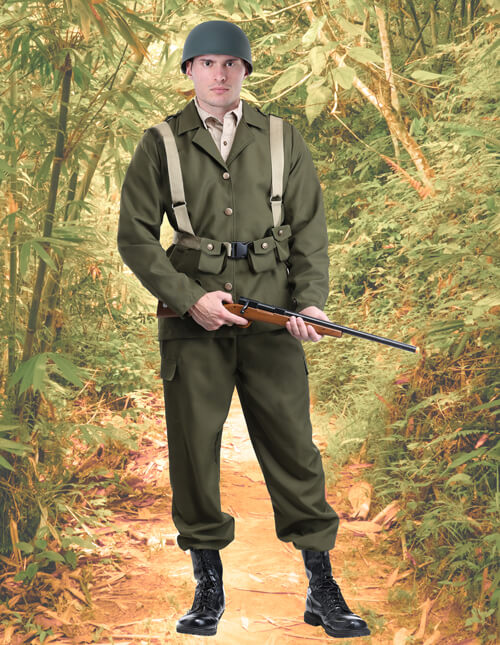 Looking for something realistic AND vintage? Well, then nothing will beat this vintage army costume, which helps whisk you back to the time of the greatest generation! This military costume evokes the look of an army recruit who's ready to head across the seven seas to serve in the great World War! The dark green jacket and pants combination really drive home the vintage look of a soldier from the greatest generation.
Army Costume for Boys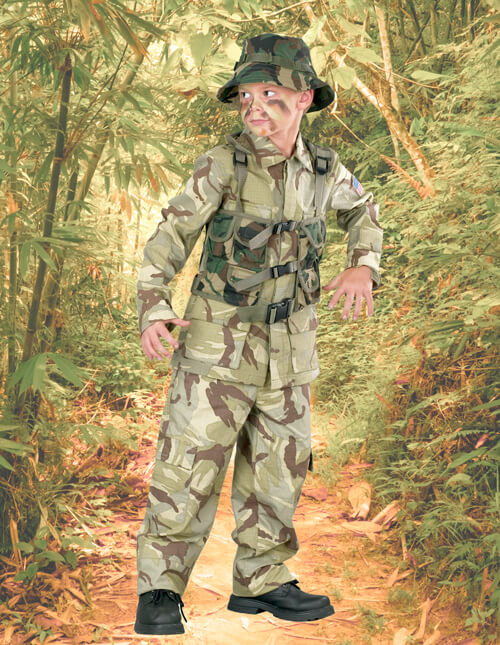 If you want your child to have a realistic look that turns him into an elite operative on the battlefield, then look no further than this Army Costume for boys. This costume takes inspiration from the outfits worn by U.S. Army Rangers, some of the most skilled soldiers out there! It has a jungle camo style and comes with a jacket and pants set that will look great as he's playing pretend commando.
Kids Soldier Costume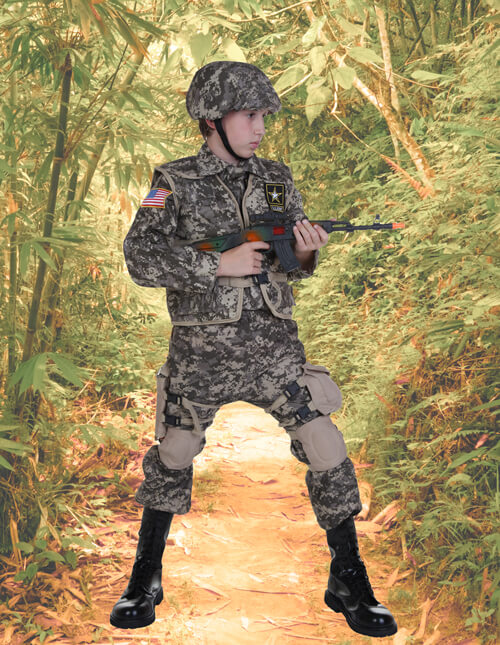 Realistic army costumes aren't just for adults. We carry a selection of kids military costumes that are quite realistic as well. This kids soldier costume brings together the look of the adult version, except it comes in a size that your young hero-to-be can wear. This version is also based on the actual military outfits worn by U.S. Army soldiers. It even has an official U.S Army patch on the side of the sleeve.