Stranger Things Halloween Costumes
Netflix's hit show Stranger Things changed the game. It's a mixture of sci-fi, drama, 80s nostalgia, and even horror. It features adorable middle-school kids, melodramatic teens, corrupt scientists, a gateway to a different dimension, and a terrifying monster with infinite rows of razor-sharp teeth. The Duffer Brothers created an instantly likable show for people of all ages. It's a family show with a few scary moments sprinkled in here and there. Cheering on Will, Mike, Dustin, Lucas, and Eleven is a great time for the whole family. They really are a magnetic and charming group!
The friends have been through a lot of drama even though they're not old enough to drive yet! One night, Will suddenly disappears. Next, they meet a new friend with supernatural powers (Eleven), then Dustin nurtures and takes care of a baby Demogorgon. (In Dustin's defense, Dart was really cute at one point.) All of these characters, and many more featured in the show, have a unique look, perfect for recreating. This Halloween, all of these Stranger Things costumes will cause a commotion, just like the TV series. They're all iconic, relevant, and recognized looks easily recreated with officially licensed Stranger Things Halloween costumes, or you can use clothing you already own mixed with a few new accessories. They translate perfectly into amazing group costumes. Go on an adventure with your crew but be on the lookout for a Demogorgon. It could be coming to a town near you!
Win the costume competition with help from our wide array of Stranger Things Halloween costumes! They're cute, easily identified, and fun to wear. Plus, we have all your favorite characters. Make people run for their lives in a head-to-toe Demogorgon costume or entice them to pinch your cheeks while dressed in a Dustin costume. Whatever character you decide to impersonate, you'll look spot on and instantly loveable.
Demogorgon Costume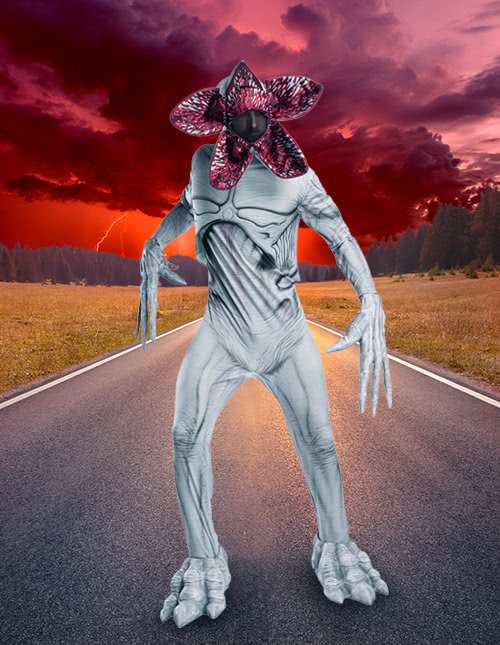 What has four petals, hundreds of teeth, sharp claws, and can jump from dimension to dimension? A Demogorgon and now you can transform into one. Don't worry, it doesn't involve a trip to the Upside Down or hatching from an oozing egg. The officially licensed and exclusive costume is made up of a jumpsuit with an attached chest piece creating an eye-popping disguise. The hood has a mesh inset to see out easily and the included hand and shoe covers complete the look. Wear it and become the strangest character from Stranger Things. (It's an honor!)
Hopper Costume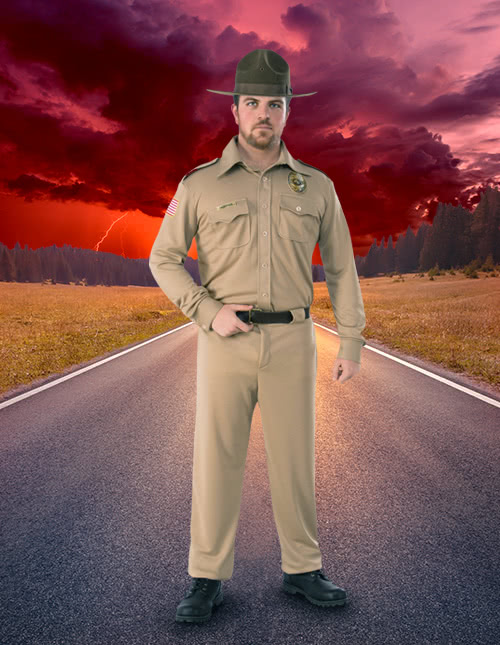 Around here, we're Team Hopper. Sure, he comes off as gruff and standoffish but he's actually a sweetheart. He's a great father figure to Eleven (because her Papa is a psycho), he's very supportive of Joyce, (we hope those two become an official couple soon), and he's a courageous protector to the entire town of Hawkins. The officially licensed Hopper costume comes with everything you see, even the hat and sheriff badge. Keep everyone safe from Demodogs and Demogorgons by impersonating our favorite police chief!
Dustin Costume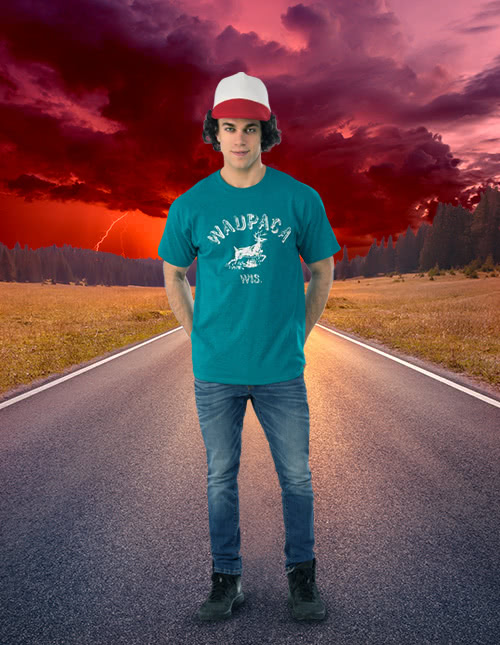 Everyone loves Dustin because he's adorable; it's as simple as that! He's also a quick-witted little dude who's great at cracking a joke. Dustin is easily a fan-favorite and you'll be too when you impersonate him using this Dustin costume. It's a great low-maintenance disguise because it's just a t-shirt. Pick up the coordinating Dustin hat with attached curly wig to get the exact look pictured here. This trucker hat is the perfect accessory to your Stranger Things costume. Now, you're ready to hop on your Huffy for a D&D meet-up with friends!
Barb Shirt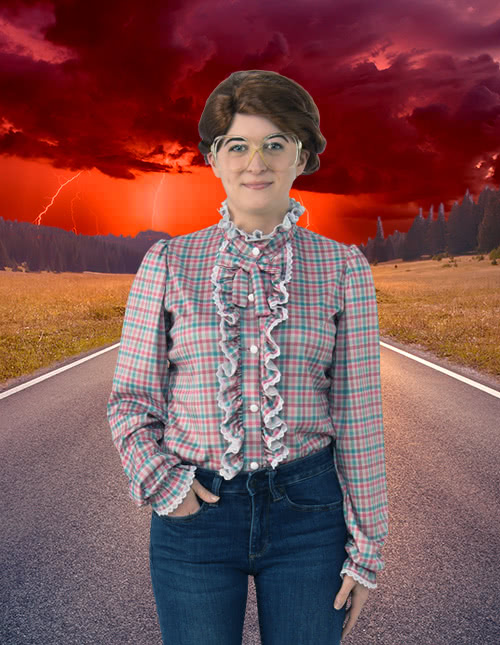 Barb, our hearts break for you! You were a best friend to Nancy Wheeler, a great student, and we won't let you be forgotten. Your image will live on with help from the Barb shirt. Fans can use it to create their very own Barb Stranger Things outfit, just pick up some high-waist jeans, a wig, and a pair of thick-framed glasses to complete Barb's iconic look. Get ready to be praised and admired since Barb was the breakout star from Stranger Things. (Justice for Barb!)