Pilgrim Outfits
Wearing a festive Pilgrim costume can be a great way to bring the family together, look great for some seasonal photos, and also to learn a little about the settlers that came before us. But it's also a ton of fun or it can be a new and interesting way to spice up the festivities. Really a win any way you slice it! Just see what Uncle Joe says when you plop down next to him on the couch in a Thanksgiving turkey costume. Or wear your favorite Pilgrim outfit when you're busy baking all of those pies or preparing the stuffing. Whatever kind of costume fun you imagine this Thanksgiving, we have some pro tips and helpful advice on how to rule the holiday in authentic puritan costume style!
Men's Pilgrim Costume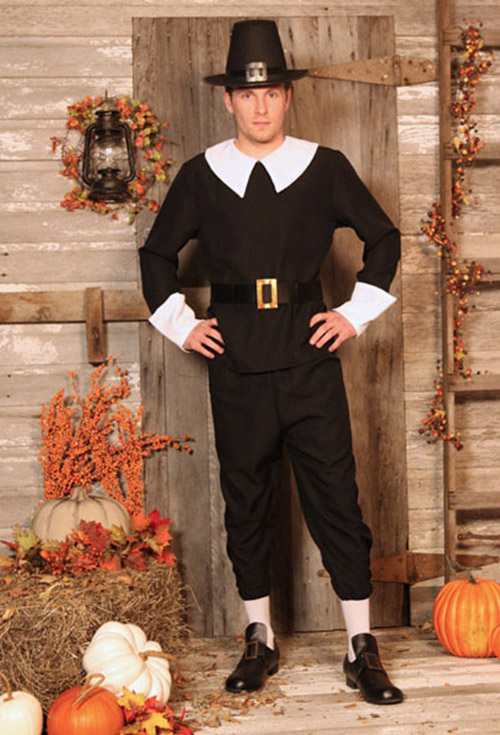 Gold buckles and Pilgrims go together like turkey and stuffing! You'll be able to look like a classic Pilgrim lad when you go in this traditionally styled costume. Details like on over-sized collar, collared long sleeves and gold buckles on this Thanksgiving costume will make you look like a regular resident at the Plymouth Plantation. It's the perfect outfit to wear to the big feast—just don't forget your matching pilgrim hat!
Women's Pilgrim Costume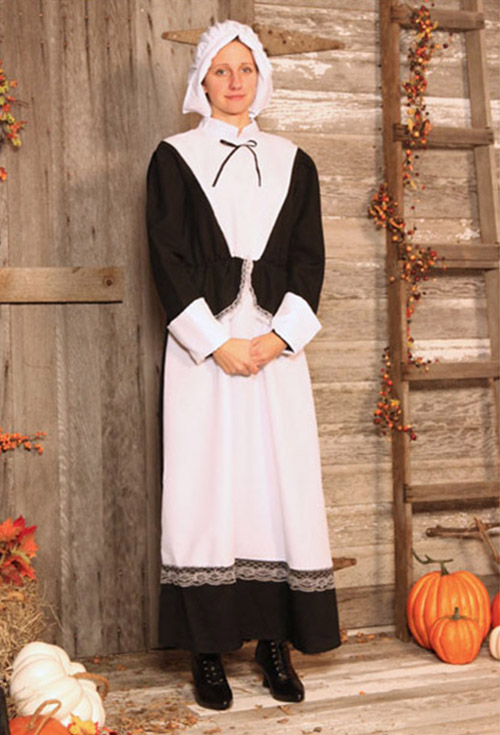 Black and white dress? Check! Pilgrim bonnet? Check! Apron? Check! It looks like you have the proper Pilgrim attire and you may now step aboard the Mayflower! Whether you're planning on setting sail to Plymouth or already have a prime spot in line for the pie saved, these traditional Pilgrim clothes will have you fitting into the early American scene. The black and white motif will assure all that you're ready for a slice of pumpkin pie, and the white bonnet will complete the costume effect.
Pilgrim Couples Costume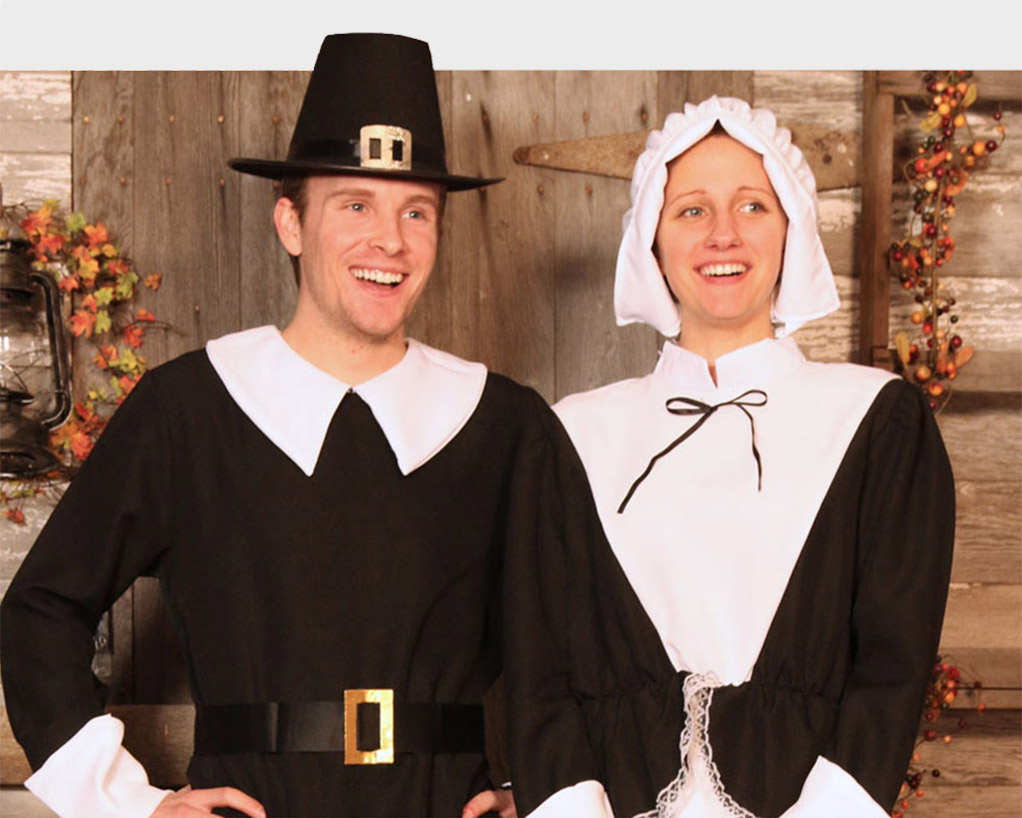 Introducing Plymouth Rock's best dressed couple! You simply can't deny that this Pilgrim pair looks anything less than dashing—and they should! They are about to break bread with some new friends, and if you're of the same inclination, then make sure you have these picturesque Thanksgiving costumes for adults ready to go for Turkey Day. The bonnet and the Pilgrim hat complement each other perfectly, and you're sure to look as cute as a couple of yams while waiting to pile up your plate with delicious feast treats.
Kids Pilgrim Costumes
Pilgrim Boy Costume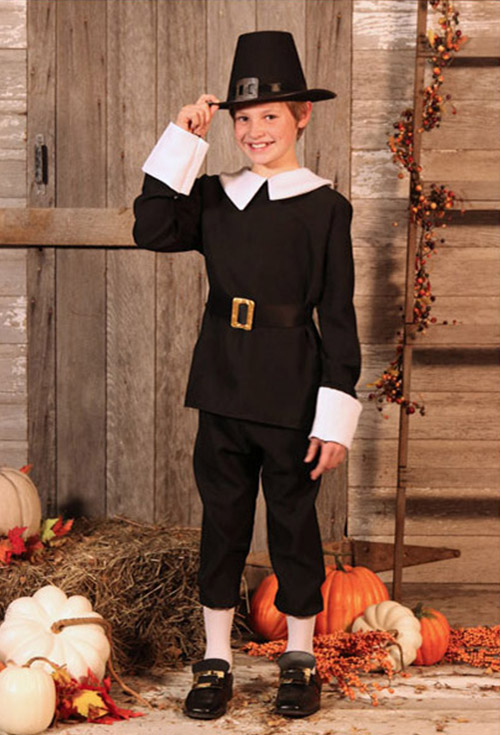 Young Pilgrim boys had to help their fathers harvest crops, fetch wood and water, and herd chickens. Lucky for your little guys, they only have to worry about cleaning their rooms! You can just dress up your little one in this traditional Pilgrim outfit, and we're sure they'll be able enjoy plentiful amounts of corn, cranberries, and turkey smothered in gravy. Coordinate your children's costume with yours to have an entire Pilgrim family ready for a Thanksgiving throw down. Bonus points if you can for putting a dog Pilgrim costume on Fluffy!
Pilgrim Girl Costume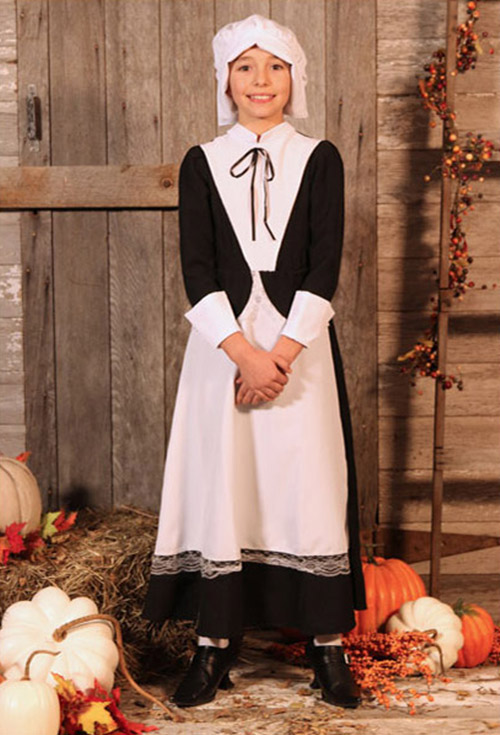 She's sweet, but now she'll be able to pretend that she's time traveled back to the first Thanksgiving by wearing a girl's Pilgrim costume to dinner! She can break bread by looking like one of the first settlers and make some new friends while enjoying her favorite feast treats. Whether she's in a pageant, play, or just wants to dress up for fun; this classic Pilgrim will make this Thanksgiving a holiday you'll always remember!