Handmaid's Tale Outfits
Thinking about a Handmaid's Tale costume for Halloween? Well, if you're taking a trip to Gilead, you're going to need the right threads. We wanted to offer our customers a screen-accurate option, so we teamed up with MGM Television Entertainment to produce officially licensed Handmaid's Tale costumes. These costumes are a part of our Made By Us costume line, which means each piece is expertly designed and crafted with select fabrics. Most Halloween costumes are only meant to be worn once and discarded, but our focus on quality means our costumes are fit to be re-worn time and time again. And whether you want a Handmaid's Tale costume for Halloween or cosplay or to make a political statement, you'll find that our Handmaiden outfits look just like the ones seen on TV.
If you're giving it some thought, we wanted to be sure you have all the info you need to make an informed costume decision. So, we put together this HalloweenCostumes.com How-To with extra information and detail for each of our Handmaid's Tale outfits. Just keep reading to learn everything you could want to know about these exclusive styles. Whether you want your costume experience to be fun, somber, or even villainous, they're a great choice. Provided you don't spend too long visiting Gilead!
June Handmaid's Tale Costume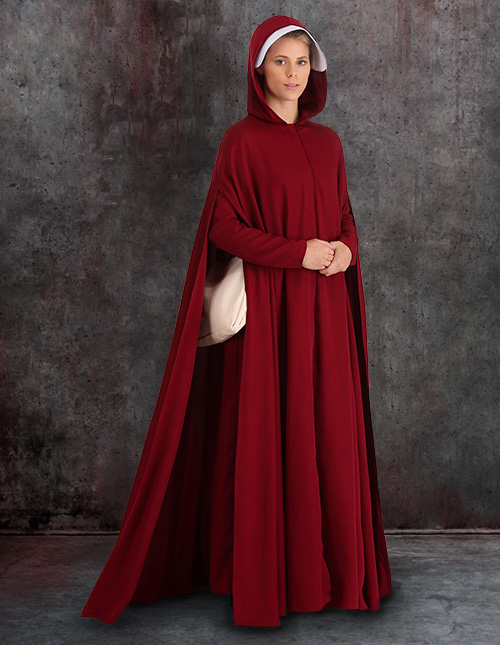 June Osborne is the hero and protagonist of the Tale, although the residents of Gilead know her by a different name—Offred. Elizabeth Moss has won acclaim from fans and critics, helping propel the series to 8 Primetime Emmy Awards for its first season. Now, thanks to our Deluxe Handmaid's Tale Costume, you can play the part of Offred with a handmaiden's costume that is an outstanding replica from the show. Our deluxe handmaiden outfit features garment fabrics for cosplay quality: gabardine, broadcloth, and canvas. These materials have the right feel and weight so that they're easy to wear while looking great. And the costume pieces secure with zippers and actual snap buttons, which makes for a much better fit and feel than flimsy hook and loop fasteners. Designed featuring the dress, hooded cape, and signature white bonnet of Gilead handmaidens, our authentic costume gets each piece of the outfit right. The dress has a fitted bodice and a gathered skirt, and the hooded cape secures at the front with the hood fitting perfectly over the two-piece bonnet. This costume also includes a canvas satchel, so that you can look just like Offred on a shopping trip. "Blessed be the fruit."
Handmaid's Tale Halloween Costume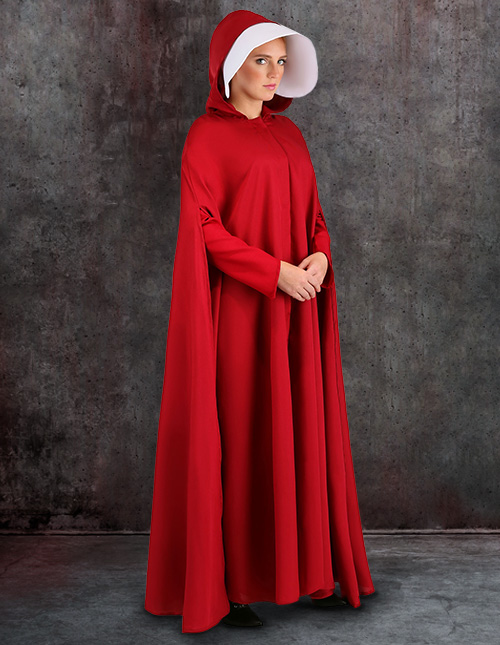 If you're planning for a Handmaid's Tale group costume theme, a great costume to outfit each member of the group would be our Classic Handmaid's Tale Costume. With the screen-realistic details of our exclusive Handmaiden costume, you'll be able to portray characters from the series or imagine what it'd be like if you yourself were living in Gilead. This costume supplies the iconic robe worn by the handmaidens and is crafted with midweight poplin fabric. The red poplin makes for a comfy feel and easy-to-wear design, while still featuring a level of quality that outperforms budget costumes available elsewhere. The robe secures in the center front with metal snaps, and long sleeves are attached to make it look like you're wearing a full dress underneath. The sides of the robe are open, but a pair of leggings or a red skirt complete the outfit. Along with the stiffened white bonnet worn on the head, you can simply flip up the oversized hood to have a replica look from Gilead. Gather your group together or head out as a handmaiden on a mission by yourself. No matter what your costume plans are—with this Handmaid's Tale robe, you're guaranteed to be making quite the statement.
Plus Size Handmaid's Tale Costume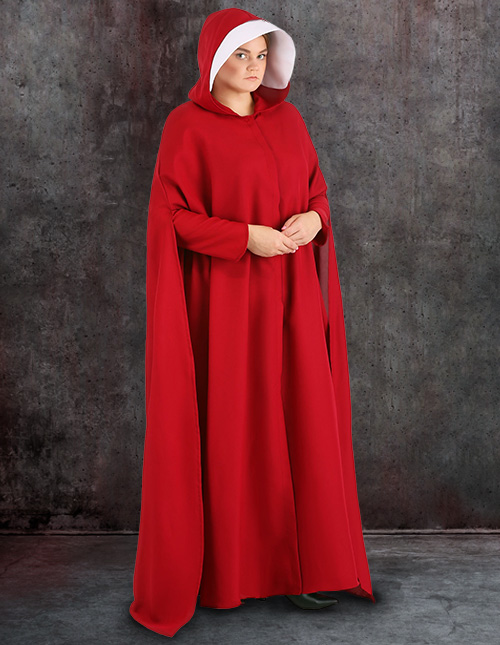 All too often, getting women together for a group costume theme means that ladies with a plus size figure get left out of the fun. The limited availability of popular costumes in plus sizes is not something we're a fan of at all. In fact, when we started designing our Made By Us costume line, we made expanding our size offerings a priority. We make our costumes to comfortably fit different body shapes, and we make them available in plus sizes up to 8x whenever possible. Our customers have let us know that they appreciate the effort, and today we're proud to be an industry leader in plus-size costumes for women and men. So, naturally, when it came time to create our officially licensed Handmaiden costumes, we were sure to offer them in plus sizes. This Plus Size Handmaid's Tale Costume is available in sizes 2X and 3X, and our Deluxe Plus Size Handmaiden Costume is available in size 2X. As robes, they easily accommodate a variety of body shapes and will make you look like you live in dystopian Gilead. Team up with your friends for a dark Halloween costume theme or to make a bold political statement. While the outfits might be a tad more serious than the fun outfits you're used to, at least you can be sure that each member of your group will look great with a costume that fits!
Serena Joy Waterford Costume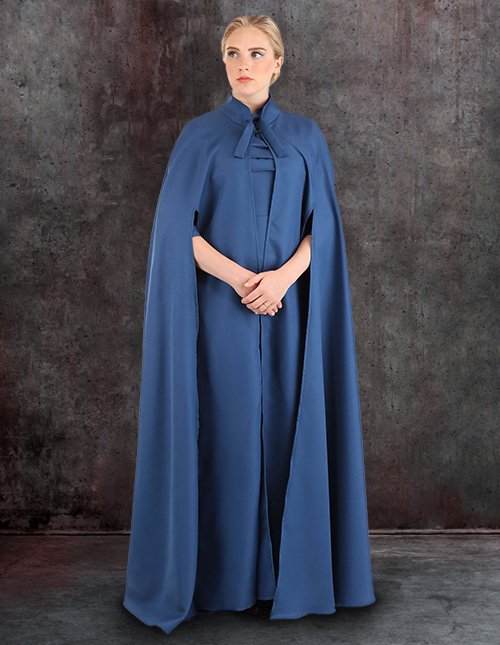 It would have been all too easy to have the character of Serena Waterford be a cut-and-dry villain in Handmaid's Tale. But the wife of commander Waterford is much more complicated than a typical antagonist trope. Sure, she advocated for the repression of women before the rise of Gilead, but does she regret the world she helped shape? It certainly seems that she has at least some remorse! Handmaid's Tale explores dark themes and raises important questions about the experience of women in society. You can take part in the conversation by going in our Gilead Wives Costume. This authentic Handmaid's Tale costume is a replica of the blue outfits worn by Serena Joy and the other wives of Gilead on the Hulu show. The outfit starts with a poplin tea-length dress that features princess-cut seams, a bow at the neck, and horizontal pleats at the bust. The all-around, floor-length cape comes in the same shade of blue and has tall slits in the front to free your arms for movement. Altogether, it perfectly recreates the ultra-conservative style that Gilead women of status wear at all times. With this officially licensed costume, you could cosplay as Serena Joy along with a friend as Commander Waterford to recreate memorable moments from the series.