Glinda the Good Witch Costumes
Some kindly characters stand the test of time. They're the type of warm-hearted beings that you can count on, time after time. They're the type of characters that guide heroes to their cause. It seems like every great story to be told has one! Cinderella had her fairy godmother, Luke had his Obi-Wan Kenobi, and Dorothy and her ragtag group of friends? Well, she had Glinda the Good Witch helping her during her amazing journey. She may not always be at the forefront of the story, but she's definitely an important piece to the puzzle. Without her, Dorothy would never have gotten on the path to the Emerald City and she never would have had the chance to see the wonderful Wizard of Oz. If you're the type to give sound counsel and magical aid to those traveling on the Yellow Brick Road, then one of our Glinda the Good Witch costumes may just be the sort of outfit that you've been searching for.
When looking for a Glinda costume, you have a lot of different choices to make. First, you need to find a style that suits your own, while still bringing the iconic Wizard of Oz vibe that will have the whole population of Emerald City talking! Let's start by looking at some of our best options!
Glinda Halloween Costumes
It all starts with the costume! Glinda can be an appealing character for people of all ages and sizes, including plus size, and we really do have a great selection of Glinda costumes for sale. The most important factor of a good Glinda costume is the pleasant pink color. All of our costumes capture the soft colors of the iconic Glinda dress, while also offering their own take on her outfit. All you have to do is choose the one that best suits your own style.
Glinda Dresses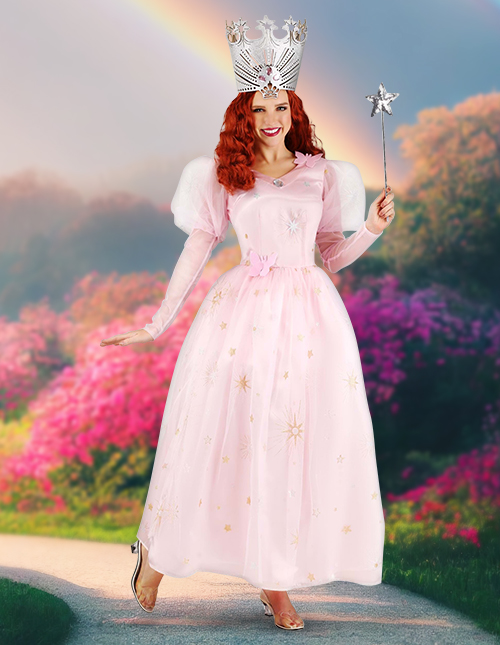 Now this is a true classic! If you want something that really evokes that iconic image of Glinda, then you'll want to wear one of our simple Glinda dresses. Many of them are inspired by the Wizard of Oz film, so you just need to supply the bright and positive attitude. One of these costumes provides a really amazing base for any cosplay of the character. The Made By Us designs are also crafted as a higher quality than many of our standard costumes, so be sure to keep an eye out for that Made By Us banner on those Glinda costumes.
Glinda the Good Witch Costumes for Adults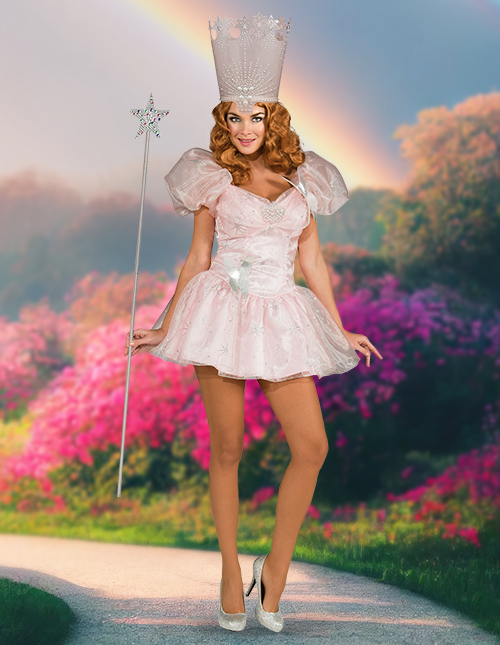 Some people just don't want the classic kind of look. That's when you need to add a little bit of playful flair to the look! The good news is that we have plenty of versions of Glinda the Good Witch that bring a spicy spin to her pink dress. This particular version strays from the course to give you something that you can wear to your next costume party, but still captures enough of the traditional Glinda vibe to work with just about any Wizard of Oz group costume!
Girl's Glinda Costumes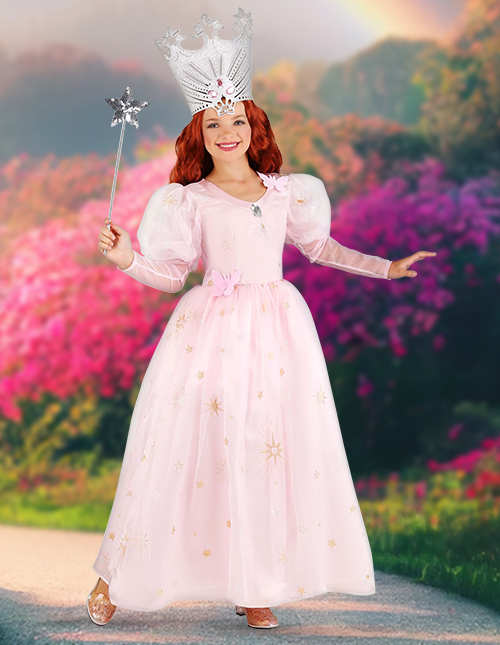 What's cuter than the classic Glinda? How about your child as Glinda the Good Witch? It's a rather well-known fact that any time a kid takes on the role of an iconic character that's traditionally an adult… it's absolutely adorable! Just think about a pint-sized Santa Claus or a much smaller version of your favorite Disney Princess character. How about a tiny pirate? Well, Glinda the Good Witch is definitely no exception to the rule! This girl's Glinda Costume gives your child the opportunity to dress up as the benevolent witch who helps Dorothy and the crew find their way through Oz!
Toddler Glinda Costumes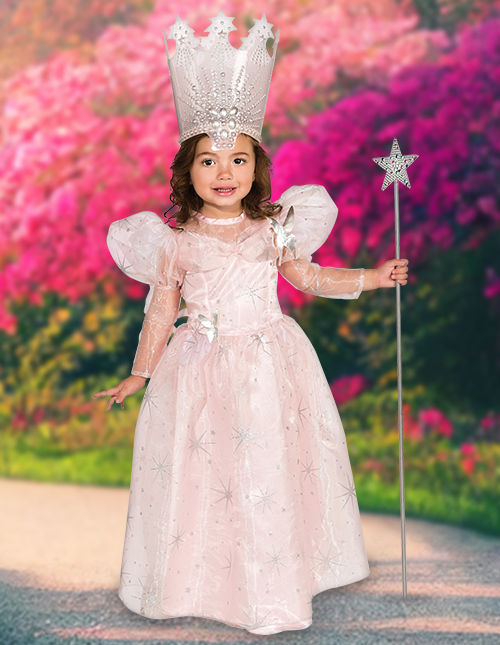 Our last version of Glinda is for the little fans out there! Although many little ones gravitate towards Dorothy, the Cowardly Lion, and the Tin Man, some really love Glinda. Maybe it's her cheerful demeanor, or perhaps it's her vibrant pink dress. All we know is that toddlers look adorable when they're dressed up in one of our toddler Glinda costumes! We even have a selection of Made By Us designs, which means our very own costume designers worked hard to put the finishing touch on them. Dressing your little one up as Glinda is the perfect way to jumpstart a great group costume idea for the whole family!
Glinda the Good Witch Accessories
Feel like something is still missing? You've already picked out a great Glinda costume, but you really want to get into character. You don't want to just look like Glinda! You want to actually become Glinda the Good Witch! Well, that's when it's time to add a few accessories to your outfit. We carry a ton of different costume accessories because we happen to believe that accessories can make or break a costume. The great news is that we have some great pieces to add to your Glinda the Good Witch costume! Here are some of our favorite options.
Glinda the Good Witch Crowns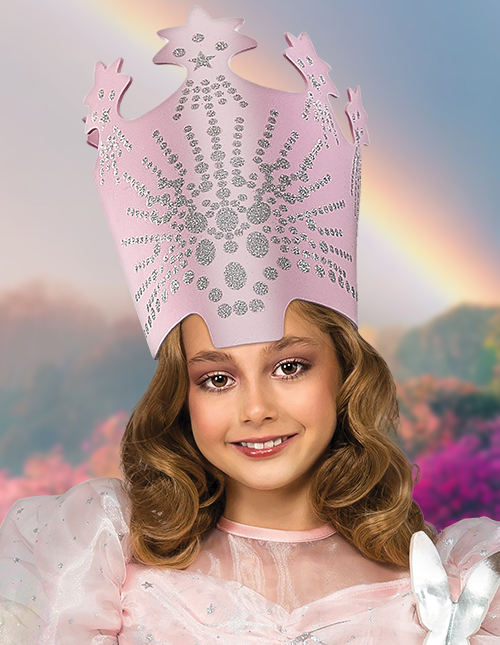 Not all witches have green skin and wear scary witch hats. Some of them, like Glinda, wear a beautiful crown! In the original Wizard of Oz film, Glinda was known for her glimmering pink dress, but her silver crown really put the finishing touch on her amazing style. This Glinda the Good Witch crown helps you get that final piece to top off your outfit. It even works great with many of our wigs, so you can fully transform into the character!
Glinda Wands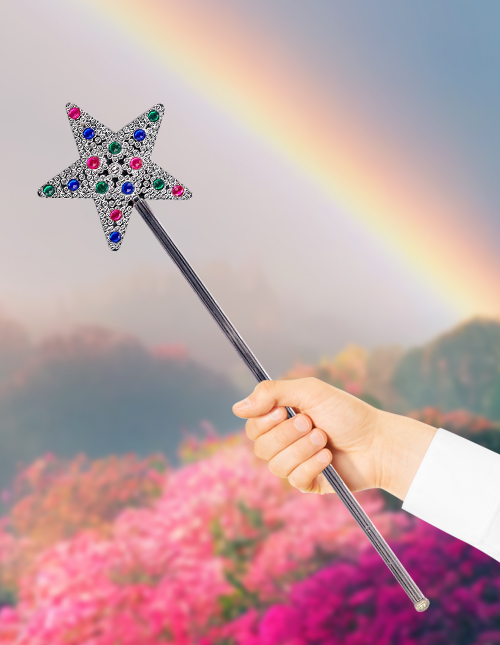 Finally, every good magical being needs a wand. From the wizards at Hogwarts to classic wizards like Merlin, wands are absolutely essential to anyone who practices magic in fantasy works. And Glinda has one of the most spectacular wands of all time. The silvery style and fully bedazzled star on the top really make it stand out from all of the simple, wooden wands wielded by many of the other wizardly beings in Oz. It's a great addition to any Glinda costume!