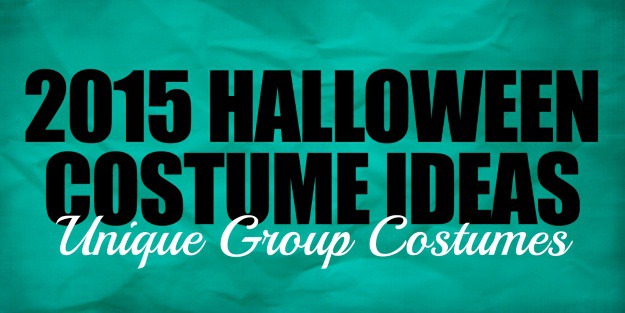 Gather up the crew! It's time to make a big splash with an unforgettable group Halloween costume for 2015. Easier said than done, right? Creative group costume ideas aren't as easy to come by as couples costumes or a solo dress up plan. A great way to start is with some inspiration: are you going to draw from a movie? A TV show? Something more creative like a board game, a book, or a pun? Next, think about your group size. You might need an option to accompdate a trio, a crew of five, or even large group costume ideas of 10+!
Classic groups like Wizard of Oz characters, Simpsons members, and other memorable movie and TV casts are always smart costume bets. But what if you really want a show-stopper that hasn't been done? Then you'll need to take the yellow brick road less traveled and get creative! This collated list should grease the gears in that noggin of yours and help generate some ideas. There is a little bit for everyone in here, from the classics to the bizarre, so we hope you enjoy this dive into what the web has to offer for 2015 Group costume ideas!
Alice in Wonderland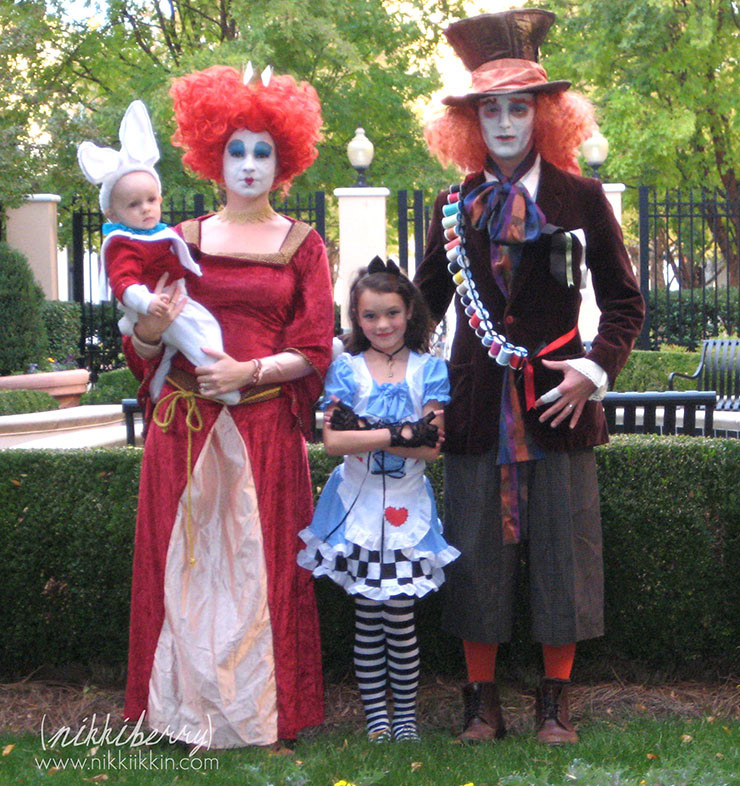 Alice in Wonderland is a story that never loses its charm, and when it comes to group costumes for 2015, like every other year it has a place! Take a trip through the looking glass with the whole family and choose from a huge spectrum of costume-friendly characters. Year after year, movie after movie, and play after play, an Alice in Wonderland group costume will crop up time and again.
Archer group Costume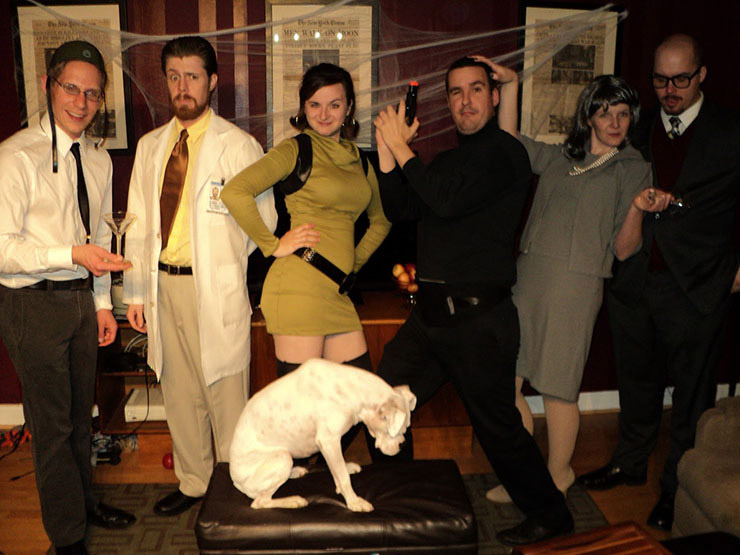 You have to laugh just looking at this Archer group costume! Getting an entire group to really commit like this is what it's all about if you are looking for a unique group costume. While there are the tried and true staples each Halloween, new shows like Archer and other Adult Swim, Netflix, or HBO originals should give you topical ideas for your group in 2015.
Attack on Titan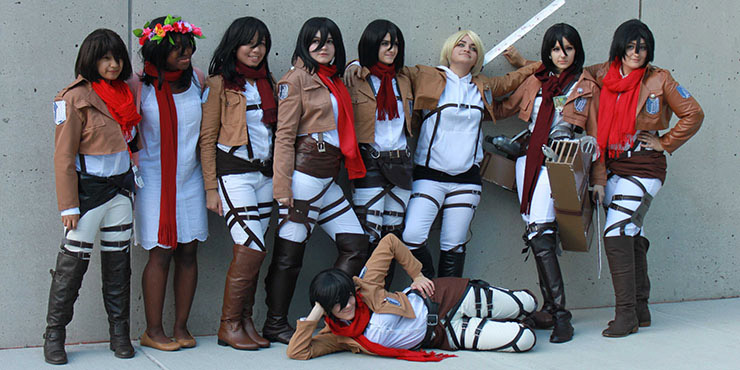 In 2015, Attack on Titan became bigger than ever, so we can definitely expect to see this group costume roaming the streets in hoards. Can you really blame them for wanting to go as a group to face the Titans? With Titan heights ranging from three to 60 meters tall, and an insatiable hunger for human flesh that's unmatched, it's better to tackle the Titan problem with as many soldiers as you can muster!
The Avengers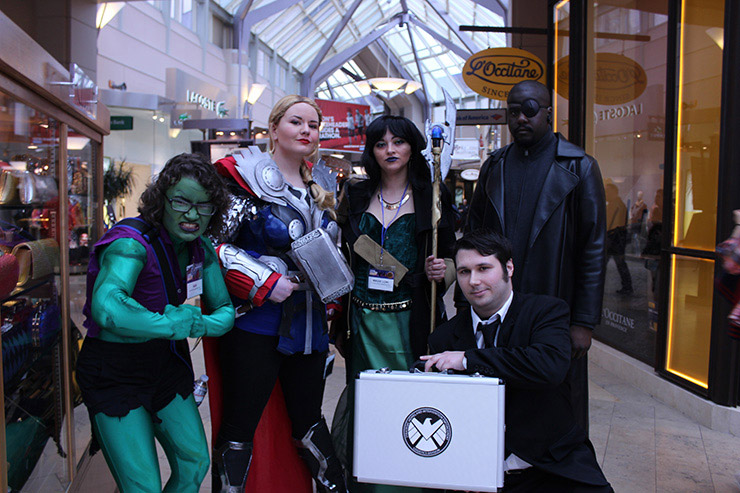 The Avengers have been a go-to group costume for the last five years and, with Age of Ultron making a big splash in 2015, Avengers group costumes aren't going anywhere anytime soon. You have to hand it to groups who defy the characters with gender benders like Thor, Loki, and Hulk pictured here. Getting creative with a go-to costume like this is one way to stand out from the crowd.
Avengers Girls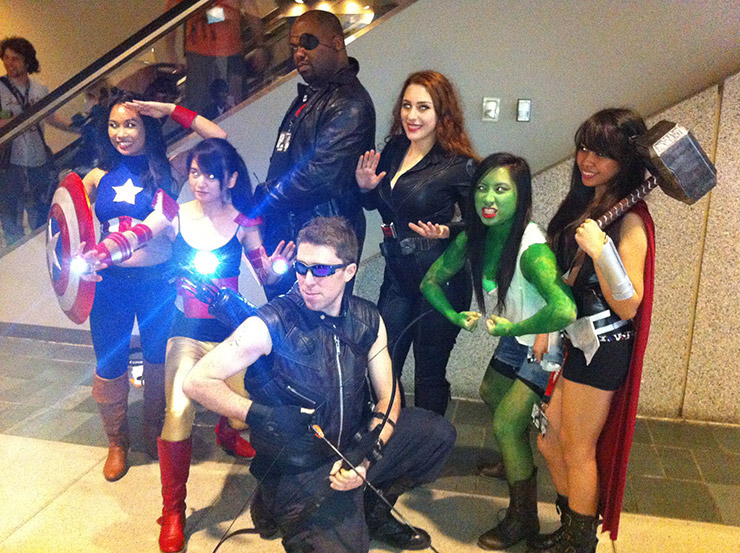 Weren't we just singing the praises of Avengers gender benders on the last slide? Well, clearly we just can't get enough of it! With very distinct costumes and punchy color schemes, it is easy to take a character like Iron Man and make it entirely new! Just make sure you have the right collection of key components for immediate recognition, like the hand and chest lights in this Avengers group costume.
Batman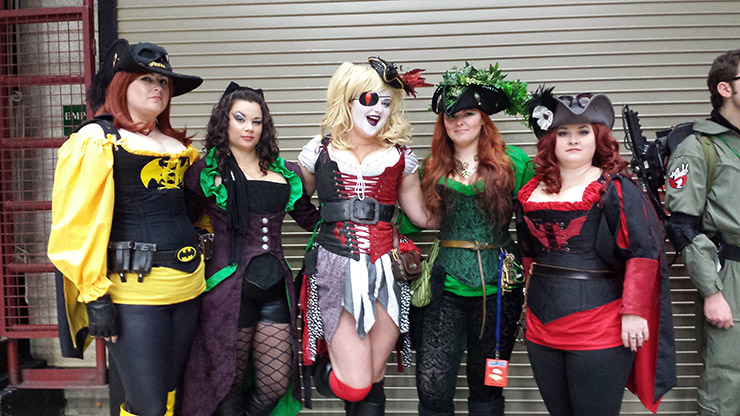 Another way to get creative with a group costume in 2015 is to take gender bending a step further by adding in another layer altogether. For example: this group took familiar Batman characters and turned them into pirates! Points for creativity in 2015 for anyone who can twist a familiar character lineup and make it 100% unique. No concerns of running into your doppelganger group in this getup!
Bobs Burgers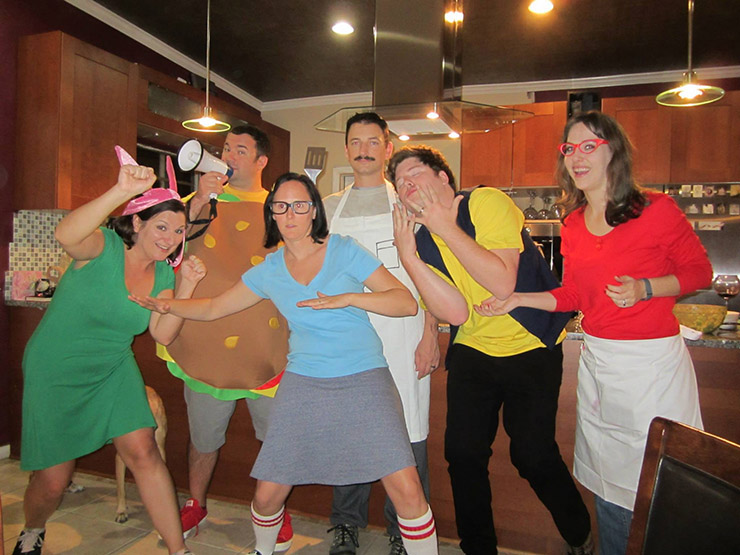 That Tina Belcher has even got the dance moves down! Now we're talking... Yep, Bob's Burgers is one of those shows with a cult following of some seriously dedicated cosplayers, and this group really took the cake burger. With a cast of loud, obnoxious. and hilarious characters, you know you'll have a great night. And, if you go out on the town with a Bob's Burgers group costume, please just promise you will hit the dancefloor.
Cereal Mascot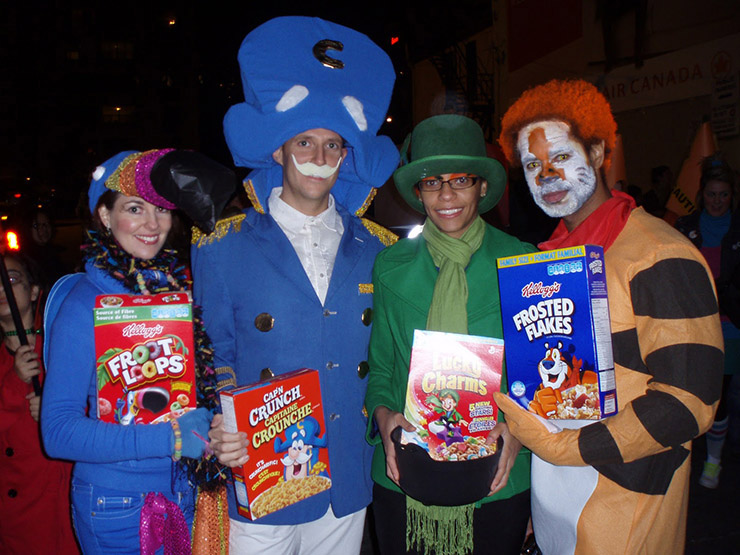 Most kids spent some quality time with these characters every morning. That is, if you were lucky enough to get the "good stuff" at your breakfast table growing up! Category costumes like this that cross brands with a common thread are always really creative and unexpected. If you are going as a group in 2015, creativity is really going to be the deciding factor between good and grrrrrrrrrrrrr-eat!
Chewbacca's Angels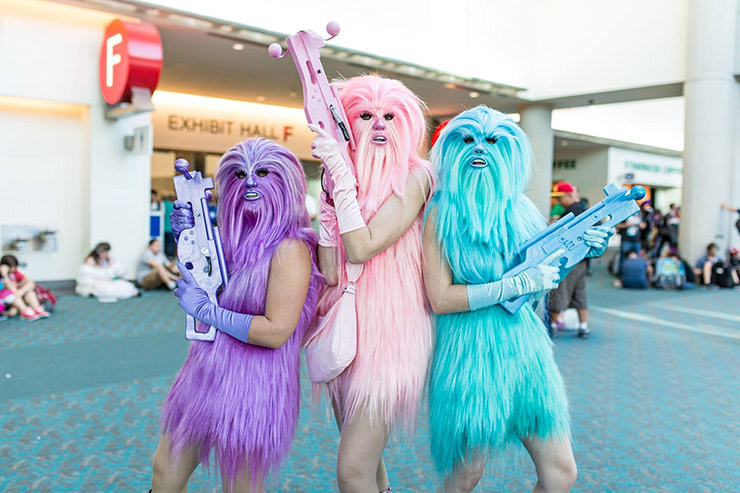 Now we have to admit, Chewbacca's angels border on the lines of theatrical and extremely advanced cosplaying. Something this intricate certainly is not for everyone and could easily win a prize at Comic Con! But if you consider yourself an expert at makeup, prosthetics, hair, and all around cosplay tomfoolery, you might try thinking way outside of the box for your group costume this year!
Circus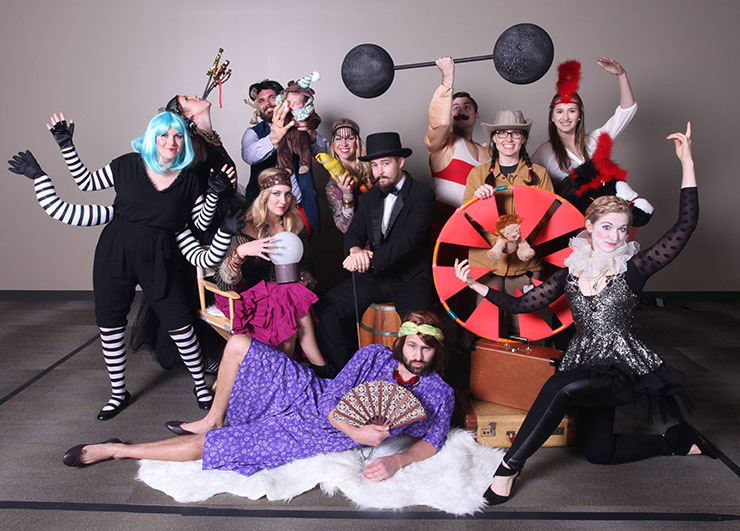 The 10+ member group costume is a rare animal in any year. Coordinating a group this large can sometimes feel like herding cats, after all. But, this group seems to have pulled it off with flying colors and trapezes! You have to hand it to any group who can take something "old" like the circus and really make it new, with unexpected elements like the bearded "lady" and the sword swallower pictured here.
Emojis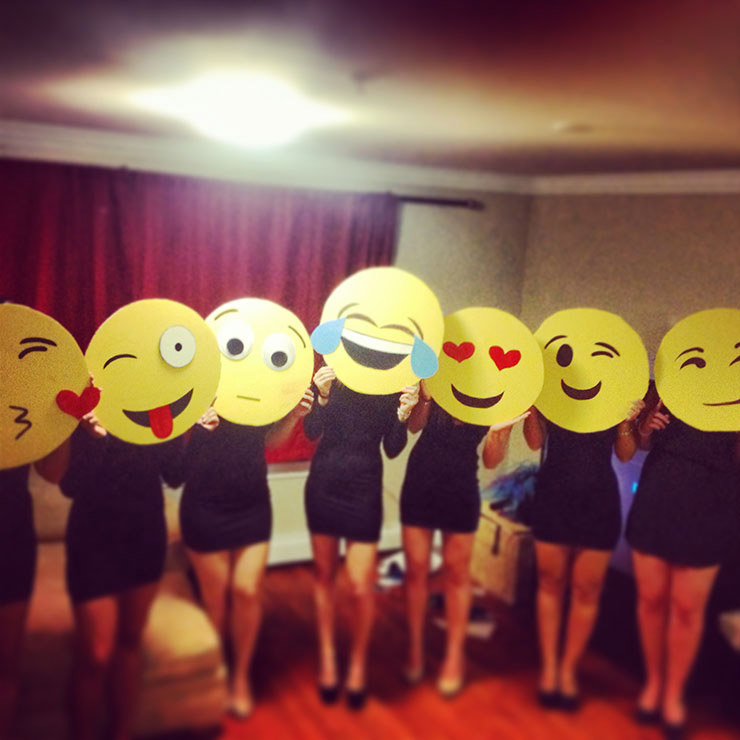 In 2015, wearing your emotions on your sleeve, or your face for that matter, is to be expected. Between Inside Out and the first ever emoji-only book being accepted into the Library of Congress, speaking with symbols and emotions is in! With the dictionary of emojis growing exponentially, you can even break away from smileys and get into the weird stuff in 2015.
Fanta Girls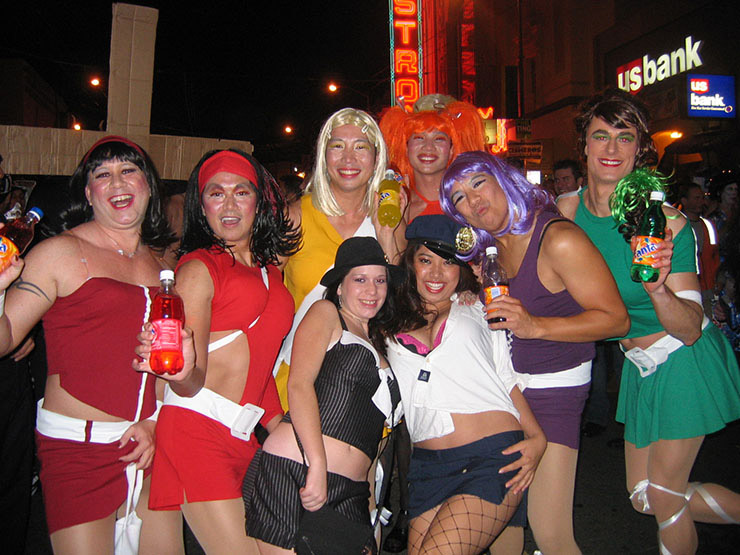 These Fanta Girls are taking the trend of crossdressing for Halloween a step further with an unexpected twist. Maybe you could call it a lemon-lime twist? Either way you look at it, these guys seem to be having a great time with a lighthearted take on a gender bender for the centuries. Caution: insensitivity is never in, so if you plan to cross dress for Halloween, please just do it respectfully!
Fantastic Four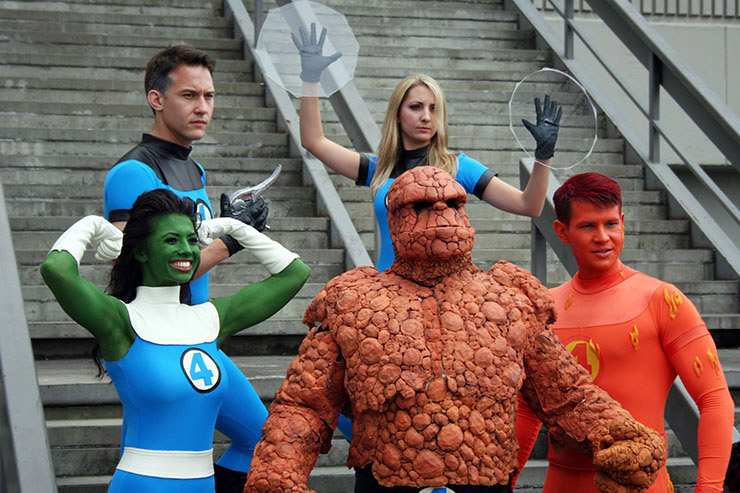 There are a couple of amazing things happening with this Fantastic Four group costume. First, the Thing is incredibly epic, and like the Fantastic Four movie in 2015, is entirely real (no CG!). Love it. Second, what a creative way to show the Invisible Woman's powers. And finally, killer crossover costume here with the second Invisible Woman in Hulk form. This group costume is full of win!
Mascots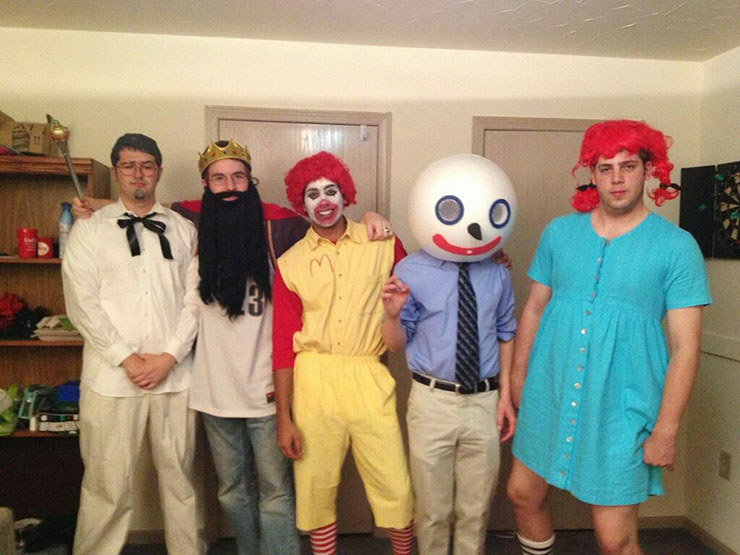 Apparently, mascots help sell food (and Halloween costumes, for that matter)! And now that we've got cereal costumes out of the way, the list just wouldn't be complete without the fast food mascot group costume pictured here. It also looks like these guys didn't take themselves too seriously, which adds another dimension of hilarity to the getup. Shout out to Wendy for a laugh!
Futurama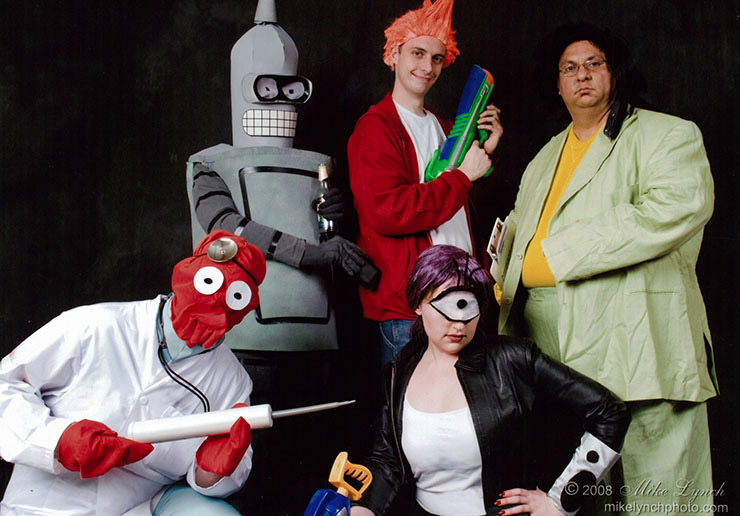 Brain Slug commands you to like this group costume. And, wow! They took this group costume a step further when they had Bender steal Fry's wallet in the picture. Did you catch that?! Half of the fun of posing as your favorite character for Halloween is capturing their unique personality, so bravo. If you don't want to go the DIY route, we also carry officially licensed Futurama costumes in plenty.
Game of Thrones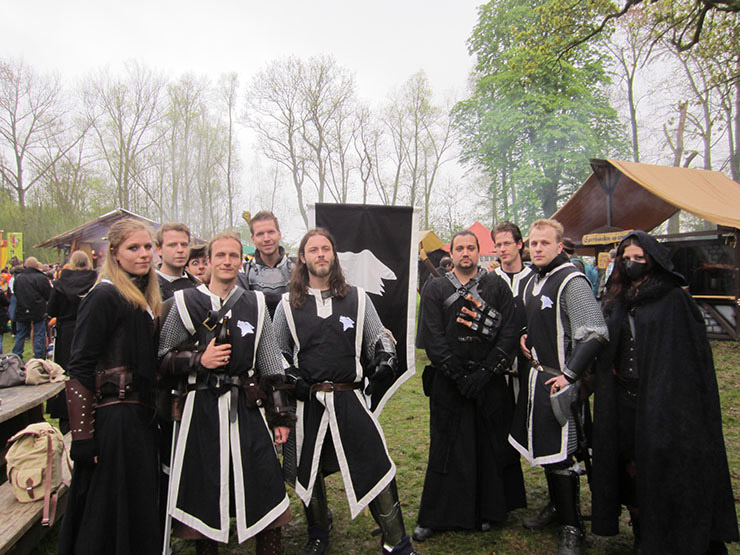 <
No matter whom you hope ends up on the Iron Throne, the Starks have to be on your short list of people you feel for. You know this group commiserates with their plight. Now, the real question: did they summon up some magic from the Red Witch to get that misty glow on the trees? Seems like the perfect environment for a winning Game of Thrones group costume cosplay in 2015!
Guardians of the Galaxy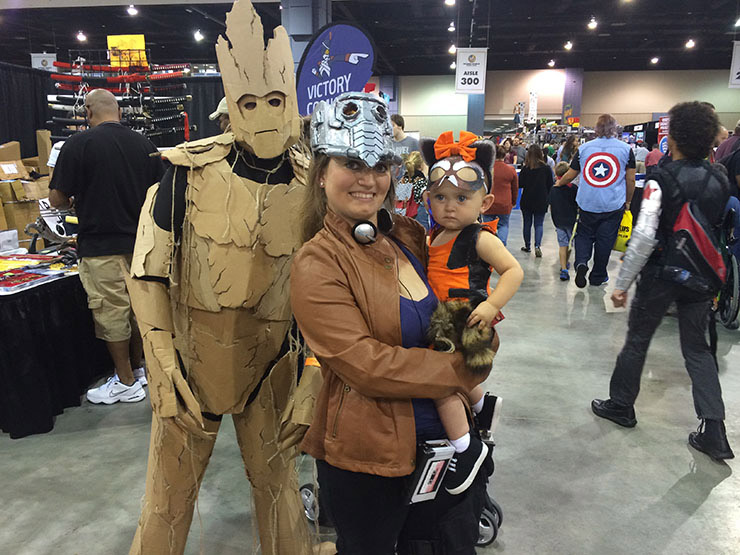 We are Groot. Aren't we? Even a year after the release of Guardians of the Galaxy, these characters are quickly becoming classics. And with a ton of heroes and villains to choose from between Groot, Star Lord, Rocket Raccoon, and Gamora, it's the ideal kind of getup for a large group in 2015. Stay tuned for the inevitable sequel bringing these costumes back into the forefront with a vengeance in 2017!
Hungry Hungry Hippos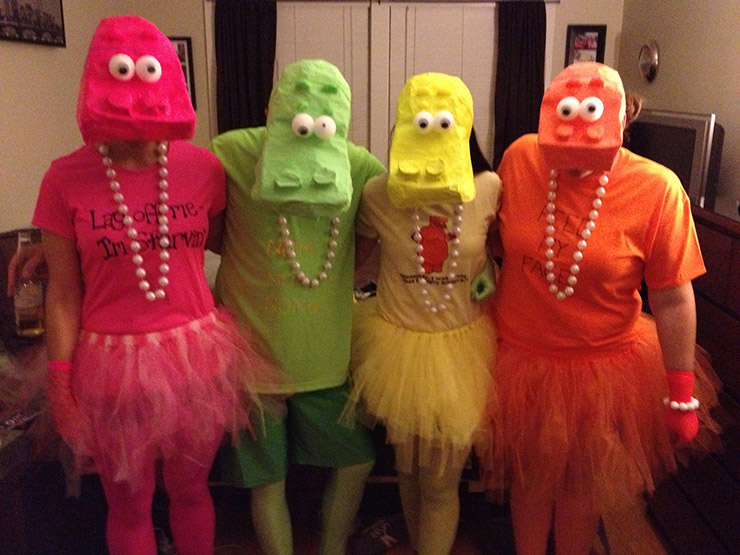 If you had some spare time as a kid, which most of us certainly did, chances have it some of that time was occupied with Hungry Hungry Hippos. Now that's two "hungry"s, in case there was any doubt just how famished these hippos are! When it comes to nostalgic group costumes, this is definitely near the top of the list for now and really any time in the near future.
Hocus Pocus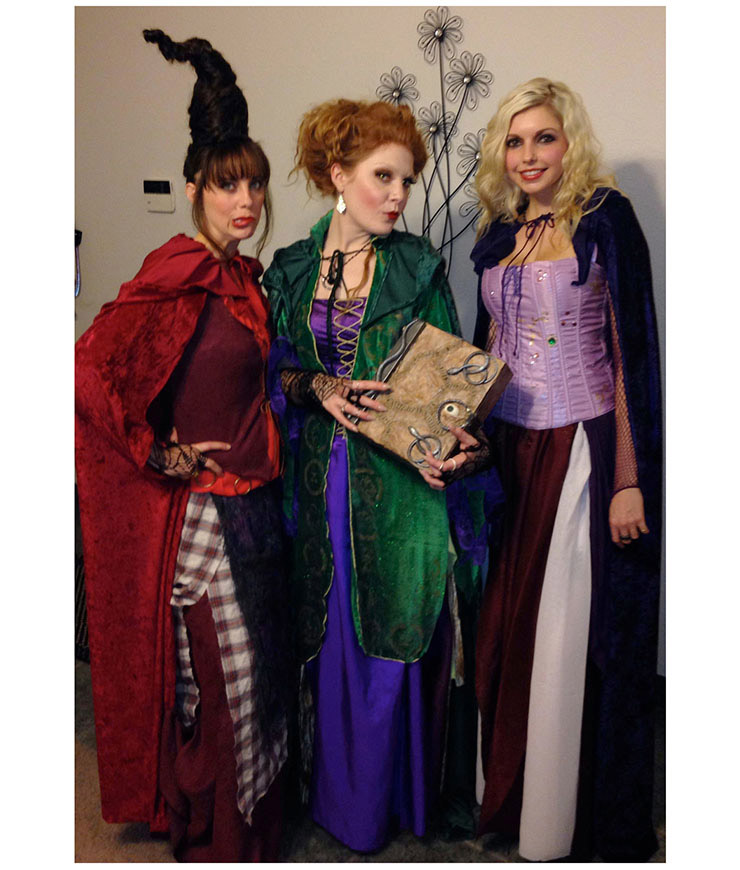 If you are a 90s kid, then Hocus Pocus is pretty much synonymous with Halloween. The movie perfectly captured that feeling you get, or hope to get, every Halloween. Witches, zombies, ghosts, and talking cats - what's not to like? Even better is the Hocus Pocus witches group costume. It's a go to for anyone who wants to hit the nostalgia bone in a group of three. Check out our own DIY Hocus Pocus here!
Rick and Morty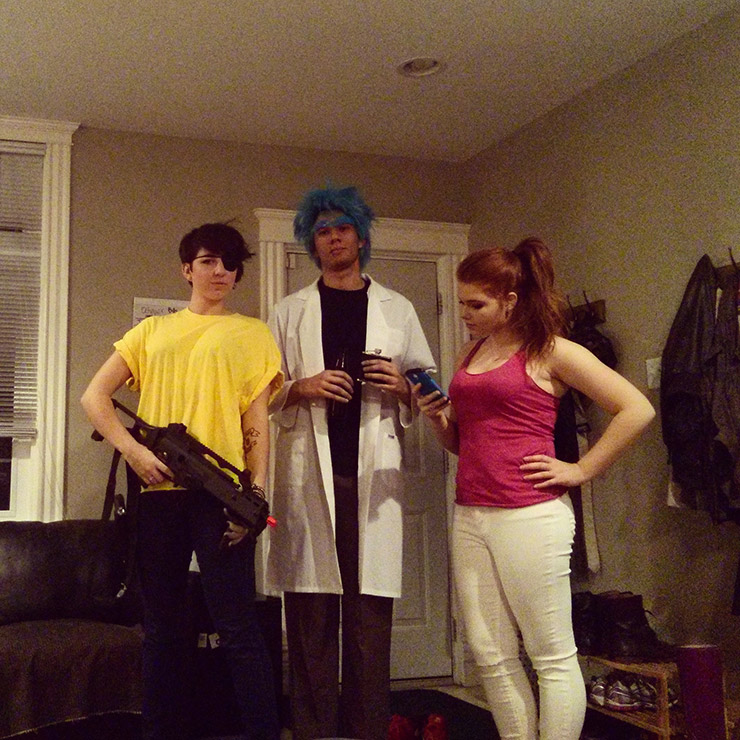 When Adult Swim comes around with a new cartoon that gets everyone cracking up in their PJs, the Halloween community takes notice. In 2015, Rick and Morty was definitely on that list. Delving into super serious issues like time travel and alternate universes, this show still leaves plenty of room for midsentence belches. Yes indeed, there is certainly a spot for Rick and Morty group costumes in 2015!
Jack and Sally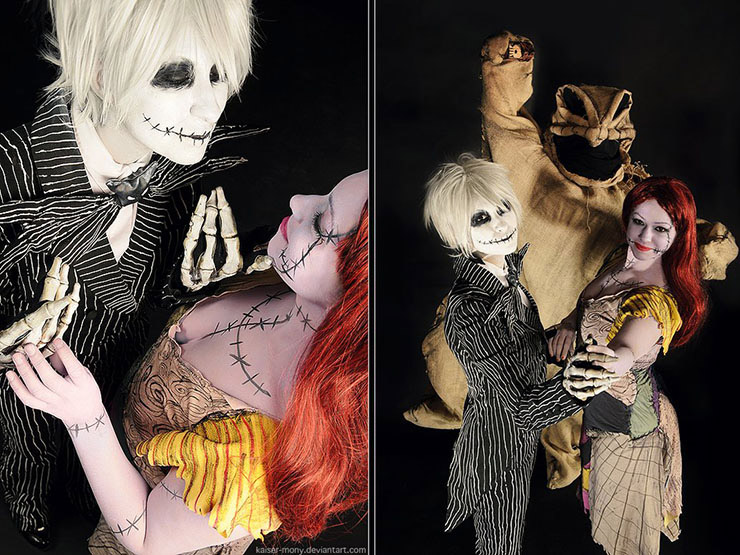 Tim Burton has a special way of doing things no matter what he touches. In the same creepy vein as Edward Scissorhands, The Nightmare Before Christmas is one of his greatest works and a true masterpiece in the eyes of fans. For this reason, Halloween and The Nightmare Before Christmas are joined at the hip. Let it be known far and wide that Nightmare Before Christmas costumes are always in style!
Johnny Depp Characters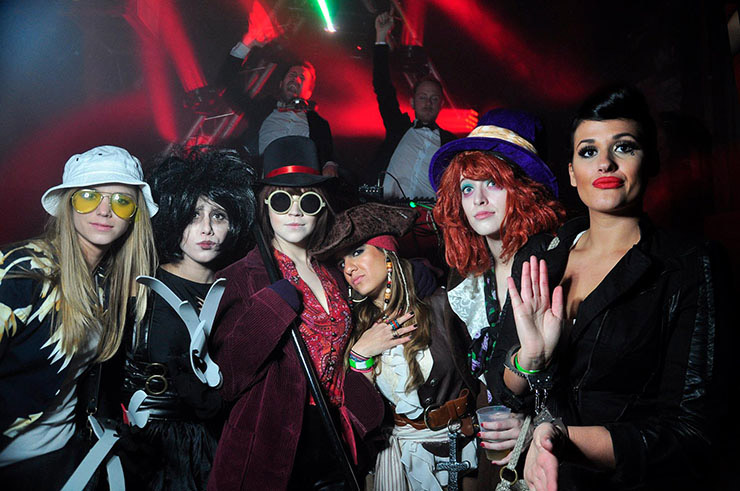 A very creative trend that's happening with group costumes is choosing an actor and highlighting the best costumes from their career. Johnny Depp, Jim Carrey, Robin Williams, and Will Ferrell are all easy targets for this type of group getup given their costume-centric roles through time. In this installment, these ladies nailed a Johnny Depp tribute!
Jurrasic Park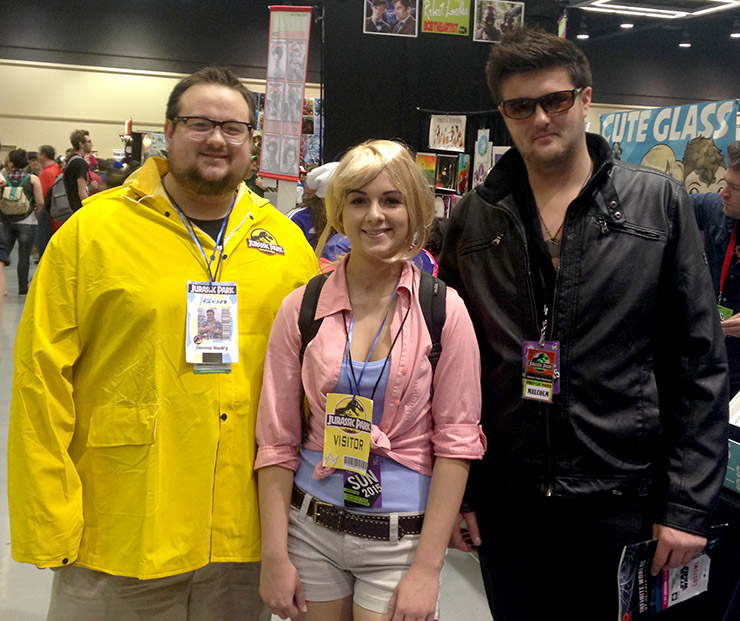 When Jurassic World left a dino-sized footprint on the motion picture scene in 2015, a noticeable uptick in JP cosplay could be seen at Comic Con and other geeky gatherings around the country. In 2015, we can look for a similar trend for Halloween. Whether you want to go as the classic characters from Jurassic Park or the new ones from Jurassic World, you really can't go wrong in 2015 with an ensemble like this.
Kill Bill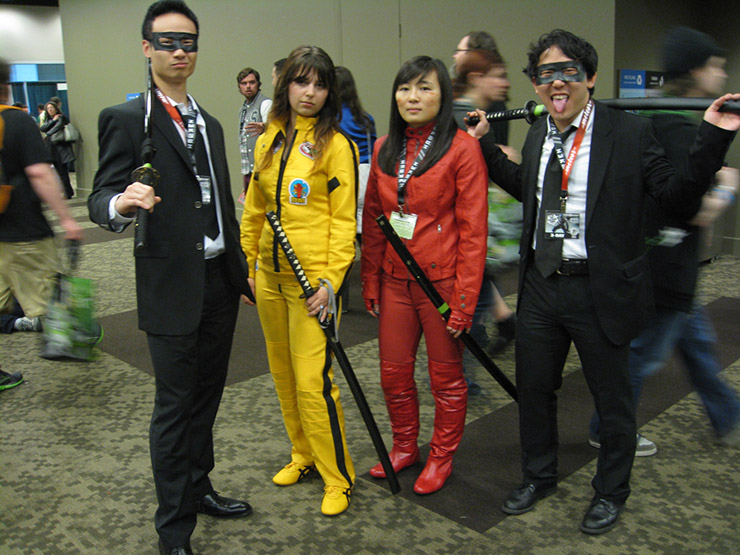 The Crazy 88 battle in Kill Bill captured the Tarantino style better than just about any other scene in his vast and illustrious career. If you were looking for spurting blood, severed limbs, and all around creative Wire Fu, punctuated by complicated, mid-battle dialogue, look no further than this moment. Years later, calling back memories to a fan favorite like this is always fair game of group costumes!
Legends of the Hidden Temple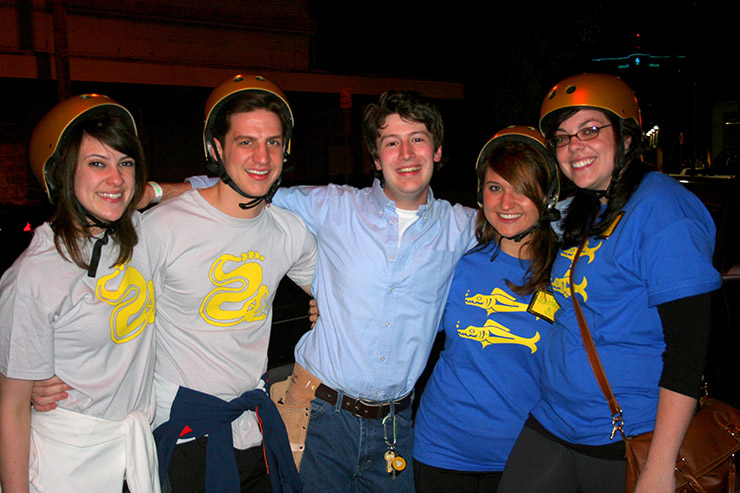 Remember, nostalgia is in like Flynn this year! This Legends of the Hidden Temple group costume will surely earn some high fives at the bar or Halloween party among young adults this year. Who as a 90s kid didn't dream about answering Olmec's questions with ease on their way to the Temple Run? With a simple custom t-shirt and helmet, you could easily nail this look for relatively cheap to boot.
Lego Group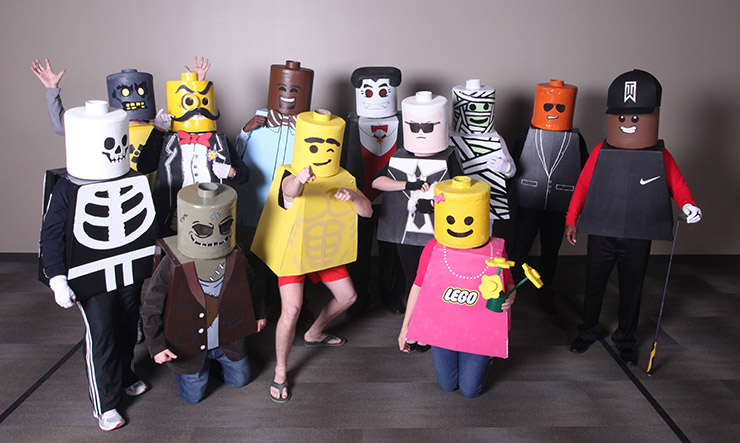 Cosplaying as variants of LEGO is a BIG trend in 2015, but let's be honest, this group really takes home the blue ribbon. We're counting a dozen here, now that is commitment! Got to love the inclusion of some Halloween-themed LEGO characters and even some unexpected additions, like Tiger Woods. If you are a committed cosplayer, constructing this LEGO group costume would be a huge winner!
Loofahs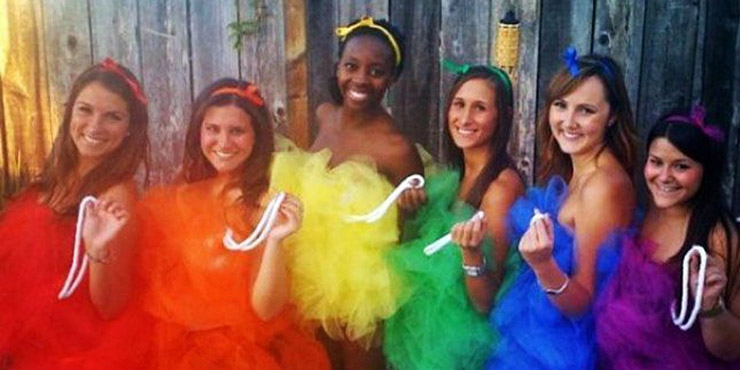 The best part about a loofah group costume like this is how easy it is to pull off. Not to mention the vibrant colors! For a group of gals looking to save their money for a night on the town and who also want something functional and easy to move around in, this costume is a no-brainer. Just be careful not to get caught in the rain or there is really no telling what might happen!
Mad Max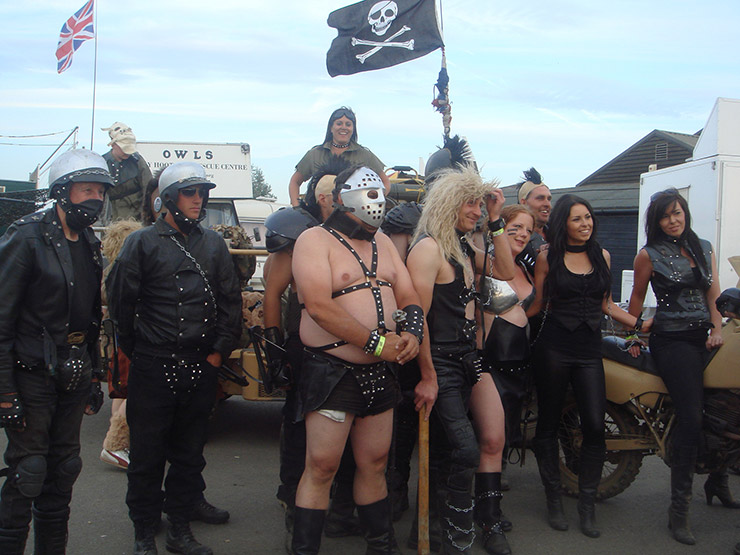 When it comes to post-apocalyptic flicks, you really have hundreds to choose from. But one of them arguably towers above most of the horde as a titan of innovation. That's Mad Max. With roots as deep as 1979, this film set the pace, motifs, and style for a genre. With costume options run amuck, all you really need to get started is some leather. Creative expression sold separately, so go nuts!
Mad Men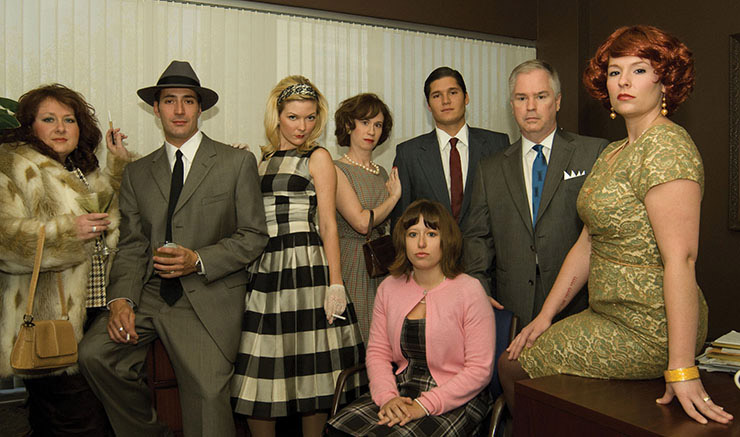 Did anyone else just double take and think this was a screen shot from Mad Men? Now this is what group costuming is all about! You want to walk into the room and make everyone think they are back in the 1960s for just a moment. Isn't that the magic of a good Halloween costume in general? If your Mad Men group costume looks anything like this, people will be very impressed! We'll drink to that.
Mario Kart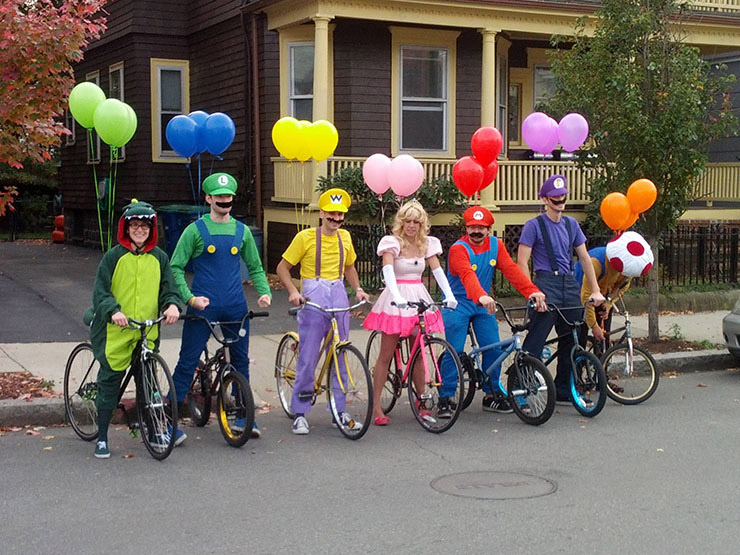 When it comes to Mario Kart, there are a lot of friends out there who take great pride in their skills. In fact, at HalloweenCostumes.com, we have a Mario Kart tournament once a year, so maybe we're a bit biased here. But at the end of the day, creativity is everything when it comes to group getups, so we had to include this awesome take on Mario Kart somewhere for the list to be complete.
Minions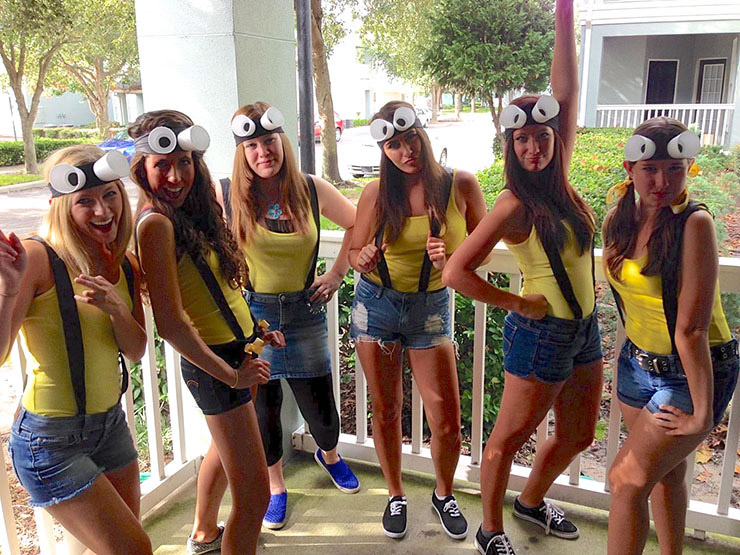 Minions are always up to no good, which makes them natural shoe-ins for groups looking to have a bit of fun this Halloween. If you knock something over, hey, you're a Minion. It's understandable! If you eat way too much candy, yep you called it. You're a Minion. Just shrug it off and have a great time. This is the year of the Minion after all! Know one will judge you for mischief making...that much.
MODOK and Warrior Scientists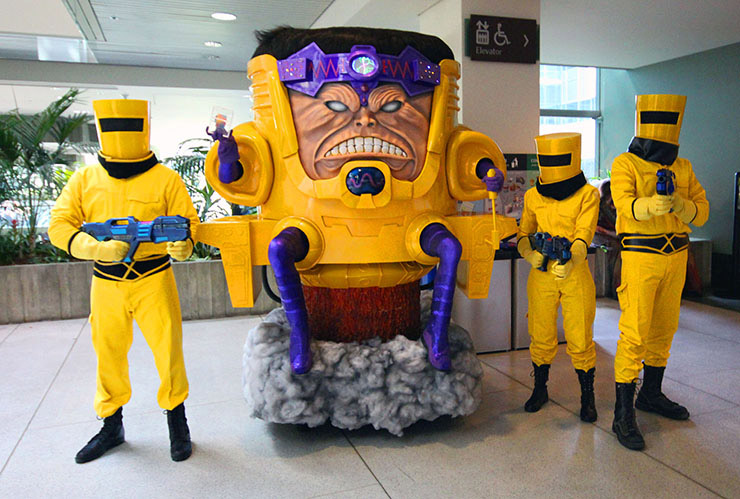 In a year where Marvel Superheroes come in plenty, finding fringe characters that not everyone will know gives you a chance to show your Marvel prowess. Like this MODOK group costume above, the curiosity of people passing by will be piqued in no time. So for comic book geeks like so many of us out there, finding a lesser known superhero or villain can be a real conversation starter.
Muppets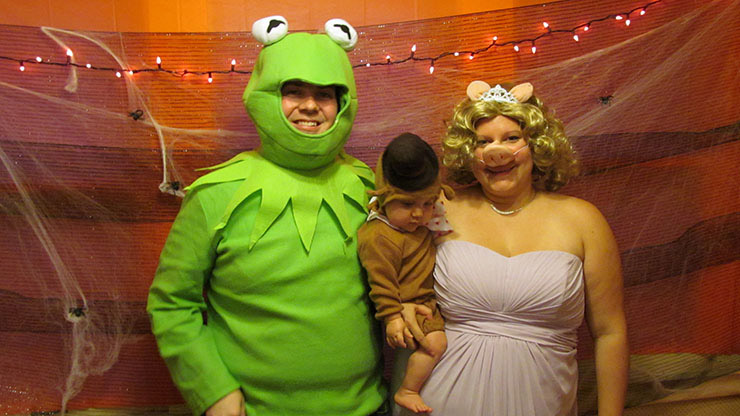 Muppets are forever when it comes to Halloween, but in 2015 they are even more relevant with the new Muppets TV show hitting the tube in September. In mockumentary style, the show will break down the fourth wall to show the internal dialogue of each character, similar to The Office. This will arguably make the characters more relatable than ever, making this a great 2015 costume option.
Ninja Turtles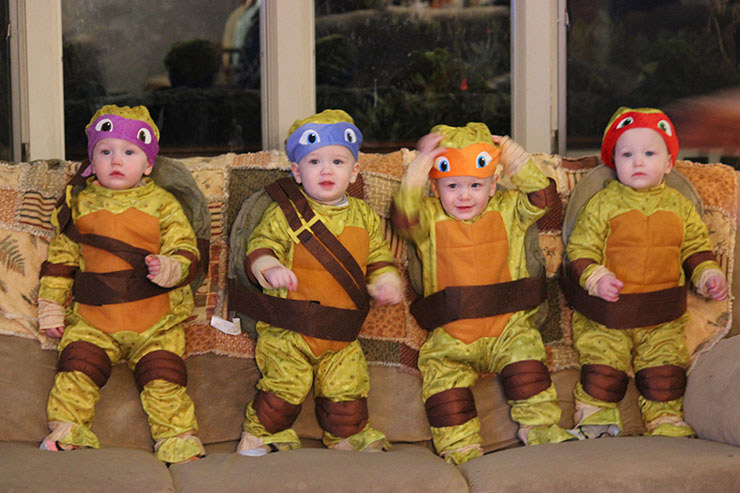 Teenage Mutant Ninja Turtle group costumes are up there in the top ten group costumes of any given year. The best part about these turtles in a half shell is their cross demographic relevance. Whether you are a group of girls, guys, or even babies, this is a good option for a group costume any year. While 2014 was the year of the rebooted movie, 2015 is still fertile ground for a TMNT group costume.
Orcs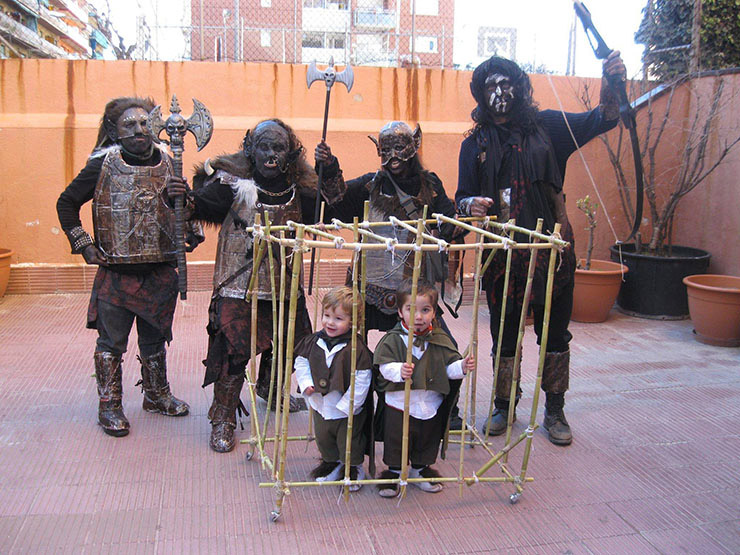 If you didn't laugh at this costume, you might not be a LOTR fan. This is one adorable and incredibly creative take on a Lord of the Rings group Halloween costume that you know made the family photo album for years to come. Any time you can take a group costume friendly flick like the Lord of the Rings and The Hobbit series and make it somehow new like this, you are sure to win!
Pac-Man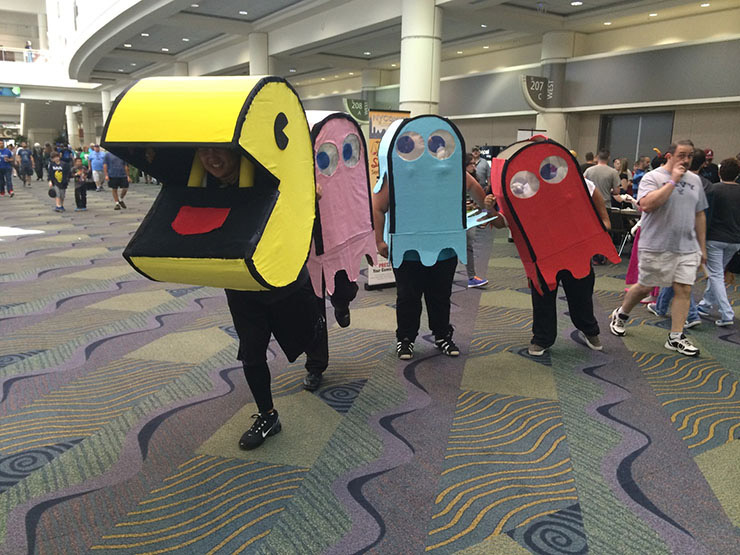 While Pac-Man is one of the oldest video game characters in history, his relevance on Halloween is eternal. In 2015, Pixels brought this classic character back into the forefront. And while reviews for the movie were not great, any time the public gets another look at Pac-Man, they are reminded of all those hours spent on the joystick. This makes 2015 a prime year to dust off the Pac-Man group costume.
Plastics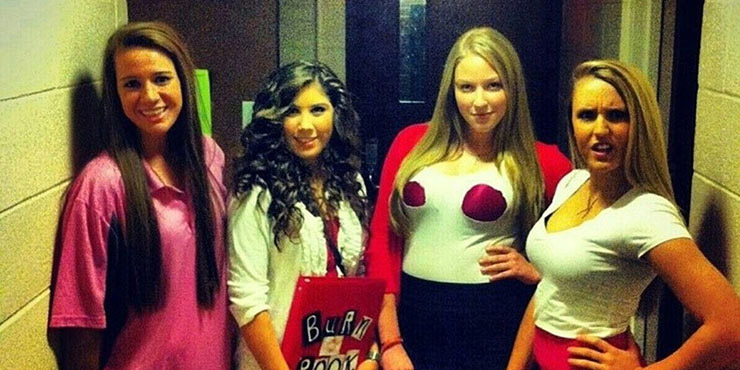 If you are still trying to make "Fetch" happen, a Plastics from Mean Girls group Halloween costume is a modern throwback worth considering in 2015. Nostalgia comes in layers it seems, with even decades' old movies somehow falling under the rosy retrospection you feel for older brands and movies. This is one of those instant classics with a cult following and makes for a good group costume regardless of the year.
Price is Right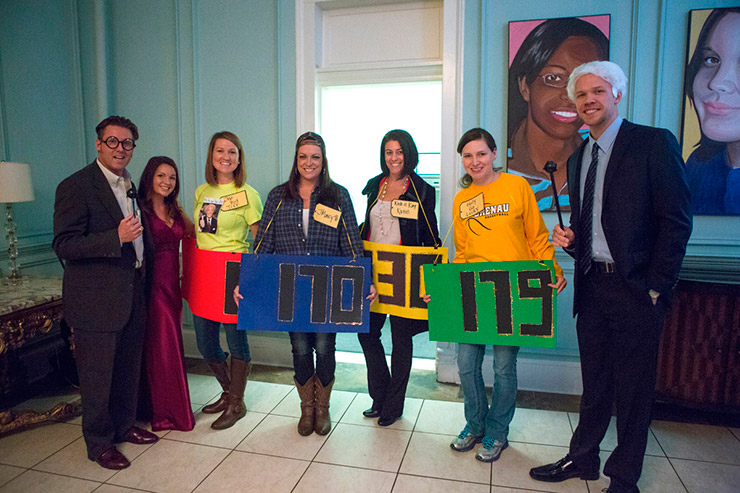 Come on down! This Price is Right costume hits the mark perfectly. The contestants all have the recognizable name tags and bids, the showcase model looks as beautiful as ever, but, wait … two hosts? Bob AND Drew?! Hey, that's okay! This group costume pays homage to the best cure for a sick day home from school, back then AND now in 2015. Other suggestions include making more personalized t-shirts, like "Pick Me, Drew, It's My Birthday!"
Scooby Doo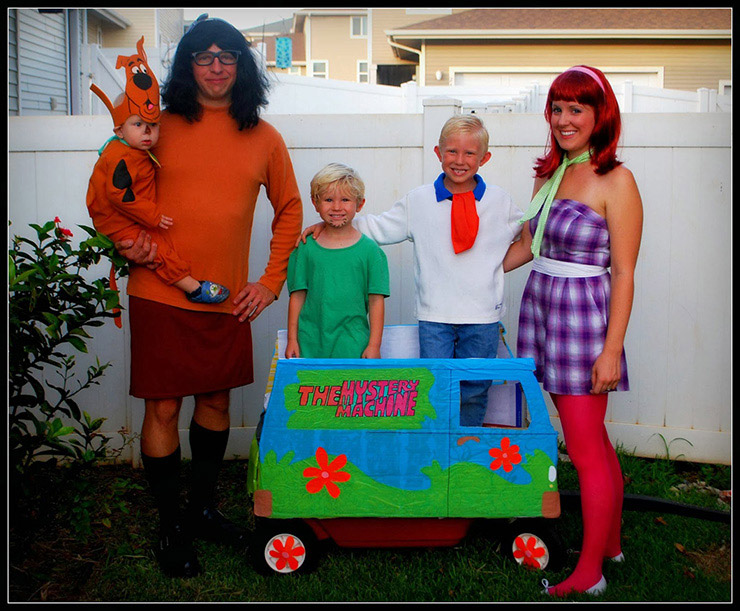 Even if your family doesn't match up perfectly with Scooby and the gang, there are ways of making it work. This dad isn't afraid to dress as Velma for Halloween! If you have more people than five for your group Halloween costume this 2015, you can always throw in a few ghosts and ghouls. This family turned their wagon into the Mystery Machine, perfect for protecting the candy all the way home from trick-or-treating.
Shark Week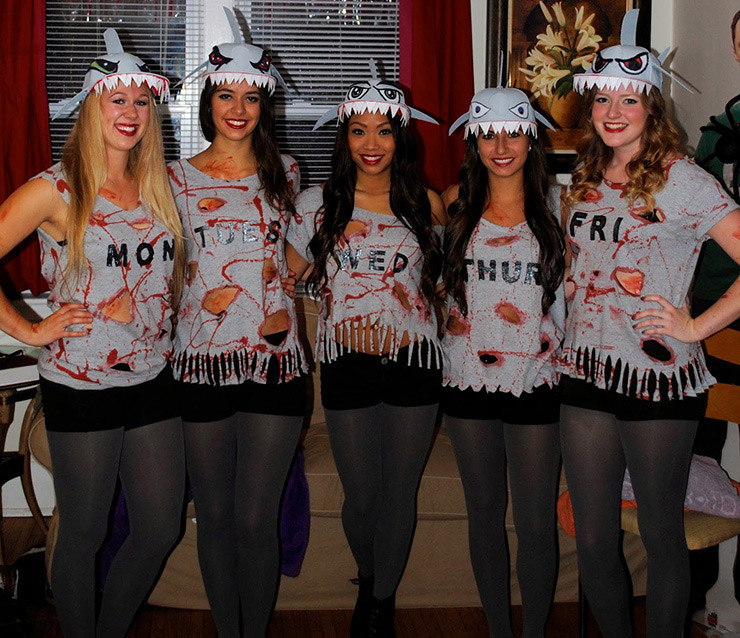 Remember that week when you never left your couch? If you a Shark Week fiend, that might even be several years in the last 10 or so. Shark Week has become one of those phenomena that can't quite be summed up other than saying, "What's not to like about sharks?" These ladies took the fandom a step further with the Shark "Day of the" Week group costume. Let's just hope they don't run into any tornadoes!
Shrek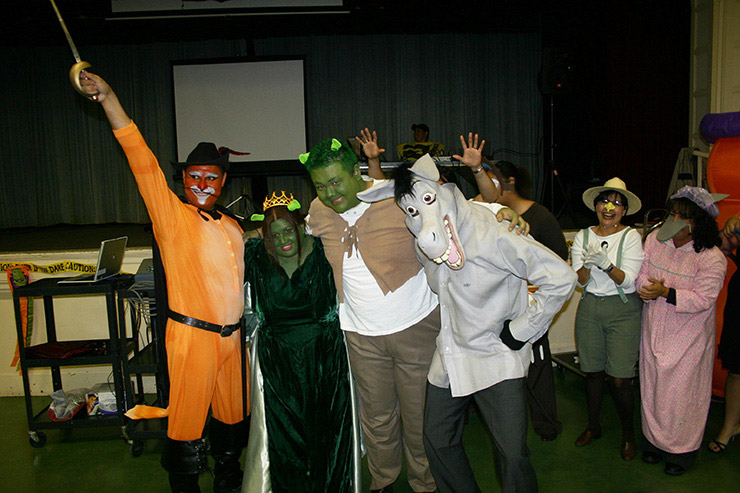 Even if makes you feel old to admit, the original Shrek is not a recent movie anymore, which lands it square in the ranks of nostalgia. Like, "remember when the babysitter took us to see Shrek?" In this costume, we see Puss in Boots, Fiona, Shrek, and one party-worn looking Donkey. Hey, we even see some fairy tale characters in the background. Now, start practicing those accents.
Slave Leia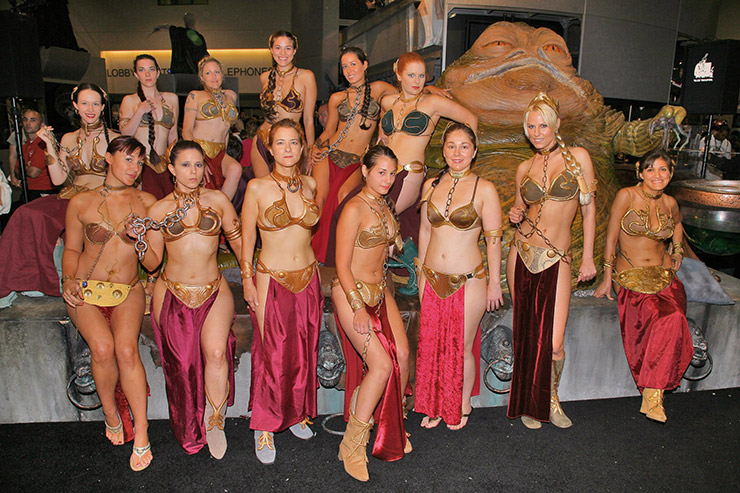 Alert! Alert! This is one scandalous group costume! While we say that Star Wars is relevant every year, the release of The Force Awakens this December 2015 helps make the rest of the world agrees with us. Celebrate one of the most-watched scenes in science-fiction history with a group of over a dozen Slave Leia's. Hey, Jabba is back there, too. I bet you hadn't even noticed....
Star Wars Bounty Hunters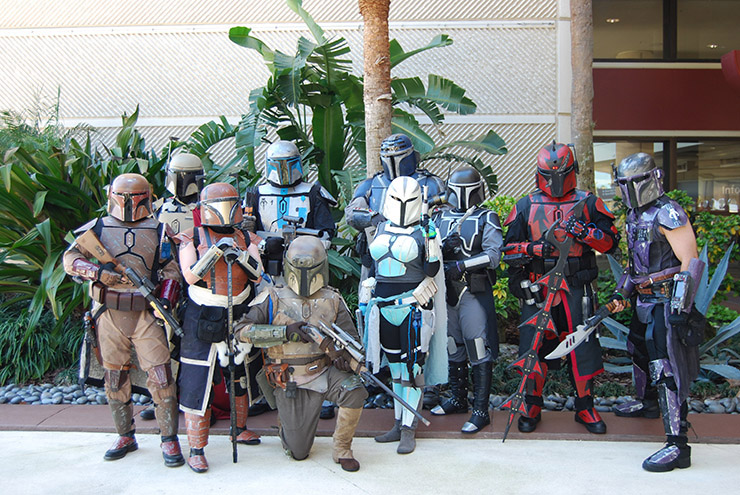 Who doesn't want to be a Star Wars bounty hunter at least one night out of the year? Seriously though, while Boba Fett was only on the screen for a few scenes, he made a lasting impression on the Star Wars universe, making him an unforgettable character worthy of replication. This group used their creativity to imagine new takes on the bounty hunter look and nailed it.
Steampunk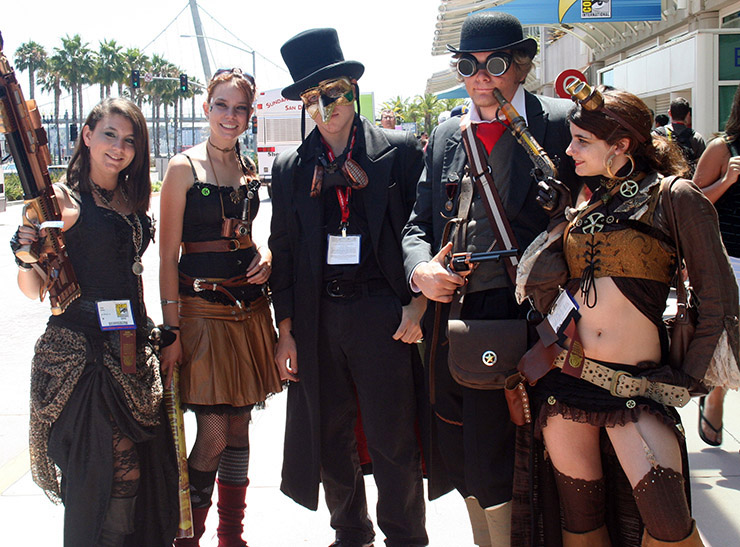 You might have thought the Steampunk craze was just a passing fad, but, boy, were you wrong! Have you been to any conventions or Renaissance Faires lately? The mechanical, yet old fashioned, but kind of futuristic, and kind looks like a train type fashion is here to stay! So pull out your favorite gears, chains, leather straps, and weird goggles, and just go as "Steampunk" this Halloween 2015. You can try a theme, too! Like Steampunk Avengers or Steampunk Mean Girls. It'd be fun!
Trolls Dolls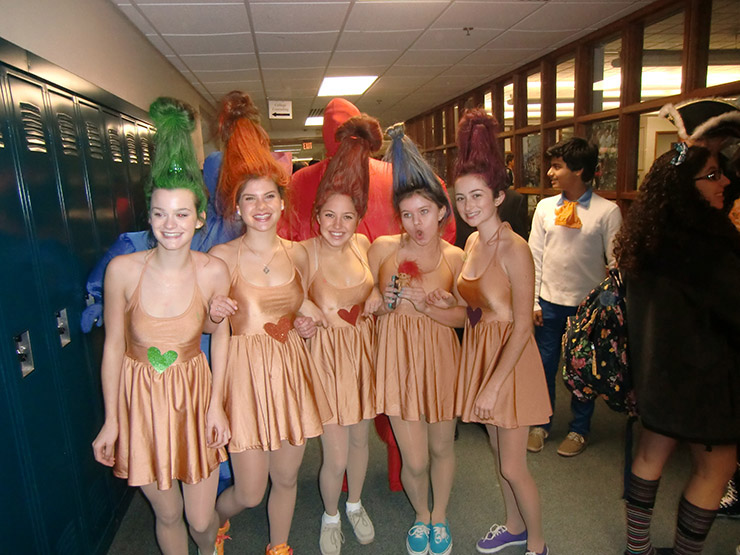 Like Beanie Babies, Pogs, or Tamagotchi, Troll Dolls are one toy you will have a hard time forgetting. Harping once again on the nostalgia beat, this group getup will give you the "Oh, now that's clever!" reaction you are looking for. Everyone who had a toy or two knows their silly, frilly hair and bedazzled belly buttons, and will clamor around to take a picture without hesitation.
Will Ferrell Costumes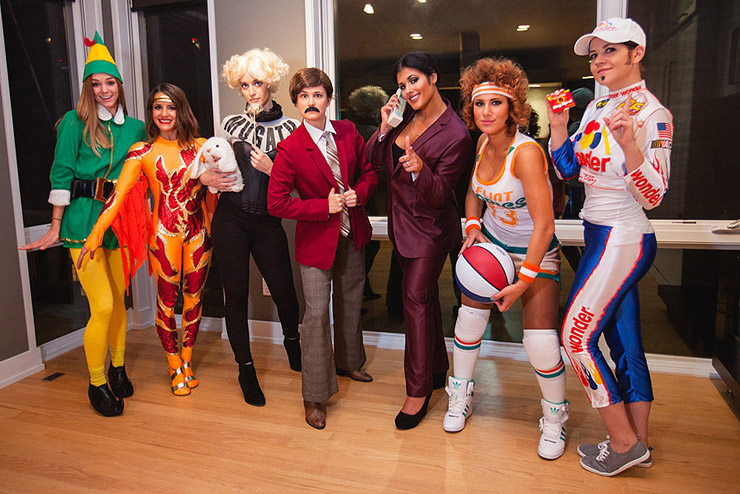 It looks like these ladies are keeping up a tradition that seems to be a growing trend. If you remember, they look to be the same group who did Johnny Depp costumes earlier in this roundup. Will Ferrell seems like a shoe-in for a group costume motif following his most memorable costumes through his career, and they nailed this one again. What other celebrities could fit this mold? We see Buddy the Elf, Mugatu, and, the best, Ron Burgundy?
X-Men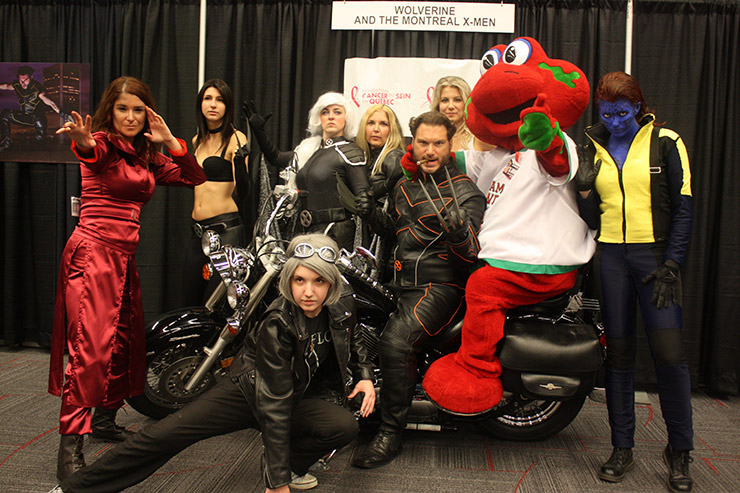 The X-Men series has given us one of the best ensembles in comic book history. How many mutants have come and gone through the doors of Charles Xavier's School for the Gifted? PLENTY to choose from to make an awesome group costume this Halloween 2015. Wolverine, Storm, Mystique, they're all there, but there are more to choose from. And our favorite X-Men, the red frog on a motorcycle!
YOLO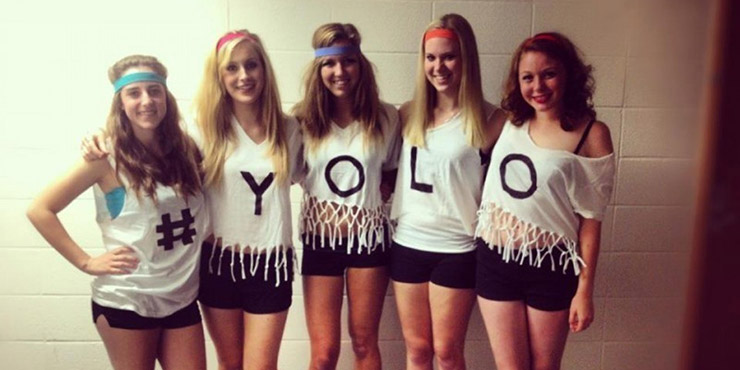 OMG, #YOLO! So, IMO (you know, FOMO), let's LOL this Halloween… If that as an alien language to you, this YOLO group Halloween costume probably isn't for you. If on the other hand your smart phone is basically another appendage and your best conversations happen on Twitter, any acronym costume like this would make a pretty topical and timely pick for 2015.
Five Nights at Freddy's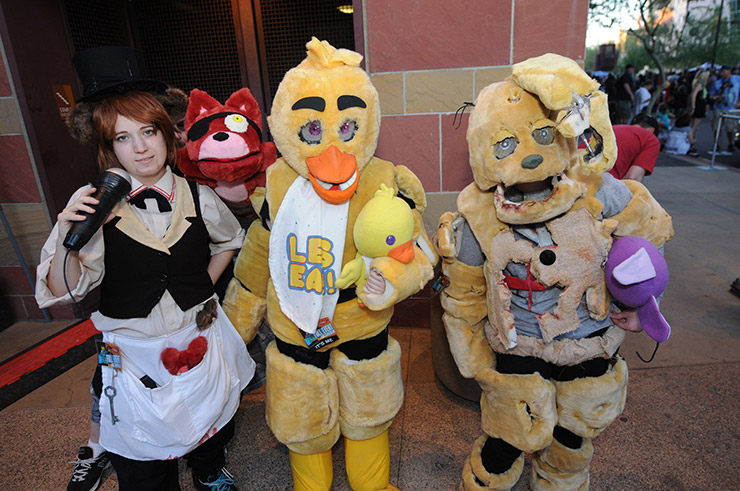 This scary game has taken the indie video game world by storm. Five Nights at Freddy's is ALL about the jump scares, which you can incorporate into your Halloween group costume this 2015 by hiding behind corners and then scaring the crap out of our friends. In the game, you act as an overnight security guard at a pizza joint and have to defend yourself when the animatronic characters start coming to life. This group did a great job of getting that creepy-cartoony vibe just perfect!
Did we miss anything? If you aren't keeping your group Halloween costume ideas closely guarded until the big reveal, we would love to hear what your crew is thinking about dressing as for Halloween 2015. Share share share in the comments below, or if you really think it's up to snuff, enter your costumes in our 2015 Halloween costumes contest!