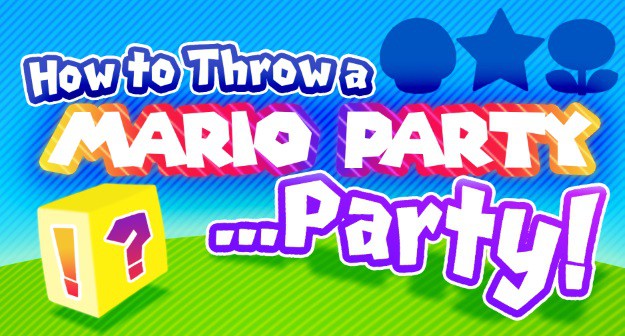 Unlike certain franchises that seem to never end (The Land Before Time 14?! Now That's What I Call Music! 89?!?!), Mario Party is one pop culture staple we will forever welcome new editions of. In fact, we are practically giddy that Mario Party 10 was released for the WiiU earlier this week, and we fully plan to spend the weekend swimming in a gleeful sea of brand new minigames. If you, like us, can't think of many better ways to pass a Saturday than getting together with a group of your young-adults-by-law-but-kids-at-heart friends and throwing a Mario Party party, then read on! We've put together some easy cocktail, food, attire, and activity ideas to help you throw just such a "party party."
Mario Party Party Cocktail Ideas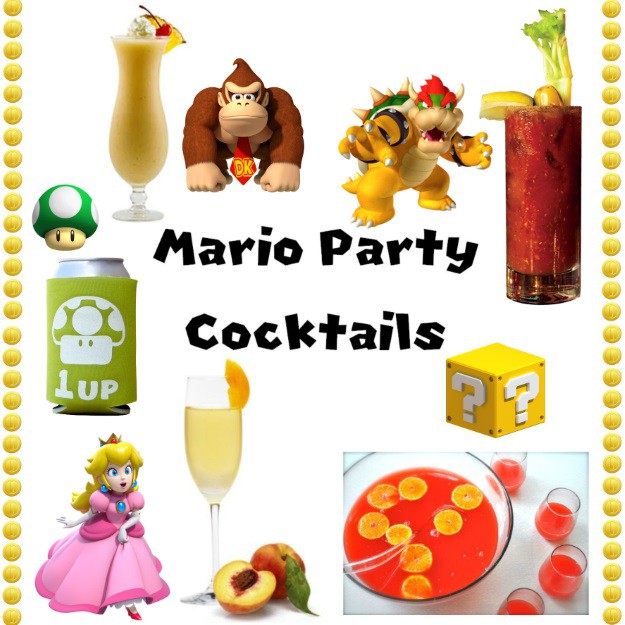 Mario Party 10 is rated E for Everyone, but there are already plenty of ideas floating around the web on how to throw a Mario party for kids. (Just log onto Pinterest and you'll be up to your eyeballs.) As such, we're gearing our party towards Mario-loving adults! And what's the one thing that basically every adult party needs? Cocktailssss! Here are some ideas ranging from fancy shmancy to 0.00 effort:
DK Daquiris: Bananas : Donkey Kong :: Cookies : Cookie Monster. And not only does Donkey Kong love these fragrant fruits, bananas are a celebrated resident of the entire Marioverse! Toss some light rum, nanners, and ice in a blender, garnish, and enjoy.

Bowser Bloodies

: Bowser is THE star of this latest game in the Mario Party series, so something red, fiery, and spicy is a fitting tribute to this bad-to-the-bone boss. Generously garnished bloodies with an extra dash of Tabasco ought to do the trick.

Princess Peach Bellinis

: Any type of Bellini is a crisp and refreshing beverage worthy of a princess, but of course at your Mario party, peach is the only option! Combine chilled prosecco with pureed peaches, and bask in the beautiful pink glow.

Mystery Block Punch

: Talk about a convenient way to use up a bunch of leftover alcohol! Sometimes these "?" Blocks hold lovely twists of fate, and other times the surprises inside are not so sweet. So, no matter how your punch mixture turns out, it will fit your party theme perfectly.

Beer

: You don't need fancy punches and blended beverages to have a good time. Grab a 12-pack of your favorite cheap beer, stick the cans in 1Up Koozies, and your guests will still be mighty impressed with your attention to detail.
Mario Party Drinking Game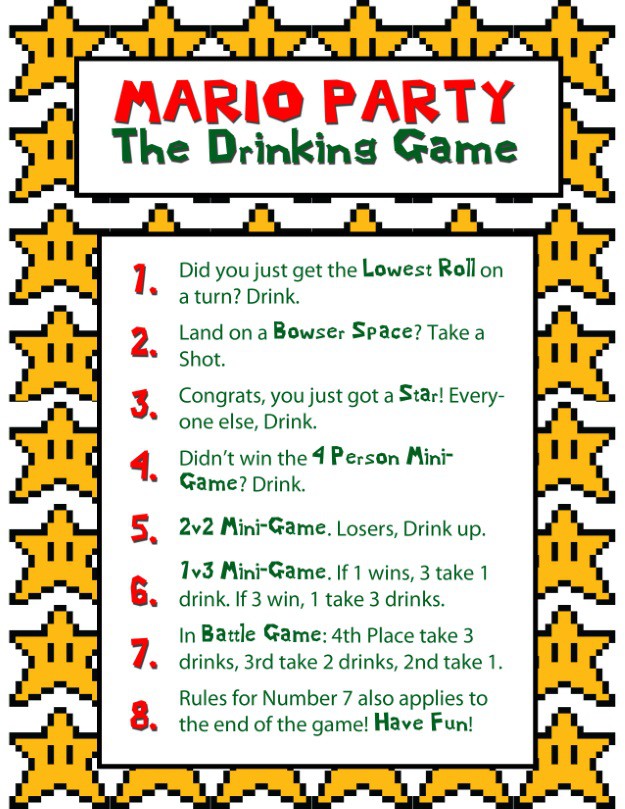 [Source]
What to do now that you have your cocktail menu planned? Drink up, of course! THANK YOU to the cool cool cool person that took the time to invent this, so we didn't have to. The rules are pretty straight-forward - drink when you lose a minigame, drink when you win a minigame, drink, drink, drink, and have fun!
Mario Party Party Food Ideas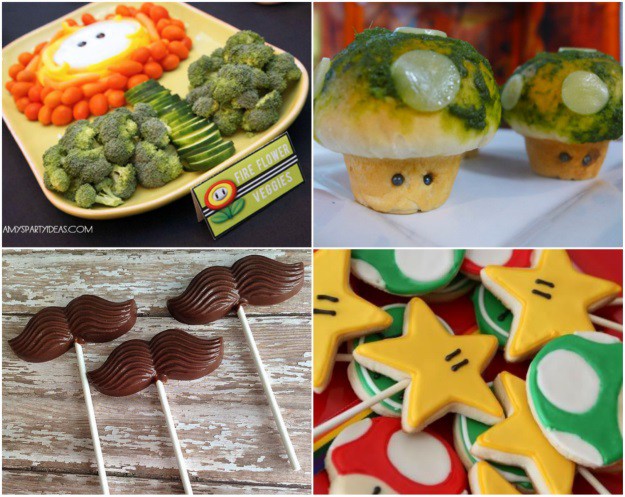 [Source: Top Left I Top Right I Bottom Left I Bottom Right]
NO ONE expects you to make artisinal pizza rolls topped with pesto and sculpted to look like Mario Mushrooms for your party. If you DO make them, though, you might just win someone's heart instead of just some minigames. For a similarly savory, but far more achievable idea, arrange a store-bought veggie platter to look like a Fire Flower! It's borderline too cute to handle, and is guaranteed to be gobbled up in no time.
As for sweeter fare, this is the perfect reason to bust out that novelty mustache ice cube tray you got for Christmas. Chocolate 'staches on a stick are not only delicious, they provide great selfie photo ops. And, of course, nothing is a better treat than sugar cookies for guests with the munchies. These star / mushroom shaped cuties would be a welcome addition to this [and any] gathering.
Mario Party Party Activity Ideas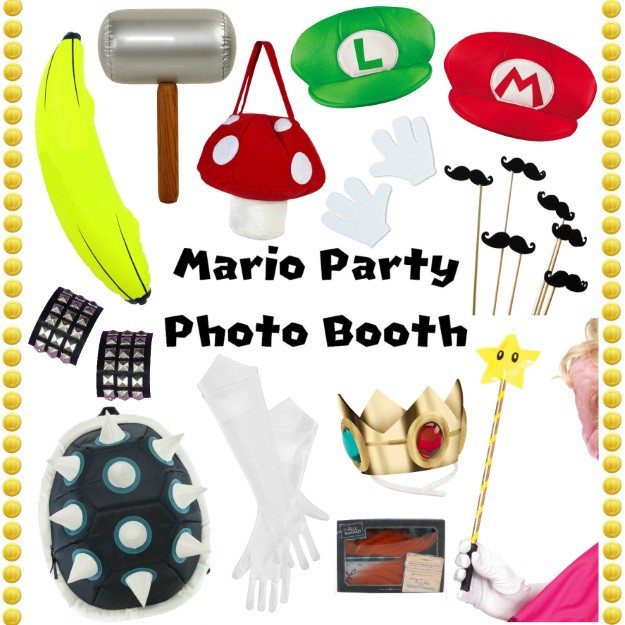 Inflatable Banana Inflatable Mallet Mushroom Purse
Giant Cartoon Gloves Mario Hat Luigi Hat
Shell Backpack Bowser Wrist Cuffs Bowser Stick-On Eyebrows
Princess Peach Crown Long White Gloves Star Wand
Obviouslyyyyyy the main activity at your Mario Party party will be playing Mario Party. BUT, how much of a total blast would it be to wow your guests with a themed photo booth? There is literally no better way to make all of your Instagram followers jealous than by posting pics of you and your pals posing with oversized cartoon gloves, princess crowns, inflatable bananas, and spiky Bowser backpacks.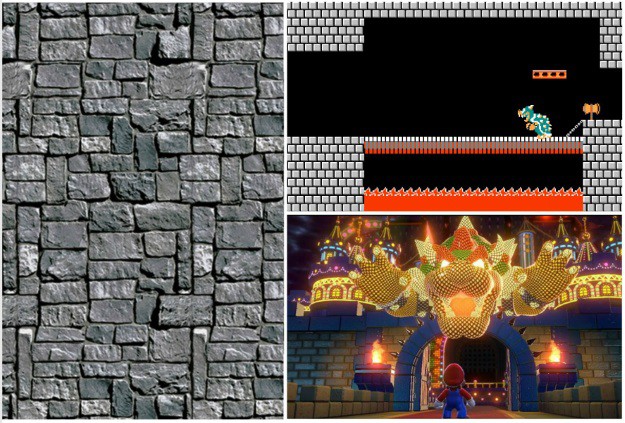 You certainly needn't go out of your way to construct some crazy DIY booth either - just tape up our plastic stone backdrop on an open wall and you'll instantly be transported to Bowser's Castle! Again, since Bowser is the showcased character in this new Mario Party WiiU version, it would be apropos to have the background look like his grey stone castle (which has been around since THE LITERAL MARIO BEGINNING (see above)), as opposed to the typical bright red "Mario brick."
Fun Fact: Mario Party 10 marks the first time that Bowser will be a playable character. You can play with up to 4 players using the regular Wii Remotes, and an additional player can control Bowser from the Wii U GamePad. GAH - sorry - geeking out. We're excited!!
Mario Party Party Costume Ideas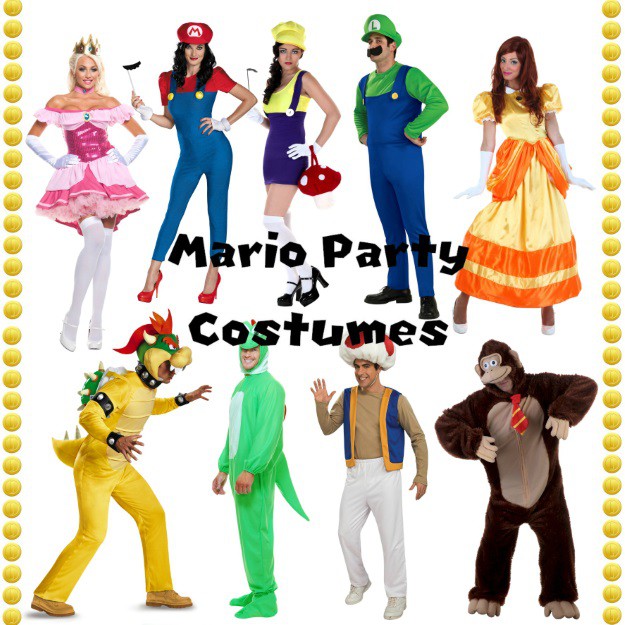 Princess Peach Women's Mario Jumpsuit Men's Wario Costume
Men's Luigi Costume Princess Daisy Costume Men's Bowser Suit
Yoshi Costume Toad Costume Donkey Kong Costume
You're on a Halloween costumes blog in the middle of March, so don't try to pretend like you're not one to take advantage of every possible costume-wearing opportunity that arises throughout the year. Encouraging your guests to dress up as one of the colorful characters from the Super Mario crew would undoubtedly catapult your Mario Party party to the next level of awesome. If you're not prepared to go full-costume, you could always opt for a Super Mario Blazer, costume tee, or just carry around one of those yummy chocolate mustaches on a stick.
Mario Party Party Decoration Ideas
You're a grownup. You're probably putting this party together the day before you're hosting it. You don't need decorations to have a good time. Plus, if you took our advice earlier, you've already got a sweet Mario photo booth in the works that will soon be occupying a sizable portion of your living room. However, if you're down to really let the Mario Spirit move you, we suggest you focus on one key element of decor: B A L L O O N S! Balloons are the cornerstone of the Mario Party world, after all.
Don't believe us? Below are just a FEW of our favorite balloon-focused mini-games from Mario Parties past. Balloon Burst? Bumper Balloon Cars? Shy Guy Says? Balloon of Doom? Balloon Busters? MERRY POPPINGS? #NostalgiaOverload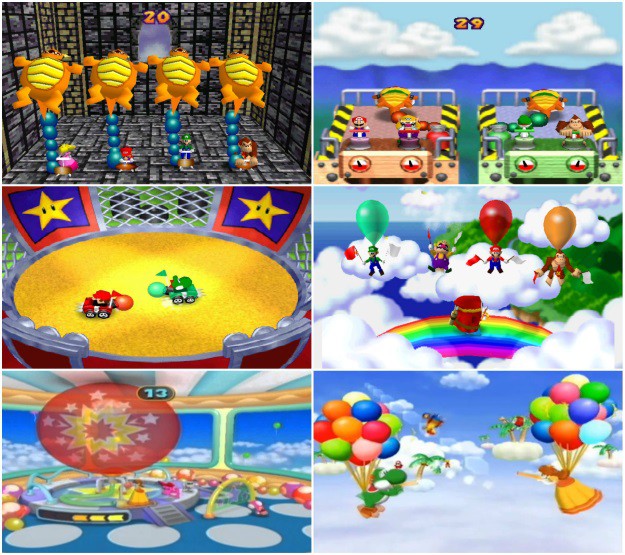 [Images from MarioWiki]
Just purchase several bright, multicolored balloons, and go wild! Attach them to the chairs where your guests will be perched, set them on the bar and snack tables, pepper them liberally throughout your game room, and save a few for some beer-fueled, minigame-inspired competitions with your party peers that are sure to sound like a great idea later on in the night. The most important rule when hosting a Mario Party Party, though, has already been succinctly stated in rule number 8 of the Mario Party drinking game:

Are you really planning to host a Mario Party Party? Can we come? What's your favorite minigame? Feel free to share in the comments below! Keep in mind that these can also apply as Super Mario party ideas, or for any new Mario Party games.