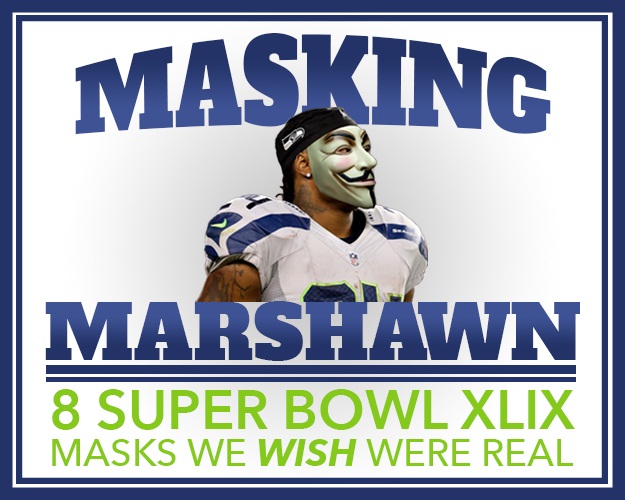 Seattle Seahawks running back Marshawn Lynch has a volatile history in the NFL. He has been perceived as a bad-boy ever since a weapons charge in 2009, and if anything, he seems to embrace that persona! He furthers his infamous status through strange pre-game rituals and a very odd relationship with the media. Marshawn's 2014 football season hasn't disappointed in this regard, and he has been trending on social media recently due to his exceptionally brief responses to all media questions. Remarks include, "fine," "yeah," "you know why I'm here," and most famously, "I'm just here so I don't get fined."
Another of Lynch's notable quirks is the oxygen deprivation mask he wears while training/warming up. Marshawn and his various masks have made their way into a number of different sports news sites, and being that we at HalloweenCostumes.com fancy ourselves mask experts, we got to thinking...what mask might he wear to Super Bowl XLIX? What mask would we LIKE him to wear? What mask would it be HILARIOUS for him to wear? We bring you "Masking Marshawn," our 8 recommendations for the mask we'd love to see Beast Mode sport for the big game!
1. Guy Fawkes, V for Vendetta
"Beast Mode should not be afraid of the Patriots, the Patriots should be afraid of Beast Mode."
2. Bane, The Dark Knight Rises
"You think the mask is your ally? I was born in it, molded by it. I didn't taste fresh air until I was already a man."
3. Face-Hugger, Alien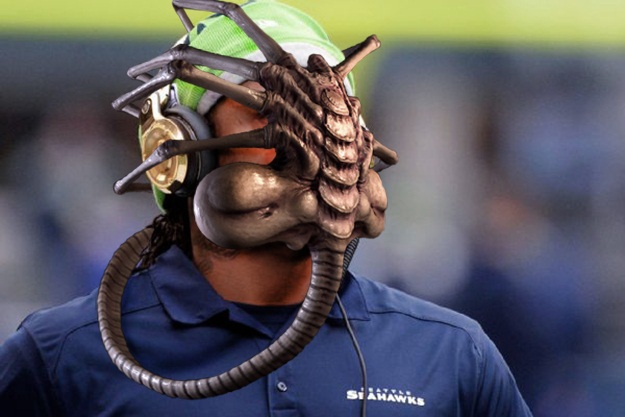 "Mrrphhnnn Hummphhhefff Hfffmhhhh."
4&5. Scorpion and Sub-Zero, Mortal Kombat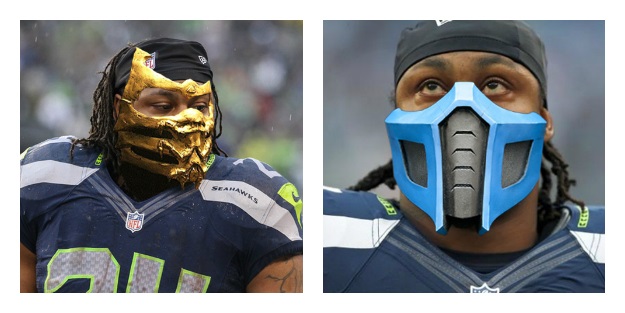 "Get over Here! This fight will be your last, New England."
6. Masquerade Mask
"Why so silent, Marshawn?"

7. Shredder, Teenaged Mutant Ninja Turtles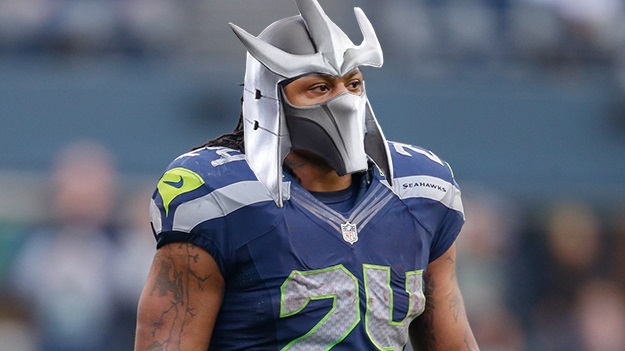 "Tonight I dine on Brady Soup."
8. Hannibal Lecter, The Silence of the Lambs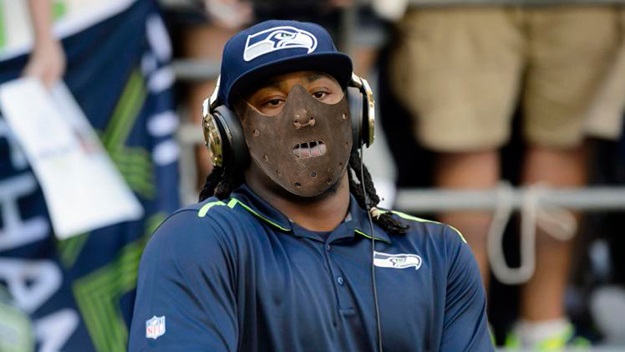 "A reporter tried to question me once, I ate his recorder with some fava beans and a nice bottle of Budweiser."
Which is your favorite of the many magnificent masks of Marshawn? Any ideas for other masks he should pick up in the future? Take a look at our selection of masks and let us know in the comments below!