What are you most looking forward to this Halloween? Collecting copious amounts of your favorite candy? Dressing up in a trendy costume? Enjoying a horror movie marathon? Find out what other Americans will be up to this year, with our Ultimate Visual Guide to Halloween Statistics! You'll discover popular costumes for you and fido, a count-down of the best sweet treats, suggestions for a Halloween playlist and more spooktacular stats!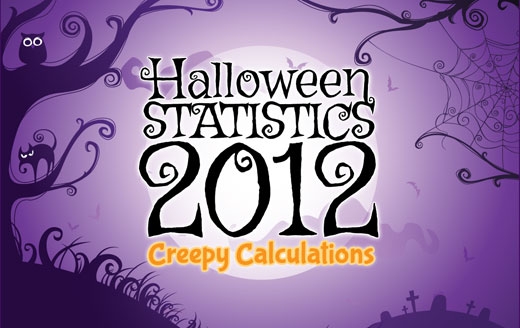 Click the image to view full infographic.
Embed this Image on Your Site:
Q: How are adults planning to celebrate Halloween 2012?
A: 36% will throw or attend a party, 76% will hand out candy, 50% will carve a pumpkin, 33% will take their children trick-or-treating, 51% will decorate their homes or yards, and 45% will dress in costume.
Q: How much money do Americans spend on costumes for adults, children and pets?
A: $1.4 billion is spent on adult costumes, $1.1 billion is spent on kids costumes, and $370 million is spent on costumes for pet.
Q: What are the top Halloween costume trends for kids, adults and pets this year?
A: For kids, the top costumes are princesses, Batman, Spider-Man, rag Dolls, and Strawberry Shortcake. For adults, the top costumes are monsters, Where's Waldo, Top Gun Flight Suits, characters from Batman, and zombies. For pets, the top costumes are dinosaurs, jockeys, Yoda, Dorothy, and a taco. Over 15% of people plan to dress up their pets in costume this year!
Q: How many households plan on giving out candy?
A: 89 million American households
Q: How many potential trick-or-treaters are there?
A: 41 million. That is the number of kids in the United States between the ages of five and 14.
Q: What are the most and least popular types of Halloween candy?
A: Based on a survey of more than 100 Americans, the most popular candy was chocolate candy bars. This is followed by chocolate candy pieces, then fruit flavored chewy candies, fruit flavored hard candies, seasonal candy like candy corn and caramel apples, lollipops and suckers, bubble gum, and lastly "other." This includes non-food items like toothbrushes, spare change, stickers, and coupons.
Q: What are the best and worst cities for trick-or-treating?
A: Irvine, California is America's safest city, while Flint, Michigan is America's most dangerous city. The city with the warmest average October temperature is Miami, Florida, while the city with the coldest average October temperature is Denver, Colorado. America's wealthiest city is Washington, DC, while America's most populous city is New York, NY.
Q: How much does the world's heaviest pumpkin weigh?
A: According to the Guinness Book Of World Records, the heaviest pumpkin is 1,810 pounds. This record was set by Chris Stephens of Stillwater, Minnesota, in 2010.
Q: What are the most popular Halloween songs?
A: According to Billboard, the most played Halloween songs are "Thriller", "Monster Mash", "Ghostbusters", "Werewolves of London", and "Highway to Hell".
Q: What are the most popular horror movies?
A: According to IMDb, the highest rated horror films released in the US are "Psycho", "Alien", "The Shining", "Diabolique", and "The Thing".
Q: What is the most watched television Halloween special?
A: 2012 marks the 46th year "It's the Great Pumpkin, Charlie Brown", will be aired. It has been shown every Halloween since its debut in 1966.
Q: What is the most popular Halloween literature?
A: According to Amazon, the most popular horror books for October 2012 are "The Walking Dead Volume 2", "The Walking Dead Volume 1", "11/22/63", "This Book is Full of Spiders" and "Shadow of Night".
Q: What are the most popular Halloween games for current consoles?
A: According to Metacritic, the highest rated horror games are "BioShock", "Demon's Souls", "Left 4 Dead 2", "Left 4 Dead" and "Dead Space".
Q: How did trick-or-treating start?
A: In 1895, there are records of children "guising," or going door to door collecting treats in costume. The first instance of guising in North America was recorded in Ontario in 1911. The book Hallowe'en in America described a process like trick-or-treating in 1919. The earliest record of the term "trick or treat" was in Alberta in 1927. And finally, in 1939 a national publication was the first to use the term "trick or treat" in the United States.