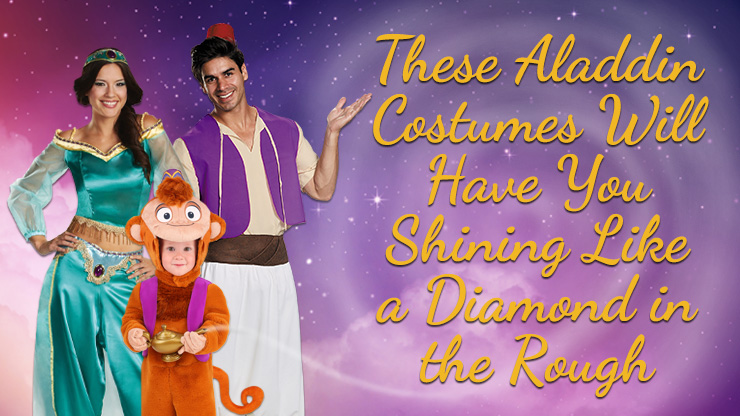 You ain't never had a costume like these! Whether you're a fan of the animated Disney movie or you enjoyed the live-action version, we have Aladdin costumes from both films. Aladdin and other Disney movies make great group costumes, couples costumes and even family costumes—whether you're able to put together a group of two or six people. These costumes can help you bring the folktale from One Thousand and One Nights to life! (Don't forget to memorize your favorite songs like "A Whole New World" and "Friend Like Me" so you can belt those tunes at the party karaoke.) Keep reading to check out our best Aladdin Halloween costume recommendations.
Aladdin Costumes for Men and Boys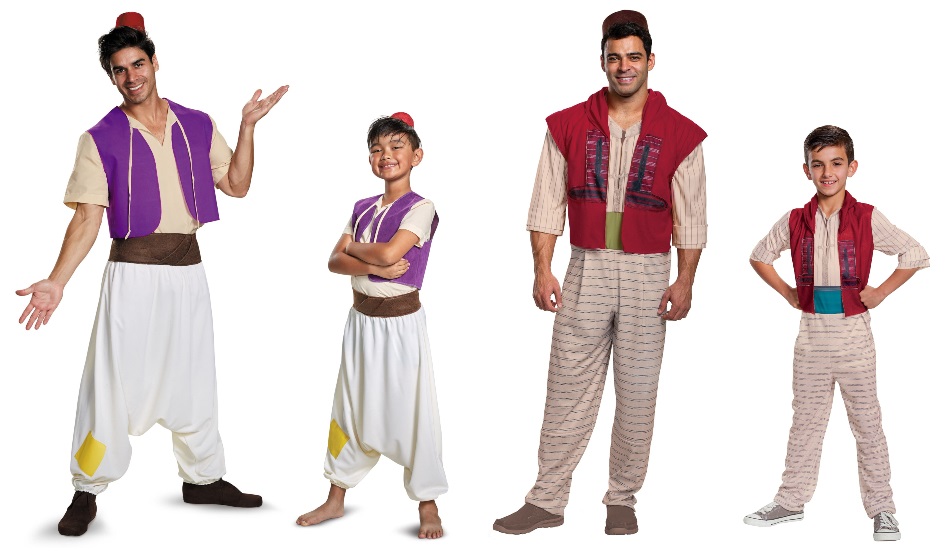 Our pal Al may have made some poor life choices before his fortunes changed, but during the movie we find out that this loveable street rat had his heart in the right place. Whether you want to feel like a bad boy for a night or you're hunting for a magic lamp, you can slip on an Aladdin costume and be one of your favorite Disney characters. If you're looking to go out with a buddy for the night, create your own Aladdin couples costume by pairing up with a Jasmine, Genie or Abu. But if you want to be part of a less amicable pair, be Aladdin with a bud in a Jafar costume. Jafar will have to make sure his scowl is on point for the night.
Princess Jasmine Costumes for Girls and Women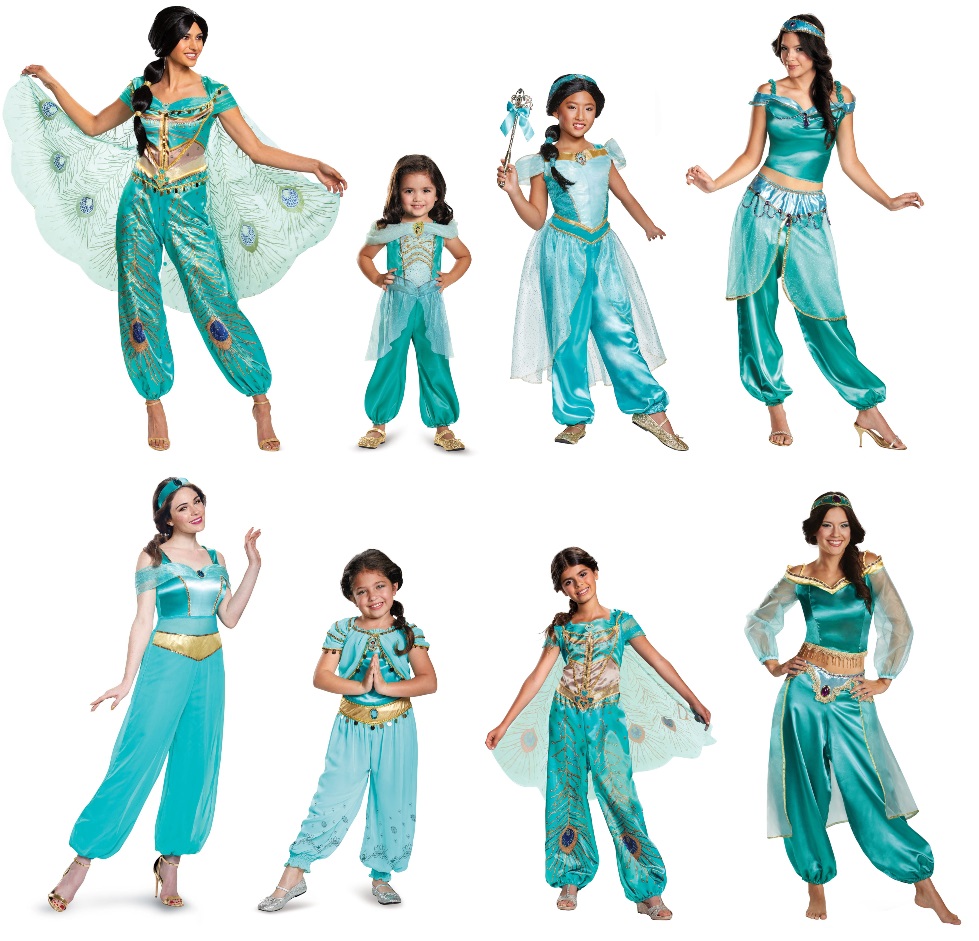 Kids that grew up in the 80s and 90s will fondly remember Princess Jasmine as one of their favorite Disney princesses. She's bold, is willing to break tradition for love and she has a good head on her shoulders. (Tricking Jafar was one of her better strategies as he had an unfair advantage as a sorcerer.) Jasmine also has a perfectly obedient tiger as her pet, so it's hard to argue with that! There are tons of Disney Princess Jasmine costumes to choose from, whether you're a fan of her classic animated style or you prefer Jasmine's live-action costume. If you want to pair up with a significant other, a buddy or your child, Aladdin or a tiger costume for Rajah are great duo costume ideas.
Genie Costumes for Adults and Kids

Genie is the primary catalyst behind this entire tale. Without his magic, Aladdin would never have transformed into Prince Ali, and it's unlikely that Jasmine would have fallen in love with Aladdin. (He'd still be stuck in the cave of wonders!) If you prefer to be blue, you'll definitely want to get a classic Genie costume. However, you can always avoid masks and blue paint by donning a live-action Genie costume. No matter which outfit you choose, don't forget to be fun and funny! Genie was behind many of the jokes that kept the films entertaining and family-friendly, so keep your humor, but keep it clean. Genie works the best paired with an Aladdin costume, or you can always have a group of genies because he occasionally clones himself when he's trying to make a point.
Jafar Costume for men with Ambition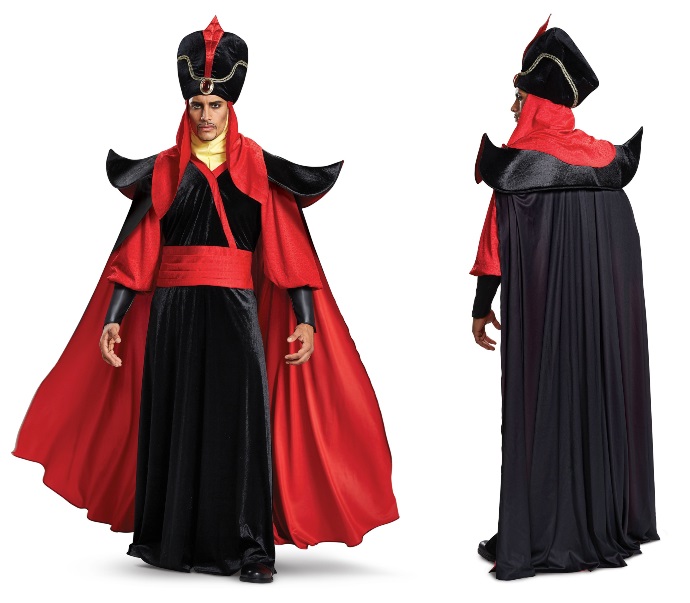 He's big, he's bad and he's got all the evil sorcerer powers your dark heart desires. (Not to mention he keeps his facial hair well-groomed!) If your ambition to be Sultan overrides your moral sensibilities, perhaps a Jafar costume is what you need. After all, the current Sultan is a bit of an imbecile and you know you can do better. Jafar is more of a lone wolf so you can easily wear this costume solo. But, if you're feeling more ambitious, Jafar pairs well with Jasmine or Aladdin, or you could always find the perfect parrot to be your Iago.
Rajah and Abu Costumes for Kids and Adults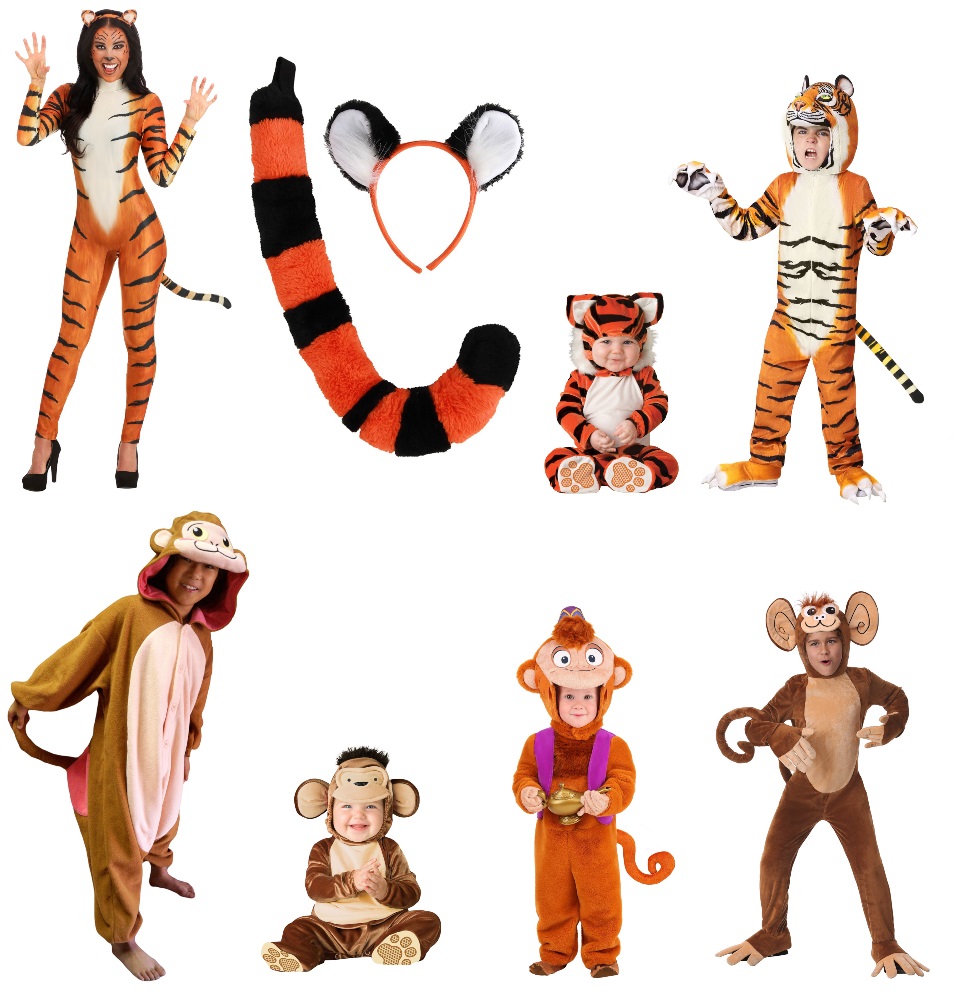 Aladdin is one of those rare Disney movies where both of the prince and princess protagonists have their own animal companions. Kids love animals, so getting your child to wear an Abu costume or a Rajah costume to go with your Aladdin or Jasmine outfit shouldn't be too difficult. These Halloween costumes also give you the perfect opportunity to dress as a group of four if you manage to get an Aladdin, Jasmine, Rajah and Abu together! However, you can still turn this into a couples costume with either Aladdin, Jasmine, an adult monkey costume or tiger costume. It's great when you can manage to snag both versatility and comfort in one outfit.
We hope you have more than enough ideas for your next Aladdin Halloween costume, whether you're going it alone or with a group of friends or family. Are you a fan of Disney costumes? Is Aladdin one of your favorite Disney movies? What is your favorite Disney costume experience? Share your stories with us in the comments below! We love to hear about your happily ever afters.