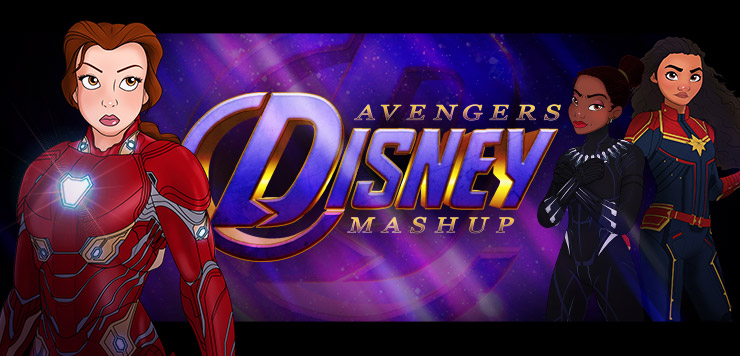 In recent years, Disney has been ramping up their Disney Princess game. They're more than pretty faces: they don't need a man to swoop in and save the day. Some of them even have special superhero-like powers. After they banded together in Ralph Breaks the Internet, everyone has been wanting to see more of the princesses being just plain awesome. We're 1000% on board with this, so in anticipation of the latest Avengers movie, we paired the princesses off with the hero that we felt best represented them. Keep reading to see all of our fun Disney Princess mashup character posters.
Disney has acquired quite a few properties in the past, including Marvel and 20th Century Fox. When this happens, people like to make additions to the Disney Princess lineup. We decided to do the reverse of this trend by adding the princesses into the Marvel universe as some of our favorite Avengers characters. Disney Princess mashups are nothing new, especially in the world of cosplay, so we wanted to take part because we're just that excited for Avengers: Endgame! Without further ado, here are our Disney Princess Avengers mashup posters listed in good old alphabetical order.
Click on images for larger versions
Princess Anna as Ant-Man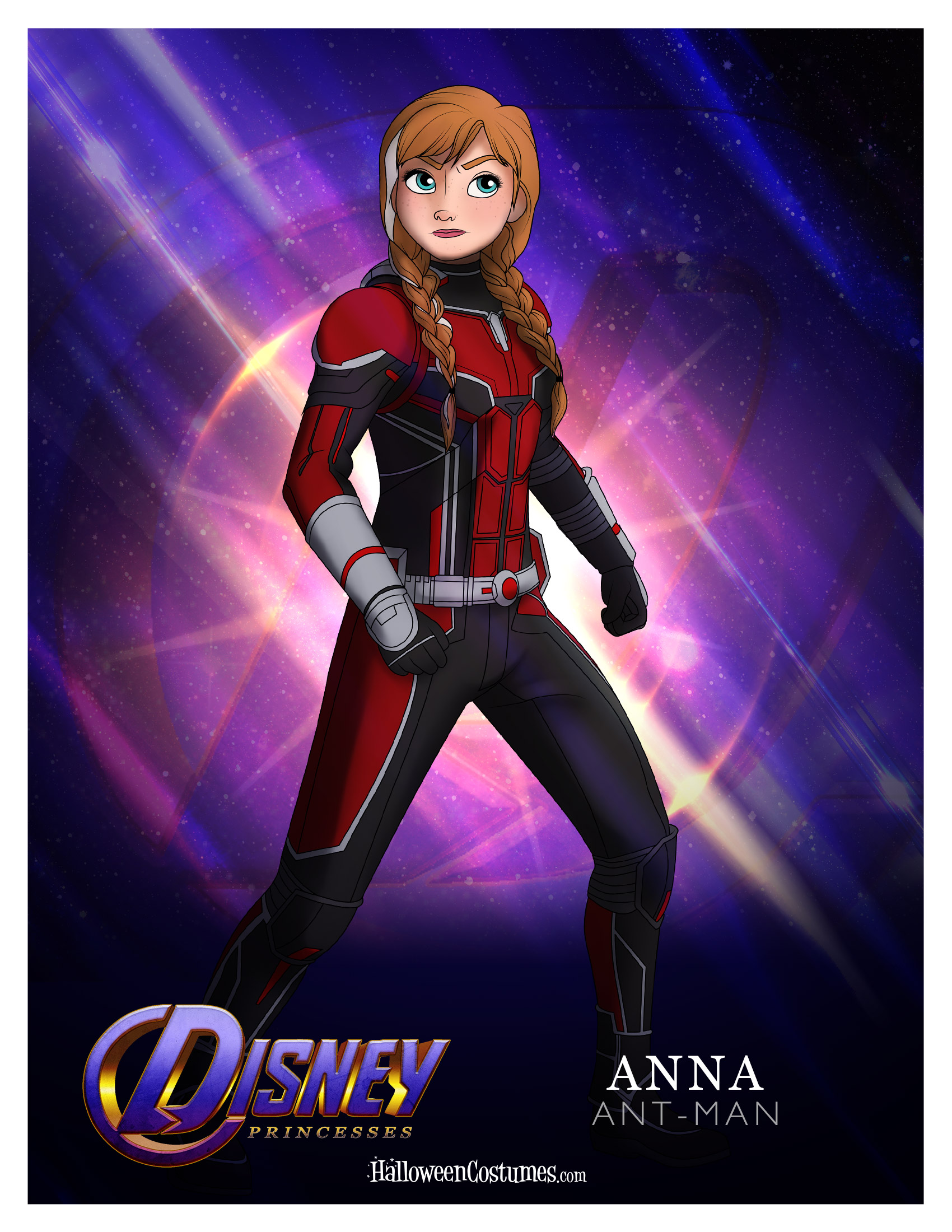 She's always willing to go above and beyond for her family and friends, just like Ant-Man when he was called by the Avengers to help out in Avengers: Civil War.
Princess Ariel as Thor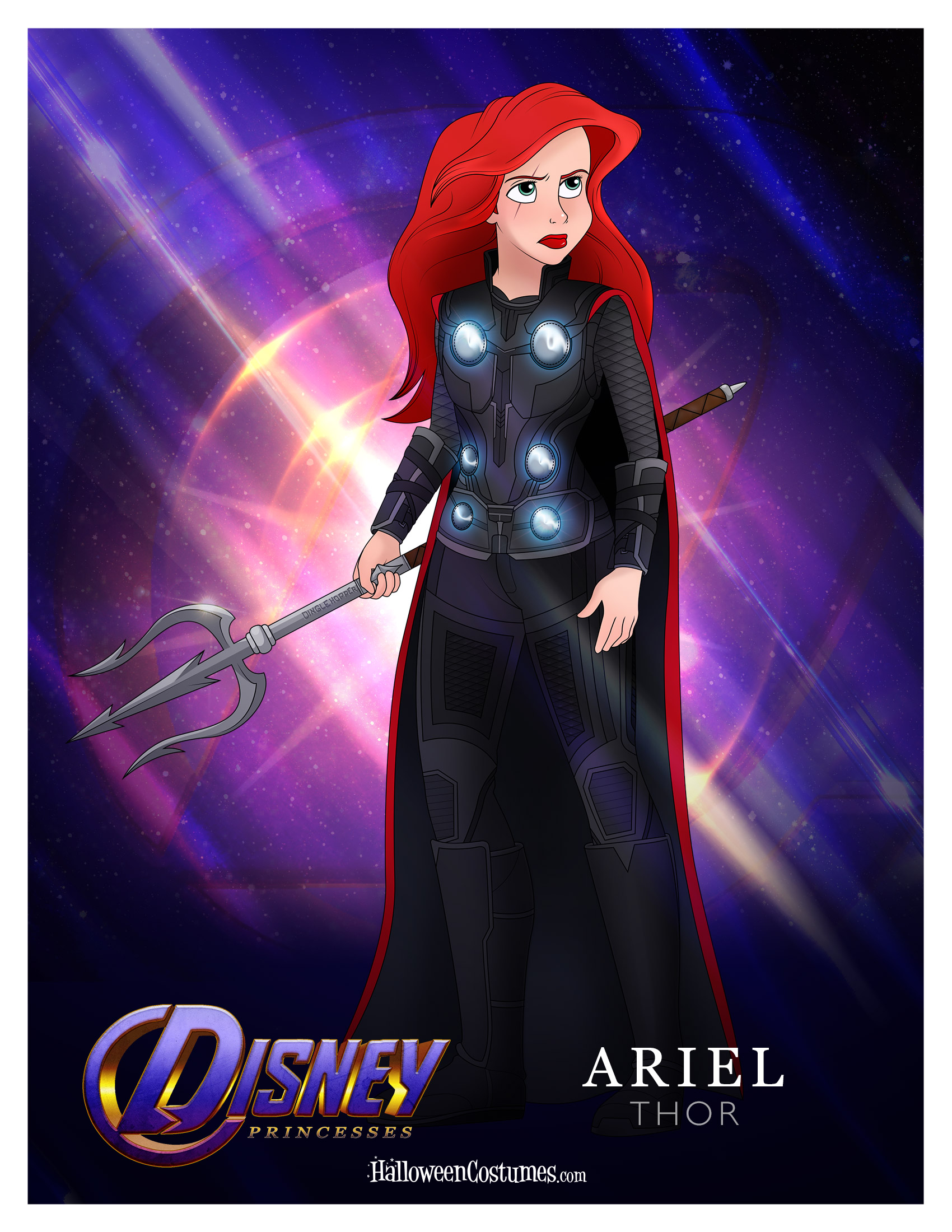 Ariel and Thor are very naive of the world of humans. Ariel collects human items that fall into the ocean and has her beloved dinglehopper, which is really a fork. Thor is unaware of human customs and smashes a mug in a diner and demands another.
Princess Belle as Iron Man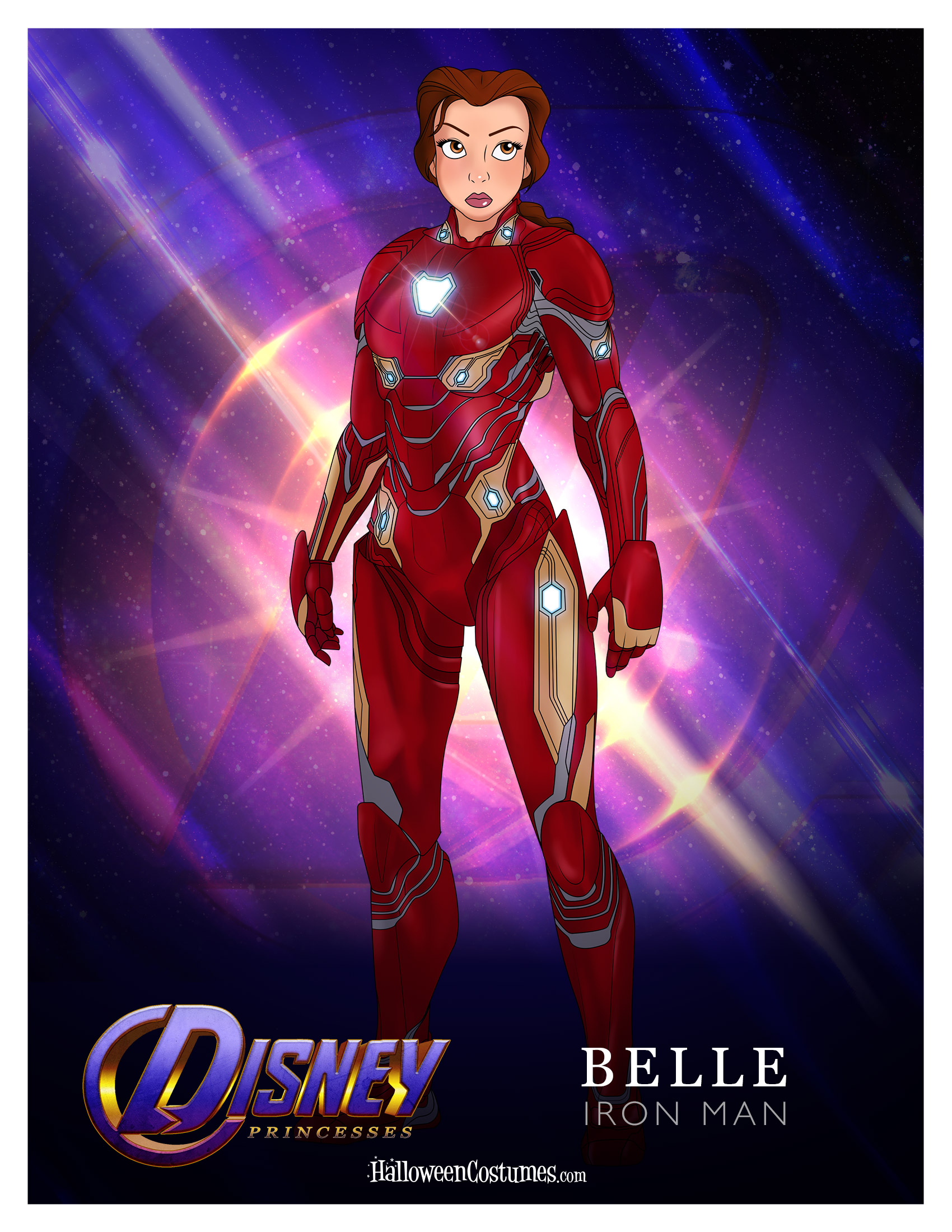 Belle is, by far, the nerdiest Disney Princess because of all the books she reads. If any of the princesses were to make their own suit of Iron Man armor, it would be Belle.
Princess Elsa as Scarlet Witch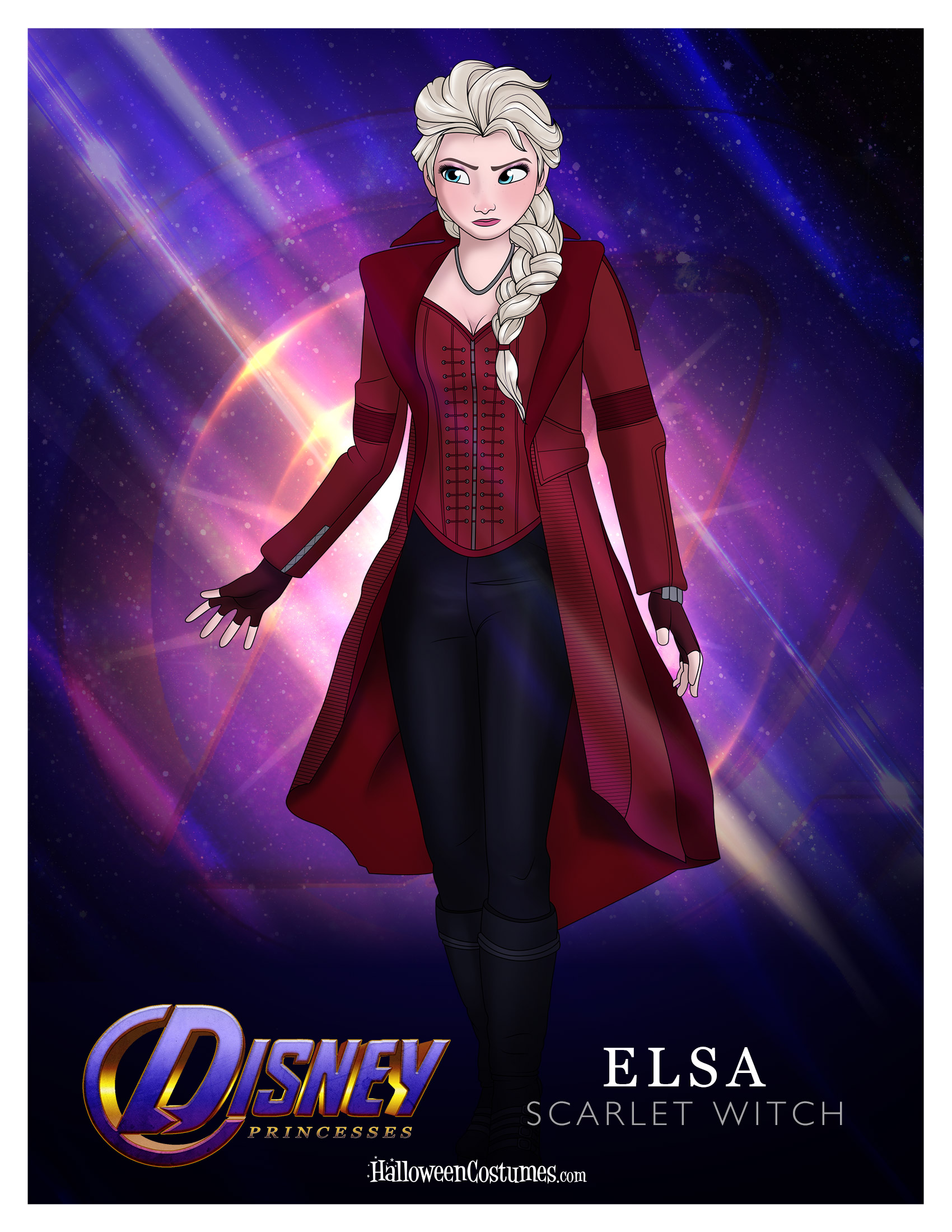 Both characters have magical powers that they're initially reluctant to use. However, when they decide to let it go, they're both incredibly powerful!
Princess Merida as Hawkeye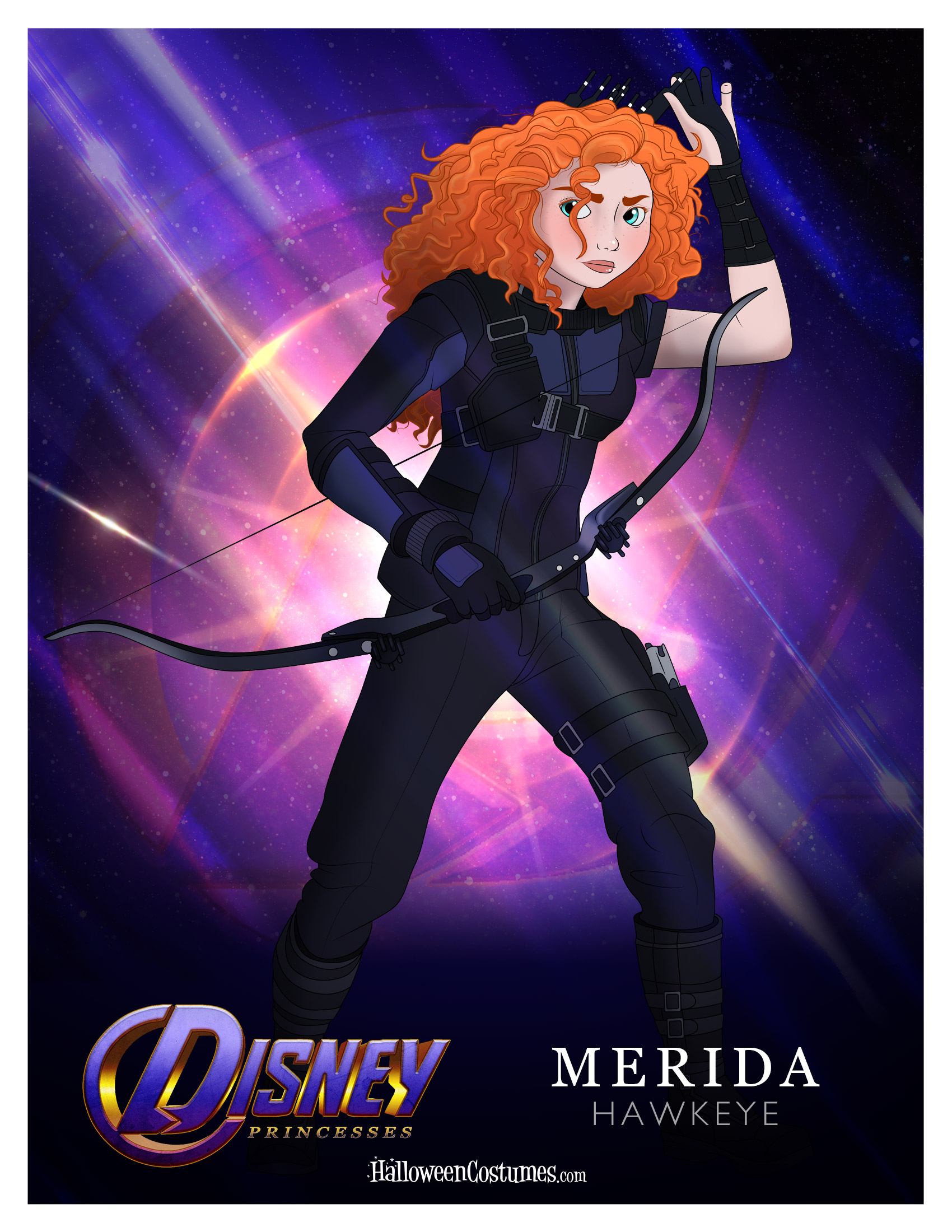 Do we really need to explain this one? They both use bows. What else can we say?
Princess Moana as Captain Marvel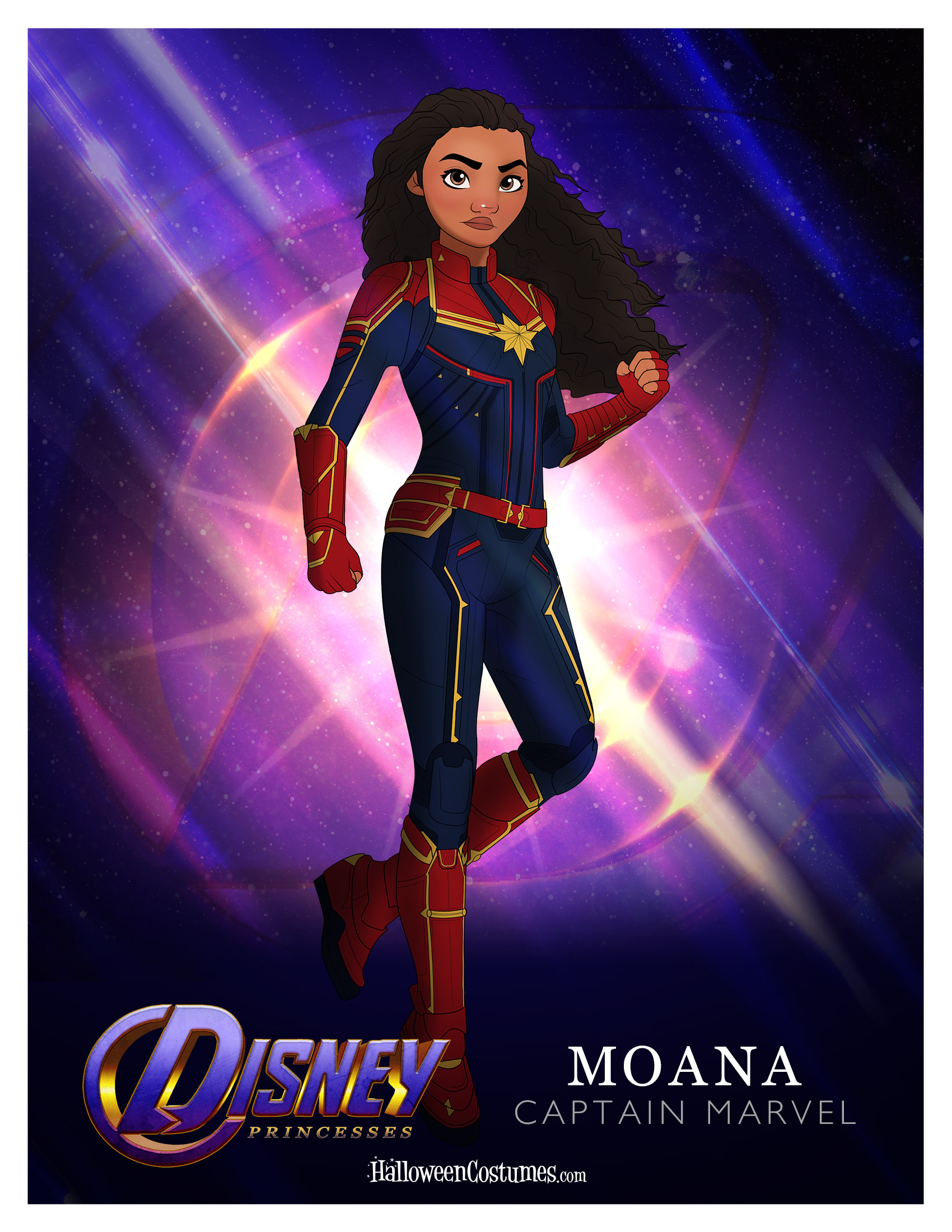 Moana and Captain Marvel both have issues they must deal with that are larger than themselves. Moana is tasked with becoming chief and returns the heart of Te Fiti to cure a blight to her island. Captain Marvel has extraordinary powers, and she does her best to defend the Earth from the Kree, another alien race. (She's also probably going to be a big part of stopping Thanos in Endgame.)
Princess Mulan as Black Widow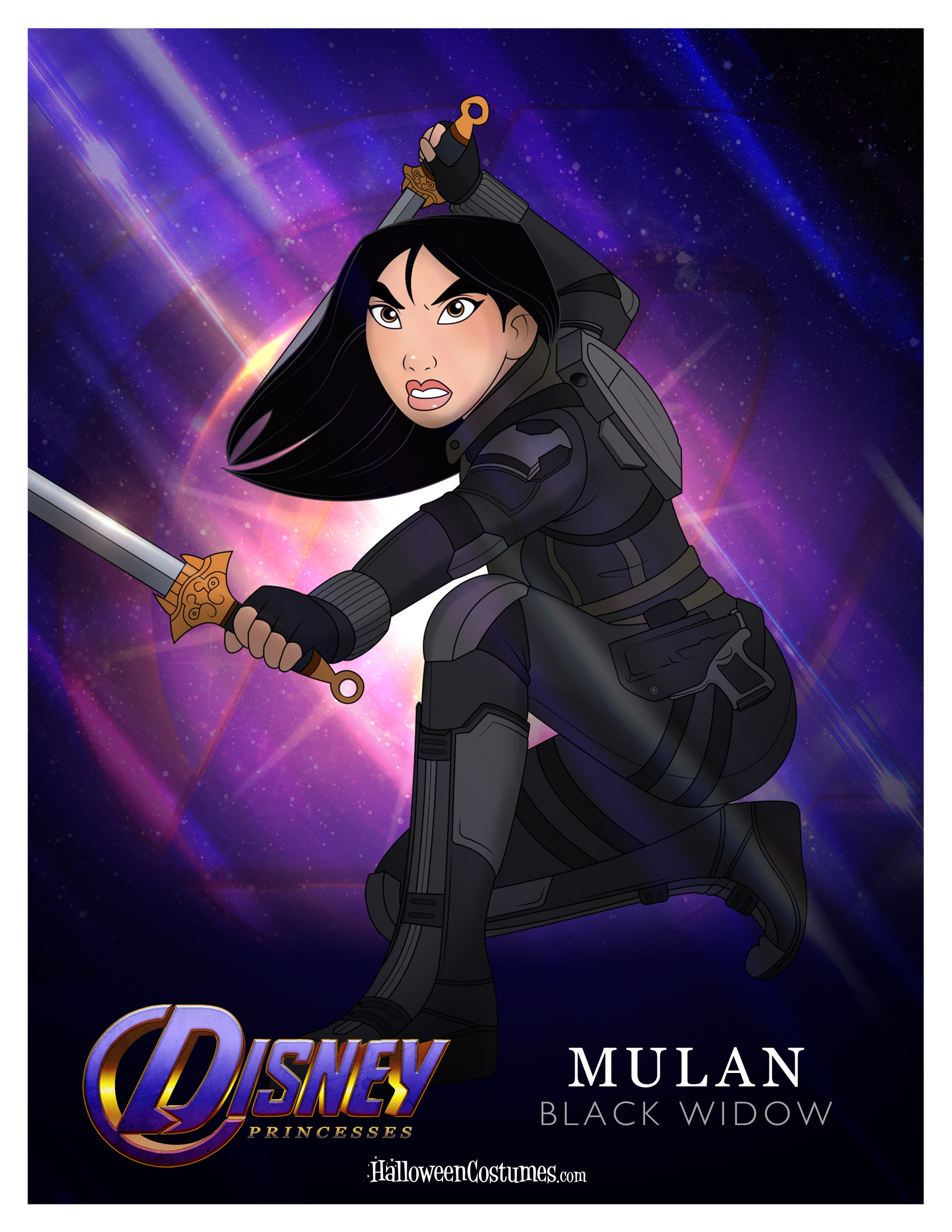 Mulan and Black Widow received special combat training. You don't want to mess with either of them because they both have skills using several deadly weapons.
Princess Pocahontas as Doctor Strange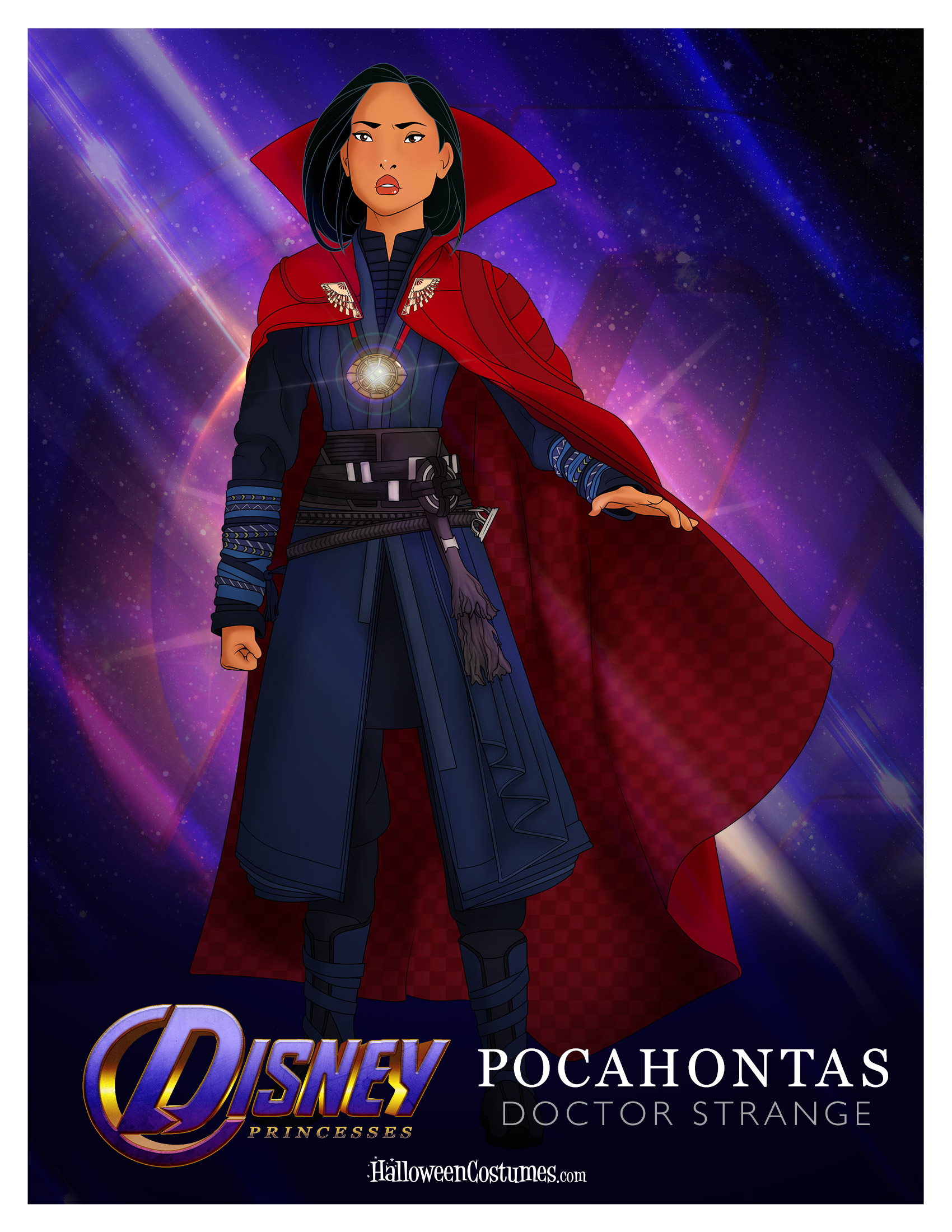 Pocahontas is in touch with nature, while Doctor Strange is in touch with reality. We'd love to see her use her new powers to benefit the Earth.
Princess Rapunzel as Spider-Man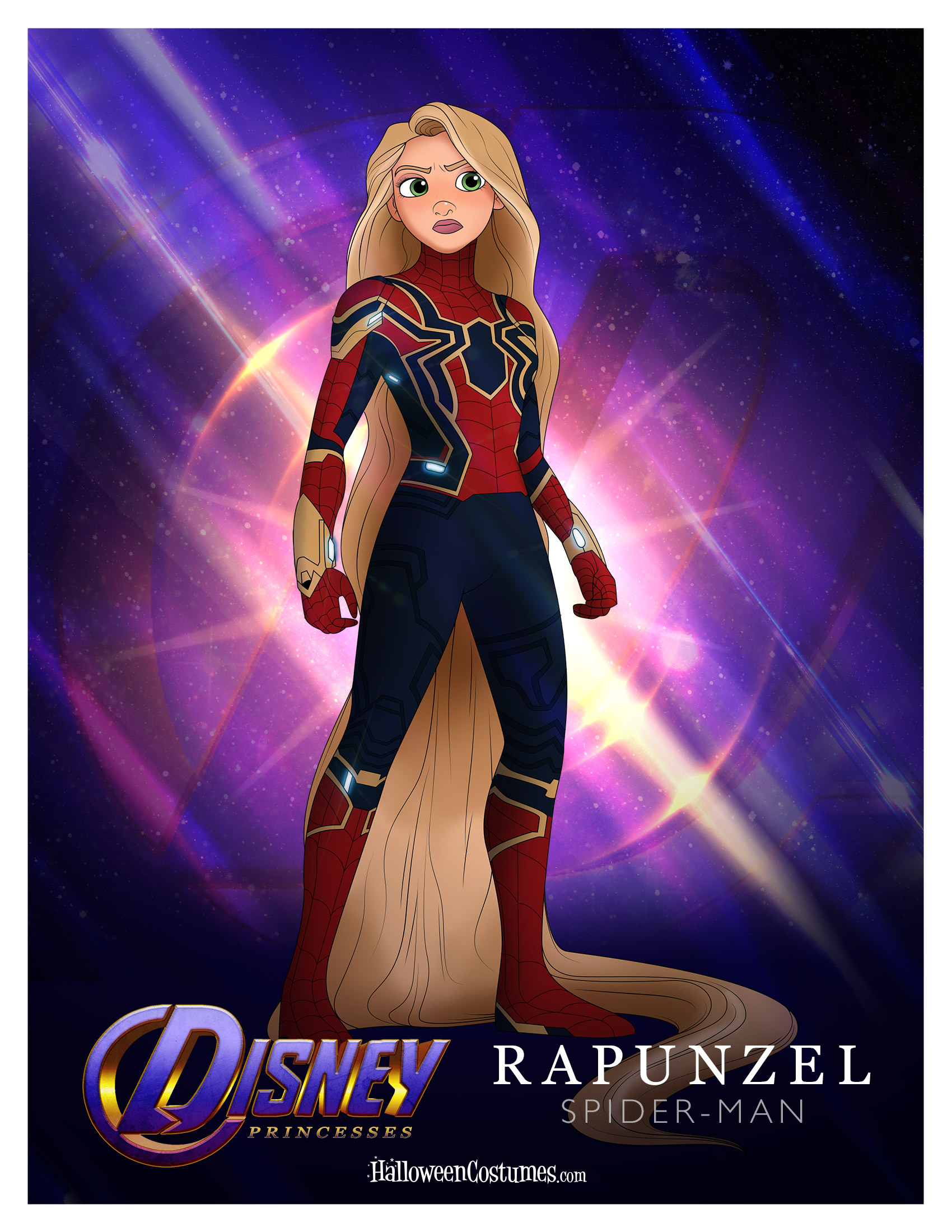 Spider-Man uses his web-slinger to attach himself to and swing between buildings and other objects. Rapunzel has hair long enough to lasso trees and buildings to pull herself (and others) up and down them, and she can make a swing out of her hair.
Princess Snow White as Captain America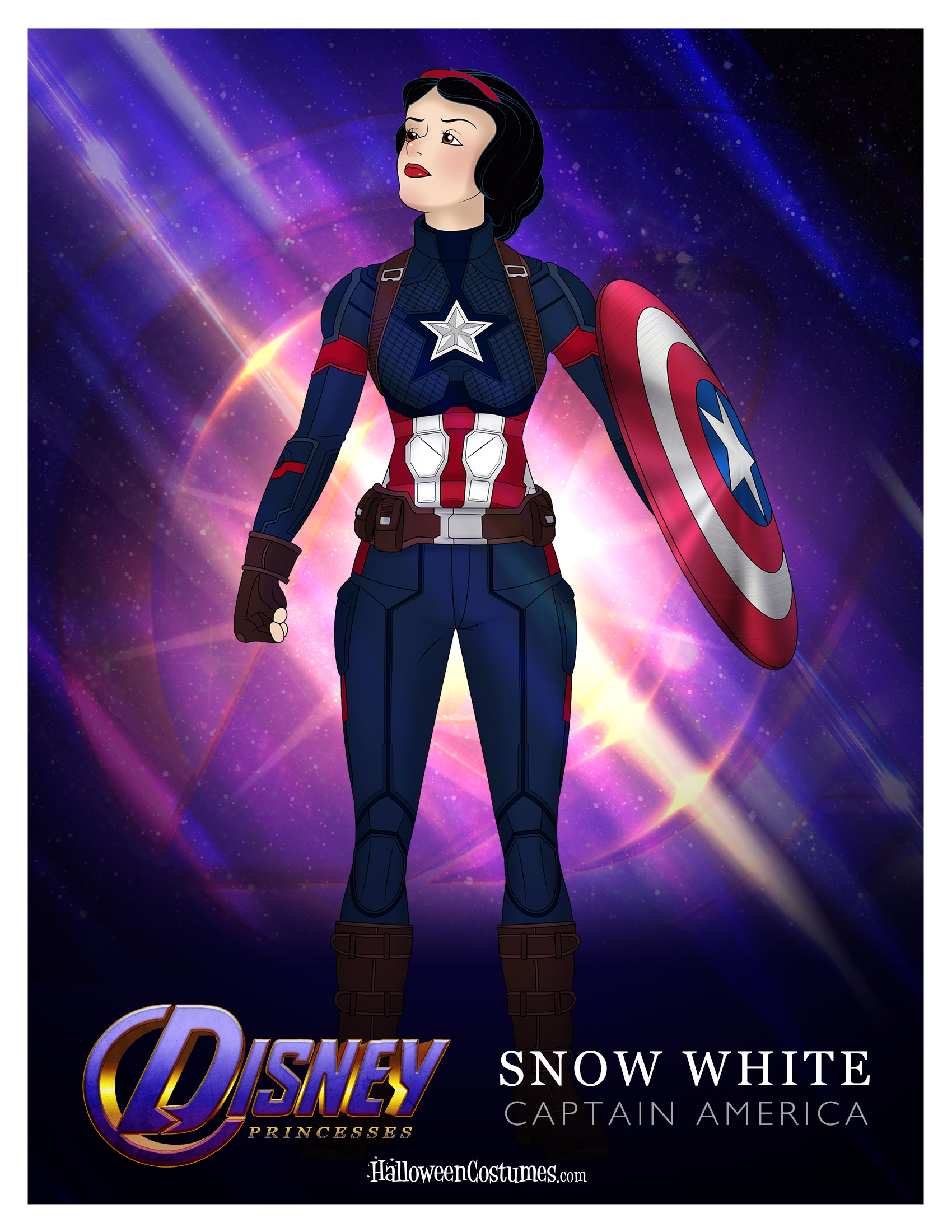 The first Disney Princess and the first Avenger share more than the blue and red in their color schemes. Snow White and Captain America are both very naive characters. Snow has a history of trusting strangers: she cleans a stranger's home and eats a poisoned apple given to her by a strange old woman. Cap was frozen for several decades and is technologically behind his peers.
Princess Tiana as Black Panther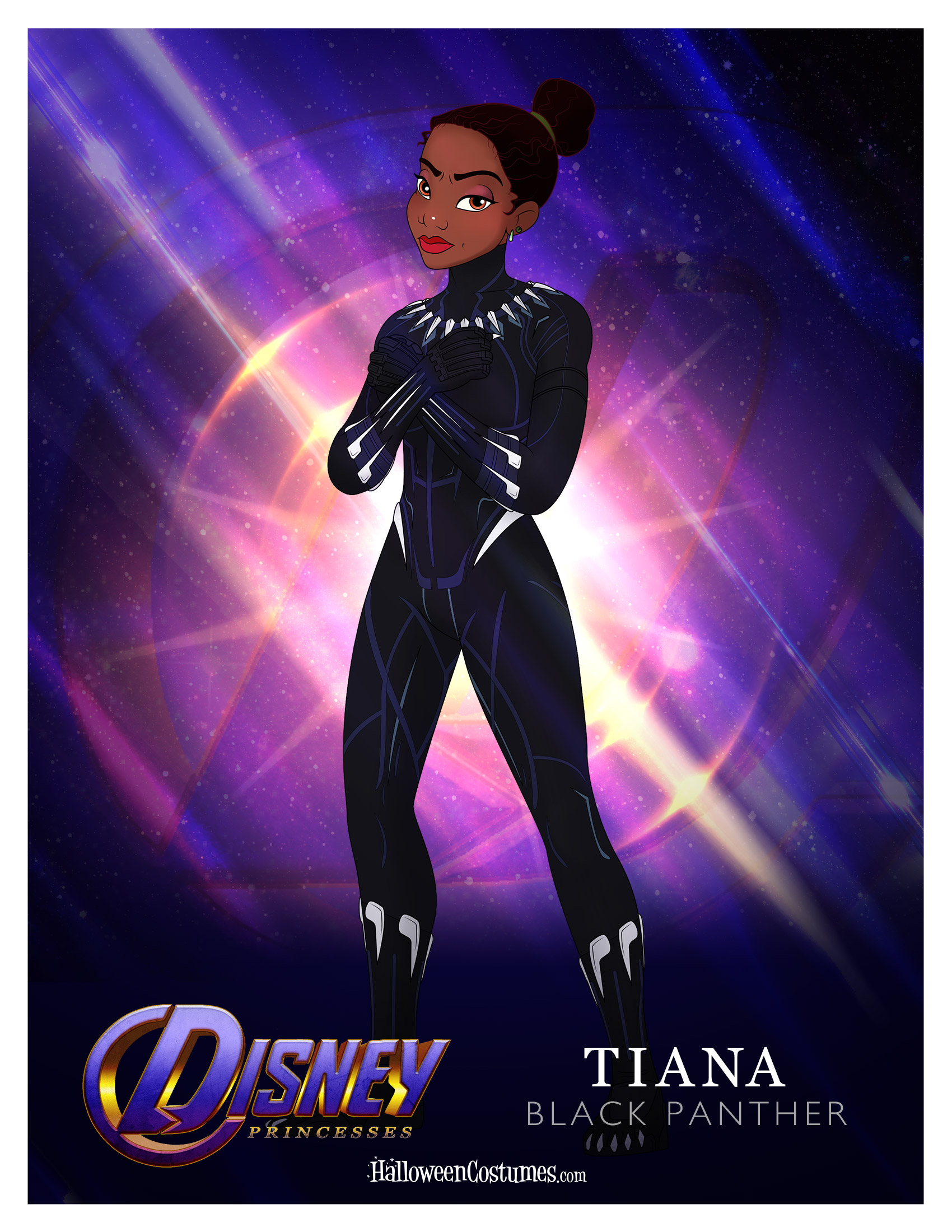 Both of these characters are very hard-working. Princess Tiana is employed at a restaurant, and she skrimps and saves to be able to buy her own restaurant. Black Panther is both a king to Wakanda and a superhero that saves his people and the planet when he becomes an Avenger.
Princess Avengers Group Poster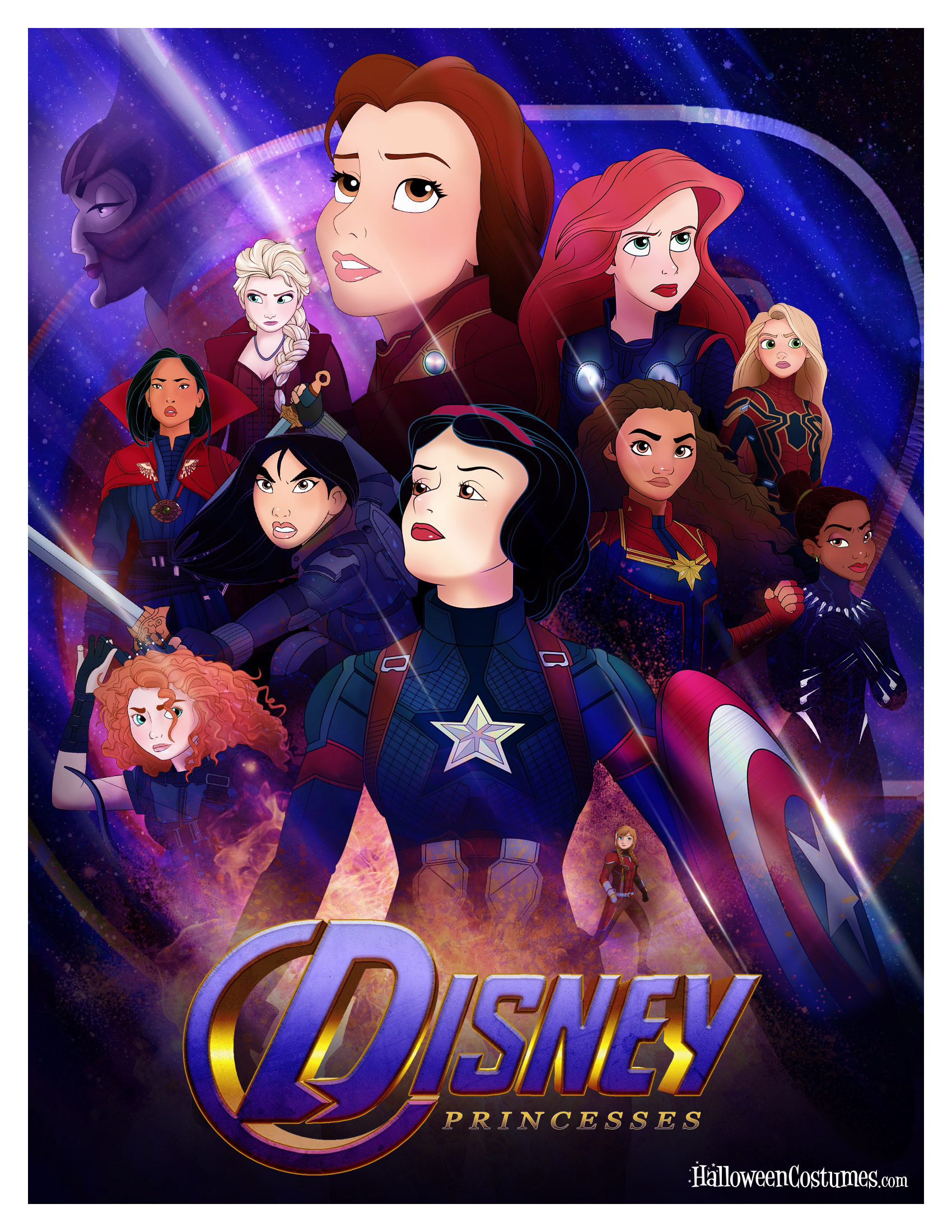 This Disney Princess Avengers mashup wouldn't be complete without an Avengers: Endgame poster parody.
We hope you enjoyed our Disney Princess and Avengers mashup! Did you agree with our list? Which Disney characters would work well as some of the other Marvel characters that we didn't mention? Is this idea a tempting cosplay? You can always try to combine some Disney Princess costumes and Marvel Avengers costumes, or if you're an avid DIYer, you can try making your costume from scratch. (Or perhaps mash them up with other Disney costumes?) Feel free to share your comments with us, and we'd love to see you share your Disney Princess cosplays!
Posters designed by Kady Jaspersen