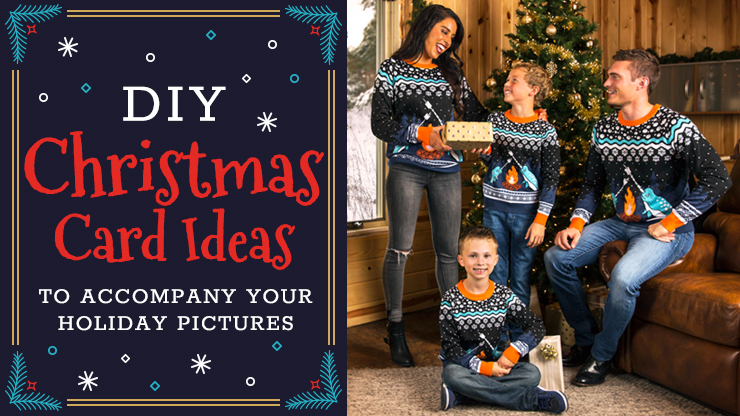 If your family likes to create custom cards every year or if you're making your own family holiday cards for the first time, you know that one of the most difficult aspects of this endeavor is coming up with Christmas card ideas that are unique and fun. It can be hard to decide what everyone should wear, how and where to pose, and ultimately what your Christmas card messages will say. Fear not! We're going to give you a couple of holiday card ideas that will help to take away some of that holiday stress. Check out these fun Christmas photo card ideas for couples and families!
Christmas Greeting Card Ideas for Couples
Santa's Little Helpers Greeting Card Idea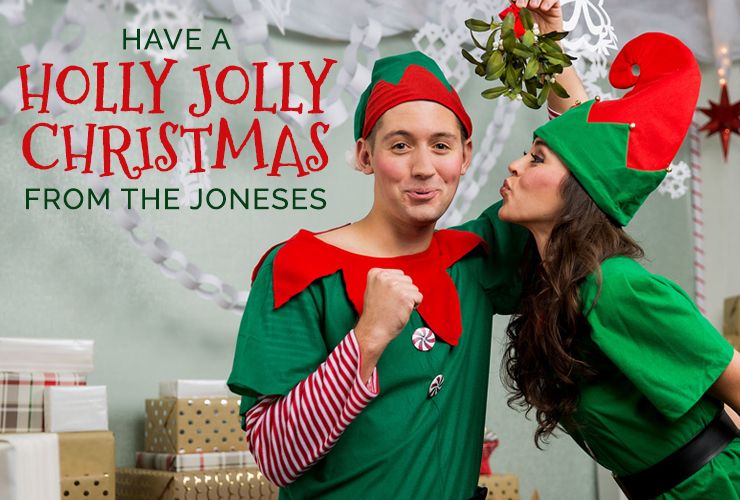 While there certainly are plenty of Christmas pictures featuring Santa, let's be honest: we're all basically Santa's little helpers. Because we do all that holiday stuff, from acquiring presents to wrapping them, then decorating and cooking so that Christmas actually happens. Let your friends get a peek at your behind-the-scenes Christmas preparations by wearing Christmas elf costumes posing amongst your holiday planning. If you're willing to go that extra mile to show everyone that you're really at the peak of #relationshipgoals, pose with a sprig of mistletoe. Everyone will be Christmas green with envy when they see your Christmas cards!
Two-Person Ugly Christmas Sweater Greeting Card Idea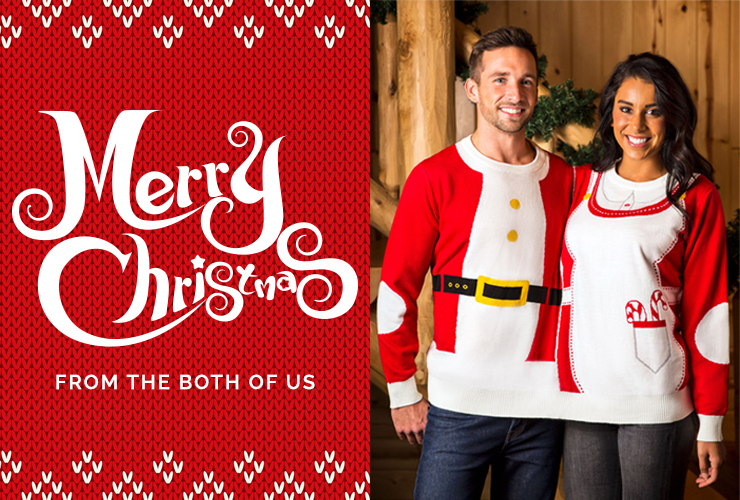 Two-person sweaters are absolutely silly, which makes them excellent funny Christmas card material! We went with this Mrs. Claus and Santa two-person sweater but you can always choose another double sweater that piques your interest. A stair banister with some Christmas garland wrapped around it, a decorated fireplace or another background with some simple Christmas decor should suffice as long as it doesn't distract from the ridiculous couple image in your Christmas photos. You'll want to crop your image to take away some of the unneeded extras, but remember to keep just enough for your Christmas card sayings. We highly recommend "Merry Christmas from the both of us" as your Christmas card message if you're wearing a double sweater. It's a great pun with the right amount of cheese to elicit groans out of even your most cantankerous relatives.
Ugly Christmas Sweater Holiday Card Idea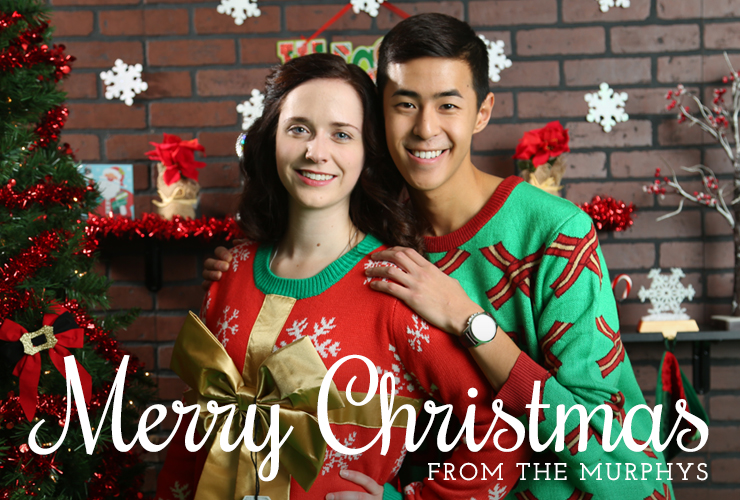 Donning ugly Christmas sweaters for your DIY Christmas cards is often a fail-safe solution when it comes to making custom holiday cards. Whether you're aiming for cute, funny or downright bonkers, it ultimately comes down to the sweaters, posing and the words on your card. You can pose near or even in front of your tree, or in another place in your house where you're proud of your arrangement of Christmas decorations. If you have a large family, you may want to take your Christmas pictures somewhere that can allow for more than one row of people. Perhaps arranged around a couch with some sitting and others standing behind it, or on a nicely decorated staircase. Ultimately, do what works for you so you can have great looking personalized Christmas cards!
Pop Culture Themed Ugly Christmas Sweater Holiday Card Idea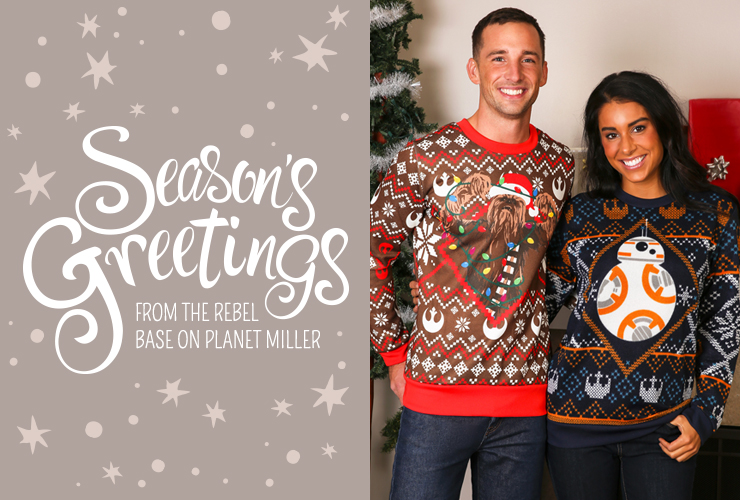 If you and your significant other are proud nerds of a feather that flocked together, wear some fun licensed ugly Christmas sweaters that will ultimately remind your family that you're a couple of geeks. (Pun intended!) With great holiday cards comes great responsibility, so choose wisely when you caption your Christmas photo cards. You can also decide to up the ante by posing in front of your favorite licensed Christmas decorations!
Holiday Photo Card Ideas for Families
Christmas Elf Family Christmas Card Idea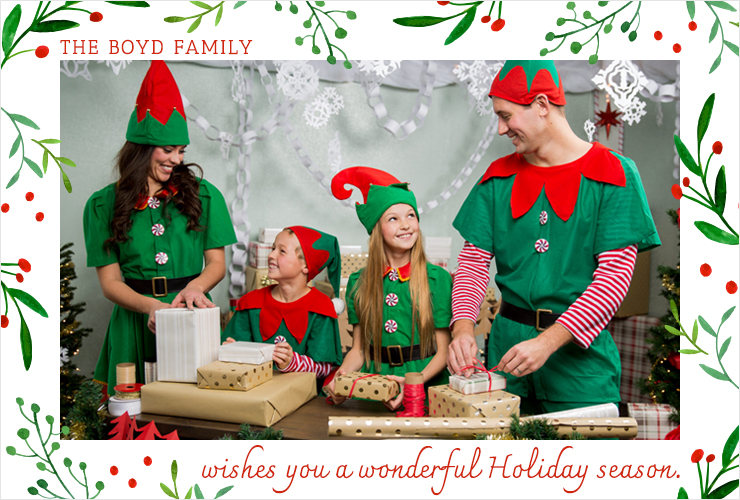 The great thing about Christmas elf costumes is that you can deck the family in holiday costumes all the way from adults to infants! (Let's be honest, it's a little weird to see an entire family of Santas.) Gift wrapping is an easily recognizable activity that you can use when posing for your family Christmas photo. Just remember to have a friend along to take the family picture for you if you're not tech-savvy enough to work with a tripod and photo timer!
Family of Christmas Elves Silly Christmas Card Idea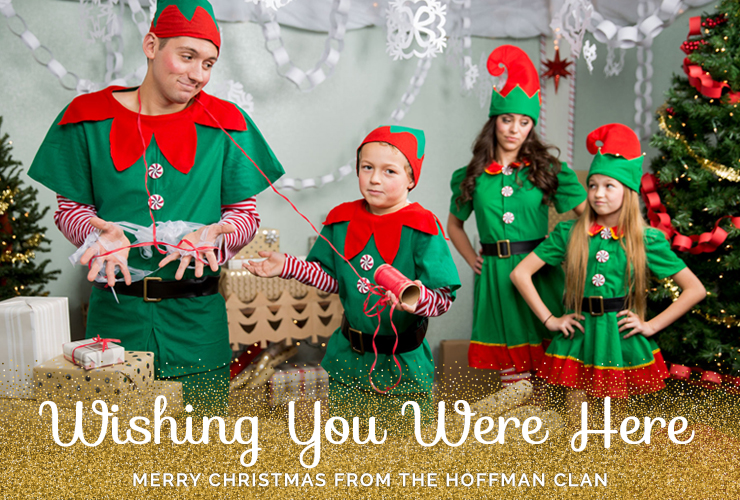 If you like the previous idea but it feels too polished for your family's tastes, maybe you'd be interested in a silly holiday card idea featuring Christmas elves. You can take pictures trying and failing at certain Christmas preparation tasks such as gift-wrapping (as we did here), baking Christmas cookies, decorating—the list goes on! You will also want your Christmas greeting card saying to reflect the silliness. We kept our silly card pretty standard, but you know your families a little better than we do and what you can get away with putting onto your DIY Christmas cards.
Deck the Family in Ugly Christmas Sweaters Xmas Card Idea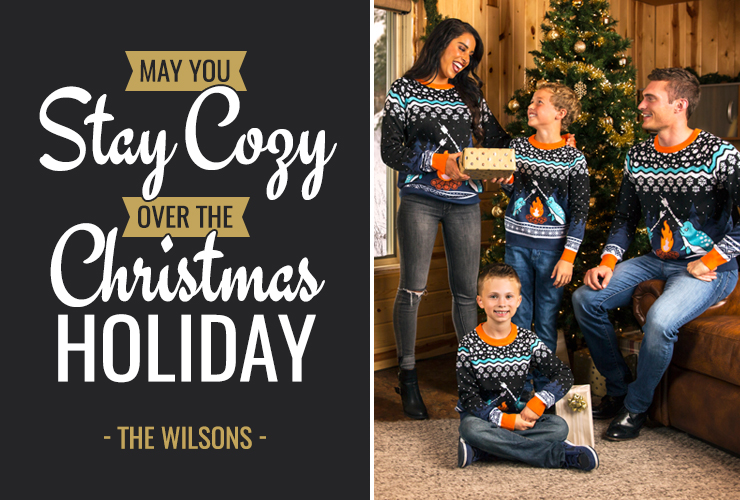 Ugly Christmas sweaters are great attire for your holiday photos and cards. If you feel so inclined, you can actually get matching ugly Christmas sweaters for the family! (It's hard finding a sweater even your pickiest family member will put up with, so feel free to mix and match so everyone is satisfied.) Sweaters look wonderfully cozy everywhere: in front of your tree, on a couch or in front of a nice fireplace. And kudos to anyone that manages to coordinate their ugly Christmas sweaters with their furry family members!
Bonus! A Couple Other Seasonal Card Ideas
Elf on the Shelf Christmas Card Idea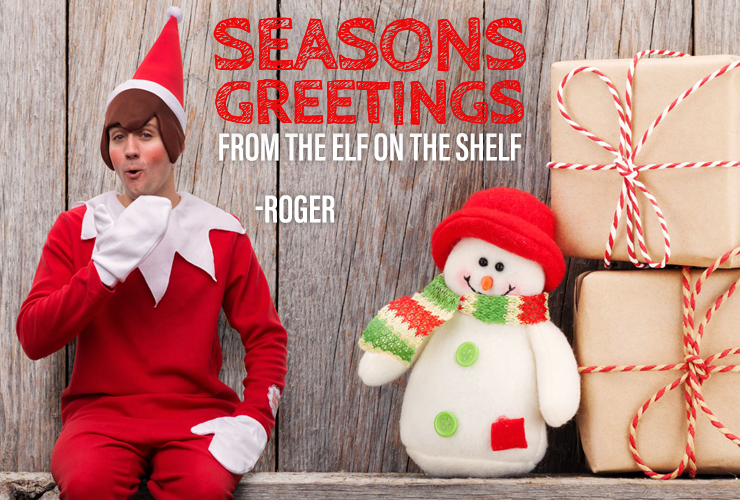 Perhaps you're the single person in the family but you still want to send a Christmas card. You're not looking to give the family a normal card, right? (It's certainly more fun for you to show the family that you're still there even if you don't have a family of your own yet!) We decided to go all-out to create a life-size elf on the shelf look complete with oversized presents and a large plush snowman. If you don't happen to have or know of a large wooden fence that looks like it could double as a wall shelf, you can always pose against a blank wall with some oversized items to help make you appear toy-sized. (Or you can throw the optical illusion thing out the window and just take a silly picture dressed like the elf on the shelf!) If the elf on the shelf Christmas card idea isn't quite what you're looking for, we have plenty of other ridiculous Christmas costumes from Krampus to the abominable snowman that are sure to make your DIY holiday card stand out!
Dog Christmas Card Idea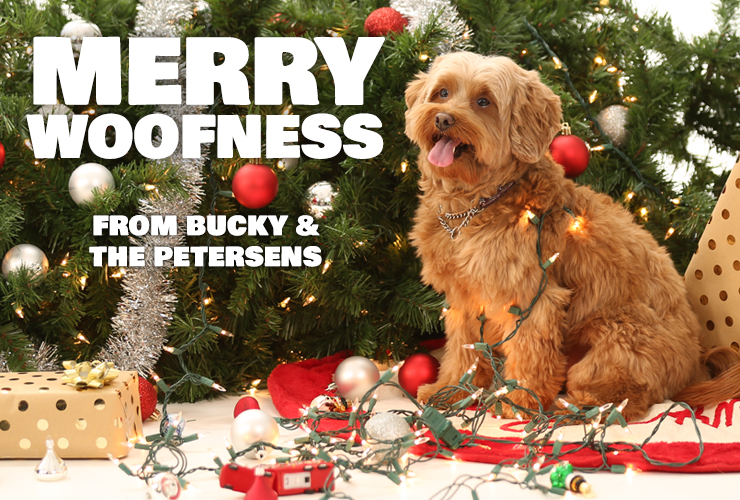 Let's face it, your dog will always be the most photogenic being in your family. If you're not on board with being in a custom Christmas card because you hate having your picture taken, this Christmas greeting card idea is for you! If you're not keen on the idea of trying to put a Christmas dog costume onto your furry friend, you can always do what we did and make it look like your pet (or pets) ended up on Santa's naughty list.
We hope you enjoyed this collection of DIY Christmas photo card ideas! If you're curious about how to pluralize your last name (rather than making it possessive), check out this definitive guide on pluralizing your last name so you don't look like a dope to your family. (Seriously, you know your grammar police Aunt Harriet is going to call you out!) If you're looking for additional help captioning your Christmas cards, check out this awesome list of Christmas card sayings too. Merry card-making! Feel free to give us some other holiday card suggestions or share some of your favorite Christmas cards from holidays past with us in the comments. If you're looking for other matching Christmas costume ideas for your family, you might want to check out this guide on Christmas costumes. Have a great holiday season no matter how you choose to celebrate!