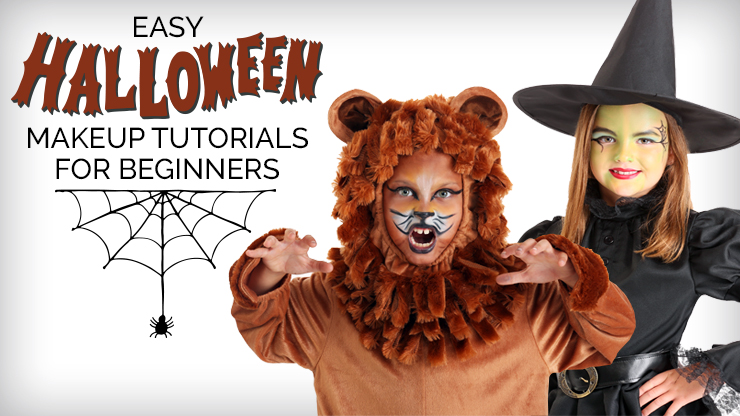 So you want to do some Halloween makeup but aren't exactly sure how to do it? Well, don't worry, Halloween experts to the rescue! We absolutely love dressing up for Halloween and doing makeup to match. We've put together a few easy makeup tutorials for kids to help the everyday mom get the professional look. Along with the videos, we've put together some helpful tips and tricks to make this as smooth as possible for you.
What's an easy way to do makeup on kids?
First get yourself prepared. Have all your supplies ready before you sit the kids down. We found it was easy to use a cake pan with a towel on it to hold all our supplies. This ensured that none of the supplies would roll off the table, and provided one small area to keep them all in. Get yourself and your kids comfortable. It might be best to sit down on a couch and have a show on the TV so they are occupied and will sit longer. If they get fidgety try having them lay down either on you or on the armrest of the couch. Less is sometimes more so be mindful of their attention span and their ability to sit still.
What are some easy makeup tips?
Tie all their hair out for their face before starting, whether that is with a hair tie for long hair or using bobby pins and clips for shorter hair. Make sure you give yourself enough time, even try practicing a few days before Halloween so you know what to expect the day of. Use a dry brush to blend and fade out to a more translucent color. To get an opaque color use a sponge, which will give you a full coverage but more transparent. You can test the colors by applying to your hand before their face. If it's not the color you would like, dip in water and brush on towel to change it. If you use a bigger brush or sponge you can get more coverage faster, but this also depends on the look. If you mess up use a towel dipped in water with a finger to help clean up the mess.
Easy Zombie, no brains required
"Graagh!"
The zombie apocalypse is coming! These undead creatures are spooking your neighborhood this year so you have two choices: beat them or join them. Remember, if you try to beat them there will be lots of running. First rule in Zombieland is Cardio and lots of it. But...if you join them, we've got the perfect zombie makeup tutorial to help you blend in. All that's left is to practice your zombie moves and sounds. Remember they aren't much for conversations so it's really just, "Grrh" or "Graagh!".
Arrr Matey! A pirate's look for me!
"Yo ho, yo ho a pirate's life for me"
Ahoy matey! Ye be in search of pirate makeup ideas, ye need to look no further. We've got a basic pirate makeup look that will have you saying "Shiver me timbers, that's it?" Your little buccaneer won't have trouble sitting through this one, singing "Yo ho, yo ho a pirate's life for me" So pillage and plunder ye self a costume and pirate makeup kit that comes with everything you need. Savvy?
not very Wicked Witch
"I'll get you my little pretty"
Twist the bones and bend the back, Itch-it-a-cop-it-a-Mel-a-ka-mys-ti-ca. If your little one knows this they probably have a little witch in them. Who doesn't love the movie Hocus Pocus? If they are a big witch fan, especially the classics like The Wonderful Wizard of Oz and Wicked, then we have the perfect witch makeup idea for you. It's so simple you will be cackling with delight! It will also leave your little one looking like the glamorous witch they want to be. If they are a fan of the Sanderson sisters and Billy we have you covered too.
barking simple Dog
"Man's best friend"
Your little one is your best friend, right? I mean you spend all your time, money, energy on them so they have to be pretty important to you. Yes, they may have ruined your furniture, clothes, and shoes but they sure to do to cuddle and are super loyal too. Wait, are we talking kids or dogs here? Oh well. Why not make your kid a cute little puppy for Halloween, then it's like one in the same right? This simple Halloween dog makeup tutorial will transform your little one into the cutest little pup around. We're paw-sitive you'll love it!
a-roar-able lion
"I'm gonna be a mighty king so enemies beware"
Simba's the pride of the Pride Lands and there is no doubt your little one is the pride in your life. They may also be your cowardly lion. Can your family pull off going as the whole Wizard of Oz again? You could also pick different Lion King characters and create your own Pride Land. Whichever lion they want to be, we have you covered. This easy lion face paint can be done on any type of lion. The difference is in the lion costume.
prrfect cat makeup
"It's like Black Panther Jr."
I taut I taw a putty tat, I did I did! A cute little itty bitty kitty. I'm going to hug you and kiss you and love your forever. If you're crazy about cats, we've got the prrfect cat Halloween costume idea for you. Grab your old lady costume and dress your kids up as cats, now call yourself that crazy cat lady! To help get your children looking like the perfect cat grab a cat makeup kit and watch how easy it is to do their cat makeup. We'll have you saying, "Sufferin' succotash! That's easy Halloween makeup!"
ankle biters - easy Kid Vampire
"Beware, I bit"
With Hotel Transylvania 3: Summer Vacation out this year there is going to be a colony of kids wanting to be vampires. Who can blame them? Is there anything more enticing than transforming into a vampire? So Dracula may be a bit creepy but it's Halloween so it flies. Get it? These undead creatures have been around forever, literally. This vampire makeup look is an easy Halloween look to do. You can make it extra scary with blood dripping from the mouth, or just keep it clean.
Even if your look doesn't turn out exactly like our video that's okay. Make this a fun and exciting experience for you and your child to enjoy together. Well, are you ready to get started? If you're still feeling nervous most of the makeup kits come with step-by-step instructions on how to make the look. You can always modify these to fit your child. Now that you got this covered are you ready for the next step? If you are ready to take your skills to the next level we have plenty of other makeup tutorials to check out.