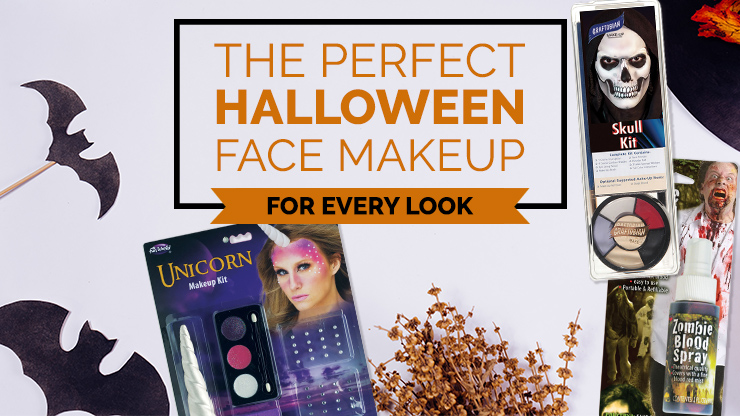 Once you've found the perfect Halloween costume you need to think about completing the look. Makeup for Halloween is a fun time to express yourself and add a little something to the costume. It can be difficult to come up with the best look for your costume makeup so we've compiled some of the most common Halloween face makeup ideas. From zombie to unicorn, we're sure you'll find something to fit your makeup needs. Bonus, most of these are super simple Halloween makeup looks!
Easy Halloween Makeup Looks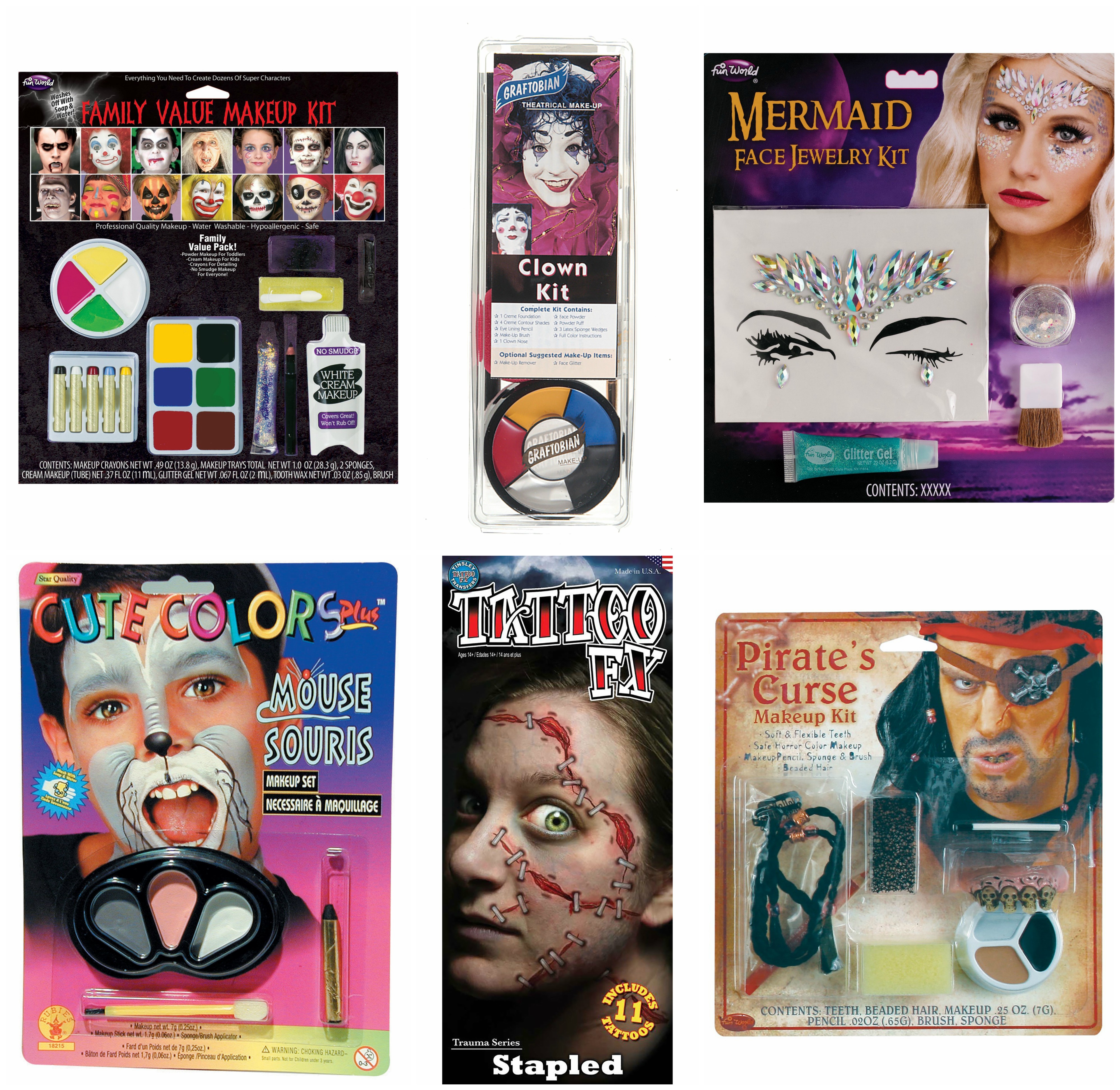 Family Makeup Kit Graftobian Clown Kit Mermaid Face Kit
Mouse Makeup Kit FX Tattoo Kit Fun World Pirate's Makeup Kit
Looking for that simple and easy Halloween makeup look? Then makeup kits are the perfect option for you. They come in a variety of different characters like a pirate, mouse, werewolf, mummy, basically anything you can think of. Each makeup kit comes with instructions so you don't have to be an expert at Halloween makeup to make these amazing looks. There are even family packs so you can create a look for each member. And if you don't want makeup, try a temporary tattoo!
AHH! Scary Halloween Makeup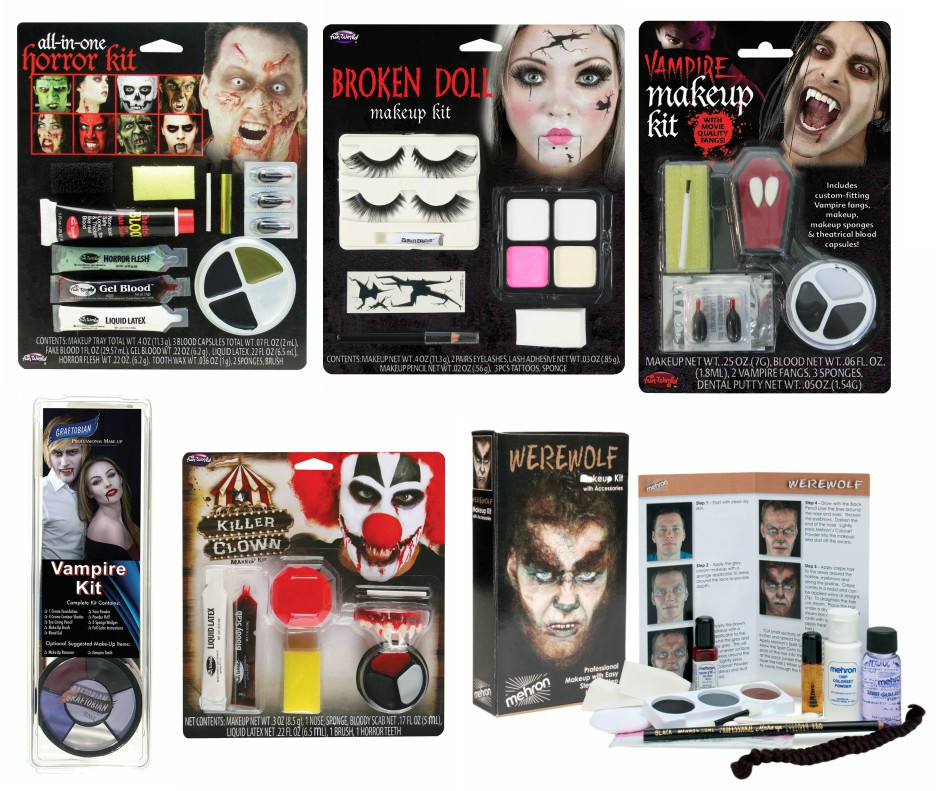 All-in-One Horror Makeup Kit Broken Doll Makeup Vampire Kit
Graftobian Makeup Wheel Killer Clown Kit Mehron Werewolf Makeup Kit
Halloween is the acceptable time to bring out all the spooky costumes and get your scare on. Do you go with a vampire, werewolf or scary clown? Either way, having the right look is crucial to make a scary statement. Try one of our Mehron kits that come with everything you need, even the applicators and makeup brushes. Fun World also has some great spooky makeup looks.
Halloween Cat Makeup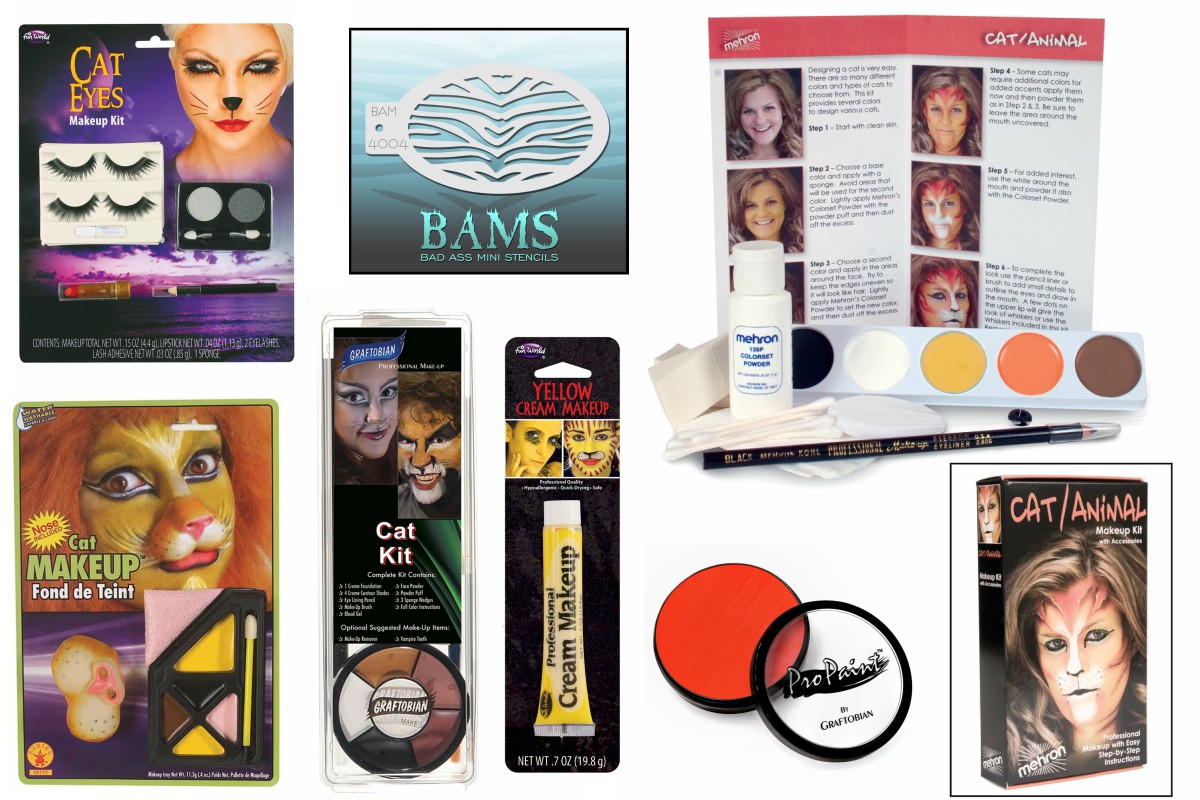 Cat Eyes Graftobian Tiger Stencil Mehron Cat Makeup Kit
Lion Makeup Jungle Cat Makeup Yellow Cream Makeup Orange Makeup
Cats are always a Halloween favorite, whether that's a tiger, leopard or house cat. Halloween cat makeup is also an easy and simple one, too. You can use a kit or just get orange or yellow and black or brown Graftobian makeup to create your own unique look. Graftobian even makes stencils that you can use to create different looks!
Zombie Halloween Makeup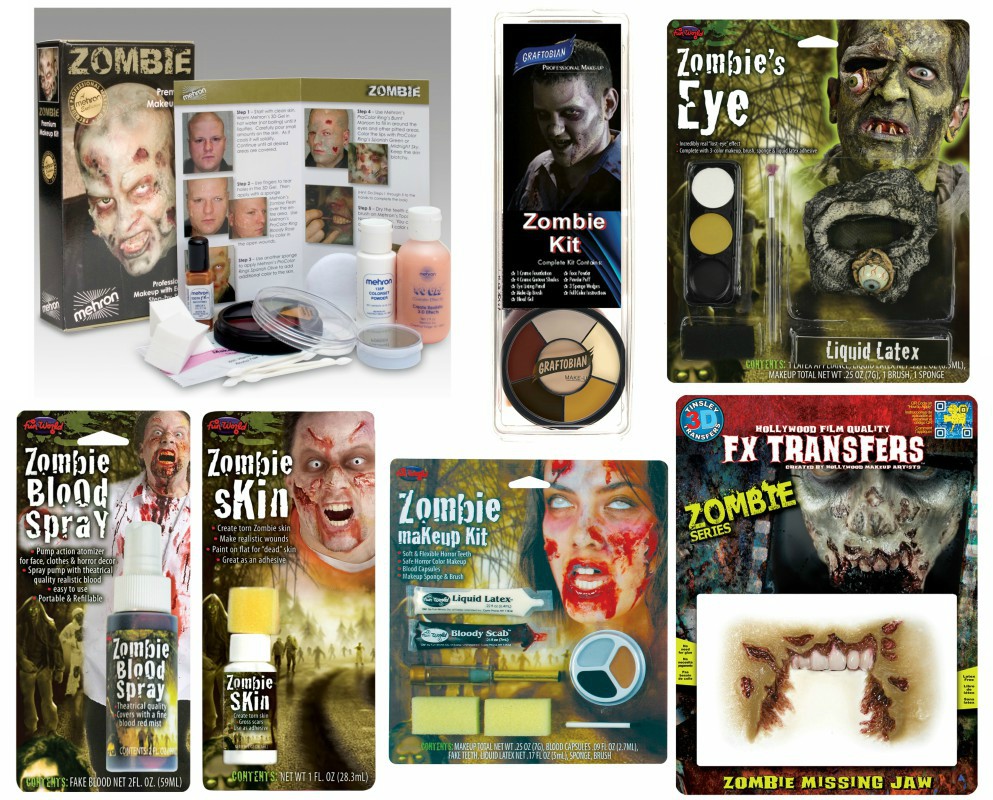 Mehron Zombie Kit Zombie Makeup Wheel Zombie Eye
Blood Spray Zombie Skin Zombie Makeup Kit Zombie Tattoo Jaw
Zombies are another one of those classic Halloween costumes. There are so many ways to do a zombie look that you really can't go wrong. Use some zombie liquid latex skin and blood or tattoos topping it off with a zombie eye. Or you can get a Fun World or Graftobian zombie makeup kit with step-by-step instructions for an easy Halloween makeup look.
Skeleton Halloween Makeup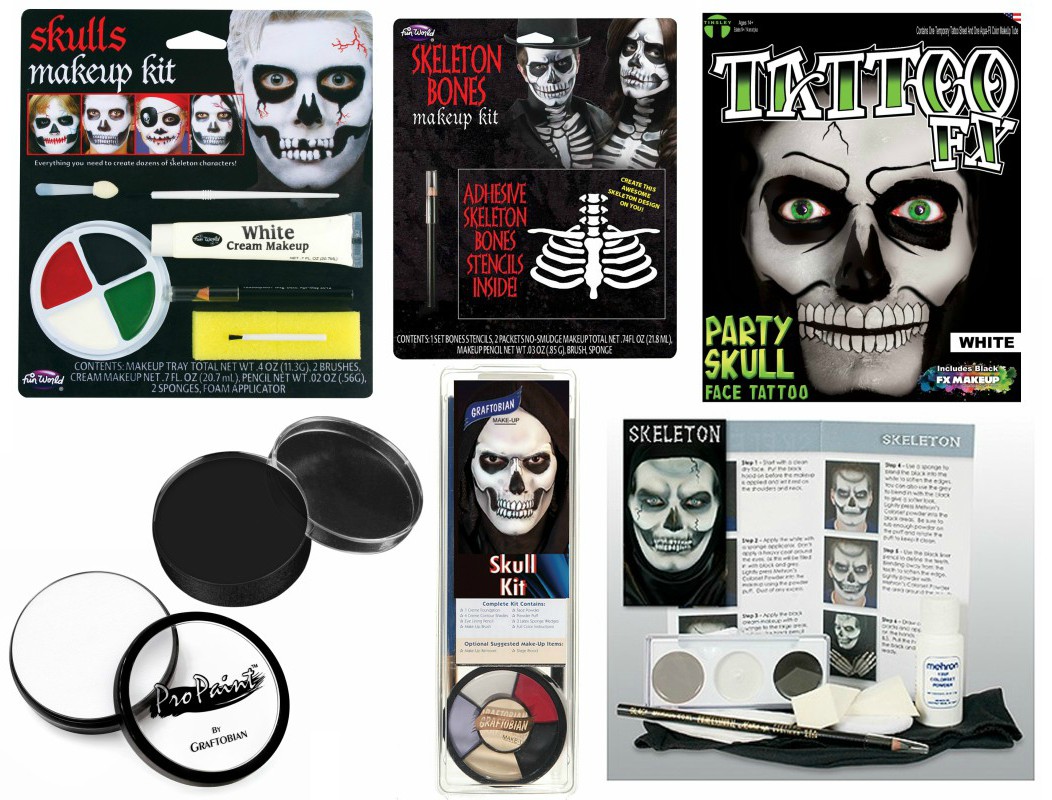 Skull Makeup Kit Skeleton Bones Stencils Skull Face Tattoo
Graftobian White Cream Black Greasepaint Makeup Skull Makeup Wheel Skeleton Kit
Skeleton makeup seems like it would be an easy one to do but don't be fooled. There is so much detail that goes into the mouth and face to get the perfect skull look. There are plenty of helpful tips and tattoos to get the face paint in perfect order, though. Mehron has a complete Skeleton Halloween makeup kit that comes with easy instructions, or if you're feeling daring buy black and white makeup and make your own look!
Halloween Witch Makeup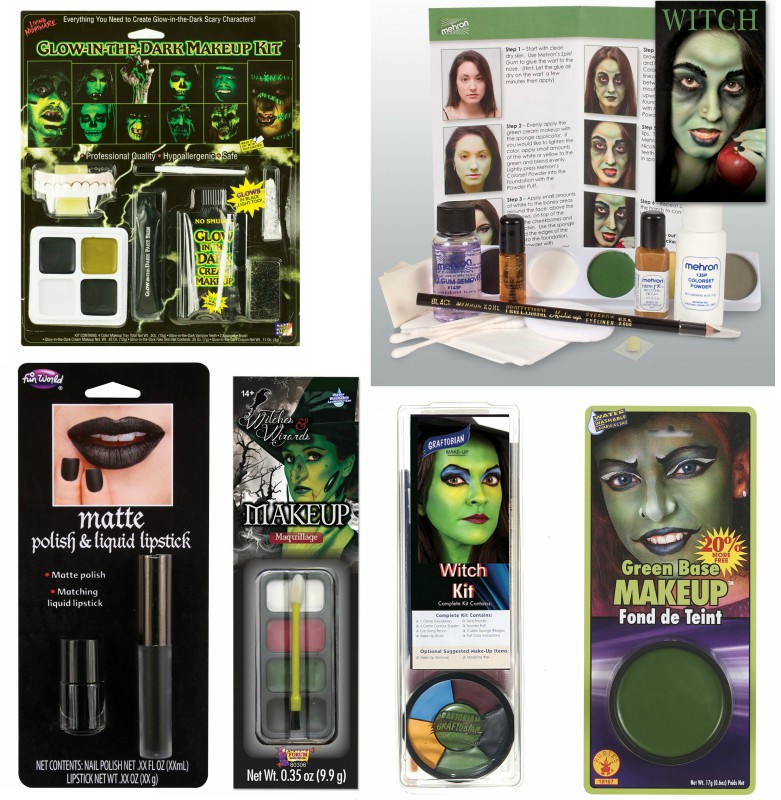 Glow In the Dark Makeup Mehron Witch Makeup Kit
Black Lipstick Witch Kit Witch Makeup Wheel Green Makeup
All the best stories have witches in them, so why wouldn't you want to be one for Halloween! It's probably one of the most simple Halloween makeup looks around, too. Grab some green makeup and black lipstick and you're set. If you don't want the green makeup, you can do a black lipstick and nail polish kit with a simple black witch dress and hat.
Unicorn Halloween Makeup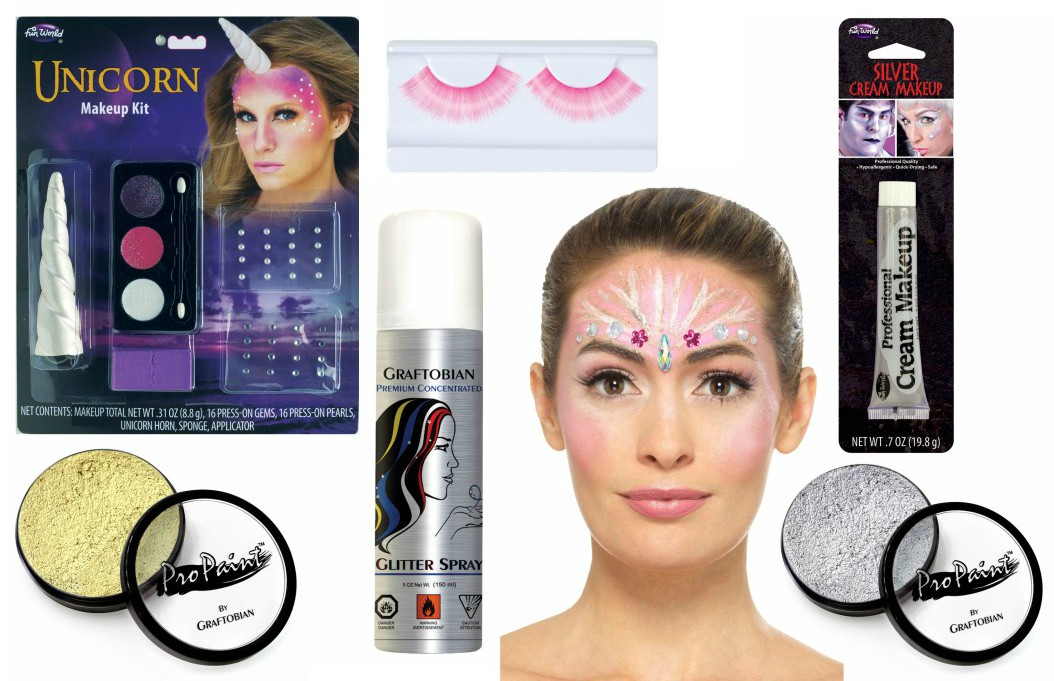 Unicorn Makeup Kit Pink Eyelashes Silver Cream
Gold Makeup Glitter Hairspray Unicorn Face Makeup Silver Makeup
Okay, we've done enough of the dark scary ones, so how about a beautiful unicorn? Fun World makes a super simple kit that even comes with the horn. You can even get some gold or silver glitter makeup to create your own unicorn look! Jazz it up with some colored eyelashes and glitter hairspray.
We hope you liked our Halloween makeup ideas. Did we cover the Halloween look you wanted? If not let us know it the comments! We have plenty of other Halloween makeup so check it out. You can also read and watch our Halloween makeup tutorials for more inspiration on creating the perfect look for you this Halloween.