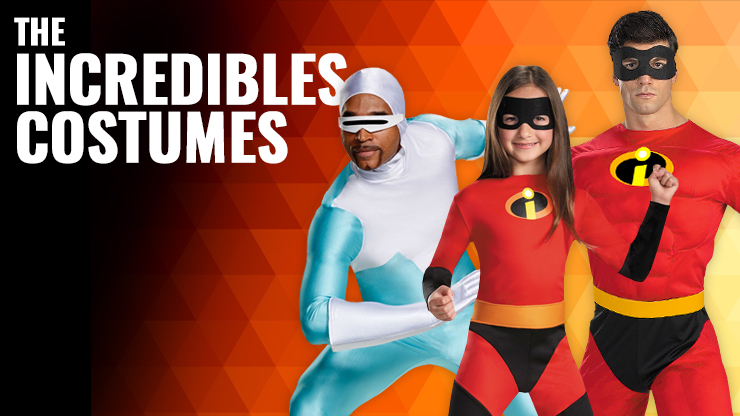 Ever since the movie was released in 2004, people have been clamoring for a sequel to The Incredibles. Now it's finally here, so it's time to dig out your super suits and rush to theaters. The Incredibles make for the perfect group Halloween costume. The matching uniforms are a nice touch for a family to dress up together on Halloween as well. It's easy to get the look of your favorite Incredibles characters, so why not trick-or-treat in some Incredibles costumes for Halloween! Though you may look the same in most cases, each character has their own defining traits that are important to incorporate into your costume. Let's take a look at the group and see with Incredible superhero you should be for Halloween.
Mr. Incredible Costume
Mr. Incredible's power is his super strength. He can lift a car with ease, but that doesn't really help much with his parenting duties. While he has no trouble dispatching criminals in a fight, he still struggles with getting household work done, teaching his kids math, and even keeping track of baby Jack-Jack. After getting back into crime fighting while superheroes are outlawed, Bob receives help from fashion designer Edna Mode, who creates these fashionable and functional superhero suits for the whole family. Thankfully, the designer who made this Mr. Incredible costume added muscle padding so everyone can look like a superhero!
Elastigirl Costume
Classic Mrs. Incredible Women's Costume, Deluxe Mrs. Incredible Costume
Elastagirl has the ability to stretch, which comes in handy if you're falling from the sky and need to quickly turn yourself into a parachute. Mrs. Incredible plays a huge role for the Parr family and superheroes in general. Through the Incredibles 2 trailer, we learn that Elastagirl is on a mission to help bring "supers" back to the mainstream. You can get a Mrs. Incredible costume in the classic version without a skirt or the deluxe version with a skirt.
Violet Parr Costume
Violet Girls Costume Deluxe Violet Toddler Costume
Violet has the power to become invisible and create a force field for protection. She's saved others on several occasions. However, being that she's a teenager, she's not afraid to serve up some attitude whether she's fighting crime or taking care of her brothers. Like the Mrs. Incredible costume, you can find the Violet Costume in two versions, with and without a skirt.
Dash Costume
Dash Toddler Costume Dash Boys Costume
Dash is appropriately named because of his super speed ability. He can outrun anything and, though this provides a competitive advantage in track and field, he's good to control himself so he's not winning every race in an unfair fashion. Both the toddler and boy's Dash costume include a jumpsuit, belt, and eye mask, so you'll get everything you need when you order online.
Jack-Jack Costume
Baby Incredibles Costume Baby Jack-Jack Costume
Jack-Jack is the wild card of the family. Nobody really knows exactly what all of his powers are, but he can really make a scene. Through scenes in the first movie and Incredibles 2 trailers, we've seen him do everything from turn into a monster, shoot lasers out of his eyes, become invisible, and even combust into a ball of flames. He may be the smallest member of the family, but he could also be the most powerful. When shopping for your baby, you've got a couple of choices here. You can go with a baby Incredibles costume that's really just a tiny version of the standard Incredibles costume, or you can buy a baby Jack-Jack costume that looks just like the character in the movies.
Frozone Costume
Frozone (Lucious Best) is Bob's best friend who has the ability to make ice, similar to Elsa from Frozen! He's always up for going out on an adventure...as long as he can find his super suit, which features sleek light blue and white designs with a futuristic-looking face mask. Don't try stopping him because he'll stop you cold in your tracks.
Incredibles T-Shirt Costumes
Left to right: Incredibles Adult Costume T-Shirt, Incredibles Kids Costume T-Shirt, Incredibles Sunglasses, Incredibles Toddler Costume T-Shirt, Women's Incredibles Costume T-Shirt
If you're looking for an easy group costume and not wanting to wear a full spandex suit, Incredibles costume t-shirts are a great way to assemble a super family. These shirts feature the iconic Incredibles logo and are available in a variety of sizes. Add a face mask and gloves or a pair of Incredibles sunglasses to complete the look!
Are you think about dressing up as The Incredibles for Halloween? What other superhero groups would you like to be part of? The Avengers and Justice League might be others to consider, but they don't quite carry the family dynamic of the Incredibles. You can find all sorts of superhero costumes if that's your thing, but if you're looking for a great costume idea for the family, check out all of these other group costumes you can assemble right here at HalloweenCostumes.com.