Themed holiday parties have got to be the best thing to get everyone in the holiday spirit. Whether it's an ugly Christmas sweater party or a white elephant gift exchange, there is one idea that we think will blow your guests right off of Mt. Crumpit. A Dr. Seuss' How The Grinch Stole Christmas costume party will steal the show! The film is full of laughter, heartwarming moments, and sassy phrases from the main Who himself. Does this idea tickle your fancy and have Christmas-y ideas started bubbling in your head? Keep reading to find out the essentials of how to throw a Grinch costume party!
What To Wear
Who fashion and Accessories
[Source: Group One | Group Two]
We all can agree that the people of Whoville have a fashion sense like none other. All crammed snug into the structure of a snowflake, the people of Whoville like to stay warm and cozy throughout the holiday season. Slippers, big coats, and fuzzy earmuffs are staples in their wacky wardrobes, and should be in yours, too! Layer up in leggings and scarves, and don't forget to wear your hair loud and proud for all to see.
Santa Hat Red Glitter Mini Top Hat
Mrs. Claus Stole Pink Petticoat Red Satin Gloves
Green and White Stockings Red and White Stockings Pink Long Petticoat
Green Glitter Ballet Flats Red Sequin High Heel
Martha May Whovier Fashion and Accessories
[Source: Martha May | Shop Sassy Mrs. Claus Costume]
One of our favorite fancy Whos is the one and only, Martha May Whovier, featured in the Jim Carrey movie Dr. Seuss' How the Grinch Stole Christmas. She's the love interest of Mayor Augustus Maywho and secretly, the Grinch's, too. If you're fun, flirty, and fabulous, dressing as Martha May is your calling this Christmas season. Plus - she does wonders with that automatic Christmas light machine, a true talent.
Pearl Necklace Red Satin Gloves
More Christmas Costumes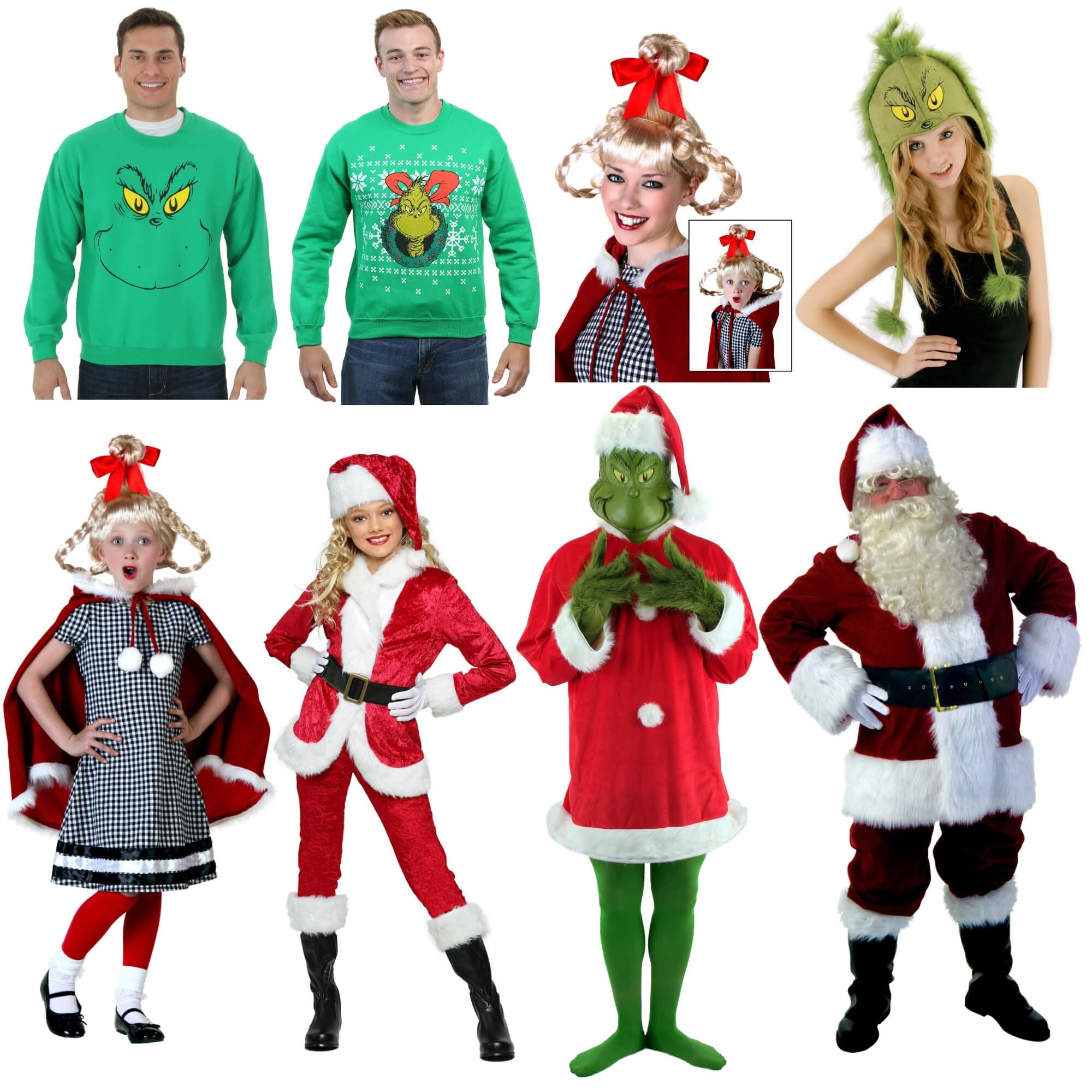 I Am The Grinch Fleece Shirt Grinchin' Sweatshirt Cindy Lou Who Hair Grinch Hoodie Hat
Cindy Lou Who Costume Girls' Sweet Santa Costume Grinch Halloween Costume Santa Suit Costume
Of course, what's a Grinch party without the main man himself? If you're cuddly as a cactus, charming as an eel, et cetera, et cetera, you've got a few options. You can either go casual with a Grinch-inspired ugly Christmas sweater, or go all out with the full costume, mask, Grinch slippers and all. If you're not feeling like pulling an Elphaba from Wicked and donning all green body paint, maybe the Grinch isn't for you. Then, how about one of our Cindy Lou costumes or Santa Claus? It doesn't matter which level of costume you want to go with, as long as you have fun and sing the Welcome Christmas song at least once, you'll have a great party.
The Grinch Makeup Tutorial
And lastly, if you want to dress as the Grinch AND impress your friends with the makeup look, we have a tutorial for you. Watch the video above for tips and instructions on how to become the mean one, Mr. Grinch. See our Grinch costume blog post from a few Christmas' ago, too, for more details.
How To Decorate
[Source: Grinch Christmas Tree | Party Invites | Grinch Fireplace | Table Settings]
Anything magically imagined by Dr. Seuss incorporates zany, eccentric, and whimsical design. In the land of Whoville. everything red and green is socially accepted and expected. To continue with the Who-tastic costumes, you'll want the decor to match the mood. Decorating the party should be a blast and don't be afraid to think outside of the box for wacky new ideas!
What To eat: A Who Feast
[Source: Seuss' Soda | Who Pudding | Green Grinch Popcorn | Grinch Heart Cookies | Grinch Hot Chocolate]
The Who Feast may be one of the most important parts of Christmas in Whoville. If you're going for more of a Whoville Christmas party, food such as Who-hash and roast beast should be on the menu for the evening, as well as Who-pudding accompanied, by many other savory sweets!
What To Do
[Source: Grinch Wall Pin | Grinch Bingo | Grinch Reindeer Toss]
[Source: Grinch Ornaments | Grinch Toilet Paper Roll | Grinch Paper Plate]
To work off that entire plate of roast beast you just finshed (as a typical Who should), a friendly activity should follow for endless entertainment and engagement! Pin the heart on the Grinch, bingo, and a Max the Reindeer toss will get those calories burning for sure. If your party goers are too stuffed from the feasting, taking it easy with a few simple crafts might be the route worth taking.
What to Watch

[Source: Dr. Seuss' How The Grinch Stole Christmas]
If Dr.Seuss' How The Grinch Stole Christmas Jim Carrey edition isn't already playing in the background from the minute you put your roast beast in the oven, your heart must be 3 sizes too small! This is one of our most favorite Christmas movies and likewise for both young and old. Your party guests will be quoting infamous lines and sharing laughs together all night long. Of course, the classic is classic for a reason, so the 1966 TV special should definitely be in rotation, as well. Boris Karloff has never sounded so scary...
[Source: Welcome Christmas]
Are you planning on having a themed holiday party this year? Why not have it be Grinch themed! The film teaches us valuable lessons on what Christmas is really all about; getting together with friends and family and celebrating each other's company! Have a wonderful Who-liday and let us all welcome Christmas together! For more festive ideas, see all of our Christmas costumes.