Monkey and Banana Costume
Did you know that most monkeys in the wild don't eat bananas? It's not because they dislike the delicious yellow fruit—it's mostly because that bananas are indigenous to South Asia and Australia, so most monkeys never encounter them in the wild. Of course, monkeys at the zoo are another deal all together! Those little critters can't wait to get their hands on a ripe, tender banana. It's only natural that the best costume to pair with a banana would be one of our monkey costumes. We have a large selection of monkey costumes to choose from, both for kids and for adults. That means you can have a family that's ready to monkey around with bananas. Or perhaps you'd rather have a family that's going bananas for monkeys?
Cozy Monkey Costume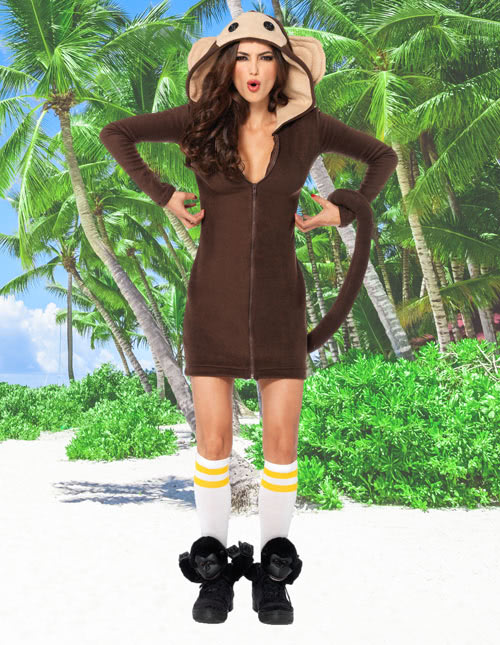 This cozy monkey costume makes for a great way to pair with our banana costumes! The cute and comfortable costume has a romper style that will have you craving a little one-on-one time with your favorite fruit. It even comes with an attached monkey hood and tail, so you'll be all set for some monkey business or some jumping on the bed. Just don't bump your head, or let the doctor catch you, otherwise it'll be no more monkeys jumping on the bed.
Adult Monkey Costume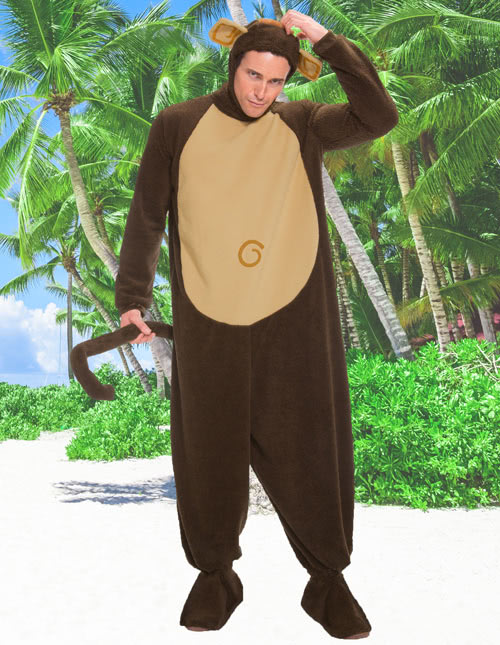 This adult monkey costume is a unisex style and also a quick and easy couples look. It's great for guys looking to pair up with a banana this Halloween. It's a full body jumpsuit made out of a polyester fleece material that's so comfy, you might just want to take a little nap in it!
Gorilla Costumes
Monkeys aren't the only primate that goes bananas for bananas. Of course, humans love them, but so do gorillas! Gorillas are one of the lucky critters at the zoo who get to have bananas every once in a while for a tasty treat. It just so happens that we carry plenty of great options in our animal costumes section for anyone who wants to pair up with one of our gorilla costumes.
Adult Gorilla Costume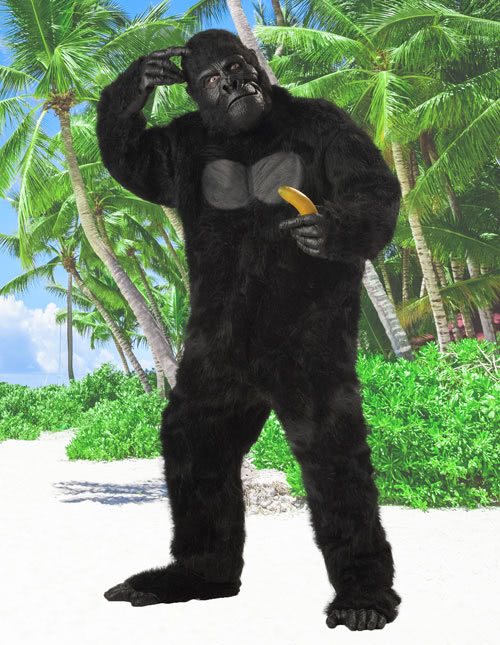 Gorillas actually have a pretty well-rounded diet in the wild. They like leaves, bamboo shoots, and the sort, but everyone knows that an adult gorilla just can't pass up the opportunity to indulge himself with a banana. Now you can create your own gorilla and banana duo costume with this adult gorilla costume. It's a great way to you to go bananas while you go ape!
Sexy Gorilla Costume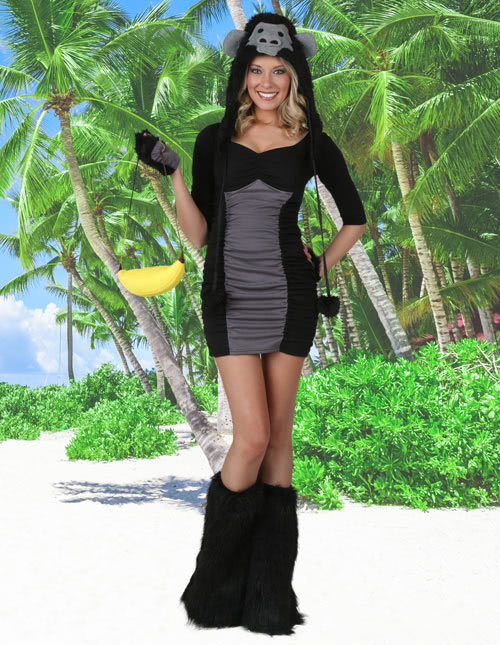 Perhaps you like to live a bit more dangerously? Then this sexy gorilla costume may just be the costume you've been looking for when you're trying to enhance your banana experience. It comes with a sexy dress designed to make you look like a cute gorilla for your important date with a banana.
Minion Costumes
Everyone just seems to love bananas and we mean EVERYONE! What about those little guys from the Despicable Me series? The Minions! Those little dudes just can't stop talking about bananas. It's literally one of the only words that those mischievous little henchmen know how to say. If you're looking for some cute ideas to pair with your banana outfit, then perhaps it's time to give one of our Minion costumes a try.
Women's Minion Costume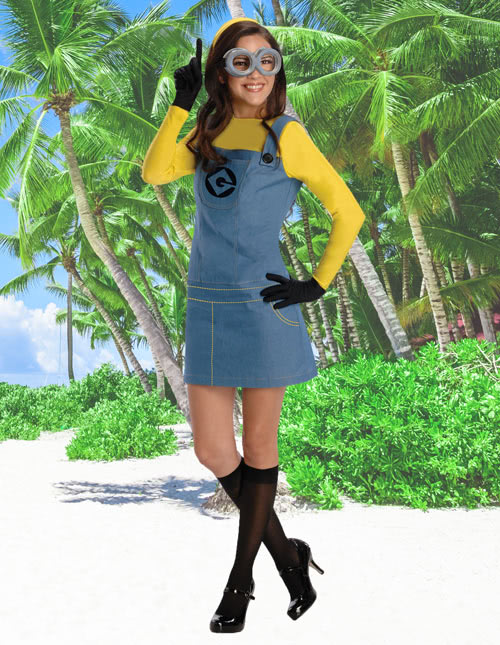 This female Minion costume is a great and easy way for you to bring together a banana-infused couples look! With an overalls-style dress and an included set of goggles, you'll look like Gru's newest assistant with an affinity for tropical yellow fruits. You can head on new adventures of world domination, or just chill with a bunch of bananas.
Adult Minion Costume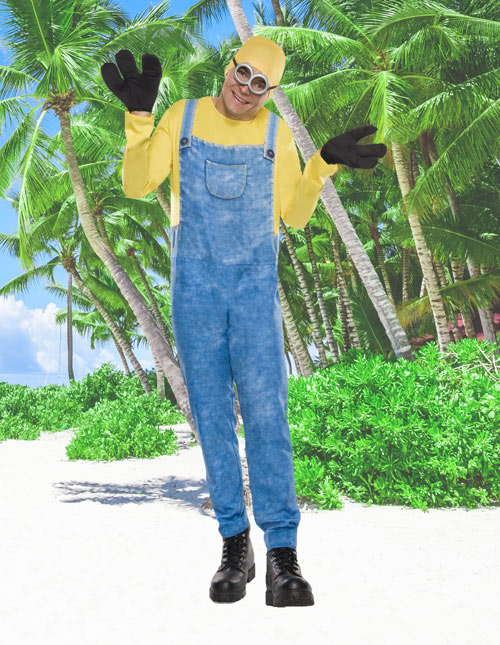 Who's the most lovable of all of the Minions? Well, it's quite obviously Bob! He's the short little guy who loves his teddy bear and he's always up for adventure, or a good banana. The Minion costume comes with comfortable jumpsuit and a set of goggles, so you can look like the adorable character in no time flat. Just make sure to bring a teddy bear along for the ride too.
Other Banana Costumes
Not every banana costume needs to be a plain yellow outfit. Some bananas dare to dream! Some bananas can't be bought, bullied, reasoned, or negotiated with. Some bananas just want to watch the world burn. Whoa, sorry we went off on that Dark Knight tangent there, it's just that we get a little crazy when we think of some of the banana costumes that are a little bit left of the dial. We carry everything from silly Rasta banana costumes, to costumes with a bit of an adult humor twist. We even carry the elusive zombie banana costume! Here's just a few our favorite banana-themed costumes we carry that are just a little bit outside of the box.
Rasta Banana Costume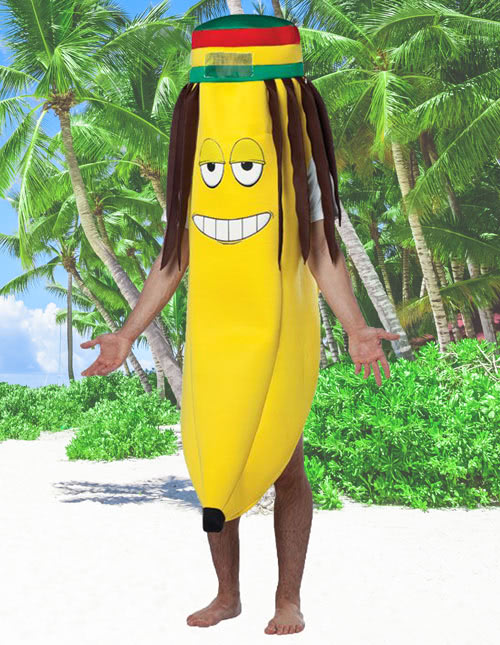 Few people realize that many bananas adhere to many of the Rastafarian ideologies… Okay, so maybe that's totally not the case, but this Rasta banana costume certainly is wacky, isn't it? It comes with a goofy face and some fake dreadlocks that are quite crazy looking when paired up with a banana. You might find yourself with a hankering for some reggae music and a small case of the munchies when you wear this costume, since who can suppress their hunger when dress like a giant piece of mouthwatering fruit?
Banana Flasher Costume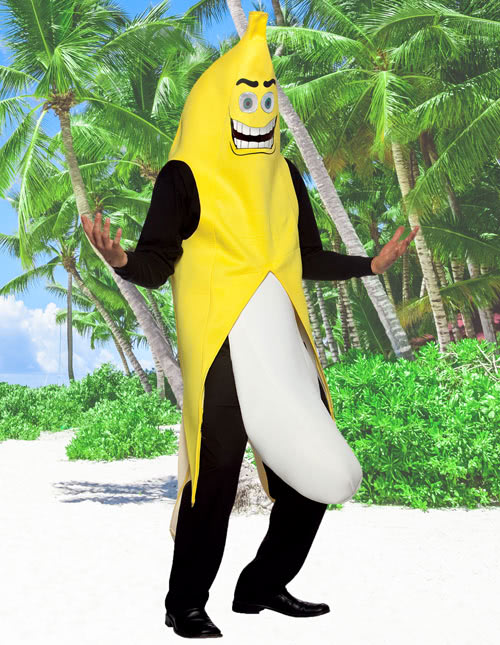 This banana is completely unhinged! No longer weighed down by the constraints of his peel, he's finally found the freedom of letting it all hang loose. Now, you can give yourself the same treatment by wearing this flasher banana costume. It's not the kind of costume you want to wear in front of grandma, but it is a great look for anyone trying to add a little bit of adult humor into their fruit costume. Some might call it a-peeling.
Inflatable Banana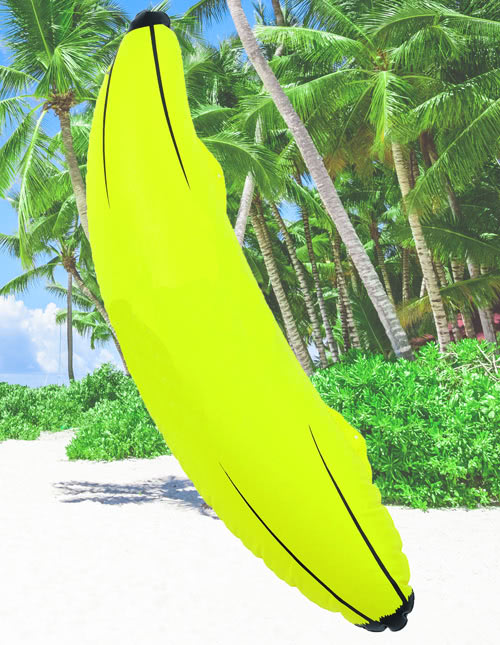 Not everyone wants to be a banana. Heck, not everyone even wants to eat a real banana. Some people just want a giant inedible piece of fruit that they can carry with them during their next Halloween party. We think that's cool too, which is why we offer this inflatable banana. It's the perfect costume accessory to pair with any gorilla, monkey, or Minion costume. And the best part about this handy little item is that it will never spoil if you leave it out, since it's made out of plastic and air!
Banana Hoodie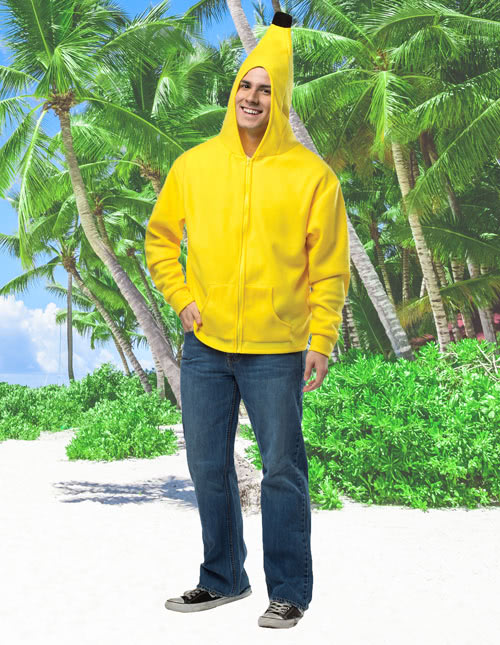 So, maybe you're more of a casual fruit. A full suit just isn't your kind of thing. You're not going to be tied down by the constraints of society, no sir! Do your thing in this Banana hoodie. It's perfect for the person who wants to wear the most comfortable piece of clothing known to man (the hoodie), but it also infuses a bit of banana business into it. You cnan add it to your normal clothes as a wacky way to keep warm on chilly days, or wear it to look like a banana for the day.