Storybook and Fairytale Costumes
Once upon a time, there was a very puzzled shopper who didn't know what they wanted to be for Halloween (that's you). Magically, a fairy godmother appeared (that's us) and showed the customer how to make their Halloween as enchanting as possible. We pointed a glowing wand to our selection of storybook and fairytale costumes and guided them to their happily ever after. Once they locked eyes with these whimsical designs, they became inspired by all the fairytale costume ideas. So please, take some time to peruse our fairytale costumes until you find the one that sweeps you off your feet. We have a feeling it will be love at first sight!
Love Your Look
We know just how much your little one loves to dress like their favorite fairytale character, but your friends on social media need to see it, too! This section will inspire your photography ideas so you can capture all your child's special moments while they're wearing a storybook Halloween costume. Study these lifestyle photos so you can recreate your very own. Your kids will love feeling like they're starring in a fairytale!
Alice in Wonderland Costumes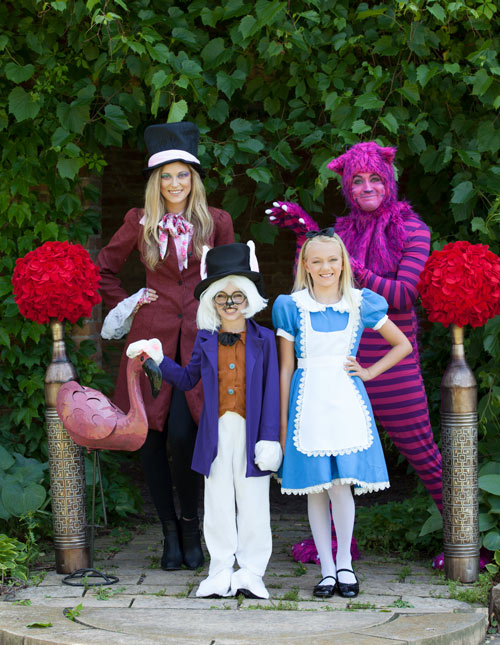 Our Alice in Wonderland costumes are perfect for families of four or more. Set up your own photoshoot and have each person dress as their favorite character. Girls will love our supreme Alice Costume because of the frilly collar and capped sleeves while boys who move a mile a minute will love hopping around in a white rabbit costume and clutching a large pocket watch. Decorate the scenery with red roses and pink flamingos to make it look just like the Queen of Heart's garden. Once you're done putting the finishing touches on all of the Alice in Wonderland costumes, you'll be ready to snap the photo and sit down to enjoy a cup of tea!
Little Red Riding Hood Costumes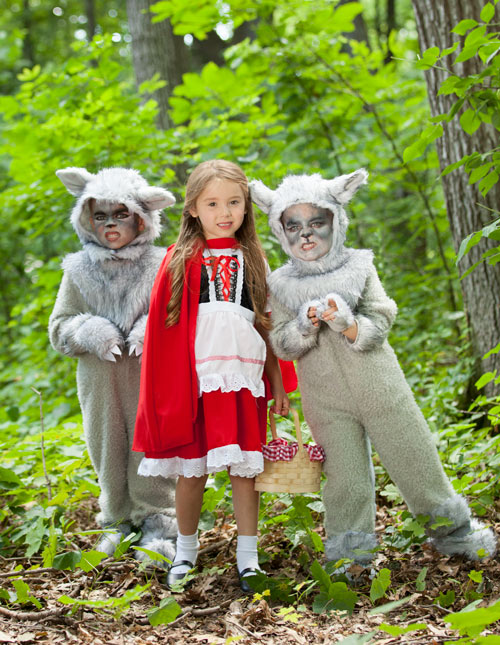 Before your Little Red Riding Hood darts off to grandmother's house, make her stick around for one quick picture. Gather up a group of little rascals to create a cute fairytale-inspired photo. Our Little Red Riding Hood costumes are ideal for this fanciful shot. Dress up two children in wolf costumes and tell them to unleash their ferocious side, while a young Little Red Riding Hood shoots an unnerving look at the camera. These Little Red Riding Hood costumes really pop behind a lush woodland background!
Storybook Costumes for Kids
Children will love feeling like they jumped right out of the pages of a fairytale and into the real world on Halloween evening. These storybook costumes for kids are perfect for little ones who enjoy being lulled to sleep with a good bedtime story, which ends happily of course. (Just don't consult the originals from the Grimm Brothers!) We have everything from Dr. Seuss costumes to Peter Pan costumes, so all types of fairytale fans can feel enchanted by their chosen ensemble. Sit down with your child and browse over these storybook costumes for kids until your little prince or princess sees the costume that grants them the most enchanting and (candy-filled) Halloween.
Little Bo Peep Costumes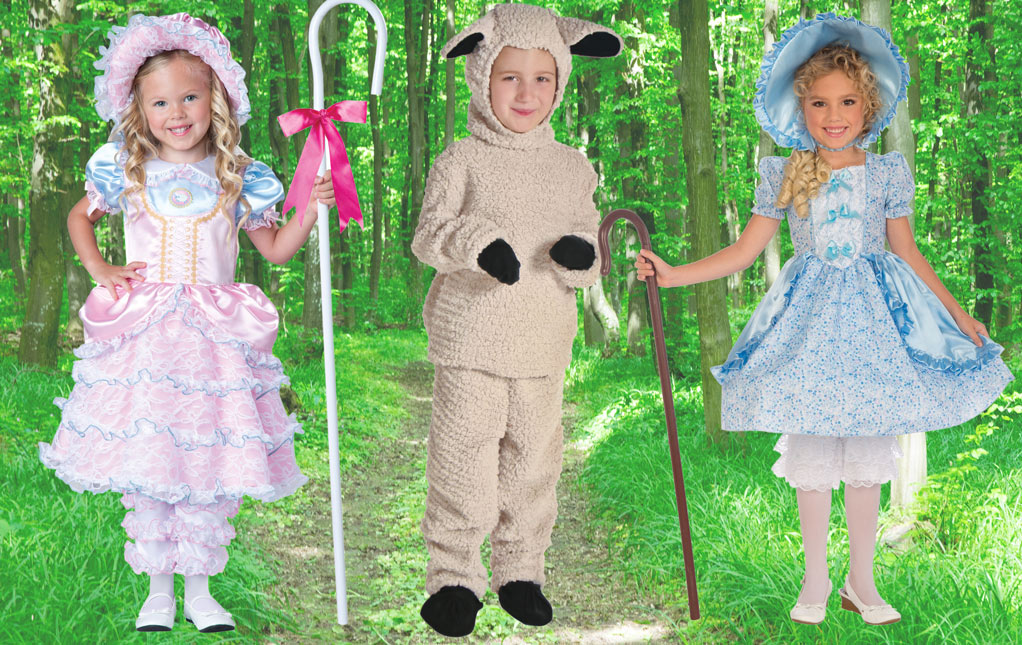 If your little girl loves nursery rhymes, fluffy animals, and fancy dresses, then she'll love our selection of Little Bo Peep costumes. She'll have a blast rounding up all of her plush sheep like she's really looking after her flock. All of our Little Bo Peep costumes feature girly pastel colors, vintage style bonnets, and dainty frills and ruffles. Add a bow adorned staff to the look so she'll feel fully prepared to do her duty as a shepherdess. Dress her little brother in this soft and warm child sheep costume to pair with your daughter's Little Bo Peep costume!
Doll Costumes
Now your daughter can dress up to look like her favorite doll, and we can guarantee she'll love her new toy-inspired look. From Raggedy Ann costumes to Elf of the Shelf costumes, your little one will have a blast looking like the plaything that she admires most. All of our doll costumes are perfect for those who love to play dress-up because they feature flared skirts, polka dot prints, and funky colored wigs. Imagine all the great photo opportunities there'll be once your daughter is dressed up to look like her most loved dolly!
Peter Pan Costumes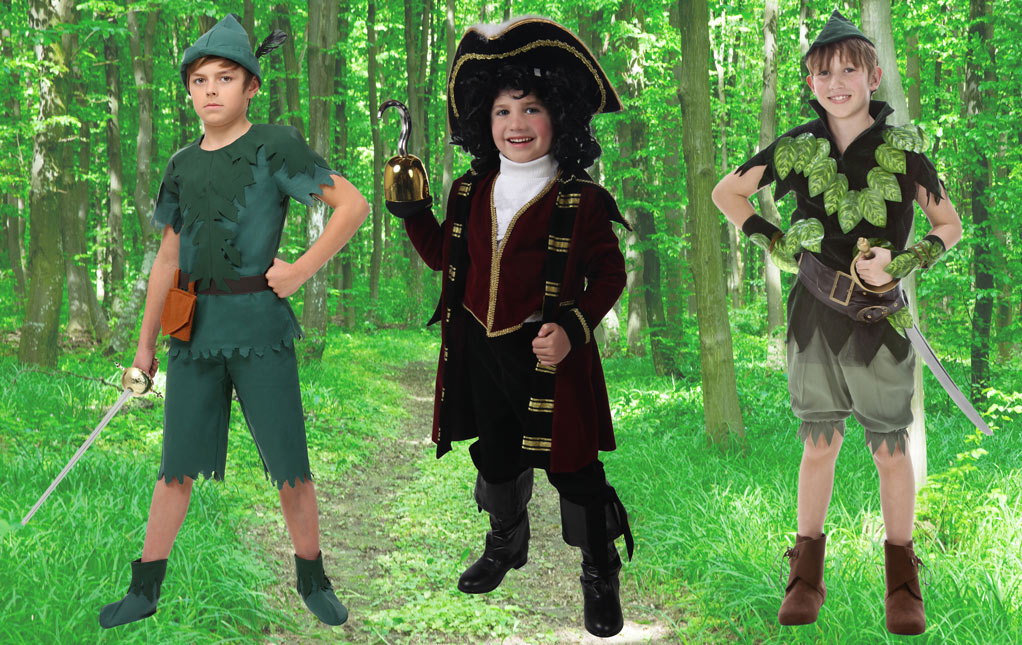 You won't have to take the "second star to the right, and straight on till morning" in order to get to Neverland. Now you can bring Neverland into your home by outfitting your children in these Peter Pan costumes. The magical island is occupied by all kinds of residents, from mermaids and fairies to pirates and Lost Boys, so of course kids want to experience all the excitement this magical island has to offer. If your little one wants to engage in (pretend) sword fights and hang out with a group of kids who camp out in treehouses every night, then a Peter Pan costume is the perfect get-up. However, if your son is more prone to living "the pirate's life", then donning a Captain Hook costume would be more appropriate. He'll love using his pirate hook accessory to indicate where to fill his Halloween treat bag.
Cat in the Hat Costumes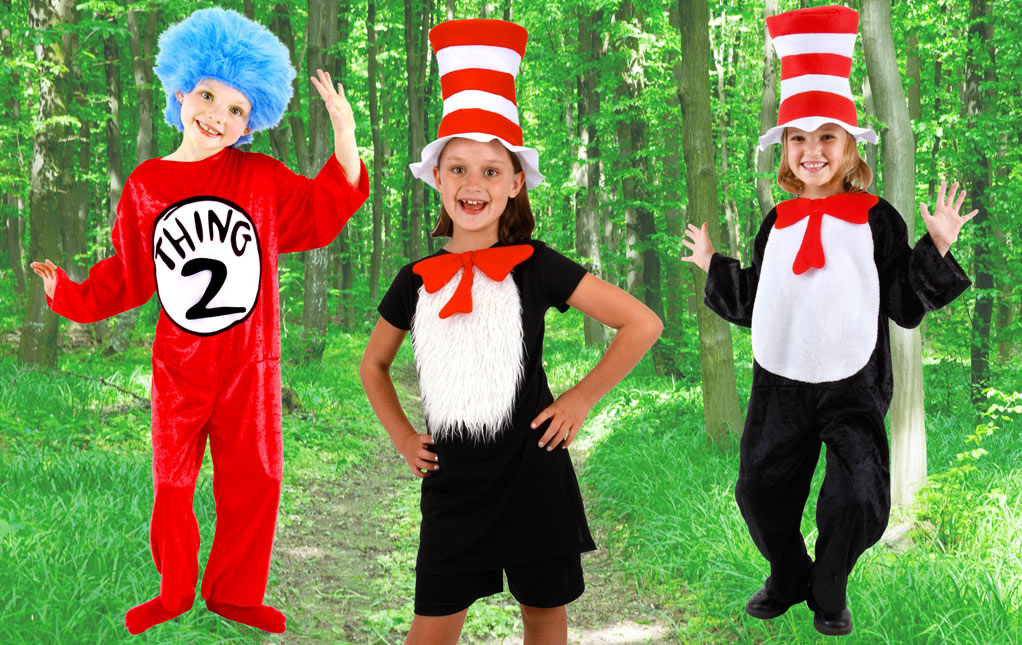 If you have a little one who loves to read and rhyme, then these Cat in the Hat costumes are guaranteed to supply them with the best time. (See what we did there?) Chances are your son or daughter learned how to read thanks to Dr. Seuss' popular series of children books, so these storybook costume ideas can make their favorite literary characters spring to life. Both boys and girls will love wearing the soft cat jumpsuit with the attached bow tie and the coordinating red and white striped top hat. However, rambunctious kids might have more fun by dressing in a Thing 1 or Thing 2 costume. Just keep an eye on them so they don't fly a kite in the house or knock down everything in their path!