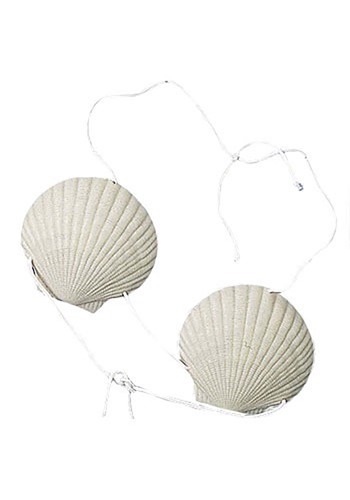 Product Information
Shell Bra w/Neck and Back Ties
Diamond shape shells

6'' across and 5 1/2'' long

(please note the shape is slightly different from the picture)

White rope connects the two sea shells

Adjustable
Hey, you! Yeah, you, the one with the gills!
Before you head toward the sea, be sure to nab this chic Shell Bra. Everyone knows that it's much more difficult to work with string and knots under water. We're just looking out for you, dear. It's not called a sea top or an eye cover. It's a bra and we're sure you know what it's used for!
You need to be properly dressed to sing and dance with your favorite crustaceans, swim in and out of anemones, and, well, to do whatever else it is you do down there. There are indecent exposure laws down there, right? Well, in that case, you're going to need a Shell Bra for your next underwater adventure, especially if you plan to dress like a mermaid. It's a must-have fishperson accessory—trust us! So, whether you're simply hitting up the river bank or heading out with the evening tide, be "shore" you're ready for whatever the sea's going to serve up in this shell bra!
Size
Measurement
Standard
Metric
Standard
Bra Band
32" - 34"
81cm - 86cm
Recommended Costumes
Current Customer
/
October 23, 2016
By
The item is fairly inexpensive. The item fits fine but the quality is terrible. It doesn't even look the same as the picture. I wouldn't even spend $1 on this junk.

---
---
---
 Write A Review