Mr. Potato Head Halloween Costumes
Potato Head. First, it was an iconic toy. Then Mr. and Mrs. Potato Head became hilarious characters from the Toy Story franchise. And now, you can become a Potato Head too! You'll find a range of styles of sizes of Potato Head costumes in the categories below. Whether you're looking for a quick, casual costume for an after-work party or you want to go all out in a full-body look, you're sure to enjoy rocking any of these Potato Head costumes!
When you're dressing up for Halloween, you might be looking for a few different things for different events. For instance, if you're bringing kids around the neighborhood for trick-or-treating, then you'll want to wear something soft and comfortable over your own clothing. If this is the case, our tunic-style Potato Head costume is a great option!
On the other hand, you could be staying in one place and handing out candy. If you want to delight people of all ages at a trunk-or-treat event, you might want to draw plenty of attention to your display. Our customers have said that inflatable costumes are fun options for this type of event. Then again, if you're handing candy out at your front door, an inflatable costume might take up too much room. It'll also make it hard to plop down on the couch and watch Halloween specials in between sugar-hungry visitors. So if you're celebrating at home, the previously mentioned Mr. Potato Head t-shirt costume is an option that will send off the right vibes on Halloween night!
Kid's Mr. Potato Head Costume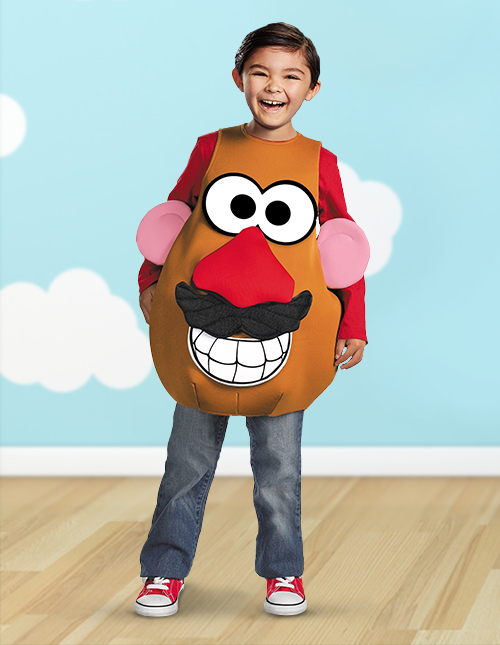 There's something about Potato Head that inspires imagination. The goofy, innocent potato body with giant interchangeable facial features used to be a fun way to play alone at home for hours. But now your child can take their silly playtime even further. A Mrs. and Mr. Potato Head costume can be broken out for playtime, local parades, and Halloween events. A great choice for school events and at-home skits, kids will love swapping out the facial features on the simple design of their Potato Head costume!
Mr. Potato Head Onesie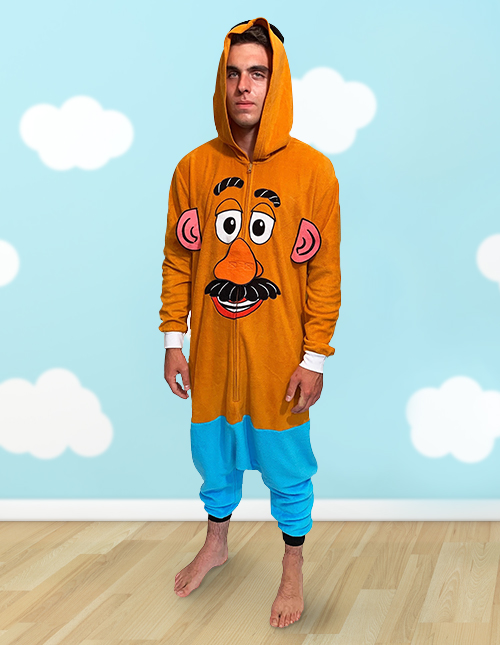 Keeping it simple and having a good time. That's what the original Potato Head toy was about in the first place! It's nice to have a costume that you can throw on at a moment's notice. Great for dressing up for after-work Halloween events, family parties, and even parades, a Mr. Potato Head onesie or union suit like the one seen above can be slipped on at a moment's notice. These costumes are lightweight and compact, which make them easy to pack in an overnight bag. If you're celebrating a costumed event such as Mardi Gras or Halloween in a different city, packing a Mr. Potato Head shirt is a playful and laid-back option!
Mr. Potato Head Costume Inflatable
Inflatable costumes are popular for a reason. Everything you do when you're rocking an inflatable costume is just a little sillier. We have really been getting a kick out of seeing what this inflatable Mr. Potato Head has been up to in the last few years. We've seen videos of him dancing, riding on boats, and attempting all sorts of fad dances. The inflatable look can be brought out for all sorts of occasions. It's sure to be a hilarious addition to Toy Story parties and school events. And slipping into the costume is easier than you might think. The back zips up, sealing the suit while the fan runs on battery power. Officially licensed, folks are sure to get a kick out of your over-the-top Mr. Potato Head costume!
Toy Story Costumes
Mr. and Mrs. Potato Head went through a lot in the Toy Story Trilogy. Mr. Potato Head starred as a villain in many of Andy's western dramas. And in their private time, the couple shared a special bond that never seemed to fade through the years. They adopted a trio of aliens. Survived a pre-school together. With all of these adventurous episodes, you could have a lot of fun going above and beyond with your Mr. Potato Head costume. For instance, consider bringing along a bag of loot and perfecting Mr. Potato Head's hilarious villain catchphrase, "Money, money, money". He also wears an eye patch during much of his villainous activity, so that addition might be fun as well!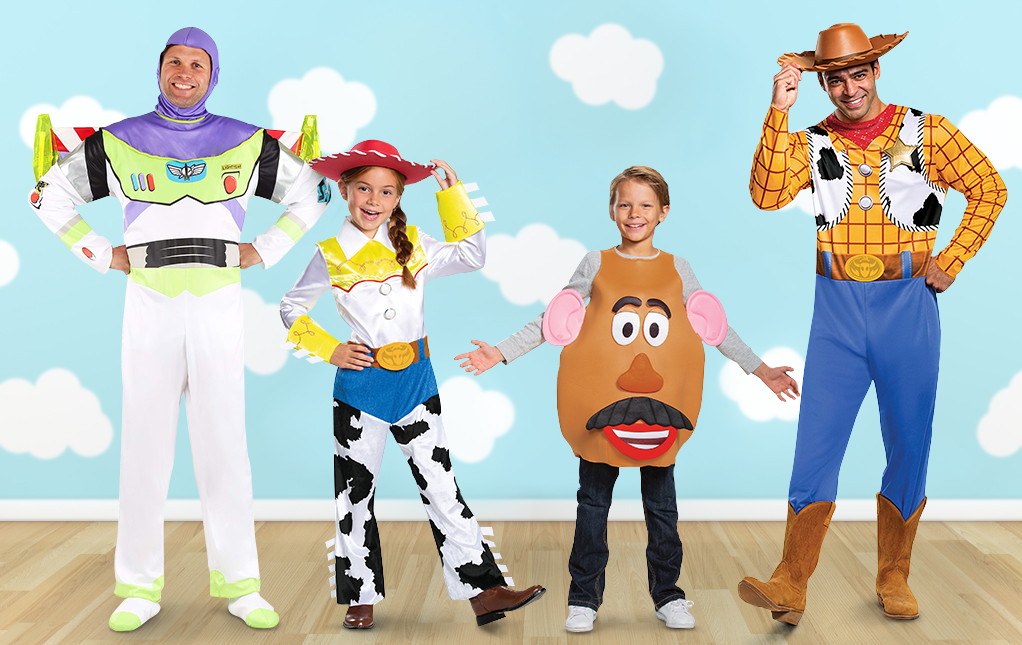 If you'd like to turn your Mr. and Mrs. Potato Head couple's costume into a group costume, adding more Toy Story costumes is going to be a whole lot of fun! Now, we think that Potato Head costumes go best with fellow secondary characters such as the dinosaur, Rex, and the piggy bank, Ham. Then again, if you want the ultimate inflatable group costume, you'll love pairing the Mr. Potato Head costume with his three adopted Alien children. Or if the-more-the-merrier is the key, then you can pair up with all the main characters. People of all ages will love dressing up in the rest of our Toy Story costumes. Woody, Buzz, Bo Peep, and Jessie would all enjoy accompanying you as Mr. Potato Head. Just work on your Potato Head phrases because other folks might want to audition for this fun role!
Mr. and Mrs. Potato Head Couples Costumes
Mr. and Mrs. Potato Head Costumes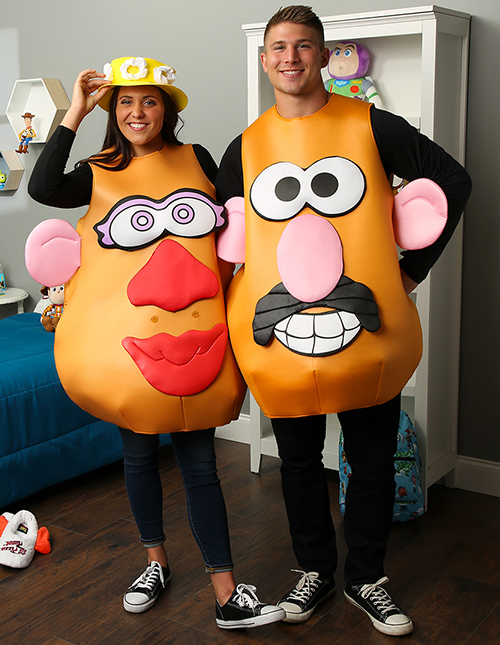 Mr. and Mrs. Potato Head have been together since the fifties. And they've been through a lot through the years. They've been redesigned. They've lost countless sets of eyes and arms under couches and in forests of shag carpeting. And in the nineties, they became movie stars! It's no wonder that Mr. and Mrs. Potato Head make for a great couple's costume. Simple yet sweet, these costumes will easily link couples at parties and events. Buy two Potato Head Costumes to receive the potato suit and interchangeable facial features for both Mrs. and Mr. Potato Head. These are some spud duds that you both won't regret!
DIY Mr. and Mrs. Potato Head Costumes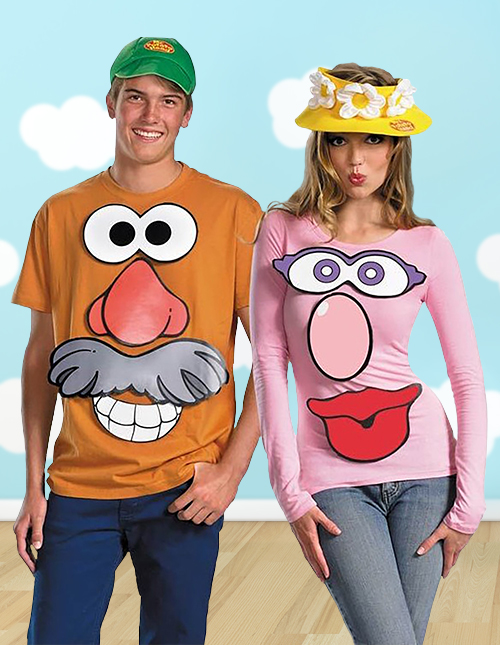 If you want a Potato Head costume that's one size fits all, then you'll love this Mr. and Mrs. Potato Head kit. Attaching to your own t-shirts, the Mr. and Mrs. Potato Head facial feature stickers come with hats to help you get into character. This budget-friendly option can be taken to the next level with oversized cartoon gloves if you want to add to the silly factor.
Mr. and Mrs. Potato Head Shirts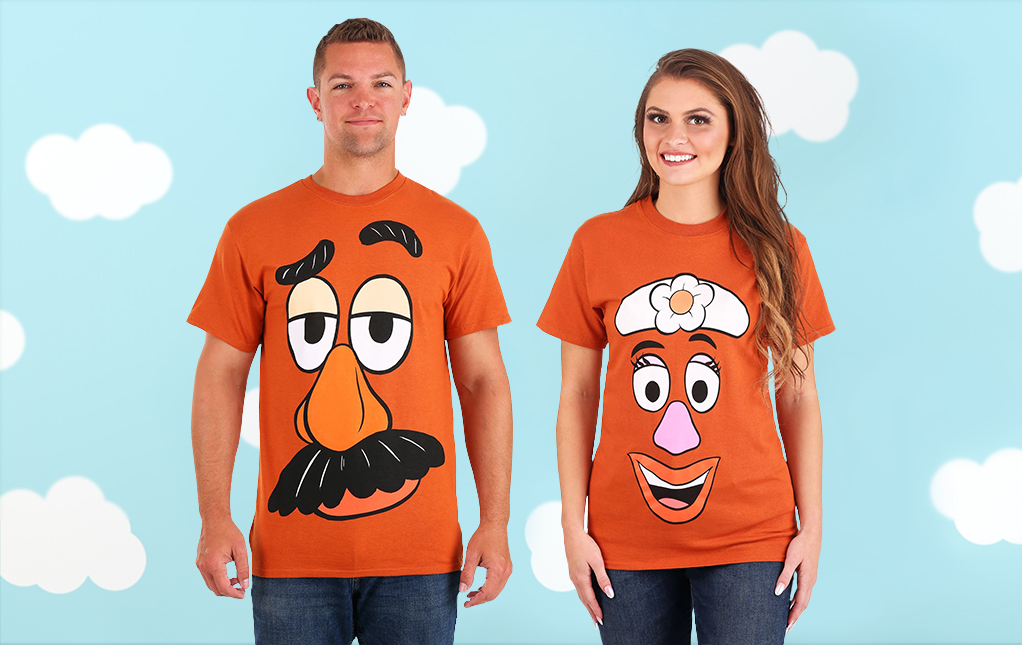 It's nice to have costume options that you can wear around town long after your costumed event is over. These easy-peasy costume t-shirts are a great option for people who want to dress up at work or school but don't want to deal with a bulky ensemble. The t-shirts are sold separately, letting you choose to dress as Mrs. Potato Head and Mr. Potato Head separately. Wear either t-shirt with jeans or a comfy pair of shorts to make this costume hot weather-friendly. This is an option that works for a wide range of sizes. We carry these costume T's starting at small and going up to 3X. Perfect for wearing in parades, themed parties, and school Halloween events, these t-shirts will be your go-to easy costume for years to come!