Mermaid Makeup Tutorial
Enhance your experience as a mermaid and elevate your costume by following our mermaid makeup tutorial that's perfect for beginners. Grab your favorite teal eyeshadow and glide it on each lid to accentuate your aquamarine-colored tail. Offset the bright teal shadow by adding magenta eyeliner to the upper and bottom lash line. This pastel color palette is rounded out by an application of light pink blush to the apples of both cheeks. Next, take matching lipstick and swipe it across the lips. Finally, take a pair of fishnet stockings, stretch them over the sides of the face, and use shimmering teal shadow to blot scallop shapes on the skin. It's a simple makeup technique to create a beautiful fish scale effect.
Little Mermaid Costumes
If you'd consider trading your voice for a chance to chill with Flounder and Sebastian, make these Little Mermaid costumes a part of your world. Style your hair in beachy salt-water tousled waves or wear a wig to complete your beguiling transformation. In this section, you'll find Little Mermaid costumes for children too so mommy and daughter can match.
Ariel Costume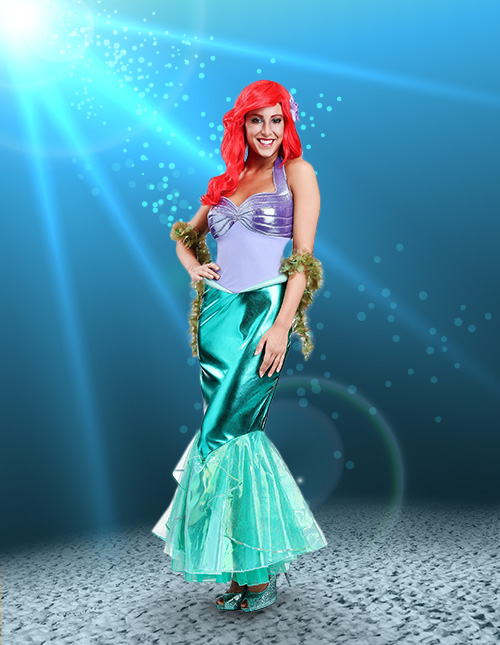 Take the plunge into Disney territory with an exclusive Ariel costume. Great for those who aren't interested in baring their mid-section, the halter style dress features a lavender-colored fabric so you'll be more covered up than wearing a two-piece mermaid costume. Go to a Halloween party with your best friend dressed in a Disney villain costume to surprise fellow party-goers. They'll never expect Ariel to show up with Ursula.
Deluxe Ariel Costume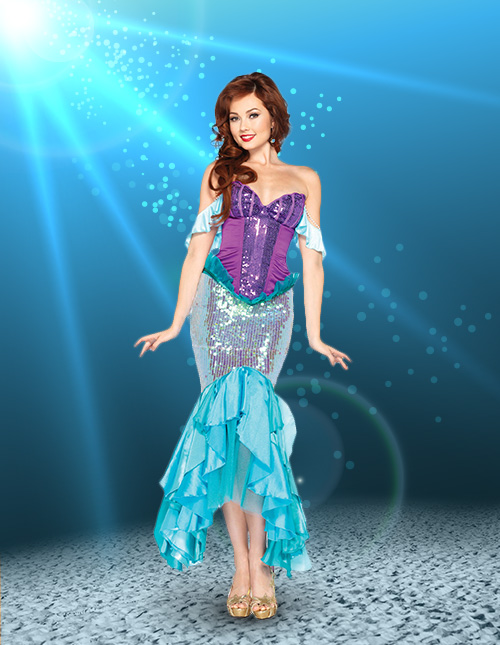 Glitter makes everything prettier! The deluxe Ariel costume displays the Little Mermaid's signature purple and teal ensemble but with way more sparkles. This particular Princess Ariel costume is great for women who love to wear feminine frills and ruffles.
Child Princess Ariel Costume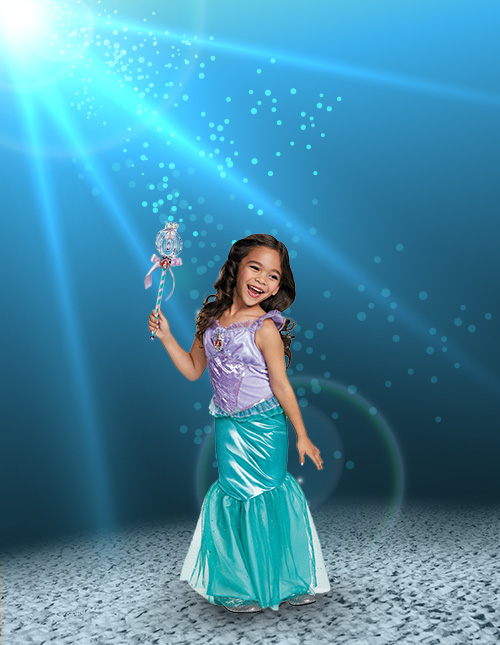 Do you know a little girl who loves big adventures? The Princess Ariel costume allows kids to look like their favorite red-headed mermaid by dressing them in a shiny dress that sparkles whenever the light hits it. Wear any one of our fish costumes to accentuate your daughter's look and you two will get along swimmingly this Halloween.
Prince Eric Costume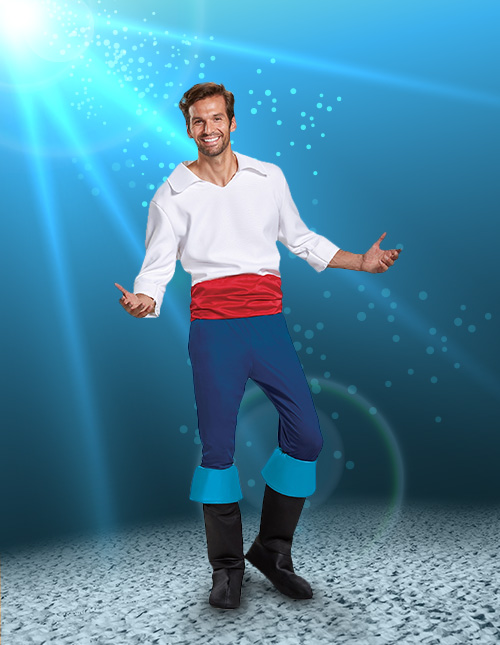 Prince Eric is a swoon-worthy prince because he loves big shaggy dogs and his jawline is perfectly chiseled. Have your date morph into the dreamiest Prince ever by wearing this Prince Eric costume which comes with a white collared shirt, blue pants, cartoonish boot tops and red sash.
Mermaid Halloween Costumes for Kids
Just when you thought we only offered adult mermaid costumes, we hit you with the kids mermaid costume of her dreams. If your little one grabs a fork to use as a hairbrush and wants a crustacean as a BFF then she'll love our selection of child mermaid costumes. Perfect for tweens, toddlers and even babies, these mermaid costumes will coat your most precious treasure in scales and a pair of fins. Don't flounder around for too long; get these child mermaid costumes before they swim away!
Child Playful Mermaid Costume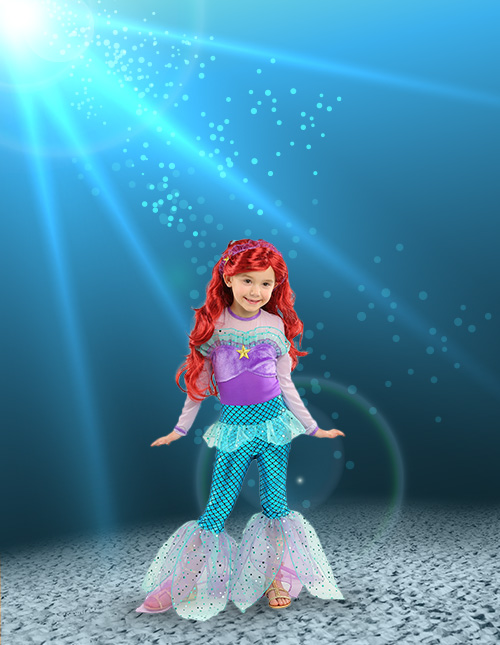 This little shrimp appears to be taking the plunge down to the underwater disco with her mermaid friends and family for a dance party! For little girls who are newly obsessed with Ariel or mermaids in general but aren't big fans of wearing skirts or dresses, the playful mermaid costume is ideal. This costume consists of a fun jumpsuit and a matching headpiece so it makes a cute dress-up outfit too.
Infant Mermaid Costume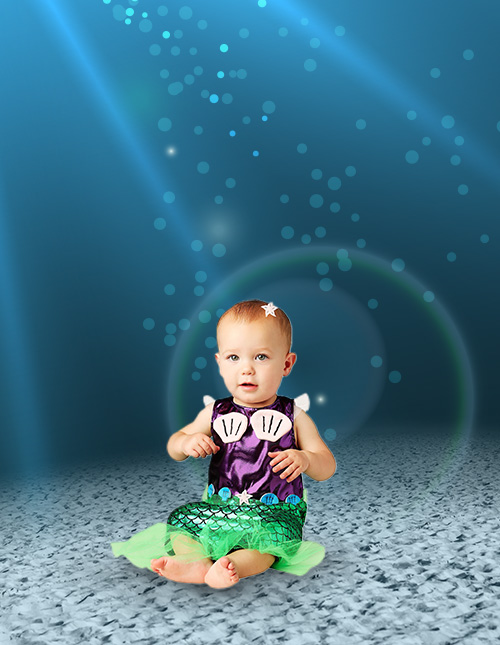 You're never too young to wear seashells! Your baby doesn't have a single strand of red hair on her head; in fact, she's completely bald but completely prepared to trade her chubby baby legs for a sparkling fin. The infant mermaid costume is extremely shiny so it photographs beautifully, which is great since you're bound to take lots of pictures of your little one. Coordinate with your teeny mermaid by outfitting yourself in a shark costume.
Tween Mysterious Mermaid Costume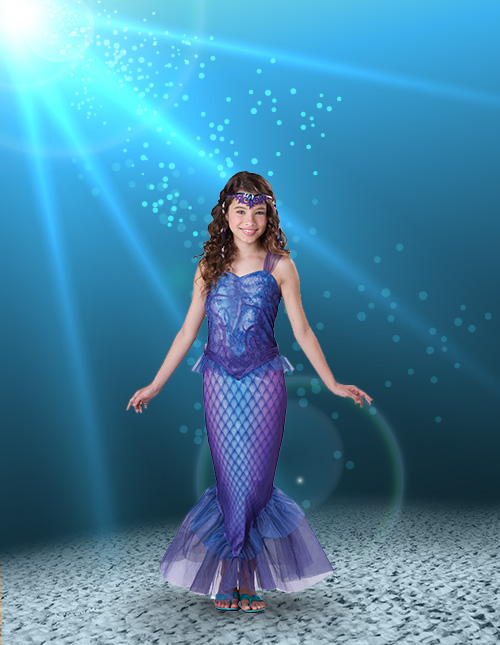 Mermaids are all the rage right now so naturally tweens are on the hunt for mermaid costumes that are suitable for a Halloween school dance. Abide by your school's dress code while maintaining a flawless and fashionable appearance by wearing the tween mysterious mermaid costume. This costume doesn't require midriff-baring but it still provides the iridescent appearance made famous by the mermaids you dream about. Attend the dance with your bestie disguised in any of our unicorn costumes. It will be a BFF costume made in mythical creature heaven!
Toddler Mermaid Costume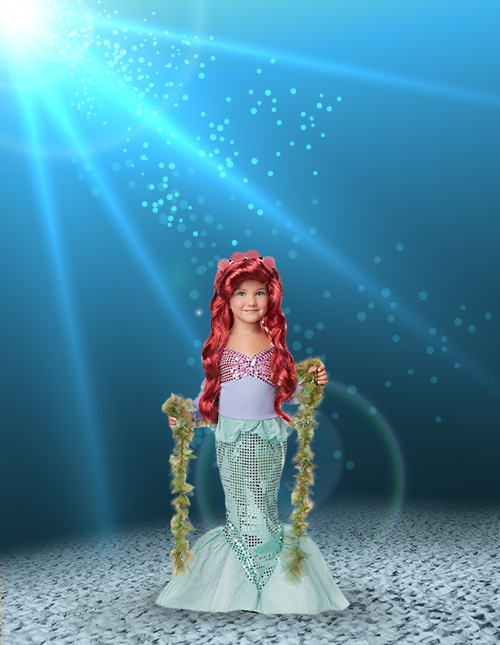 There's nothing fishy about this toddler mermaid costume! This cute girls mermaid costume features sequins that will glisten under the sea! When your little one puts on this long-sleeve dress she'll swim in a sea of sparkles while collecting Halloween goodies. The toddler Little Mermaid costume comes with a coordinating pink seashell headband which acts as the cherry on top of this glamorous under the sea look. If your young mermaid wants even more bling, then add some costume jewelry to your cart.
Under the Sea Costumes
Can you believe that 95% of the world's ocean is unexplored? Mermaids have to be hiding in underwater coves and caverns, evading capture from both fishermen and pirates. Who knows what other magnificent aquatic creatures are also evading capture under the sea? If you're amazed by all the bizarre and unbelievable creatures lurking in the deep blue, get ready to be amazed by our selection of under the sea costumes. Become your favorite Finding Nemo character or transform into an obscure underwater beast because our costume options are as wide as the sea!
Sea Siren Costume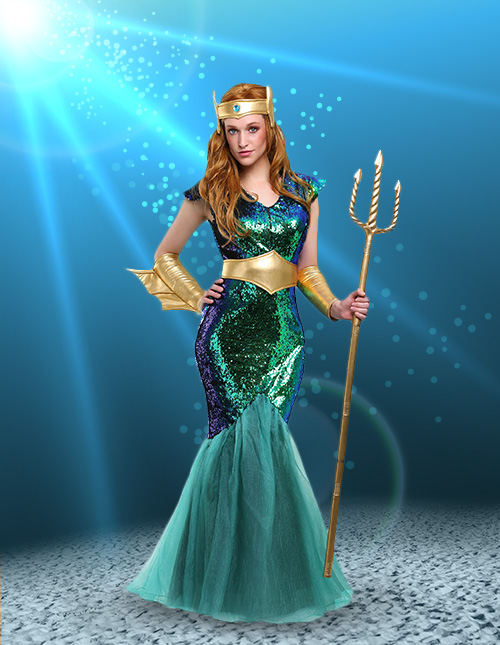 Slip on this sea siren costume and rule the aquamarine-colored waves like one of King Neptune's royal daughters. Feeling down in the dumps is impossible when you're covered in high-intensity sequins like the ones featured on this floor-length gown. The gold crown and wrist cuffs add a royal touch to the ensemble while the matching belt cinches at the waist creating a flattering feminine silhouette. Attend a Halloween party with a date dressed as a dragon because a couple who wears scales together, stays together!
King Neptune Costume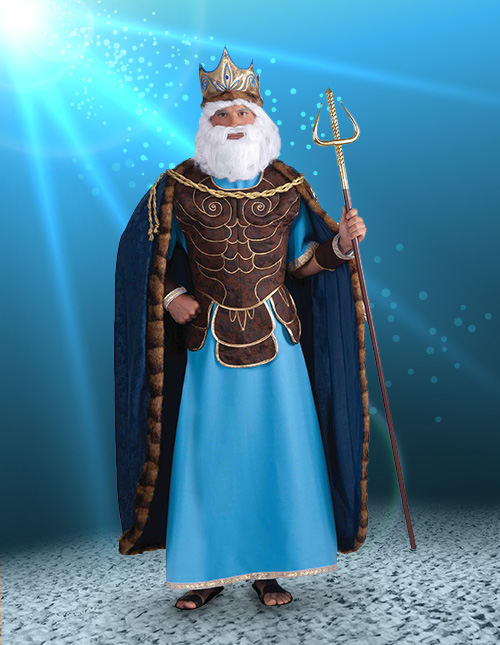 Poseidon who? Look ready to climb on the backs of dolphins and ride them onto shore while you're dressed in the King Neptune costume. Wield all the sea's power while appearing like the noble leader of Atlantis when cloaked in the floor-length cape and coordinating chest-piece. This is the mightiest merman costume in all of land and sea since the rope, wrist cuffs and crown are all included. Amplify this powerful look with a pair of men's gladiator sandals, and start planning your introduction to the world as Lord of the Seas.
Deep Sea Diver Costume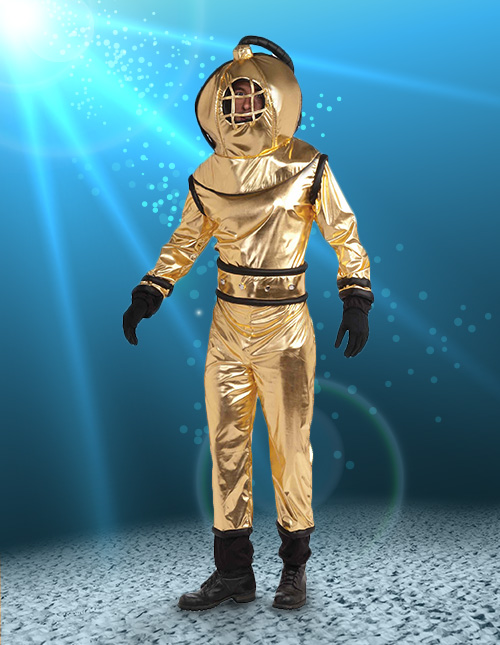 If you want to wear a women's Ariel costume but your date isn't too keen on transforming into a prince for the evening, you may want to introduce him to the deep sea diver costume. Perfect for adventurous guys, this aquatic-themed costume looks great when paired with any mermaid costume. The shimmering gold suit with soft helmet offsets an iridescent fin skirt, plus your date will love the element of danger this costume represents.
Skeleton Mermaid Costume
Daring to take the plunge thousands of leagues under the sea brought us closer to an elusive skeleton mermaid who inspired this eerie costume. Look like a mermaid seeking revenge instead of treasure once you're wearing the skeletal siren maxi dress, complete with an arm band set and headband. The skeleton mermaid costume provides the perfect combination of both scare and enchantment. Add touches of fake blood to enhance the spook-factor.
Best Mermaid Couples Costumes
There are lots of possibilities when it comes to choosing a partner for your mermaid look because more options are better when it comes to picking a date. You two can show everyone what happily ever after looks like by picking a Prince Eric costume to pair with an adult mermaid costume. Surprise everyone with a date dressed as an underwater creature like a mermaid kin, giant squid or a sailor. Let everyone know he's scored the catch of a lifetime.
Mermaid and Diver Couples Costume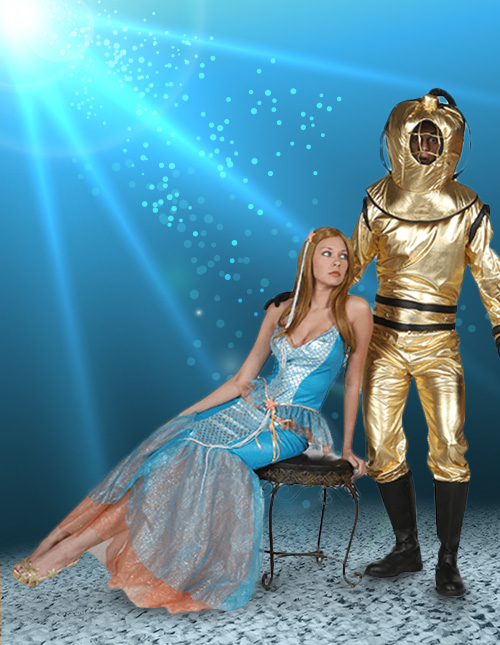 Can people expect the unexpected with you and your bae? If so, head to the Halloween bash in a mermaid and diver couples costume. Some may assume a deep sea diver and a mermaid couldn't fall in love, but prove those people wrong. Love is love!
Mermaid and Poseidon Couples Costume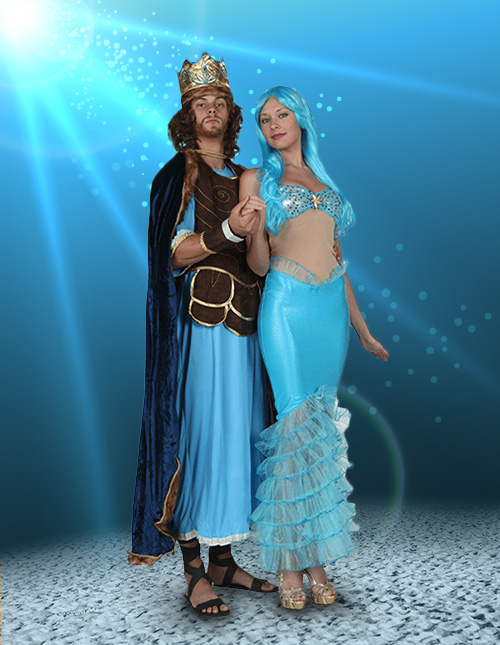 Of course the God of the Sea would have a beautiful mermaid bride! Look like an underwater power couple by adding a mermaid and Poseidon couple's costume to your cart. Stop a group of pirates dead in their tracks by sporting this commanding look.
Ariel and Eric Costume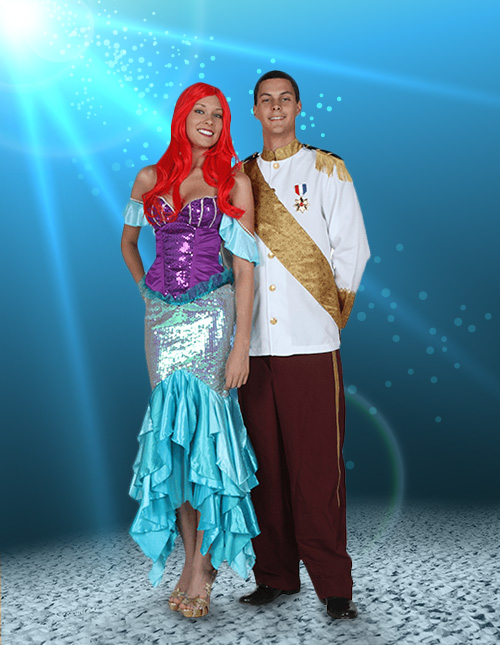 Make him want to kiss the girl (sha la la la la la) by outfitting yourselves in an Ariel and Eric costume. You'll be the hottest Disney couple at any extravaganza. Move over Prince Charming; make way for Prince Eric and his beautiful mermaid bride. It's a couple costume that will result in a happily ever after.
Mermaid and Sailor Couples Costume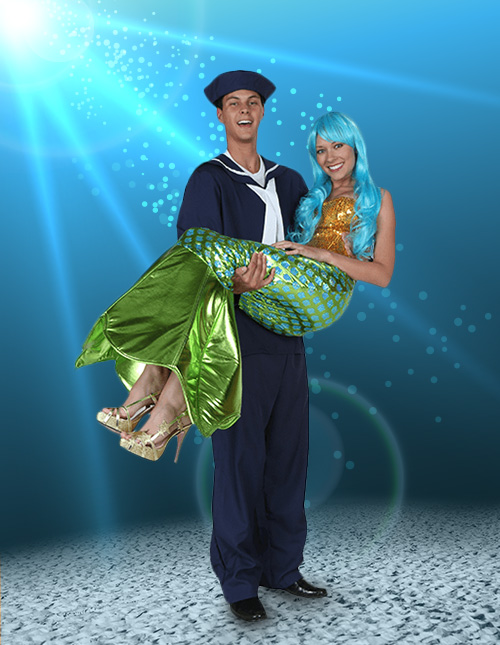 He went fishing for tuna and came back with the best catch in all the sea! Perfect for fishermen and men who love their boats, this mermaid and sailor couple's costume will make both parties extremely happy this Halloween. It's a great idea for those who love taking long walks on the beach!
Best Mermaid Poses
Mermaid Dive Pose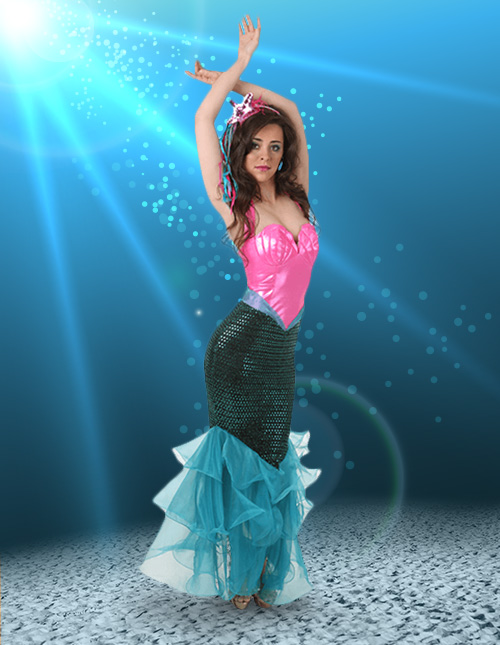 Mermaids are known for diving into the water from the rocks so reach your hands into the air and do the mermaid dive poise. This is a great way to put your entire costume on display for the camera.
Mermaid Splash Pose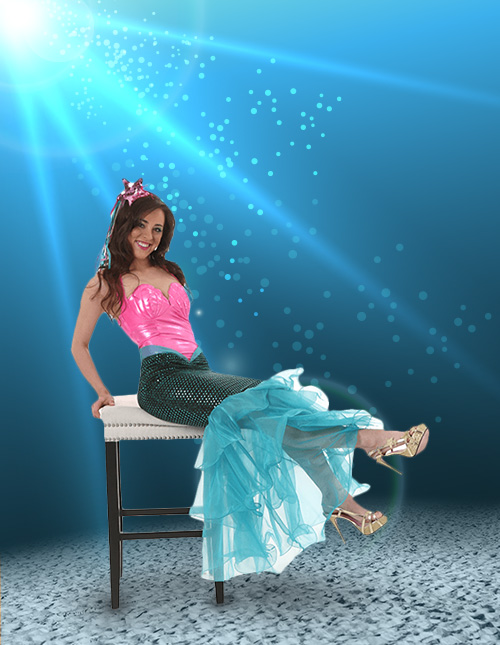 Mermaids make a splash wherever they go. Whether you're planning on attending a party or going to the club, have the mermaid splash pose in your bag of tricks. Sit on a stool and kick your heels in the air. It's a pose advertising that you're having fun!
Mermaid Wave Pose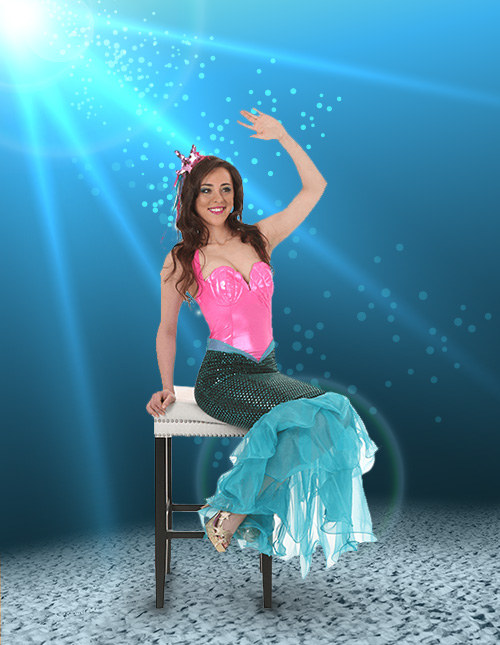 Cascade over tidal waves while waving to a crowd of admirers on the shore when you strike the mermaid wave pose. Give a big smile to the camera and raise one hand into the air.
Mermaid Siren Pose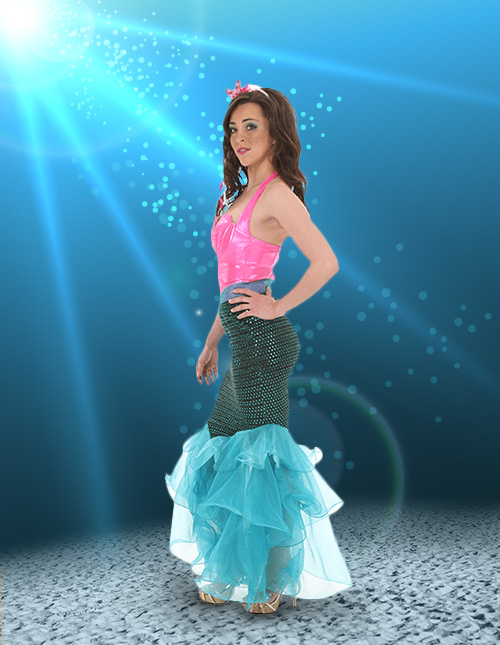 Look mysterious and alluring by placing a hand on your hip while smiling and turning to the side. It's called the mermaid siren pose and it's our pick for most flattering pose on the list.
Best Mermaid Quotes
It's official, you'll meet plenty of new friends this Halloween because mermaids are known for being friendly, social and the life of any party. Whether you're wearing a mermaid costume shown above or a mermaid DIY costume you made yourself, the following mermaid quotes will make you appear more authentic. Learn how to talk like a mermaid with the best mermaid quotes around to make a great first impression on everyone you meet!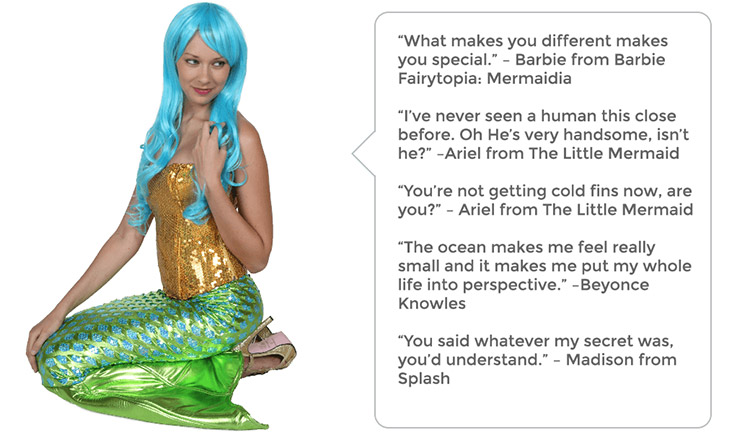 "What makes you different makes you special." - Barbie from Barbie Fairytopia: Mermadia
"I've never seen a human this close before. Oh, he's very handsome, isn't he?" - Ariel from The Little Mermaid
"You're not getting cold fins now, are you?" Ariel from The Little Mermaid
"The ocean makes me feel really small and it makes me put my whole life into perspective." - Beyonce Knowles
"You said whatever my secret was, you'd understand." - Madison from Splash