Ladybug Costume Ideas
No matter where you go in the world, you're bound to hear someone say, "Eww, bugs!" We must admit, there are quite a few creepy-crawlies that send a shiver up our spines. But there are interesting insects that have us belting out about their beauty instead! No, we're not just talking about the industrious bumblebee or the iconic butterfly. Have you heard about the ladybug? They're the dalmatians of the beetle world, saving gardeners from the aphid atrocity while sporting more colorful spots than your average polka-dotted 50s skirt!
There are a lot of magical myths about the ladybug. Sometimes they are depicted as little fairies who answered farmers' prayers and brought abundance to their crops. The Vikings of old believed that the first ladybug was created with a bolt of lightning from above when Freya called her down. With stories like that, it is no surprise that this lovely ladybird beetle has become a popular critter! Let's take a tour of our variety of ladybug costumes so you and yours can tell your own tremendous tale too!
Kid's Ladybug Costumes
Are your kiddos buzzing around with excitement? Are they practically flagging you down because it is time for a costumed playtime? Well, we've got some of the best kid's costumes that you can imagine. There's just something about the bright red color and rich black contrast that makes a tyke smile wide. Add in a bit of tulle on a skirt or a pair of round wings and you can be sure they'll be twirling around while taking off for fun. Take a look at these suggestions for different styles of ladybug Halloween costumes for kids of all ages. They're a bright treat for all-year-round!
Baby Ladybug Costume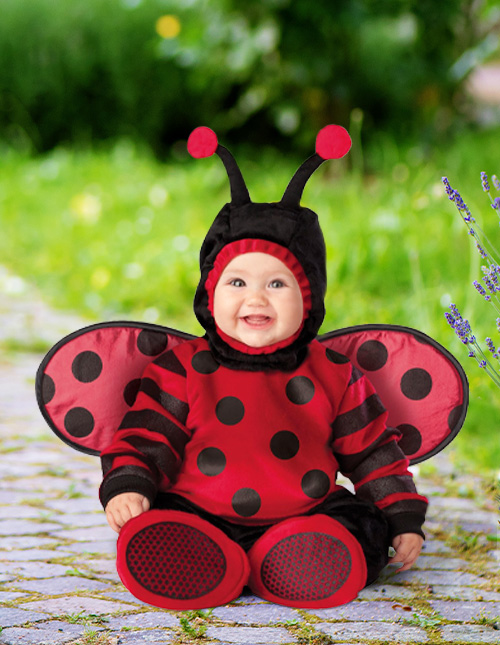 Watching your baby grow up can be awe-inspiring, uplifting, surprising...and sometimes a bit gross, too. But fortunately, you don't have to watch them crawl around in a larval stage like insects. Much better to skip right to the cute critter stage with a ladybug costume—and one that can be worn through several stages. A ladybug dress for babies can be cinched and worn short or long for several months of their growth!
Ladybug Girl's Costume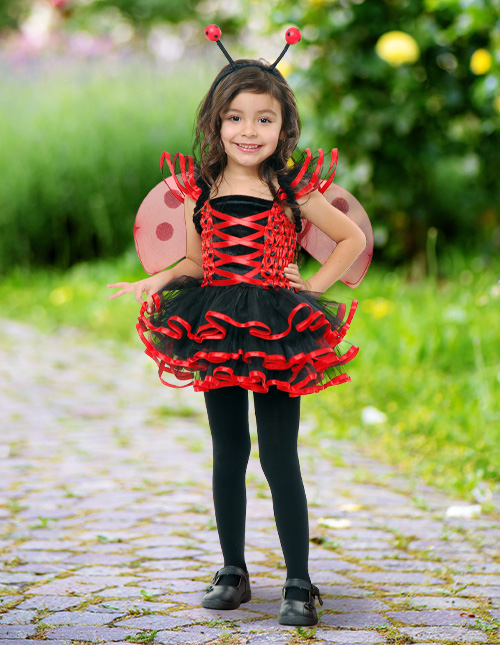 Any young lady is going to be developing her own sense of style. And that might mean a ton of accessorizing, too. (Bright belts and matching capelets?) Maybe the ladybug is a lovable inspiration. Perhaps the polka dot is pure perfection. And, either way, there's just something about the combo of black and red that can make any style soar. Before your little lady starts bugging you, offer up a girls' ladybug costume and let them spread their wings!
Ladybug Halloween Costumes for Adults
Feeling pretty isn't just for the kids. You adults can let your shiny ladybug side show, too! Create a couple's look that shines a light on the secrets of a bug's life or group up to form a loveliness of ladybugs. (What a great name for a group of these adorable insects!) The fun doesn't stop there. Let your creativity go wild! Imagine your sweet pair of red and black wings matching with someone in a flower costume. Take a cute twist on the scary movie trend when you team up with Godzilla and make the world wonder what havoc a Kaiju ladybug monster could bring!
Women's Ladybug Costume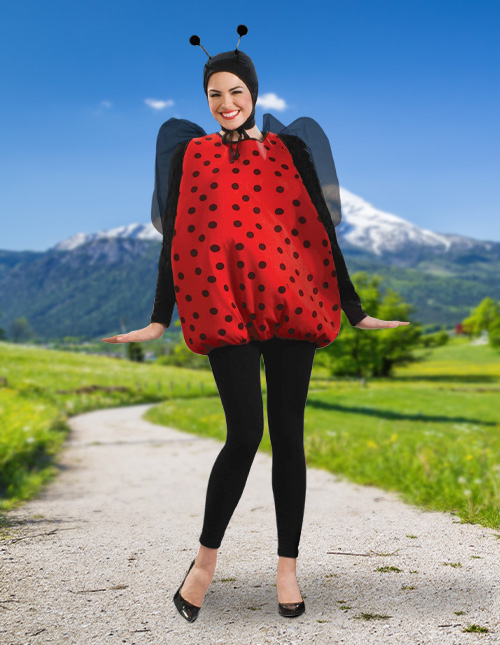 We know that ladybugs are great for gals and guys alike, but there's just something about a black and red cape or the drape of a poncho that makes a ladybug girl costume perfect. With various fashion options from hoodies, tunics, dresses, skirts, and more, the ladies in your life can transform into any kind of ladybug silhouette out there. From funny to frilly to even a bit flirty, you're sure to find a ladybug costume a woman would love!
Sexy Ladybug Costume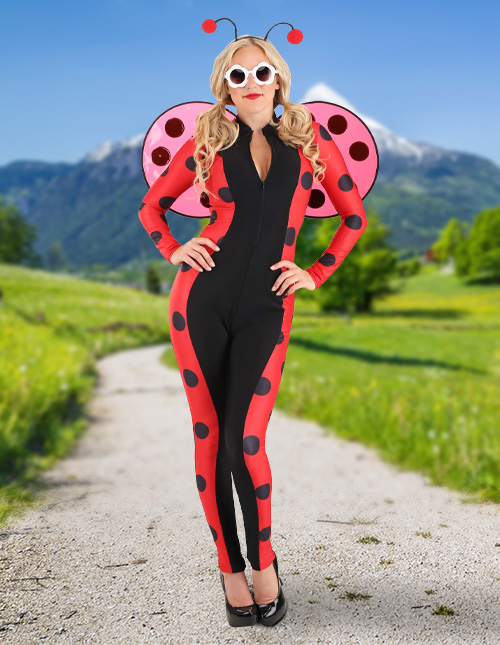 Speaking of flirty, the ladybug is a creature that knows exactly how to show its true colors to get the best of both worlds. Predators get spooked by those flashy shades while everyone else delights when it shows up. They're a sign of good luck, you know! Well, lucky you, we have some sassy ladybug costumes that are sure to turn some heads. Keep a lookout because some of our sexy ladybug costumes are great for folks of any walk (or flight) of life!