Jessica Rabbit Costumes
How to Be Jessica Rabbit
It's really no surprise why Jessica Rabbit costumes are a popular choice for ladies. Jessica Rabbit is a certified bombshell even if she is a cartoon. She's got the hips, lips, and lashes that men admire and women desire. Plus, Jessica Rabbit is undeniably a style icon. Even though she's only seen wearing one outfit, the sparkly red dress and elbow length gloves are a bold fashion statement that says, 'check me out.' A dress with a high-thigh slit will make you sashay across the floor. You'll inadvertently flirt with anyone you lock eyes with when you're looking this hot. Basically, it's the only ensemble you need hanging in your closet. You don't have to bag up all your clothes and make a trip to the goodwill though! Just add a Jessica Rabbit costume to your already packed closet. Even if you have no intention of wooing Rodger Rabbit, this costume will be a head turner no matter what the occasion!
How to Pose for Pictures in Your Jessica Rabbit Costume
"Come Closer"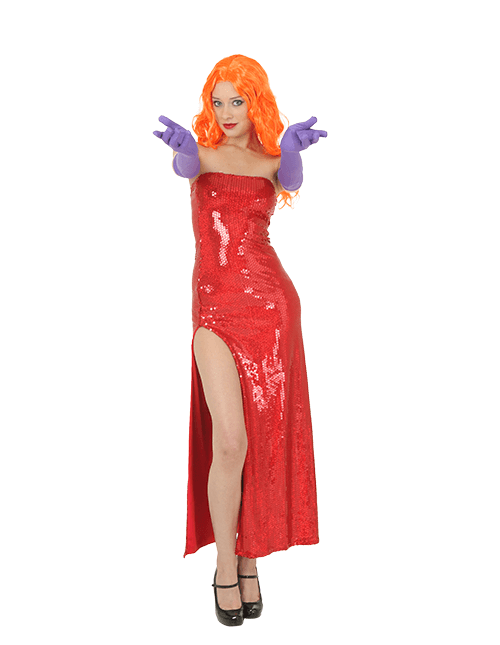 "Nightclub Singer"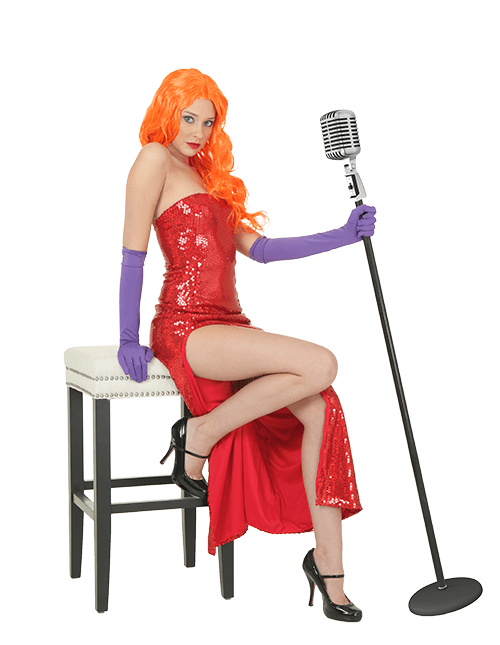 If you want to pose like Jessica Rabbit, you're going to need some attitude. So fluff that hair and layer on the lipstick because you're about to enchant those cameras. Stand confidently in front of the camera with your arms outstretched and a 'come hither' look on your face. Of course it's important to work that sexy slit in your dress. Whenever someone is about to take a picture make sure you flaunt your bare leg by popping it out in front. You can also work that sexy leg slit while you're sitting down. Take a seat on the very edge of a couch or a stool and bend your scantily-clad leg. This is a great lounge singer pose but it's even better if you add a prop. Add a standing microphone to the picture for a more realistic look. Give a flirty glance and you have your next Facebook profile picture. Remember, Jessica Rabbit is a confident woman so make sure you exude confidence in all your poses.
Couples Costumes to Pair with Jessica Rabbit
Jessica and Roger Rabbit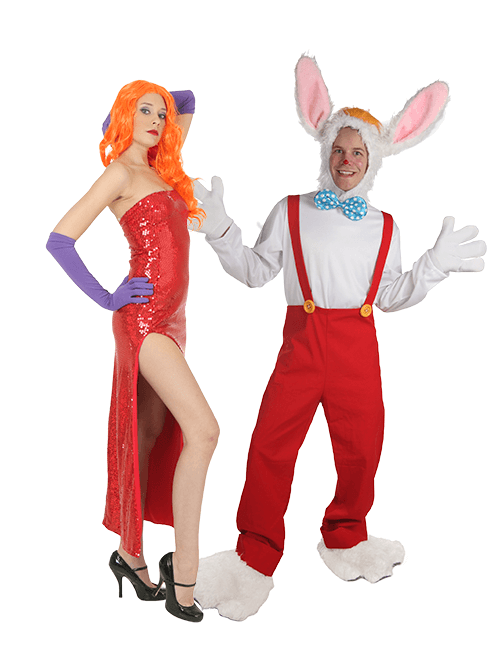 Jessica and Eddie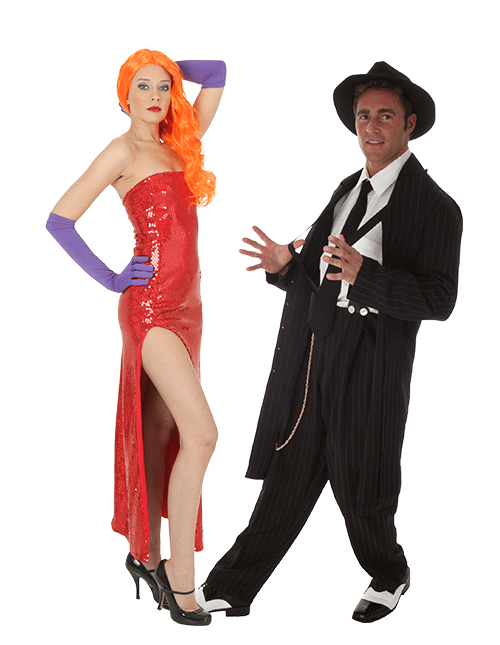 Jessica Rabbit is a hot commodity. Toons pack the lounge every night where she sings and the entire audience is mesmerized with her. Both human and cartoon men are begging to date her, although she only has eyes for that special 'some bunny,' Rodger Rabbit. Have your date dress in our cartoon rabbit costume and you two will be ready for a night out in Toontown. Call him "darling" and "honey bunny" all night. He'll love it! If your date for the evening would rather not dress as a cartoon rabbit, there's also another costume option for men. Have your guy dress as the Californian private investigator, Eddie Valiant. He'll feel like a true gangster when he's wearing the black zoot suit. So strike the 'va va voom vixen pose' with one hand on your hip and the other one behind your head and let the madness ensue. It's safe to say that you and your date will have one wacky night!
Jessica Rabbit Costume Makeup Application
Look just like Jessica Rabbit this Halloween with this stylish makeup tutorial. Blend light and dark purple eye shadows across both eyelids. Create a circular shape to maintain a more cartoony appearance. Add black eyeliner, mascara and blush for even more flair. Darken your eyebrows with a black eyebrow pencil and create a high arch to accentuate the cartoon look. Finally add a bright red lip color with shiny gloss on top to complete this look for Halloween.