What is Elf on the Shelf?
For simplicity's sake, Elf on the Shelf is a Christmas tradition. Though it became a trend in the early 2000s, the original family tradition began in the 1970s—another groovy idea we can thank that era for!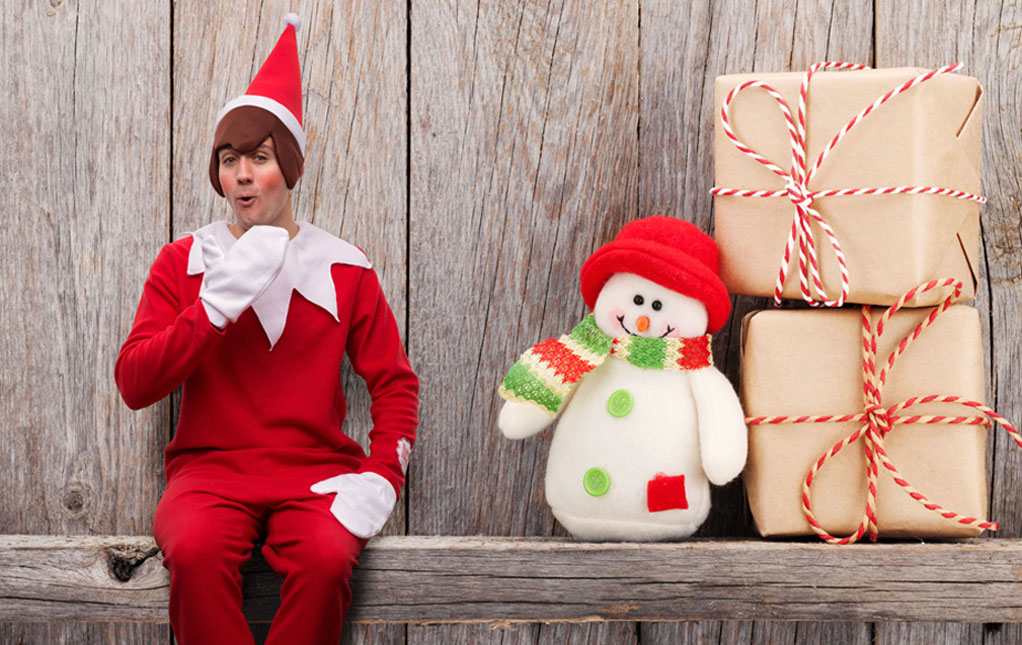 Now, while you may not be familiar with the intricacies of Elf of the Shelf, you have probably seen the countless elaborate scenes these elves are found in. Or maybe you're only familiar with the knee-hugging pixies dressed all in red sitting quietly on a bookcase. Either way, the story goes, each little elf is gathering intel for Santa Claus. At night the rosy-cheeked cuties fly off to the North Pole. They report the naughty or nice behavior they've seen and sometimes the wish lists their family whispers. When they return, they choose a new spot, occasionally a new disguise, and often create a scene to delight the children who find them the next day. It's become such a part of holiday tradition that many families decorate their tree, take a pic with St. Nick, and then play hide-and-seek with their adopted elf.
We assume, however, that you're here for less of a history lesson and more of an answer to "how can I take Elf on the Shelf fun to the next level?" Or perhaps you want to turn the tradition on its head and make it better suit your style—less stationary observer, more interactive play. We can help with both! And we'll do it with just our selection of costumes and accessories! Stick with us to discover funny Elf on the Shelf ideas and inspiration for Elf on the Shelf outfits. They'll let you step into the elf's shoes to make your holiday season extra merry and bright!
When did Elf on the Shelf start?
Elf on the Shelf as a product began in 2004. The now highly popular product was based on a family tradition that encouraged children to behave like Santa is watching. Written down and published as a storybook, the tradition was introduced to families worldwide.
How does Elf on the Shelf work?
The tradition consists of a Scout Elf that works for Santa, observing children's naughty and nice behaviors. Over the holiday season, the Scout reports both good and bad to Santa overnight. Each morning the elf has flown to a new observation point at home.
Elf on the Shelf Clothes
As hinted at above, Elf on the Shelf clothing is like Santa's suit, all red. Though not as elaborate in fur trims and buckles like on some of our available Santa costumes, our Elf on the Shelf ensembles do carry a similar Claus charm. A red velour top and matching pants or a flouncy skirt pairs perfectly with the Santa-style pointed hat all Scout elves don. But maybe you've seen the playful pixies wearing more elaborate costumes? It's entirely likely with the options now available at the North Pole. And if you're becoming the elf to add some magic to the tradition, you'll probably want to expand your wardrobe too! It only seems fitting, after all.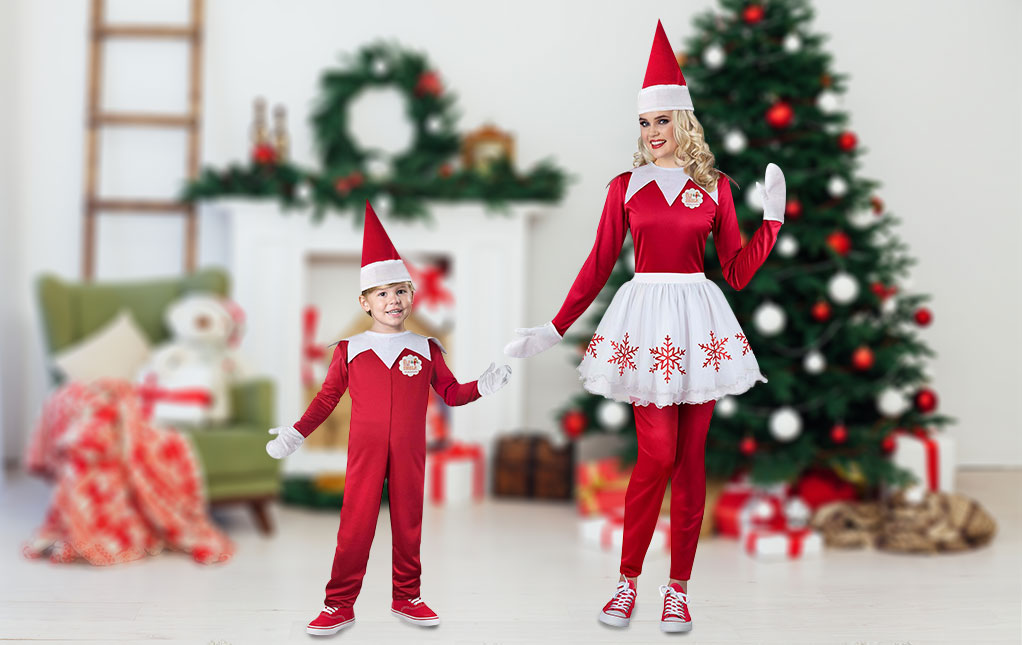 Elf on the Shelf Costume
To start the magic, you'll want to grab a standard Elf on the Shelf costume. Ours come in sizes for every good Elf on the Shelf girl and boy. But once you've loaded your cart with a classic costume and the red tights or shoes to complete the look, it's time to play! Dive into our full collection of elf costumes, perhaps. Grab some green accessories to complement your red. Turn your life-sized elf into an ugly Christmas sweater party attendee with a combination of our available elf costumes and an exclusive holiday pullover. Or follow the lead of silly Elf on the Shelf spin-offs like Snoop on a Stoop or DeVito on a Dorito into our celebrity costume selection. You may find yourself creating the newest viral Christmas craze!
Bad Elf on the Shelf
Whether dressed in their simple red and white outfit or rocking a bekishe to become Mensch on a Bench for Hanukkah, chances are the elf living in your home has gotten into some shenanigans. While they're supposed to be watching for bad behavior, they may be enjoying a bit of their own. But that's all part of the fun! Children want to find an explosion of flour in the kitchen and their elf in the center of the mess. And they can't wait to see if the elf has gotten into the gifts, providing a sneak peek of the treasures they'll receive. Ensure your life-sized elf gets in on the fun with help from our chef costumes for a kitchen surprise, holiday décor for a workshop catastrophe, or our full selection of props that ensures plenty of elfish inspiration!
Elf on the Shelf Halloween Costumes
Feeling chock full of Christmas spirit? Turn that cozy fireside glow into a spooky mood when you exercise your right to wear Elf on the Shelf as a Halloween costume! You've seen plenty of Mrs. Claus and Santas on Halloween. And Buddy the Elf is never far behind. Even the Grinch gets in on the October fun with his grouchy glower and a pet costume other than antlers for Max. Now it's time for a Halloween Elf on the Shelf, and we're not talking about donning a bewitching ensemble to become the Switch Witch. Follow us down into a differently spirited path that's sure to transform your appreciation for Elf on the Shelf!
Elf on the Shelf Adult Costume
You've seen our available adult Elf on the Shelf costumes. And (assuming you didn't skip to this specific section) read a few of our ideas on how to keep them fresh. But if you've decided to play Elf on the Shelf for Halloween, there's more you can do! Combine classic monsters with that red elf outfit. Transform the elf with gory details like fake blood for a haunted house. Or lean into the cutesy qualities of the pervasive pixie with false eyelashes that exaggerate your eyes and maybe wings that explain how Scout elves fly around the globe every night. The styling comes down to you and whether your Halloween spirit is feeling the tricks or the treats more this year!
Kids Elf on the Shelf Costume
For most children, Halloween is not about fitting a set mold. They don't care if people think Halloween is supposed to be scary or sweet. Kids just want to dress up and collect lots of treats! Luckily, our selection of kids' Halloween costumes strives to suit every personality, including those that would love nothing more than to dress as their Elf on the Shelf for trick-or-treating. So grab a red jumpsuit for your darling infant or toddler cherub. After all, those snapshots of your little one full of sugar and dancing after a trip through the neighborhood would make fantastic holiday cards—can't beat taking care of two things at once! Just don't forget a candy bag so your chipper Halloween elf can collect an adequate supply of candy fuel!
Elf on the Shelf Accessories
While we're talking life-sized Elf on the Shelf fun here, that doesn't mean everything is big. Sometimes, what makes a look is the tiny details. The accessory you add to the wide collar on your Elf of the Shelf costume shirt. Maybe the latex ears from our special effects makeup are how you make your elfish appearance more convincing. Then there are the small details that aren't as diminutive, like a family member dressed in an animal costume to bring the magic of Elf Pets to life. Or maybe you'll set up a scene of decorative inflatables that make your human-sized elf look like the mini version hiding in your tree. From traditional accessorizing, like candy cane tights, white gloves, and sparkling flats to trendy ideas discovered on social media, the following sections are here to explore how you can make it happen with our selections!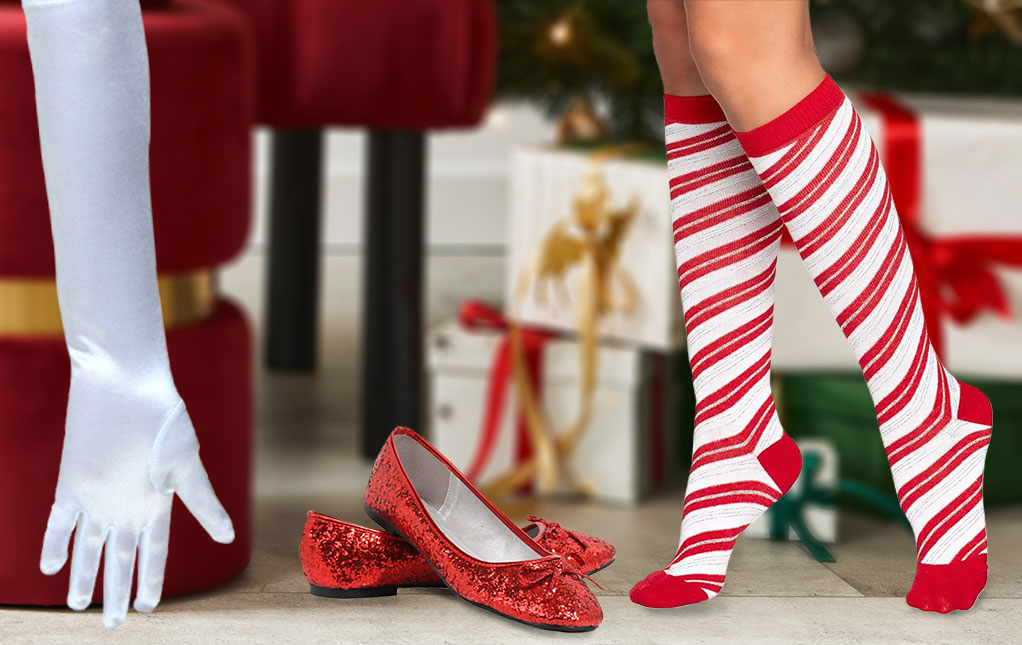 Accessories may complete a look, but they can also inspire a full ensemble. With all the Elf on the Shelf costume ideas provided so far, you may be considering a DIY elf look. Perhaps you have a gorgeous velvet dress you want to use for your living elf. Perfect! Pair that beauty with pointy-toed boots or a unique purse. Pull on a pair of festive leggings and one of our available tutus to create a flirty elf look. You could even pair a colorful wig with your DIY look to become an edgier version of the pixie sent to watch the year's festivities unfold. Our expansive selection of costume accessories is here to fulfill whatever idea is on your wish list!