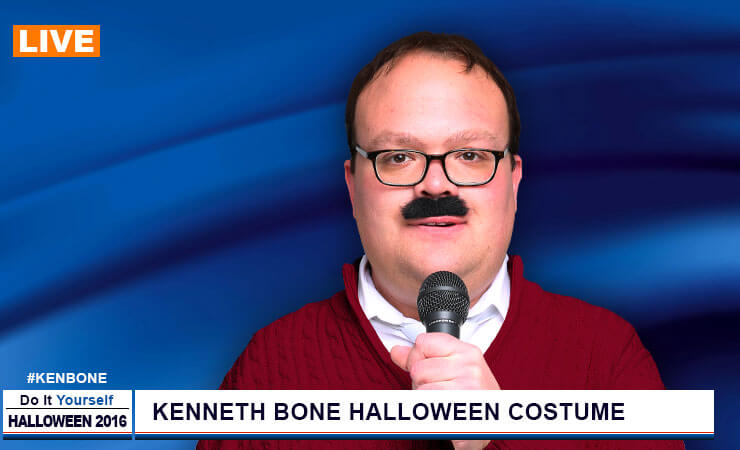 On Sunday night, October 9th, 2016, the United States officially entered the Bone Zone. Yes, that's right – something momentous happened at the second presidential debate on CNN that truly united the nation as one. No, it wasn't a statement by Hillary or a cutting quip by Trump. Last night was the night we learned of… Kenneth Bone, America's sweetheart, and undecided voter #1. His bright red sweater, his mustache, his earnest question about energy policies, and, of course, his disposable camera – all these things added up to one perfect, beautiful moment in an otherwise ugly debate. Of course, Halloween is dressing up as your favorite hero. See below on how to dress as the USA's newest superhero: Ken Bone.
The Inspiration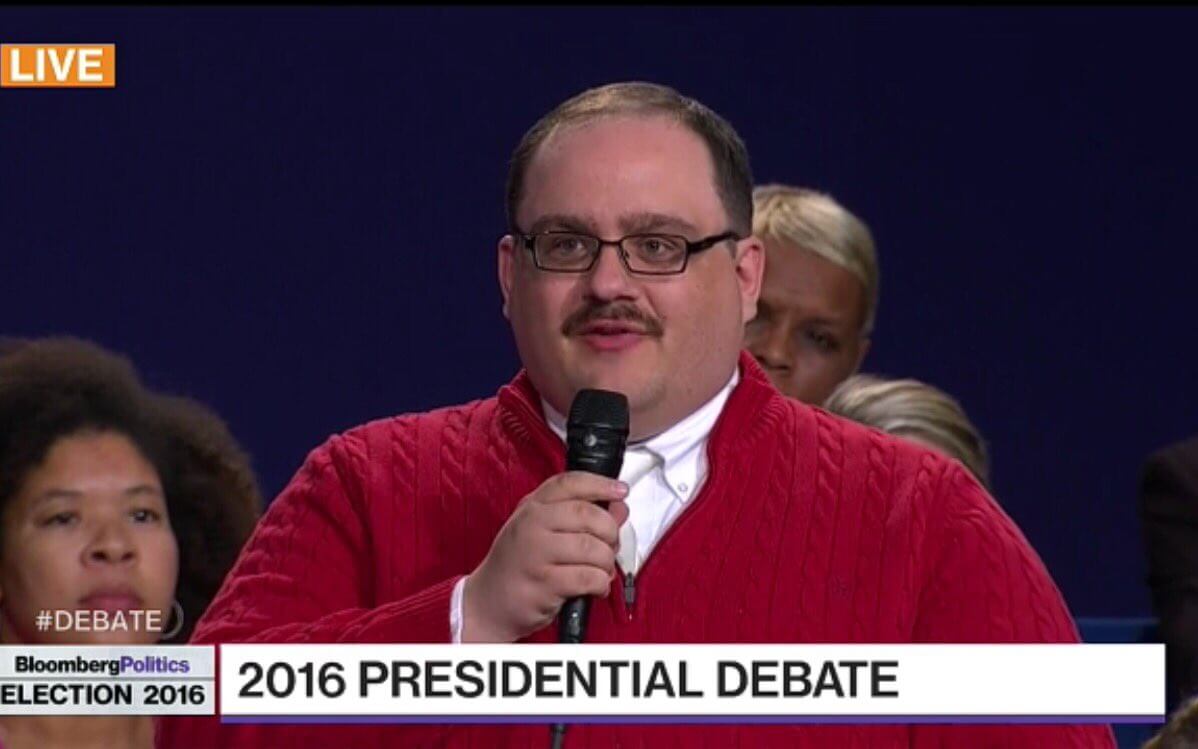 DIY Ken Bone Costume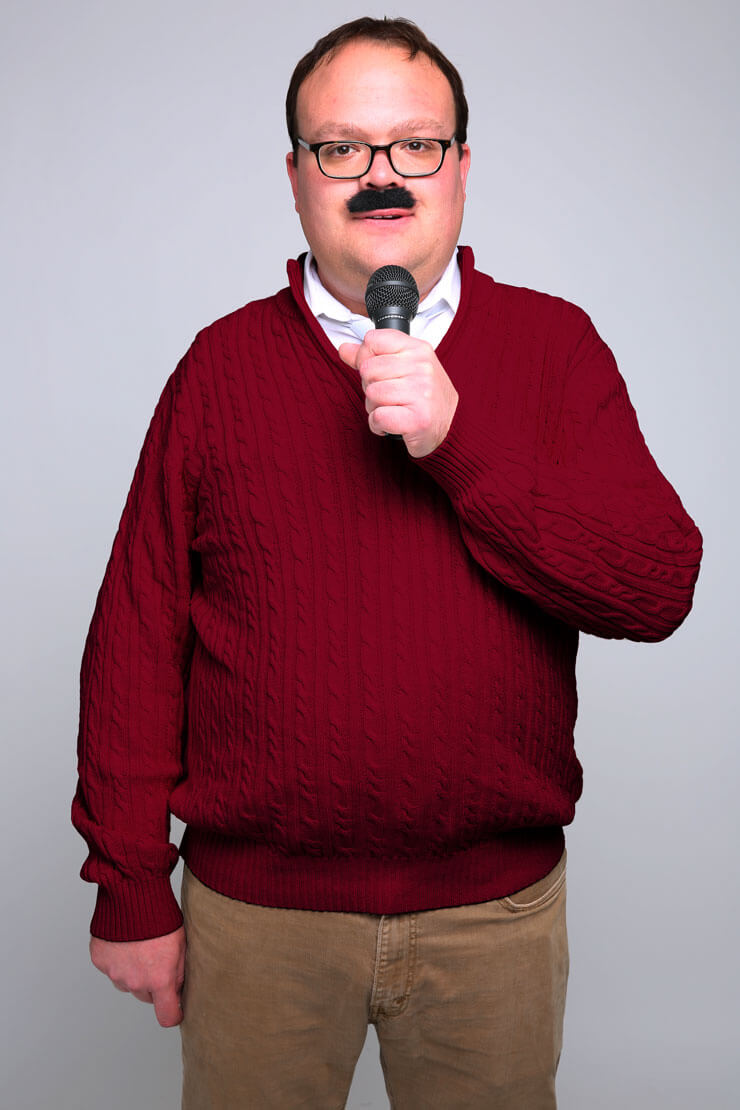 Ken Bone Fun Fact #1: He used to manage a Domino's!
There's nothing like showing up to a Halloween party with THE most topical costume. The costume that, when you walk in, people exclaim, "Oh, my GOD, I can't believe you thought of that!" (Uhhh, remember 2015's green poop, anyone?) Armed with a power stache – matched with a bright red power sweater – Ken helped us all forget partisanship for a few brief moments. So, don't you want to bring this sense of harmony and fellowship to your costume bash on October 31st? You'll be making friends across the aisle with this political-but-not-toooooooo-political costume. Don't forget, Ken showed up to the debate as an undeclared voter, so you can feel free to not break any party faux pas and plead the fifth whenever an inevitable heated election discussion arises.
Products Used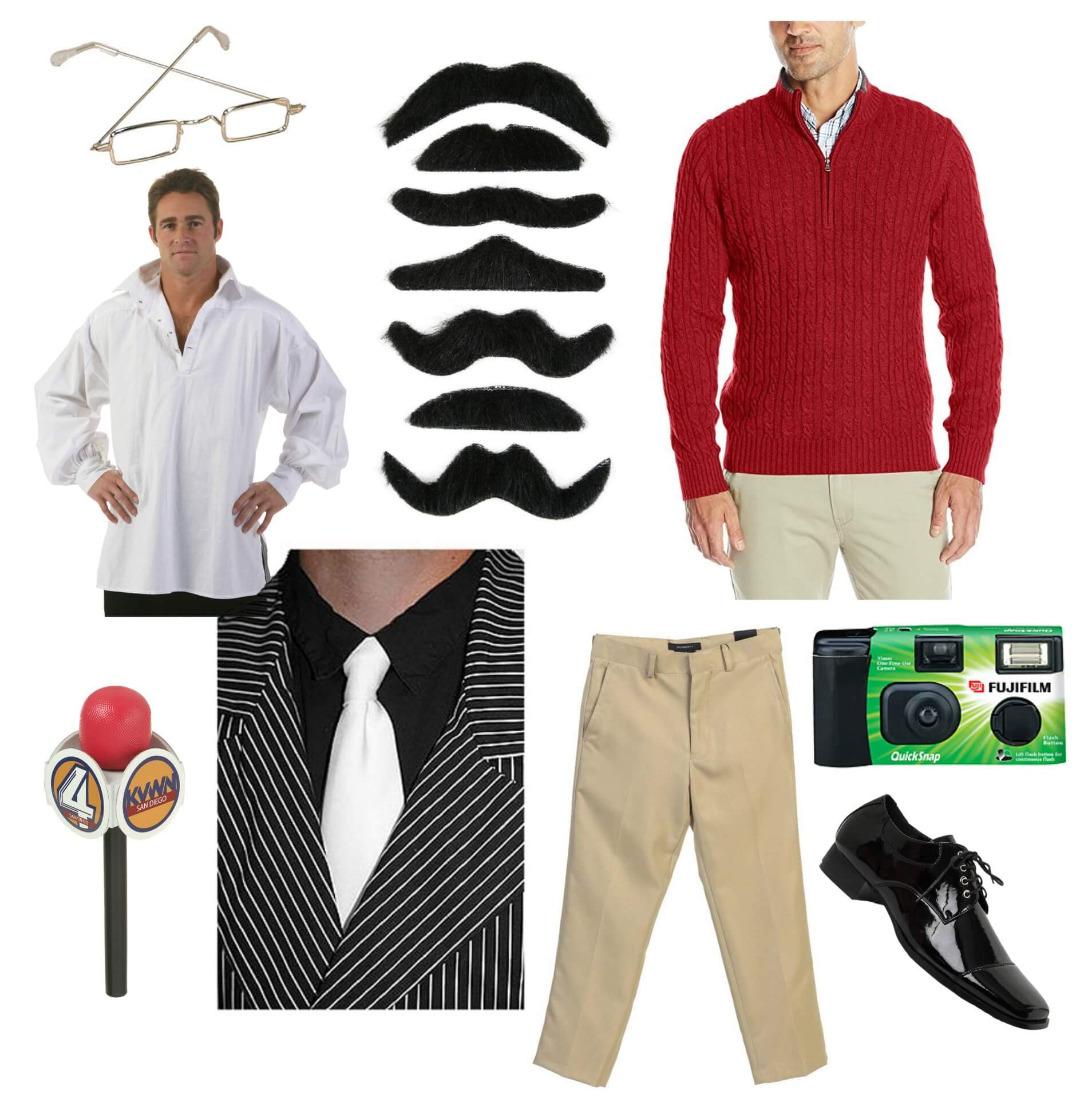 Glasses Mustache White Shirt Microphone
White Tie Black Shoes
A simple costume for a great man. Sometimes it only takes a little bit of effort to make a big splash. Did Kenneth Bone know when he woke up that morning that he would become the newest internet sensation to trend on Twitter? No, probably not. He even said that the red sweater wasn't even his first choice, and he only wore it because the pants of the suit he was originally planning on wearing split! Oh, Ken! You're just like us! Our DIY is easy, no stress. One: Slap a mustache and some glasses on that face. (We used these Santa glasses and painted them black.) Two: Red sweater, DUH. (Thrift store!) Three: Grab a disposable camera and a microphone. (Our Anchorman mic was perfect after we took off the outside parts and painted the top black.) Then you're literally done. Walk around your party asking people how they plan to remedy the energy crisis in our country today and how that will affect the coal industry and you're set. You've won Halloween, just as Ken Bone won the presidential debate.
The Finished Look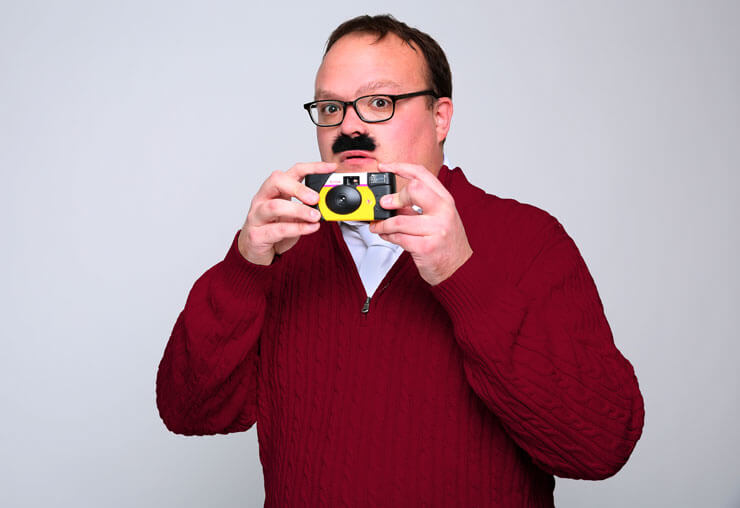 Ken Bone Fun Fact #2: He's a classic car enthusiast!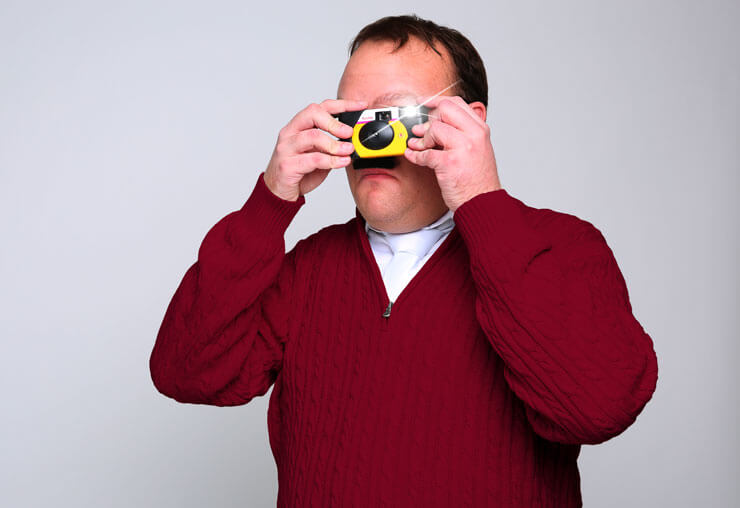 Ken Bone Fun Fact #3: He was in a band! (They rocked.)
Don't forget to walk around the party with that camera, snapping pictures of everyone you see, from Tiffany to Bill to silver fox Anderson Cooper to all the dumbstruck audience members in shock of what they just witnessed.
Ken Bone rides off into the sunset #debate #kenbone pic.twitter.com/4BjaI985zr

— Matt (@Matt_Campbe) October 10, 2016

Who is Ken Bone?
Alright, maybe you skipped the debate last night. (We heard that the new episode of Westworld was very good!) But you wanna join in on the newest internet craze. We get it! FOMO is multiplied by a thousand when someone named Ken BONE is involved. To get you up to speed, here are our favorite memes and tweets inspired by #KenBone.
Bone Thugs #Debate #KenBone pic.twitter.com/yGq0ScILT6

— Volpe Shimoda (@VolpeShimoda) October 10, 2016
Game recognize game. #kenbone #debates pic.twitter.com/PSrqhY8U6h

— The Famous Kloppite (@Sixball3000) October 10, 2016
Shoutout to whatever SNL costume intern is ordering a red sweater for @bibbymoynihan right now #kenbone #debate

— Taylor Kay Phillips (@TayKayPhillips) October 10, 2016
I knew he looked familiar #debate #kennethBone pic.twitter.com/hiy60TsFGs

— Captain Daddy (@Saint_Nick16) October 10, 2016
@ArianaGrande You're a great positive role model for young girls and a big time talent,never let some image maker or muck raker take that!

— Ken Bone (@kenbone18) October 7, 2013
That last one isn't a meme, it's the actual first tweet by Ken himself! Just a few days before his rise to fame, he was spending his time empowering pop star Ariana Grande. What CAN'T you do, Ken?!
Ken Bone Shepard Fairey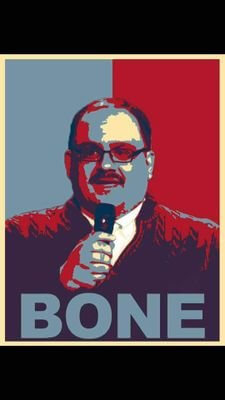 Ken himself has set his Twitter avatar as a version of the classic Shepard Fairey "HOPE" image of Obama from his 2008 campaign. If you wanna take your Bone Zone costume a step FURTHER, why not recreate that? We have a tutorial blog post right here on how to do this makeup on yourself. Then all you need is some poster board to create a makeshift frame to carry around yourself and a magic marker to write BONE on the bottom.
There you have it, folks! This is our vote for one of the best topical Halloween costumes of 2016! Are you dressing up as Ken for Halloween? What other newsworthy costume ideas are you cooking up? Let us know in the comments! If you are looking for something a little bit more, uhhh, non-meme, take a look our Donald and Hillary costume guide here.