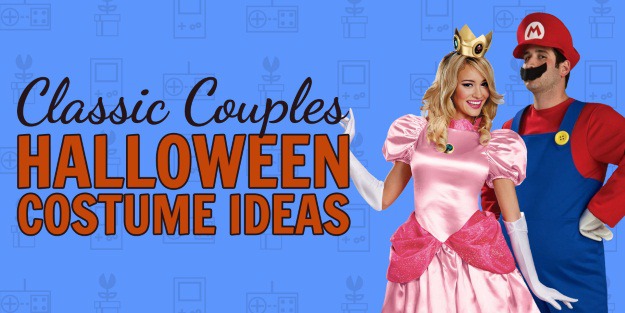 2019 Update: We've updated some links to new costumes. You can also check out our new Ultimate Halloween Couples Costumes Guide.
So you finally convinced your spouse, partner, significant other or BFF to go with you this year in a themed couples costume. That is an achievement in itself, so you'd better make it count! If you want to get the best reception possible for you and your partner in crime, the safest bet is one of our classic couples Halloween costume ideas. These 34 couples' costumes are tried and true winners (in both costume contests and the hearts of fans). They're sure to show off your style and let everyone know that your couples' costume idea is tops!
1.

Popeye & Olive Oyl Couples Costumes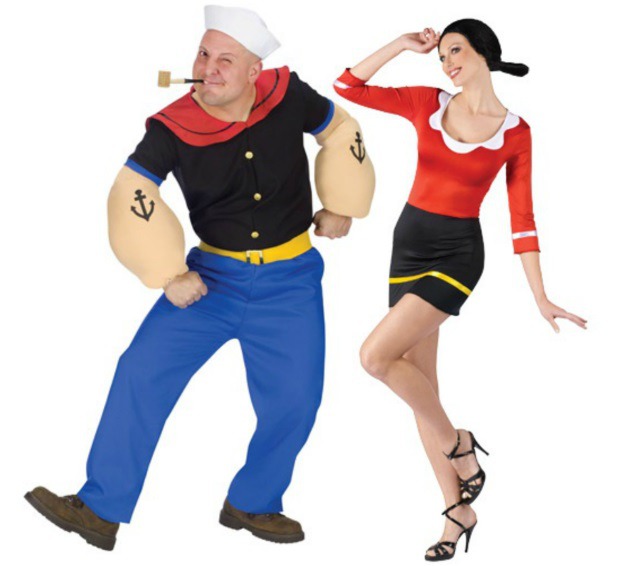 Popeye Costume Olive Oyl Costume
It doesn't get much more classic than Popeye and Olive Oyl, one of the best cartoon couple costumes around. Like he says- "I yam what I yam". Just remember to bring some spinach!
2.

Mario & Princess Peach Couples Costumes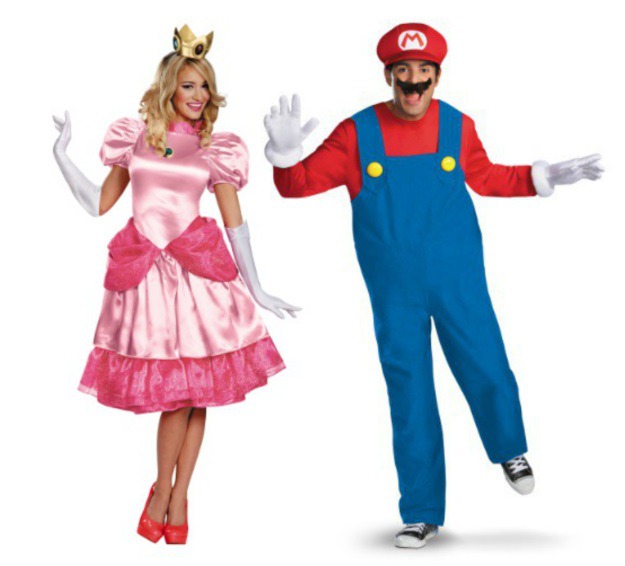 Princess Peach Costume Mario Costume
Bring the most famous video game couple from the Mushroom Kingdom to your hometown when you pair up as Mario and Princess Peach. This is also one of the best couple cosplay ideas, and you're sure to turn heads at any convention!
3.

Roger & Jessica Rabbit Couples Costumes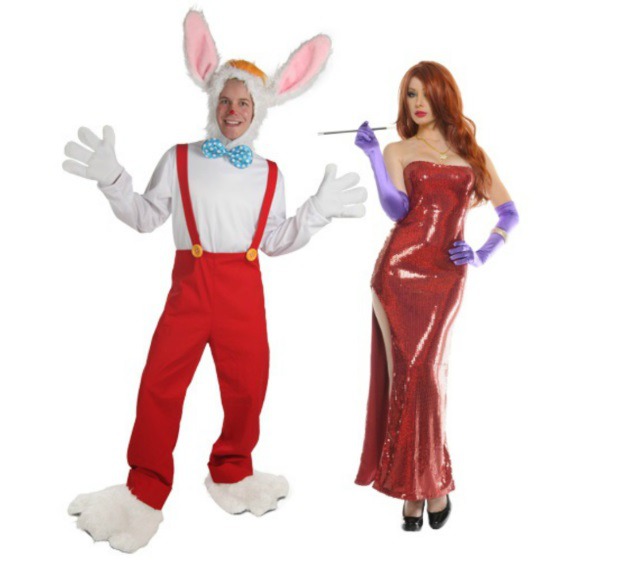 Roger Rabbit Costume Jessica Rabbit Costume
Roger and Jessica Rabbit are the ultimate animated couple. If folks ask how you crazy tunes got together, just say "He makes me laugh."
4.

T-Bird & Pink Lady Couples Costumes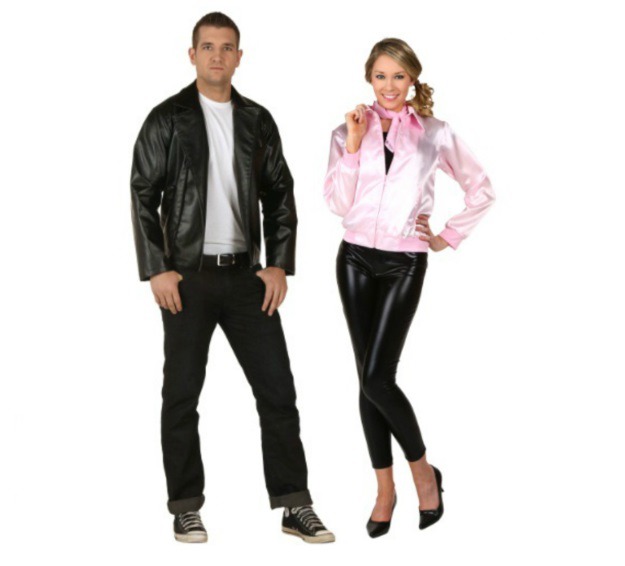 T-Bird Jacket Pink Lady Jacket
Greased Lightning! Nothing beats a tough guy and a sophisticated lady, so show off your T-Bird and Pink Lady style with this classic Grease couples' costume.
5.

Fred & Wilma Flintstone Couples Costumes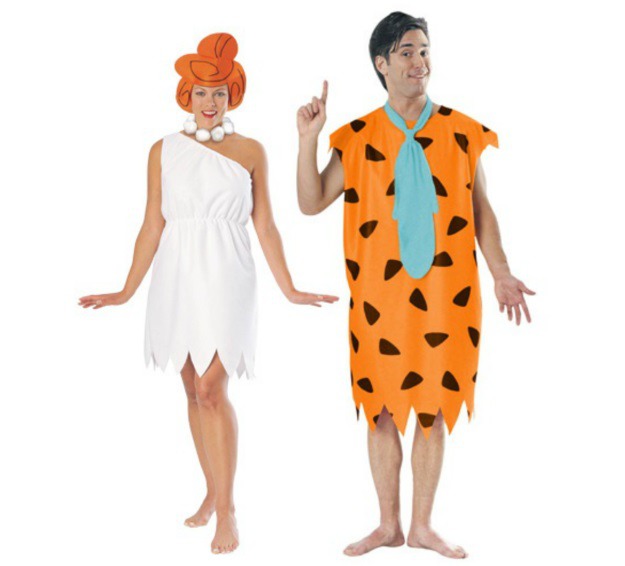 We're sure that Fred and Wilma Flinstone would love hanging out in modern times, so bring the famous cartoon couple to life! Yabba-dabba-do!
6.

Pirate Couples Costumes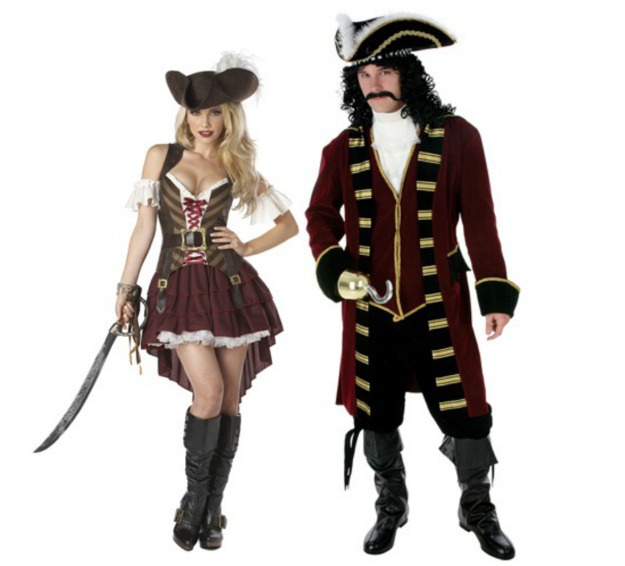 Lady Pirate Costume Pirate Costume
Yawr! Set sail on the high seas with a pirate power couple costume. You'll be able to split the booty 50-50 with these costumes.
7.

Julius Caesar & Cleopatra Couples Costumes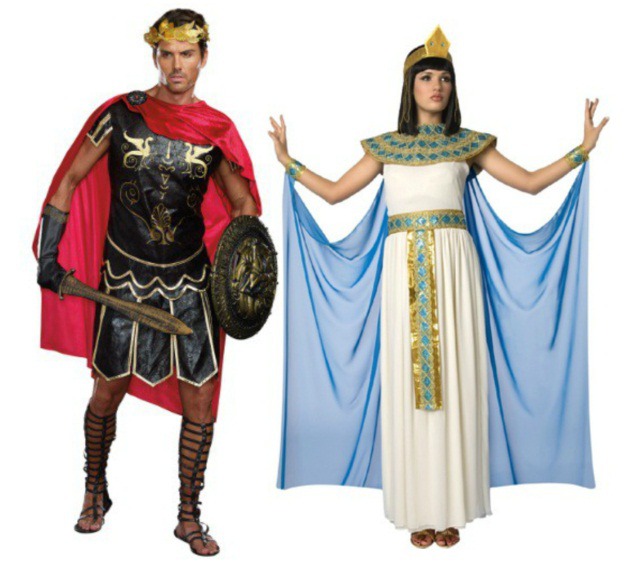 Julius Caesar Costume Cleopatra Costume
Rule an ancient empire when you pair up as Cleopatra and Julius Caesar. No one could possibly be in de-Nile as to how amazing you look!
8.

Waldo & Wenda Couples Costumes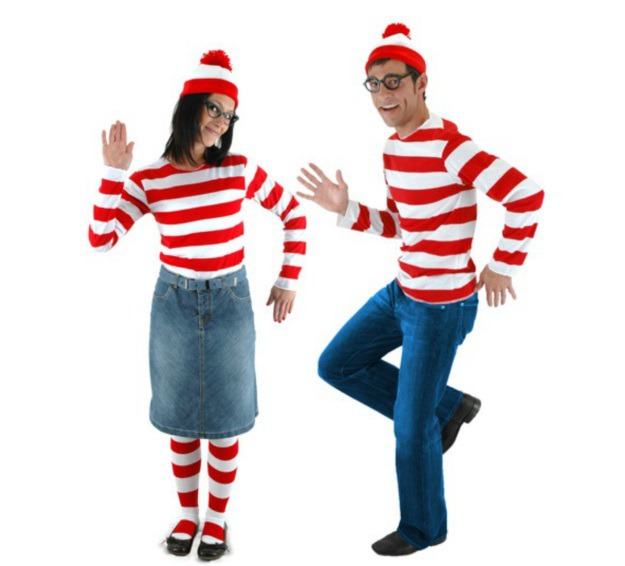 You might not stand out in a crowd as Waldo and Wenda, but this classic couples duo will have everyone looking for you.
9.

Salt & Pepper Couples Costumes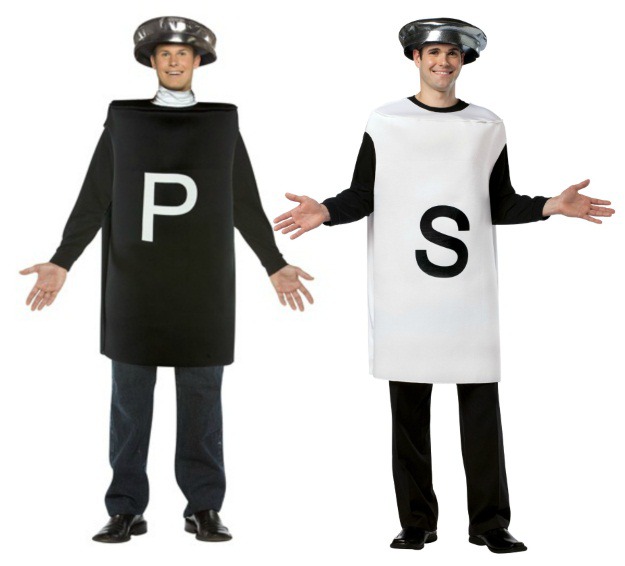 You can't add salt to your dinner without a dash of pepper, and vice-versa! This is the go-to duo for foodies everywhere.
10.

Gangster & Flapper Girl Couples Costumes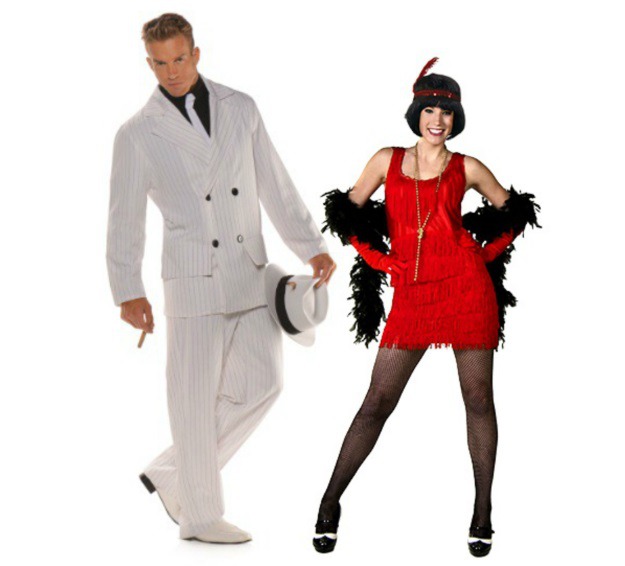 Gangster Costume Flapper Dress
A gangster and flapper girl duo will help you rewind to The Roaring Twenties. A life of crime can be quite appealing with this throwback Halloween costume duo!
11.

Devil & Angel Couples Costumes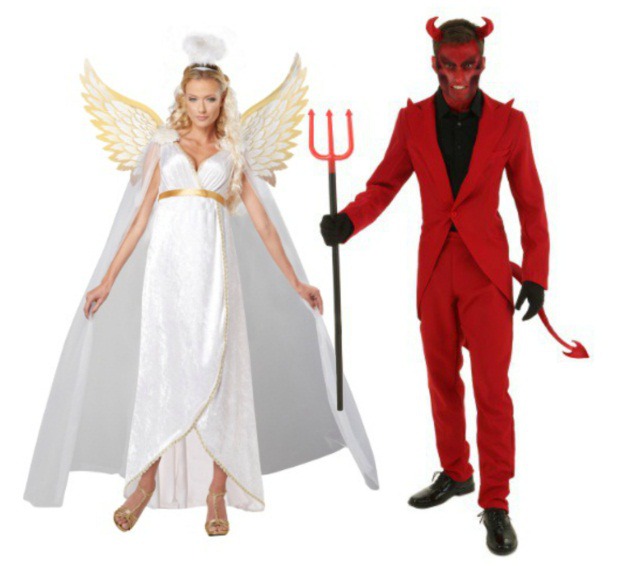 Bring opposing forces together by pairing up as an angel and a devil. After all, you know what they say... opposites attract!
12.

M&Ms Couples Costumes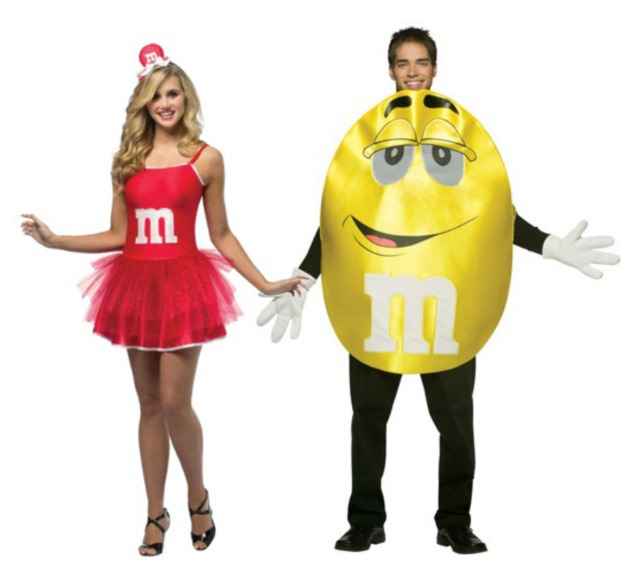 The only question for a couple in an M&Ms combo is going to be which color is best?
13.

Raggedy Ann & Andy Couples Costumes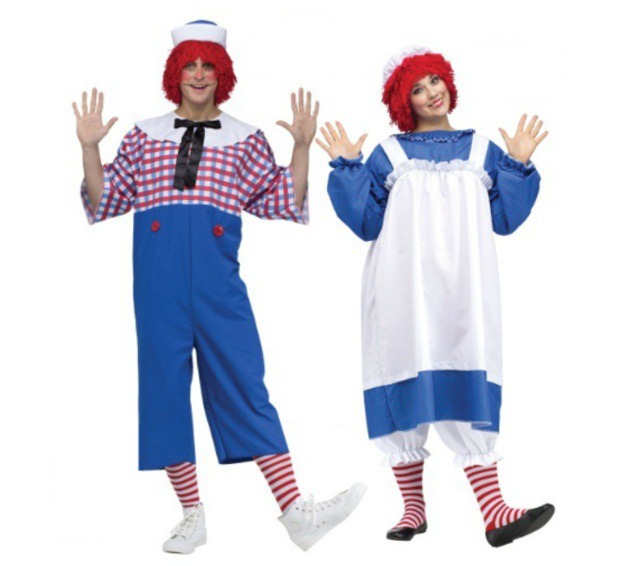 Raggedy Andy Costume Raggedy Ann Costume
Raggedy Ann and Andy have been hanging out for the better part of a century, so you'll look both adorable and familiar with this classic costume idea.
14.

Milk & Cookies Couples Costumes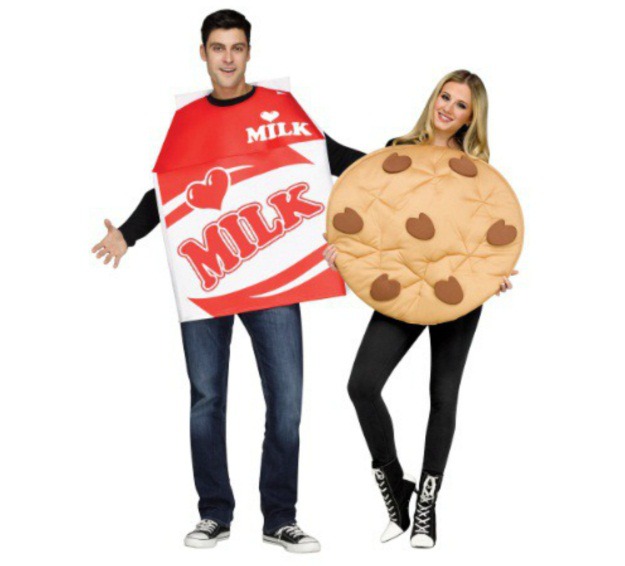 Milk & Cookies Couples Costume
For the look that works solo, but is SO much better together, pair up with your partner as Milk and Cookies! Mmmm....
15.

He-Man & She-Ra Couples Costumes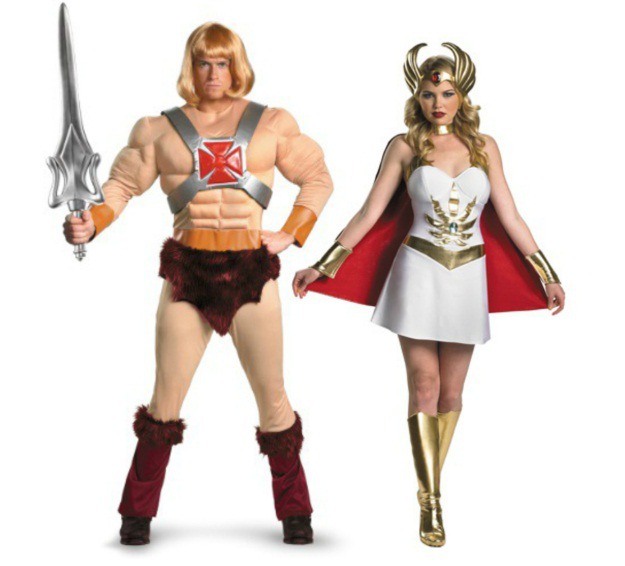 He-Man Costume She-Ra Costume
By the power of Grayskull... you need to team up as He-Man and She-Ra. Skeletor will never know what hit him!
16.

Bacon & Eggs Couples Costumes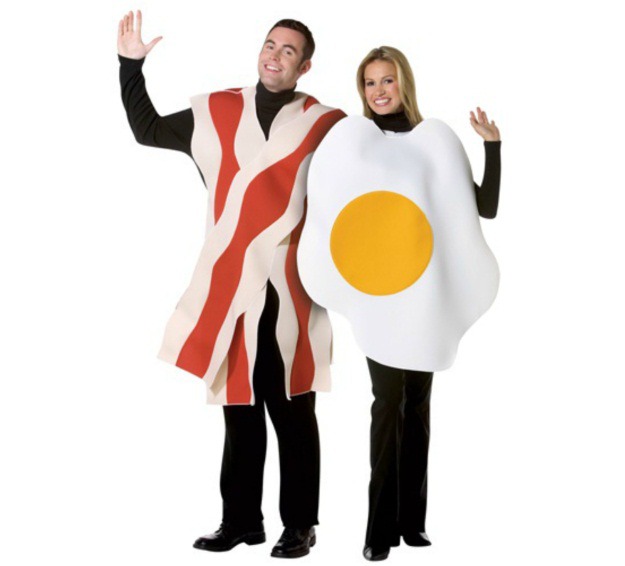 Be the couples' costume that everyone wants to wake up to when you team up as bacon and eggs. You'll be what's for breakfast!
17.

Cavepeople Couples Costumes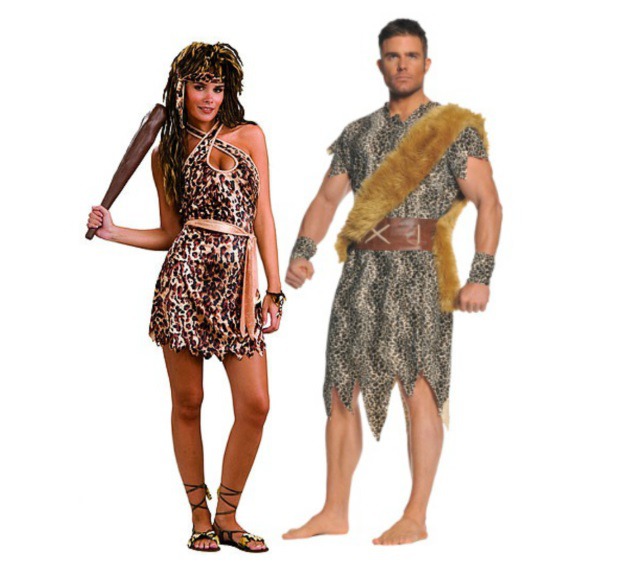 Cavewoman Costume Caveman Costume
Show off your prehistoric style by going as Mr. and Mrs. Caveman. You'll be creating so many sparks that you just might invent fire!
18.

Ketchup & Mustard Couples Costumes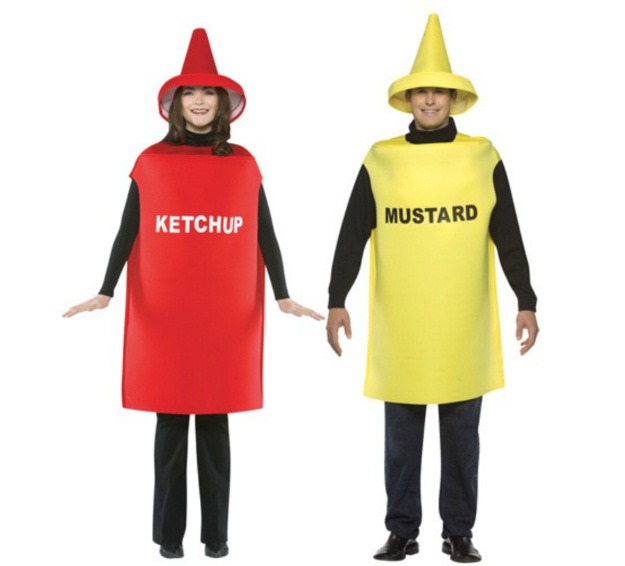 Ketchup Costume Mustard Costume
When you pair up as ketchup and mustard the only question will be, where's that pesky hot dog?
19.

Skeleton Couples Costumes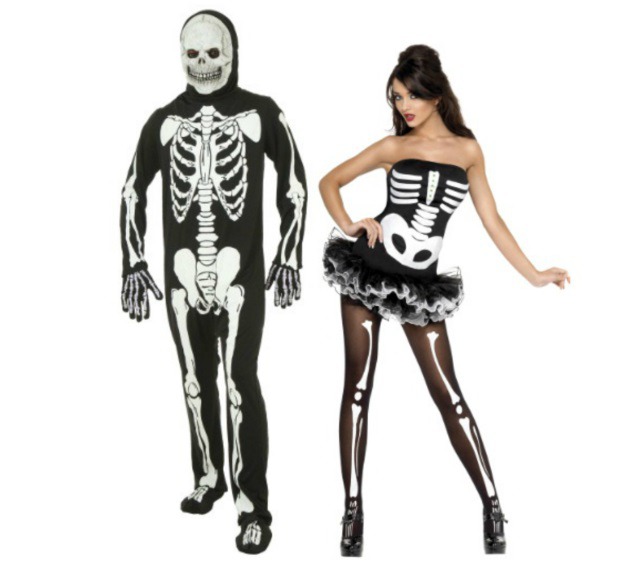 Skeleton Costume Skeleton Dress
You won't have to be reanimated when you go as a pair of skeletons! Take the living world by storm in this classic Halloween look.
20.

Mickey & Minnie Mouse Couples Costumes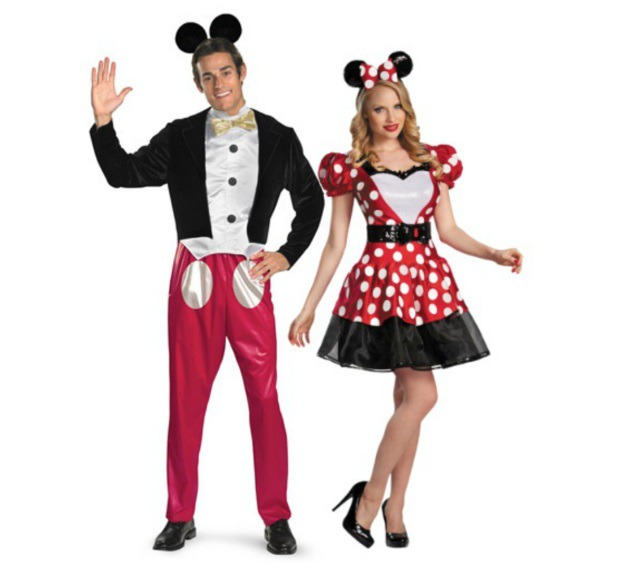 Mickey Mouse Costume Minnie Mouse Costume
Mickey and Minnie have been an item for decades, so if you are looking for a classic couple costume, this goes way back!
21.

Crayon Couples Costumes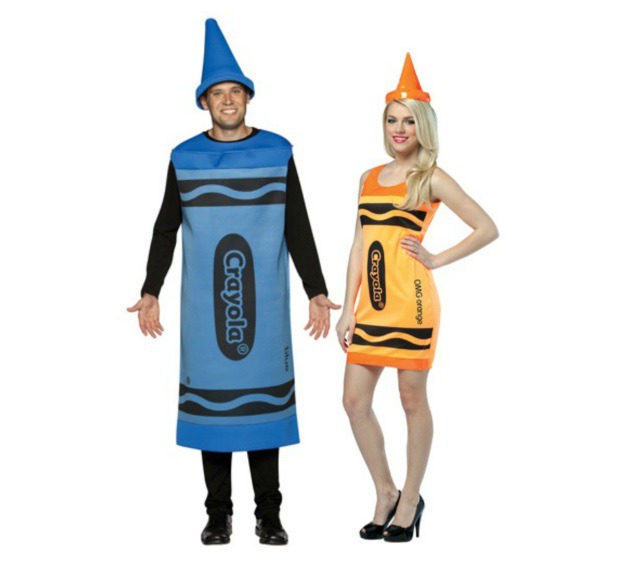 You might be different colors when you and your partner go as crayons, but one thing is for sure—you'll color the town red with this look!
22.

Priest & Nun Couples Costumes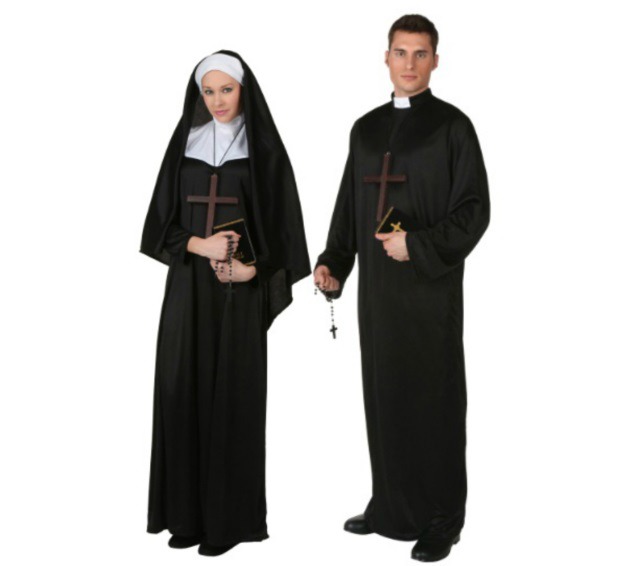 The church won't know how to react when you and your partner join the order. You'll be the best looking saints around!
23.

Peanut Butter & Jelly Couples Costumes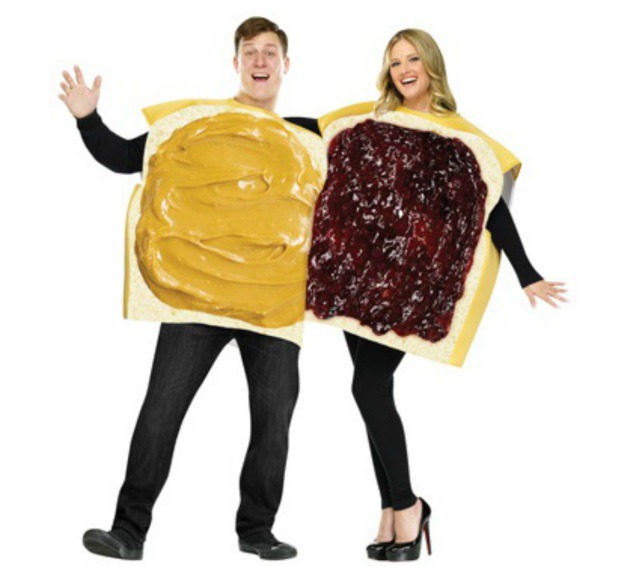 Peanut Butter & Jelly Couples Costume
If you go together like peanut butter and jelly, then this classic couples' Halloween costume will be perfect for you two!
24.

Cop & Prisoner Couples Costumes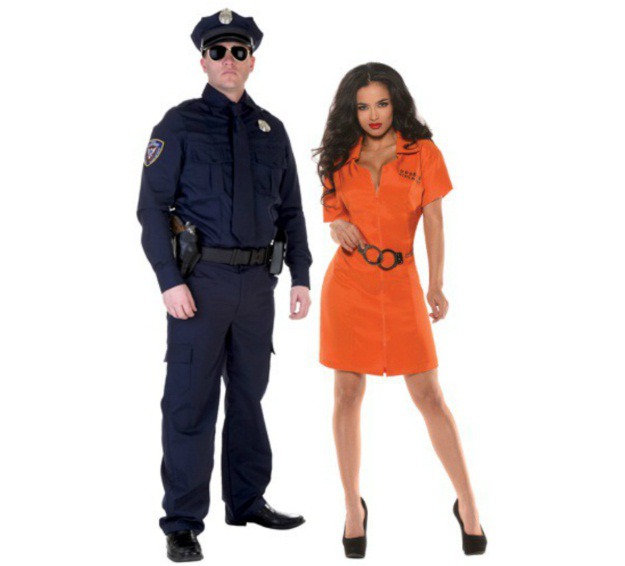 When you team up as a cop and prisoner it's the perfect time to break some rules— like going out to a Halloween party together!
25.

Kermit & Miss Piggy Couples Costumes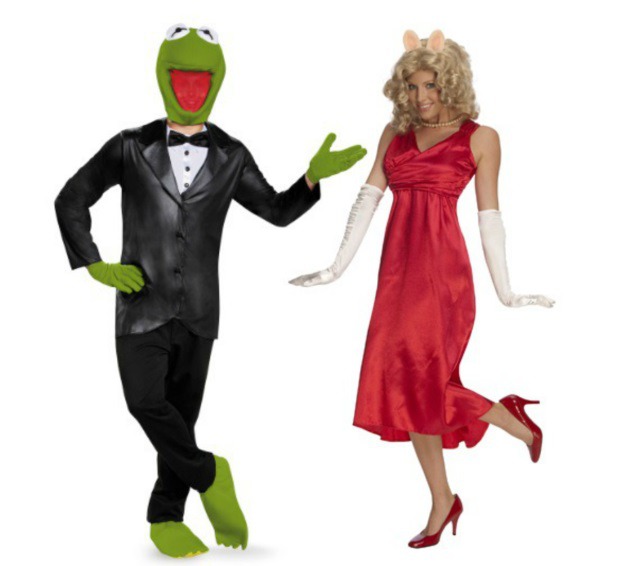 Kermit Costume Miss Piggy Costume
It's not easy being green. Miss Piggy and Kermit were meant to be, so team them up for a Muppets costume look everyone will love!
26.

Uncle Sam & Lady Liberty Couples Costumes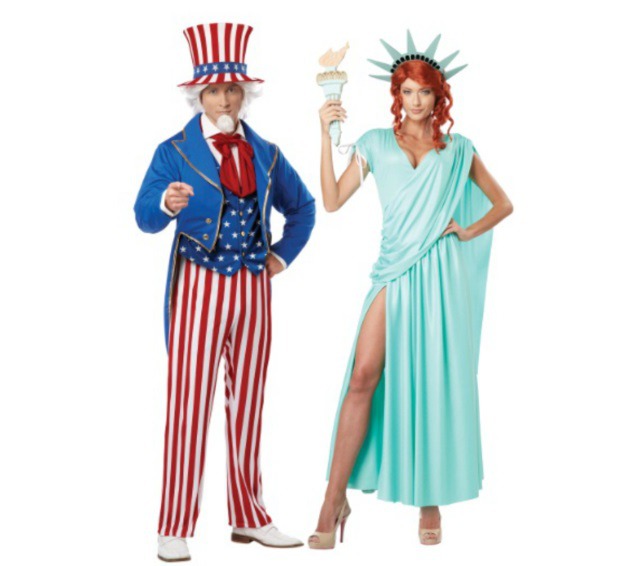 Uncle Sam Costume Statue of Liberty Costume
Show off your love of 'Merica by going as the ultimate USA dream couple, Uncle Sam and Lady Liberty!
27.

Adam & Eve Couples Costumes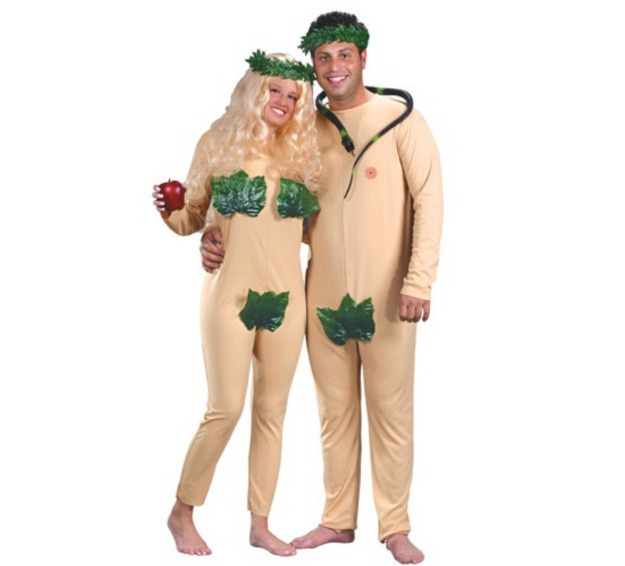 If you're in a LTR, the perfect way to show off your OG status would be with an Adam and Eve combo. OMG!
28.

George & Jane Jetson Couples Costumes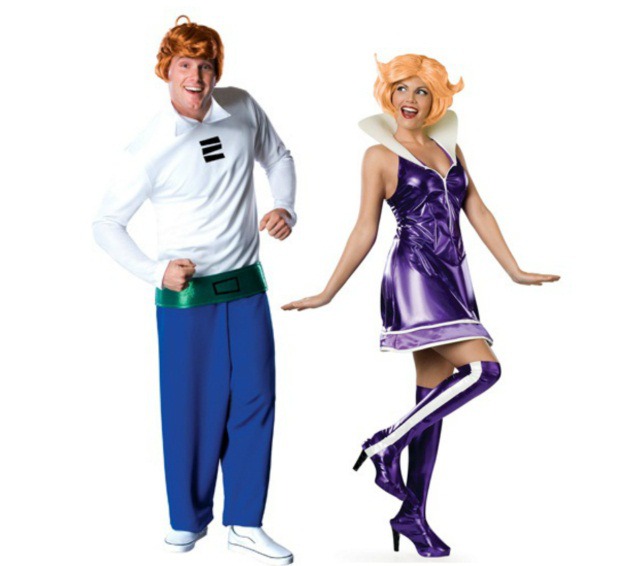 Everyone will be ready to meet the Jetsons when you go as the Saturday morning cartoon couple. It's perfect for both a futuristic or retro theme!
29.

Beetlejuice & Lydia Couples Costumes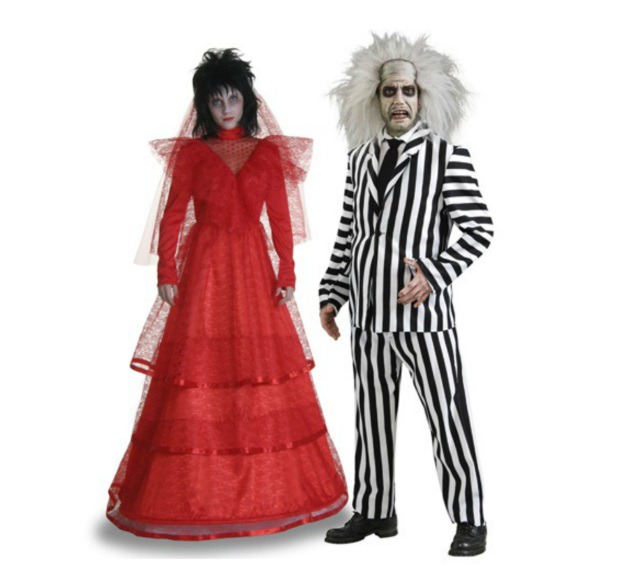 Gothic Wedding Dress Beetlejuice Costume
Team up as Beetlejuice and Lydia for a fun and ever-popular 80s theme! Be "strange and unusual" with this costume pairing.
30.

Fork & Spoon Couples Costumes
Get ready to devour any meal when you go as a fork and spoon pair. Dinner is served!
31.

German Girl & Beer Couples Costumes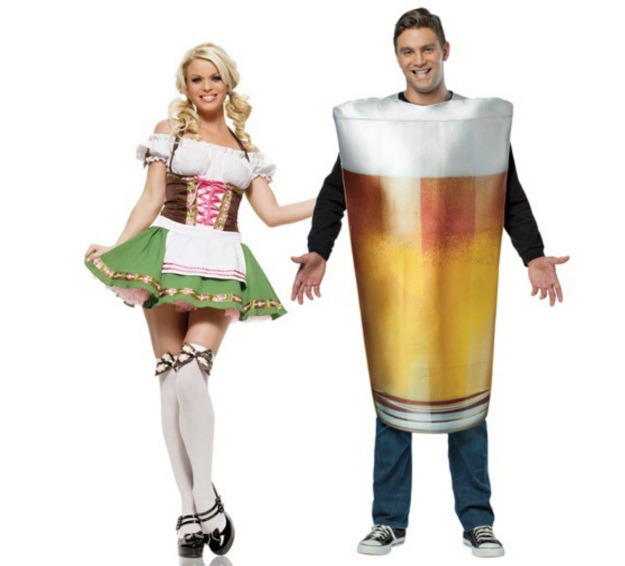 German Beer Girl Costume Beer Costume
If you're the couple who's the life of the party, teaming up as a German beer girl and a frosty beer would be a hilarious costume combination!
32.

Pilgrim Couples Costumes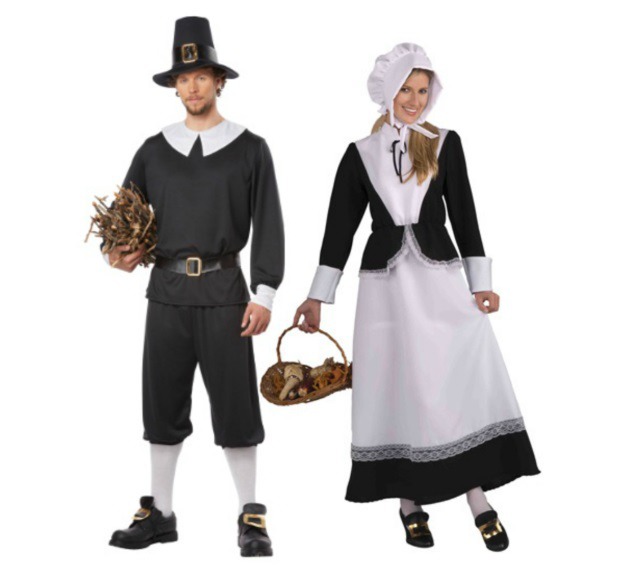 Men's Pilgrim Costume Women's Pilgrim Costume
A fun Pilgrim couple would be a welcome addition to any Thanksgiving dinner. Just remember to bring some stuffing and mashed potatoes!
33.

Zeus & Hera Couples Costumes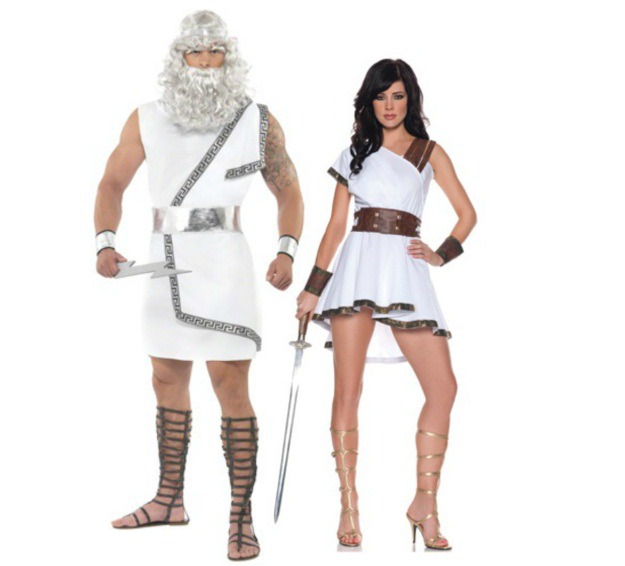 Zeus Costume Olympic Greek Goddess Costume
Rule from Mt. Olympus as Zeus and Hera. All will respect your God-like power... and your good looks and great Halloween costumes!
34.

Tarzan & Jane Couples Costumes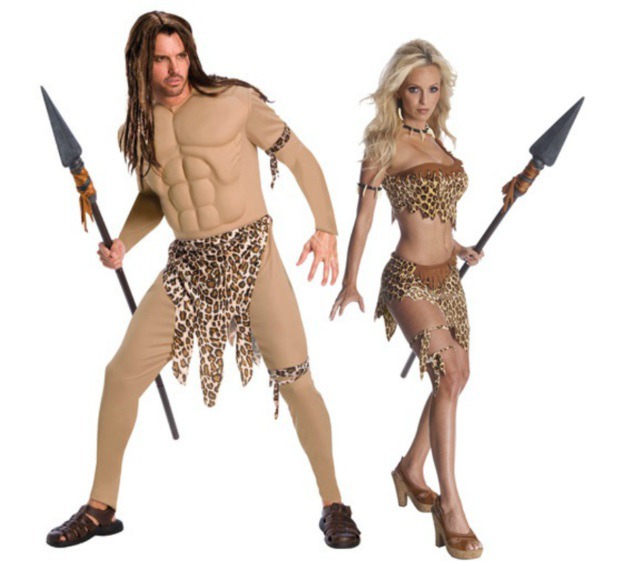 Go as Tarzan and Jane for the ultimate jungle costume combination. You only have to remember one line - "Me Tarzan. You Jane."
Whether you're in a new relationship, have been around the block a few times with your partner, or are just looking for a platonic connection, what better way to share the fun than with a themed costume? So what do you think, did we omit your favorite couples look? Do you have your costume idea for this Halloween already, or are you still looking for a costume-savvy nerd to dress up with? Leave us a comment below! (We probably can't help you find a partner, but for everything else, we'd love to hear from you!) If you are still on the hunt for other ideas, be sure to visit our couples Halloween costumes page for more themes!