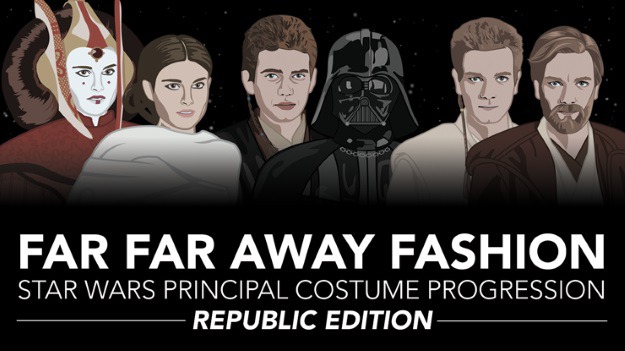 Since our first edition of Far Far Away Fashion was so well received, the wait for a follow up might have been less than enjoyable (but still better than waiting for The Force Awakens to come out). Well, the wait is over (one of the waits, anyway...) and we're happy to present to you this Republic Edition costume guide! Straight from George Lucas's Star Wars prequels, we have broken down some of your favorite characters' main costumes.
There was a serious debate over which of Padme's 12 gazillion costume changes to include, but we tried to pick out the most memorable fashion moments. With Anakin and Obi-Wan included for good measure, we have the looks of your three favorite heroes of the Republic. Well...heroes per se. That whole Darth Vader thing with Anakin is still a bit hard to swallow. (How did the little Ani who won our hearts with his Podracing exploits turn out to be the worst villain of all time??) You can use this infographic to check out his transformation, and it's a great way to study up on the rest of your favorite prequel looks, too!

Embed This Image On Your Site:
Far Far Away Fashion Transcript
Star Wars Principal Costume Progression
Republic Edition
When George Lucas set out to create the prequel of his famed original Star Wars series, he knew that he was going to have to take a different approach to the costume choices of the new films. Where he has previously shown war-torn worlds under the tyranny of the Empire, the new movies focused on the Galactic Republic at its height. New and intricate designs would be much more elaborate and ornate while still tying into the original aesthetic of the first series. Our new principal characters represented both sides of the spectrum, from royal opulence to the humble style of slaves and Jedi. Employing the talents of costume designer Trisha Biggar, they set out to establish a new take on Star Wars for a new generation.
Padme Amidala
Throne Room Gown: Inspired by Chinese Imperial court styles and intended to represent the traditional style of dress on Naboo, Queen Amidala's formal Throne Room Gown is seen during her royal coronation and again prior to the Invasion of Naboo. The paneled gown was wide-shouldered and accented by gold embroidery and illuminated poly vacuum formed "jewels" that were featured above a furred hem. A gold face frame with combed over hair conveyed her regal appearance.
Purple Travel Gown: After appearing in front of the Galactic Senate, she returned to Naboo in a multilayered purple gown, with a dark paneled velvet overdress covering a glossy pleated silk underdress. It was worn over stiffened petticoats for effect and featured a full, ruffled skirt, accented with lustrous and billowy sleeves. Semi-opaque chiffon hair veils hung from a headdress and covered her hair. The gold diadem headdress was embossed with emblems, and her hanging veil was decorated with crisscrossing ribbons.
Handmaiden Disguise: Assuming the role of her own handmaiden as a security measure in times of trouble, Padme's disguise during her capture and departure to Coruscant was an ombre dyed hooded dress. In silk and viscose velvet, once dyed it showed a tint that faded from orange at the hood to bright yellow through the body. It was accented with bright red sashes, sleeves, and inner hoods in bias-cut silk crepe that was trimmed with matching lace motifs.
Tatooine Peasant: While accompanying Qui-Gon to Mos Espa, Padme wore a farm girl outfit to remain inconspicuous. A rough blue blouse with full sleeves was covered by a small over-shirt that reached down below her waist. The same material was made into rough spun wrist binding worn to keep out sand. Her outfit was accented with a blue belt with a simple red jewel. With hemp-and-linen-mix materials, the costume was designed to have a basic and earthly feel.
Battle Dress: With no choice left but to battle the Trade Federation, she donned a heavy woven magenta dress. Designed for both protection and functionality in battle, it was still elegant enough to be worn by a Queen. Featuring a high collar and full sleeves in the dark color, the shoulder seams were then lined with yellow accent material. A calf-length coat skirt partially covered her pants and utility belt. Tactical boots served to finish off this militant look.
Naboo Starfighter: For yet another undercover ruse, now Senator Amidala disguised herself as a Starfighter Pilot for her trip back to Coruscant. Tight red pants and a high collared black shirt served as her under layer and was covered by a brown, long-sleeved shirt and heavy tunic. She wore the typical pilot attire including gloves, leather gauntlets and knee-high boots. A utility belt clasped with a gold ornate emblem complemented her uniform.
Picnic Dress: For a light and summery look at her lake retreat, she wore a tan dress with a golden yellow bodice and tulle shawl over it. The dress was made of gold silk organza and the silk cloque bodice featured filigree embroidered roses with appliqued roses applied to the shawl to match. The full sleeves of the dress were tied at the wrist with decorative ribbons. A green headband with flowers and yellow hair nets over her hair buns accented this "fun" look.
Lars Homestead Outfit: Back to Tatooine, Amidala wore a light blue midriff two-piece dress of blue crepe jersey fabric. Wide sleeves that formed into a caped back were decorated with silver motif designs along the hem edges. Loose flowing pants were topped by a waist-high sash wrap decorated with a silver beaded pendant in the middle and a hanging middle sash. A silver-plated headdress capped off this elegant, yet simple outfit.
Trip to Geonosis: A simple white jumpsuit would prove to be suitable action on the trip to Geonosis. The elastic two-piece suit was accented by an off-white shawl. Silver armbands, a tan utility belt, and knee-high action boots rounded out her battle-ready outfit. This outfit is perhaps most famously remembered for being damaged after she was attacked by the Nexu creature, thus exposing her midriff and arm.
Wedding Dress: For her private wedding to Anakin on Naboo, Padme wore an intricate yet not-too-elaborate off white dress. It was made from an antique bedspread and silk tulle sections that were merged with Cornely scrollwork and then studded with pearls. The full-length dress featured elbow-length sleeves hemmed with scalloped lace. A Maltese lace veil was accented with wax flowers and beaded pearls to complete her look.
Senatorial Look: Making her final appearance in front of the senate, Padme wore a long, layered gown of purple velvet. With panels compromised of different shades of purple, it featured puffed sleeves and turned up collar. A stiff, dark mid-back cape with a ruffled top hem reached around her arms. Accented with silver clasps and a circular headpiece, it would prove to be a somber look for the events that transpired in front of her.
Mustafar (Pregnant): In a rush to find Anakin on Mustafar, Padme wore a simple outfit. A tan collared shirt was outfitted with a leather crisscrossing harness. Matching tan gloves reached from the wrists to above the elbow. Gold pieces served as clasps on her collar and harness, and tight-fitting white pants paired with brown boots rounded out the ensemble. It was designed to be both action-ready but accommodating to the character's pregnancy.
Anakin Skywalker
Tatooine Slave Robes
Podracer Helmet
Jedi Padawan
Jedi Knight
Post Duel on Mustufar
Darth Vader
Anakin's journey through the prequel trilogy took him from humble slave beginnings to becoming the most feared villain in the Galaxy. Starting out on Tatooine, his slave costume was constructed from a natural colored coarsely woven silk-linen-hemp mix fabric. Ragged leg wraps, faux suede boots, and a leather utility belt rounded out his look. He added a helmet with attached goggles and a neck protector when he piloted her Podracer. By the time of Attack of the Clones he had become a Jedi Padawan and wore a costume similar in style to the other Jedi, but of different construction. A leather tabard covered a darker-hued tunic and pants. His belt and boots were similar to that of Obi-Wan's. Only very slight color changes were implemented for Revenge of the Sith, but he was outfitted with the typical Jedi cloak. After turning to the dark side he nearly met his fiery demise as Darth Vader but managed to survive long enough to be rescued and repaired by Palpatine. Using both cybernetic technology and the powers of the dark side, Palpatine outfitted him with the infamous Darth Vader suit. It was only slightly altered from the original Star Wars design, with a polished effect to give it a brand new appearance.
Obi-Wan Kenobi
Jedi Padawan
Jedi Knight
Jedi Master
Starting with The Phantom Menace, Obi-Wan's costume was constructed to be similar to the one worn by the character in the original Star Wars. We found Ewan Mcgregor sporting a tunic and tabard over plain shirts and pants. The tunic and tabard combo was constructed with a light woven fabric known as Indian homespun. Vintage brown wool was sourced as a match to Sir Alec Guinness's original cloak to create the Jedi garb for the new prequel films. A leather belt and riding boots finished his look, and his only change in wardrobe was an alteration of pant and undershirt color in Revenge of the Sith.
Sources: Dressing a Galaxy, The Costumes of Star Wars by Trisha Biggar, padawansguide.com, rebelshaven.com, starwars.wikia.com
So what do you think? Love the style of the prequel series? Not so much? Whether you have fond memories or are still confused as to why Gungans live in bubble domes, we want to know! Leave us a comment below, hit us up on Facebook, tweet us, or climb up on top of your replica Jedi Temple and send us smoke signals from afar! We're going to climb back into our meditation chambers and just slowly, slowly wait for the J.J. Abram's iteration of Star Wars to hit the theaters. (Well, except for that whole Halloween thing. Our bosses might want us to show up to work for that.) And, of course, we have a robust selection of Padme, Anakin, Obi-Wan, and Star Wars costumes in general, so suit yourself up for the new movie or for any night of fun in that fabled galaxy far, far away.
Infographic Design Credit: Cody Petersen
Infographic Writing Credit: Jason Mattick