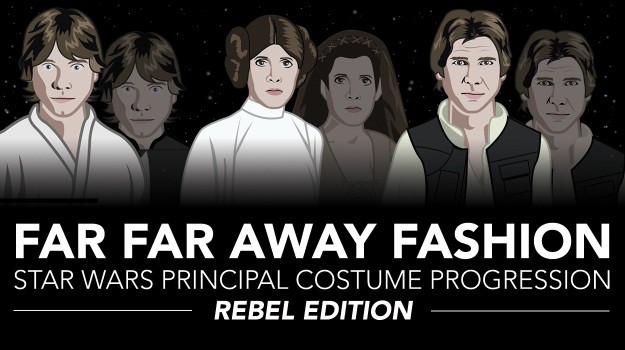 If there's one thing we can say about the staff at HalloweenCostumes.com, it's that we are bona fide Star Wars maniacs. So in preparation for the year of Star Wars (it's not too early to grant that title, is it?) we've decided to channel some of our pent up excitement into reliving some oh-so-sweet nostalgia from the trilogy that started it all. First task? We're tackling a guide to our favorite original character's costumes. We've only had a hint of what they're going to look like in The Force Awakens, so we figured it sure couldn't hurt to brush up on the details from the original trilogy. You'll find that our favorite Rebel Alliance heroes wore some interesting looks throughout the trilogy. So read, reflect, and enjoy. We hope it whets your Star Wars appetite - at least for a little bit!

Embed This Image On Your Site:
Star Wars Costume Evolution Infographic Transcript
Star Wars Principal Costume Progression- Rebel Edition
The meteoric rise of the Star wars franchise shattered box office records and ultimately reshaped cinema. Redefining what's "cool" in popular culture for generations to come, George Lucas' meticulous attention to detail helped seal the franchise's place in history. Lucas knew that garish costume and design choices could easily derail the believability of his galaxy far, far away. By assembling a knowledgable team with technical and military backgrounds, Lucas employed his vision in a way that was simple, nondescript and only enhanced the story instead of taking it over. See how the main costumes worn by your favorite rebels changed over the course of the original trilogy and helped to shape a franchise that took the world by storm.
A New Hope
Luke Skywalker
Tatooine Farm Boy- Life on Tatooine required attire that was both simple and practical. A simple Japanese shirt with elongated sleeves, white trousers, and Chelsea style boots was all it would take to get Luke through most of A New Hope. A brown leather belt with multiple pouches, lightsaber book, and knee-high wraps helped to accomplish this farm boy look.
X-Wing Pilot- searching for an appropriate pilot suit, Lucas dress inspiration from orange striped costumes in the concept sketches. They accomplished this look with an orange racing jumpsuit. Adding a nylon flak vest copied from a high altitude jumpsuit, a thin plastic chest bow and custom made helmet allowed Like and company to look like a battle-tested pilot corps.

Greeblies- Repurposed real-world elements were often cobbled together to ass detail to the costumes. Pieces from vintage aircraft, electronics, and plastic models all contributed detail that was never intended to be seen close up, but rather to add depth and complexity. With no explanation or use on-screen, their actual applications were left open to viewer speculation. Dubbed "greeblies" by Lucas, he encouraged their use throughout all three films. The rebel fighter suit and Hoth uniforms featured some of their most prominent usage.
Princess Leia
Alderaan Gown- Leia's costume was fairly nondescript in A New Hope, as was intended by George Lucas. The hooded gown was made from crepe de chine, and the lightweight material was comfortable for Carrie Fischer with an oversized hood and open-cut sleeves. Her medieval style belt was custom built for the costume, and the look was finished with knee-high boots.
Han Solo
Smuggler- In search of a "mixture of cowboy and more orthodox space sort of thing", Han's costume had to help define his rogue nature. A very plain Viyella shirt was covered by a pocketed vest. His blue pants featured tuxedo styled stripes echoing military-style cues, and the red stripes appeared in stitched segments. A handcrafted leather gun belt and English riding boots completed his smuggler look.
The Empire Strikes Back
Luke Skywalker
Rebel Hoth Uniforms- In The Empire Strikes Back, Luke was now a full-fledged member of the Rebellion, and wore a mashup of the uniforms created dor the Rebels occupying the ice planet. A khaki quilted snow vest worn over the standard Rebel hodded combat jacket had him set to take on both wampas and the Empire. A pair of replica Canadian mukluks completed her weather-appropriate look.
Dagobah Training Fatigues- When Luke sets down onto the remote planet Dagobah, he is about to go on an on-the-fly Jedi training course. Fortunately, his jumpsuit was up to the challenge of the rugged Dagobah terrain. With a removable jacket, he was able to train in the swampy heat of the jungle, and an ad hoc backpack proved useful to carry the diminutive Yoda around with him while he trained.
Princess Leia
Hoth Snowsuit- When the action shifted to the new production team outfitted Leia in a snow combat outfit. Maintaining her white palette, she wore a white jumpsuit with an off-white thermal vest. Witha pair of gray mukluk style boots in Cloud City, her simple look continued her established character continuity.
Bespin Gown- Breaking Leia's military-inspired styling wanted a feminine look for their visit to Cloud City. A fitted Indian top and harem pants made with crepe de chine in a vibrant color helped to offset the pale tones of the Bespin set. Over the suit, she wore an embroidered sleeveless silk cloak with a quilted yoke. A silk-covered belt and dyed flats completed the scene's look.
Hon Solo
Hoth Jacket- Similarly, we also found Han sporting winter gear for his stay on Hoth. an anorak coat over the standard Rebel gray trousers and mukluks served to highlight his independent style. While the coat appeared blue onscreen, the actual anorak worn was brown with faux fur trim. His signature belt, dual scarves, goggles, and a well-placed greeblie finished his cold-weather outfit.
Space Cowboy- After the icy battle, Han returned to a familiar but updated look. His shirt has been changed to a western-style plastron shirt with asymmetrical collar. His jacket was remarkably similar to his original vest, but with a new arrangement of pocket and stitching details. His pants retained the same styling cues but were changed to brown with yellow stripes with similar boots and gun belt.
Yoda
Yoda didn't have any costume changes in his screen time in Star Wars, but he's 900 years old so we'll let it slide. With only a few accommodations made for puppeteers, the costume designed for the Jedi Master was a brown shirt with a mandarin collar and a heavily textured silk kimono. The outfit was heavily broken down to give him a hermitlike appearance. A leather belt and roughhewn pouches finished his rustic look.
Return of the Jedi
Luke Skywalker
Jedi Knight (with Cloak)- Lucas was insistent that Luke's first appearance in Return of the Jedi be ominous and full of mystery to leave fans guessing where the character's path was headed. This was achieved by outfitting Mark Hamill with a brown cloak as has previously been worn by his master, Obi-Wan Kenobi. A stark black jumpsuit covered with a raw silk kimono was intended to both show his maturation and his possible fall to the dark side.
Endor Poncho- Luke's only non-Jedi apparel was seen when he geared up for the Endor assault with a poncho and helmet. Production staff utilized two color palettes, with only Luke and Han appearing in the brown-based camouflage pattern to aid in their differentiation on screen. His poncho was secured with a webbed style belt, and a molded plastic ring worn over a flight cap was the only other addition to the look.
Jedi Knight- Once the cloak and kimono were shed, Luke was shown to be wearing all black pants gave a very fitted effect. Lucas wanted Luke to appear as old as possible, and Hamill was up to the task. A utility belt and tall boots finished his new look, and would throughout the rest of The Return of the Jedi.
Princess Leia
Jabba's Slave Dancer- The iconic metal bikini that marks Leia's enslavement in Return of the Jedi was actually constructed of semi-rigid urethane. Soft molded to fit only Carrie Fisher, the costume was outfitted with silk fabric and leather linings to complete the bikini. Matching suede boots combined with urethane and metal jewelry pieces completed the "Slave Leia" look.
Endor Poncho- Once Leia reunited with the Alliance she changed into a command team uniform similar to the other Rebel Leaders. A camouflaged poncho was worn for the mission to the forest moon. All of the forest gear was hand airbrushed so that the pattern would be unique and not have a stock appearance. Worn over her tunic and gabardine combat trousers, the look was completed with a custom helmet and English riding boots.
Ewok Village Dress- While the penultimate Leia dress in the original trilogy turned out to be made by, um, Ewoks... Carrie Fisher pulled off the forest moon look in true princess style. Crafted with chamois leather, the dress was hand sewn so that it would appear to have been made by the moon dwellers. With an integrated crepe blouse and decorative cross-stitching, it was both a rustic and casual look for her star in the forest village.
Hans Solo
Carbonite Block- Okay so having your face cast into "carbonite" isn't technically a costume change, but given the time spent by Han in hibernation, it seemed an appropriate inclusion. The real-life underpinnings of his entrapment were actually due to actor Harrison Ford, as he was uncommitted to returning to film the series finale. As such, Lucas opted to keep his character's fate open-ended.
Endor Buster- When Han took charge of the daring mission to disable the Imperial shield generator, he sported a duster style coat similar in style to his rebel assault team. The linen polyester coat was painted by hand in the same brown air-brushed camouflage pattern as Luke and it featured large cargo pockets and a large slit up the back. the attire worn under the jacket remained unchanged from prior scenes.
Ewok Village- We first saw Han return to his vested look in the rebel war room. but once he shed his duster at the end of the film, it returned as they celebrated their victory in battle. While the shirt worn as he was "unfrozen" had a slight continuity error, we found him changed into a cotton drill shirt with a fixed asymmetrical lapel and no button-down lapel. While the pocket configuration on the vest changed slightly, the rest of his costume remained unchanged.
Sources: Star Wars Costumes The Original Trilogy by Brandon Alinger, Cracked.com
What do you think? Drop us a line or comment below, and let us know what your favorite intergalactic style was! The Force is unclear on this one as of yet, but the forthcoming sequel could just be the cinematic phenomenon of the decade. Our blog will have the year of Star Wars covered from front to back so keep our squadron on your radar. Oh, and did we mention that we sell Star Wars Costumes???
Infographic Design Credit: Cody Petersen
Infographic Writing Credit: Jason Mattick