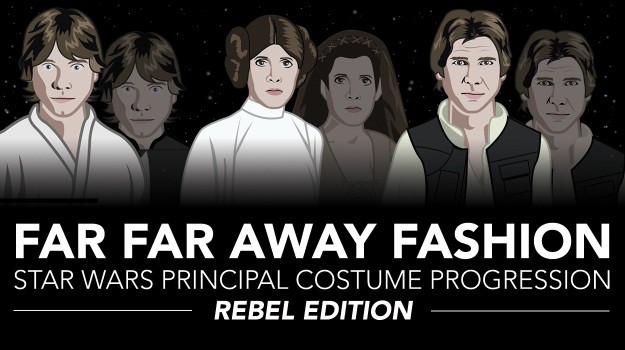 If there's one thing we can say about the staff at HalloweenCostumes.com, it's that we are bona fide Star Wars maniacs. So in preparation for the year of Star Wars (it's not too early to grant that title, is it?) we've decided to channel some of our pent up excitement into reliving some oh-so-sweet nostalgia from the trilogy that started it all. First task? We're tackling a guide to our favorite original character's costumes. We've only had a hint of what they're going to look like in The Force Awakens, so we figured it sure couldn't hurt to brush up on the details from the original trilogy. You'll find that our favorite Rebel Alliance heroes wore some interesting looks throughout the trilogy. So read, reflect, and enjoy. We hope it whets your Star Wars appetite - at least for a little bit!

Embed This Image On Your Site:
What do you think? Drop us a line or comment below, and let us know what your favorite intergalactic style was! The Force is unclear on this one as of yet, but the forthcoming sequel could just be the cinematic phenomenon of the decade. Our blog will have the year of Star Wars covered from front to back so keep our squadron on your radar. Oh, and did we mention that we sell Star Wars Costumes???
Infographic Design Credit: Cody Petersen
Infographic Writing Credit: Jason Mattick