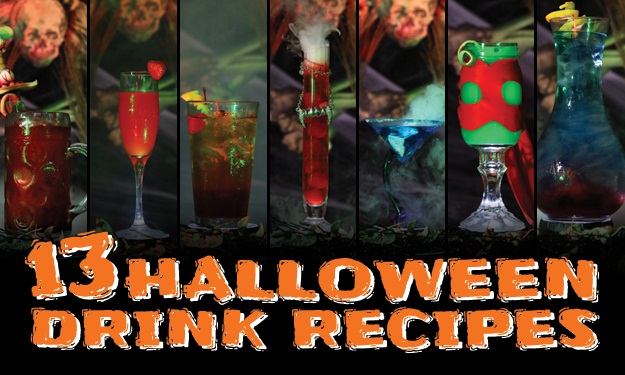 The devil is in the details! If you wanna throw a memorable Halloween party, you have to do a little more than just playing Thriller and putting some fake spider webs up. To go the extra mile, turn to the drink menu! We love themed parties and we love playing host, so we were more than excited to come up with 13 different recipes paying that pay homage to the biggest pop culture trends of the year. Cheers!
We also created awesome printable versions of these recipes, so you can have them displayed at your Halloween party. Just click any of the images below to download the corresponding printable PDF file.
NOTE: We clearly went heavy on the dry ice for these drinks. If you do choose to use dry ice at your party, be careful! Don't let it touch you when you take a sip!
1. Teenage Mutant Scooby Snacks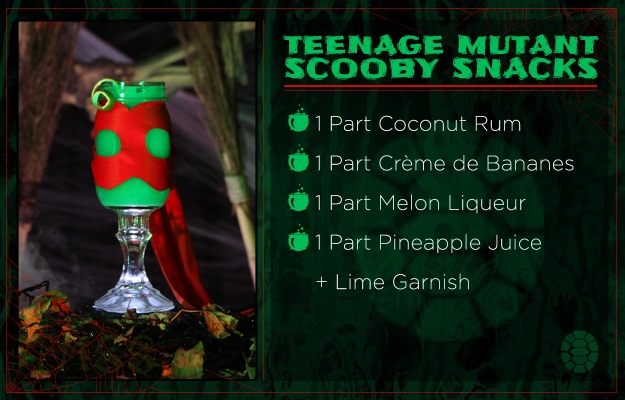 The new TMNT movie came out this summer, hitting that nostalgia note for all kids of the 80s. The green of the turtles' shells brought one drink to mind – the Scooby Snack! We served this drink in a tall mason jar with a stem and adorned the glass with a Ninja Turtles mask. Add a little corkscrew swirl of lime for the garnish and your drink is ready!
2. Elsa-Tini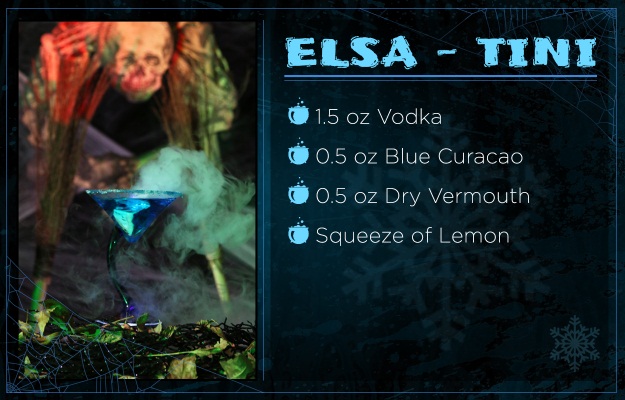 Disney movies aren't just for kids – Frozen definitely was a fan favorite for adults this year as well. We took Elsa's frigid sophistication and turned it into this icy blue martini. We lined the rim of the glass with sugar mixed with a blue pixi stik to give it that arctic look.
3. Hannibal's Chianti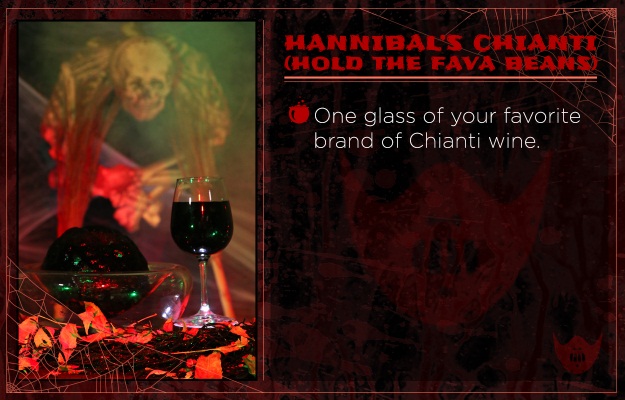 You don't have to be an actual cannibal to enjoy a fine Chianti, just a fan of Silence of the Lambs or the TV show Hannibal is fine. This drink is perfect if you decide to dress as the Raven Stag for Halloween. We decided to skip the aaaaactual brains and paired this glass of wine with jello instead, using this mold. Same effect, but far less likely to land you in an insane asylum.
4. Sexy Kinky Scary
If your costume is the perfect mix of sexy and scary this Halloween, you need an equally dangerous-yet-attractive looking drink to hold. This drink is sweet and bubbly, but the deep red cherries inside give the color an edge. The vampire teeth necklace helps, too!
5. The Flash!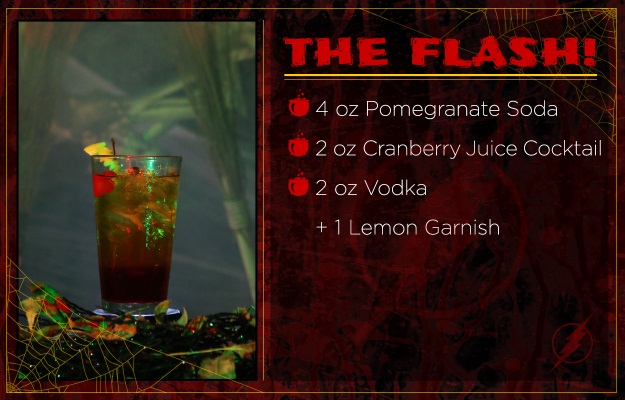 For those of you who are throwing a superhero-themed Halloween party, this cocktail inspired by The Flash will be a huge hit. The selling point is the lemon wedge cut in the shape of a lightning bolt. (Something tells us that this would go over well at a Big Bang Theory party, as well.)
6. The Ruby Red Raccoon
We introduced a lot of sexy mash-up costumes this year, but Female Rocket Raccoon definitely has a soft spot in our hearts. We created this orangey and sweet, but still dangerous cocktail in honor of our favorite government experiment. Ohhh yeah!
7. The Sharknado Tank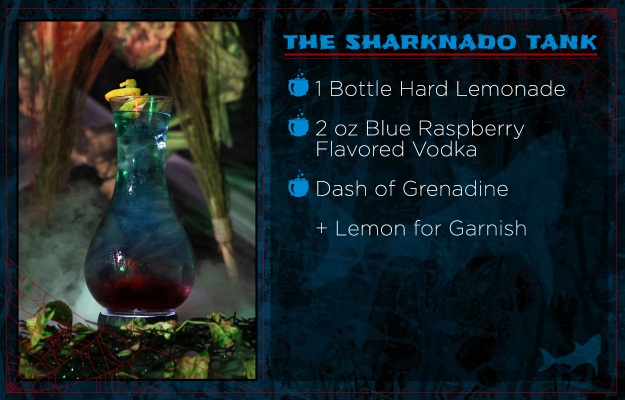 Ah yes, a fishbowl drink to represent the Sharknado sequel. The grenadine falls to the bottom of the drink (blood in the water!) while the dreamy ocean blue looks crystal clear at the top. Make an extra-large swirl of lemon for garnish to represent the "tornado" part of the movie.
8. Rump Shaker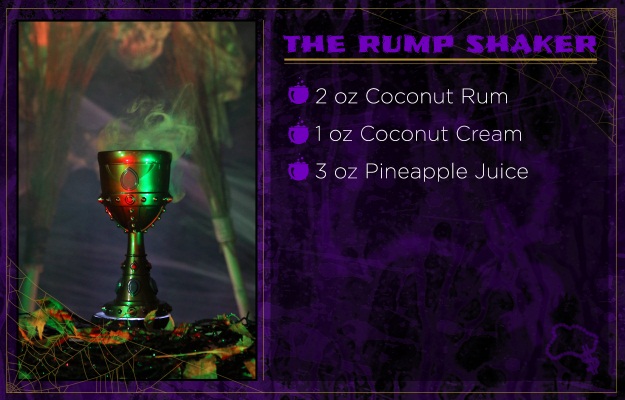 In a year that truly was all about the bass, we took inspiration from the coconut's oh-so-subtle inclusion in Nicki Minaj's "Anaconda" video and concocted this tropical drink. Best served in a fancy goblet or large glass that reads "diva."
9. Galaxy Shot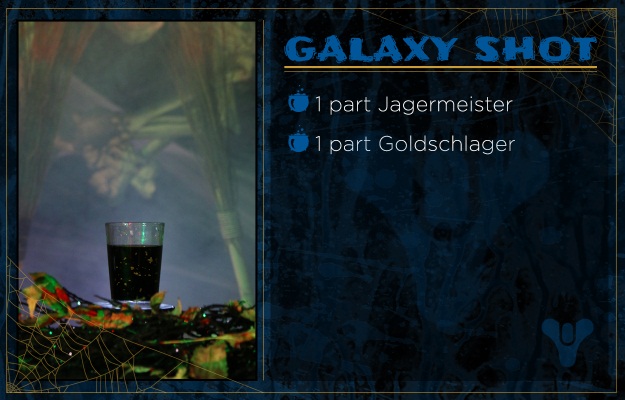 The interstellar setting of the Destiny universe led us to deciding on this galactic shot to represent the new video game. The jag in the drink is the dark sky and the goldschlager helps create the effect of stars floating in space.
10. Neon Tea With A Bite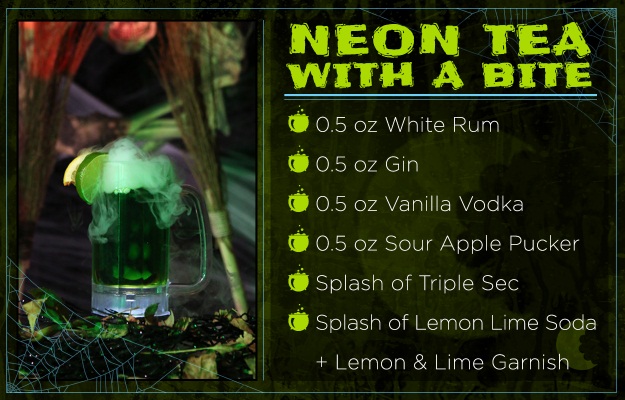 Chances are that you'll see someone wearing those horrifying latex animal masks this Halloween. They're huge, thanks to 4chan, or whatever weird corner of the internet those masks tend to pop up. We picked this drink to represent these creepy animals because of the BITE of the sour apple pucker. We also threw some fake teeth in there to emphasize our point!
11. Gory Mary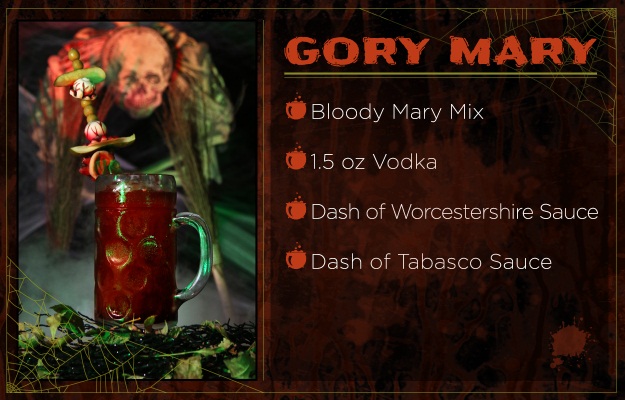 Most Halloween parties will have a general creepy/gory theme, and that's ok! We love it, too! Spice it up a bit (Eh? Eh?) with our horror version of the Bloody Mary. Make the drink how you like, but add some creepy crawlies to the garnish skewer – we used some eyeballs and severed ears along with the usual pickles and olives.
12. Game of Thrones Ale
When you think of all the imbibing that happens on Game of Thrones, two drinks come to mind – never-ending goblets of red wine, and dark, hearty ales. We went for the ale! Do your best Robert Boratheon impression and carry around this giant mug all night long. Be sure to really enjoy the night, because winter truly is coming. Eep! (Want more Game of Thrones drinks? We came up with seven for the season finale earlier this year!)
13. Drink All The Coffee!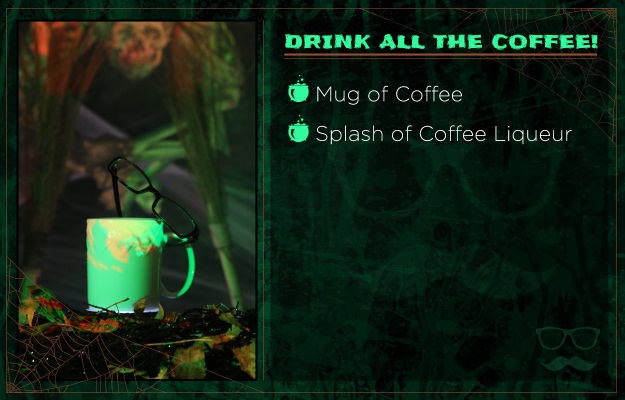 Most likely, you'll meet someone at a party who will be less than impressed with a DIY costume and says something to the effect of "oh, that was way better when I saw it on Reddit last year," followed by a "u mad bro?" when you take offense. But, what if YOU are that internet fanboy?! What if you live and die by viral memes and upvote counts? Then this plain old coffee in a sweet hipster mug with hipster glasses is for you. Feel free to spike it with whatever coffee liqueur strikes your fancy.