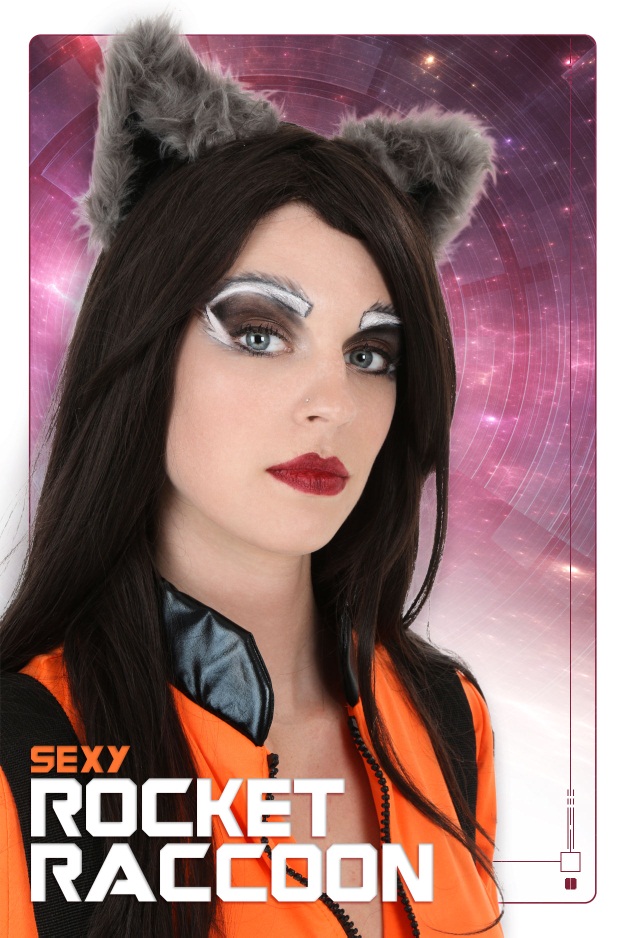 It's easy to argue that Guardians of the Galaxy is the year's biggest movie. It has everything – a dashing leading man, a headstrong female character, the cutest loud-mouthed government experiment, a giant humanoid tree (duh), and a stellar soundtrack. This cast of characters is perfect for any number of Halloween costume combinations. Obviously, we couldn't be left out, buuuut we definitely wanted to put our spin on it. So, we present to you:
DIY Sexy Rocket Raccoon Costume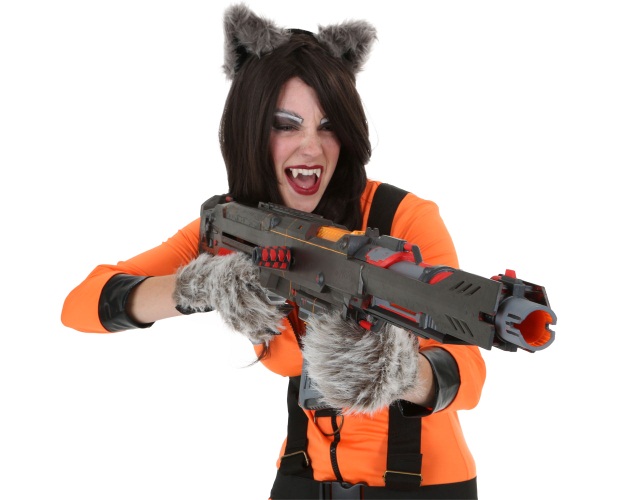 "Ain't no thing like me, 'cept me!"
Rocket and Groot are like a perfect pair for a buddy-cop type movie. AND they're kind of like Han and Chewie, but instead of a person and fuzzy monster, its tree and fuzzy monster. And the fuzzy monster is the one who translates for the creature with limited vocab. Rocket's attitude, smarts, sense of humor, and do-or-die-nature, are what makes us love him – and why should girls get to miss out on being such an awesome character for Halloween? They shouldn't! That's why we made an ultra-sexy, but still tough-as-nails, version of Rocket Raccoon.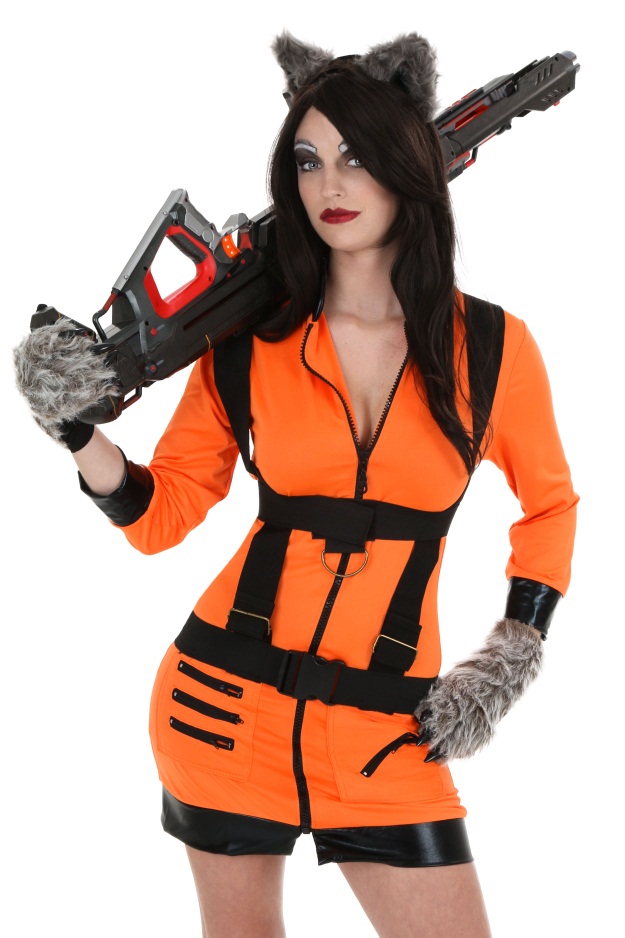 "Keep callin' me vermin, tough guy!"
All you need to put together your own genderbent Rocket Raccoon costume is a little creativity and some good tunes. Here are the products we pulled together to create this outfit: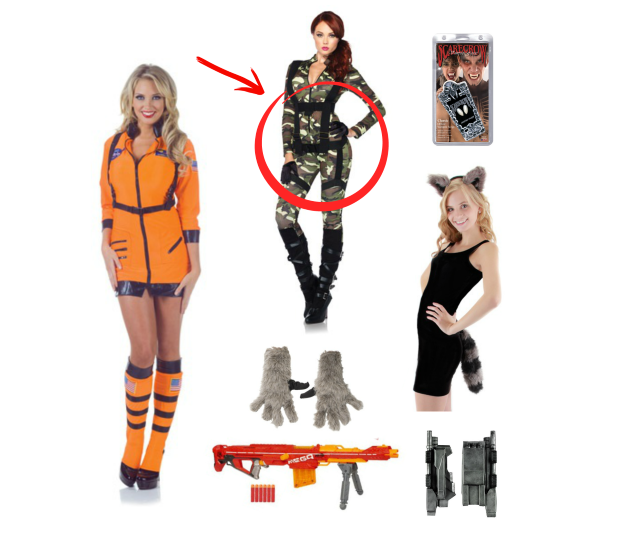 Women's Orange Astronaut Costume Harness from Pretty Paratrooper Costume
Rocket Raccoon Gloves Toy Guns
Vampire Fangs Raccoon Ears and Tail Set
Rocket's Inflatable Weapon
The construction of this costume is pretty straightforward. The gun we used was left over from our Destiny hunter cosplay, but any toy machine gun would do. Otherwise, remove all the astronaut labels from the orange jumpsuit, throw on a harness, and accent with all your raccoon goodies. We attached little kid War Machine gauntlets to some black boots with the elastic bands they came with. Use some face paint to draw in the raccoon eyes, pop in your fangs, and you're good to go!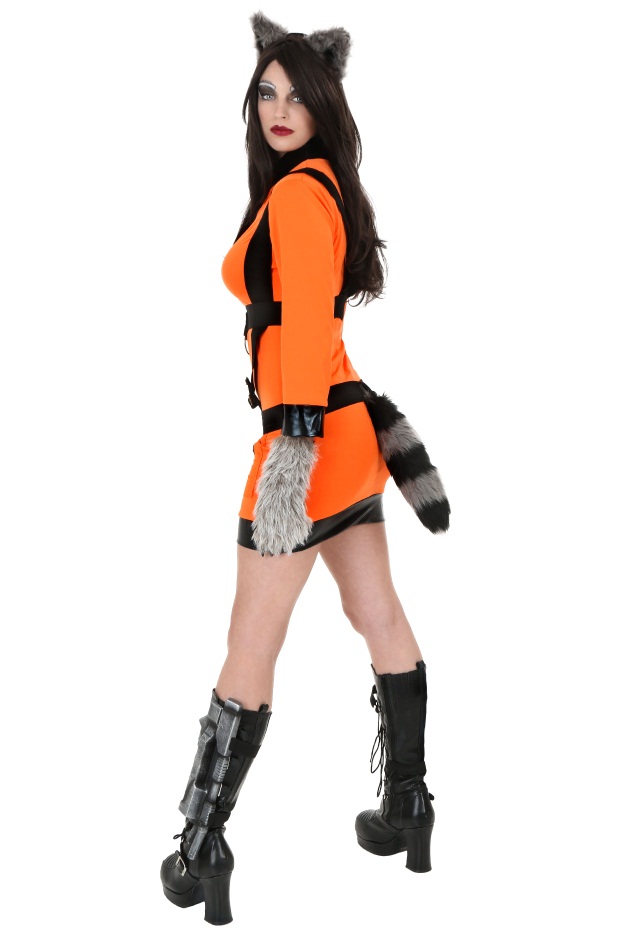 "Ohhhh, yeahh.."
DIY Dancing Baby Groot Costume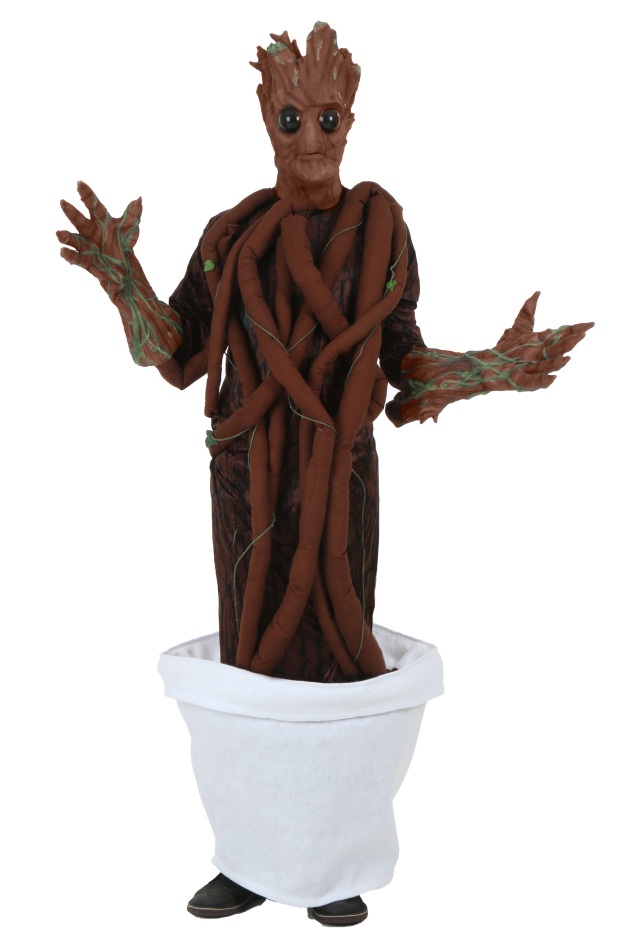 "I am Groot."
The movie was fun from start to finish, but nothing stole the show more than little baby Groot dancing in the vase at the end. It was so sweet what Groot did at the end, which made us that much more happy to see a chibi version of him movin' and groovin' out of Drax's eyesight.

We love baby dancing Groot, but we love baby dancing Groot THE FUNKO FIGURE more more more! We used that figure as inspiration for our DIY costume. Here's what we used: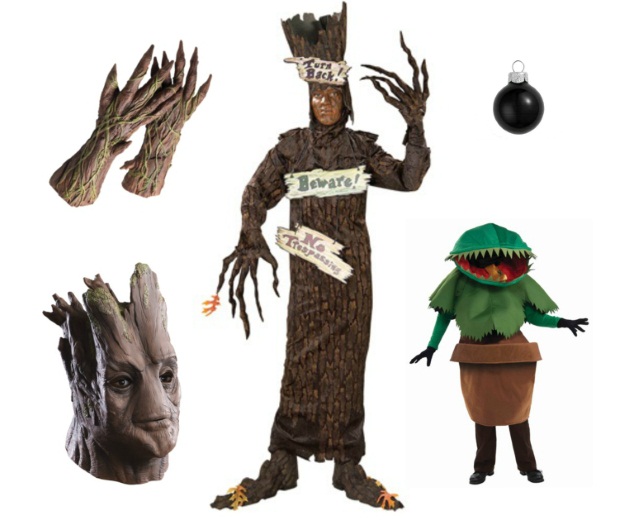 Scary Tree Costume Venus Fly Trap Costume
Adult Goot Costume Inflatable Groot in a Pot Decoration
We sewed together some brown fabric to form little tube "tendrils" and then stuffed them with batting. Cut the Christmas ornament in half and glue the halves onto the mask for the famous Funko style eyeballs. We separated the "vase" from the Venus Fly Trap costume and covered that with white fabric. Get all in there, step inside your vase, and start dancing to some Jackson 5!