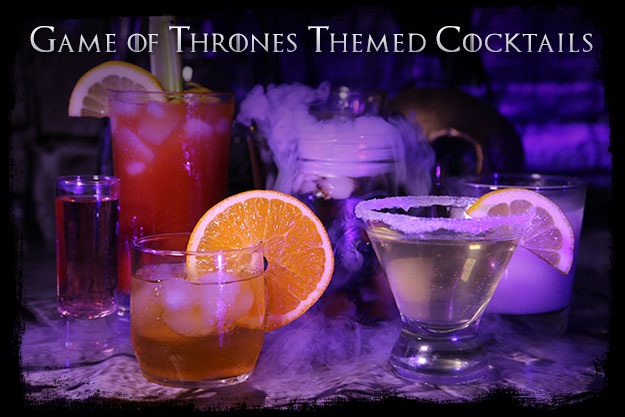 WARNING: Spoilers up to and including episode nine of season three of Game of Thrones below.
If you tell your friends and family that you are planning a Game of Thrones themed wedding, it might be a little difficult to convince them to come to it. "Oh, I've seen The Red Wedding," they'll say to themselves as they mark an emphatic NO on their RSVP before they mail it back to you. (Even Joffrey's wedding didn't end so well, but that can be avoided if you forgo the pigeon pie at your reception.)
So, in order to help make your Game of Thrones wedding actually fun to go to (with, uh, less murder involved), we've concocted seven drinks perfect to serve at a reception. Or, if you are planning a finale party for the last episode of season four this Sunday, these drinks would work well for that, too, of course! As always, drink responsibly and remember -- winter is coming.
1. White Walker Russian
1 ounce vodka
1 ounce coffee liqueur
1/2 cup milk
Mix all ingredients together in a shaker and pour over ice.
Our White Walker inspired drink is definitely a little milkier looking than a normal White Russian, but the iciness of those creepy crawly White Walkers called for a more frigid cocktail.
2. Mother of Dragons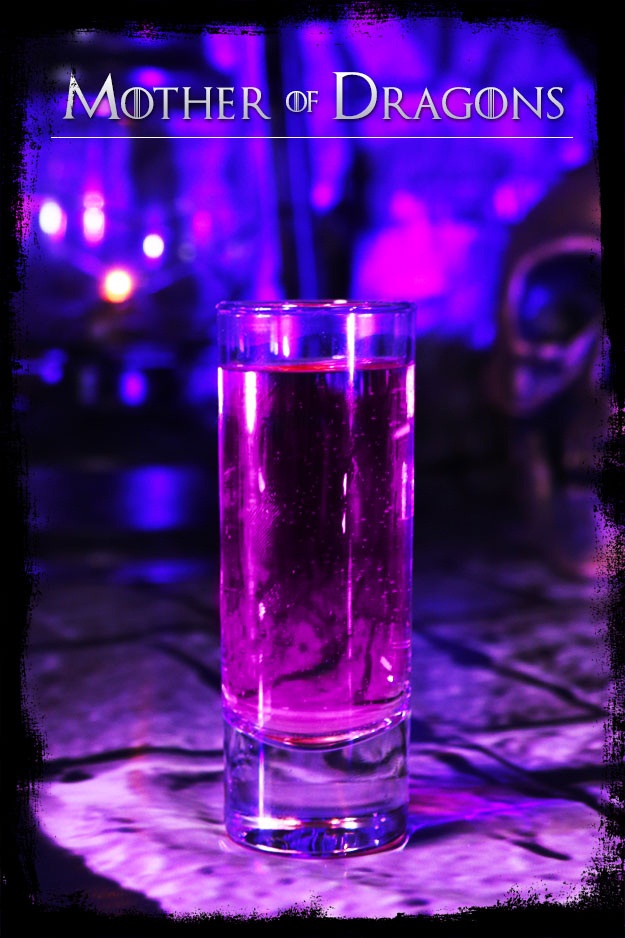 3 parts Absolut Peppar
1 part Drambuie
Tabasco sauce to taste
Dany clearly has a history with fire, so a drink based on her likeness just had to include a level of heat in honor of Drogo and the rest of her dragon babies. The tabasco mixed with the whiskey gives the shot a feminine pink color, but the drink's spicy bite stays true to the reason why we love Khaleesi in the first place. Her incredible intensity. It is known!
3. The Mountain and The Hound's Boilermaker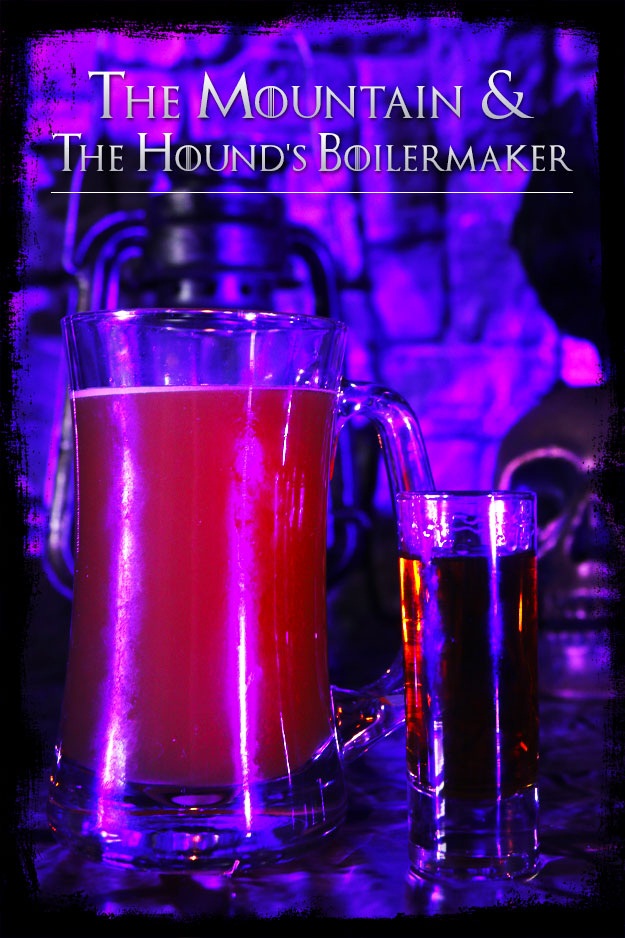 1 mug of beer
1 shot of whiskey
Either take the shot and sip the beer as a chaser OR drop the shot into the beer (like an Irish Car Bomb) and drink both at the same time.
There are just so many things that relate to the Clegane brothers in this drink that it is almost too perfect. First: the size difference. You might think that a full shot of whiskey (the Hound) is big, but then when you add in a full mug of beer (the Mountain), you know things just got about ten times worse. Second: the fact that it is named Boilermaker after people who work on burning hot furnaces makes us wince for poor Sandor. Lastly: if you want to be even more meta with the name, you can serve Coors for the beer (you know, for the Rocky Mountains) and Black Dog whisky in honor of the Hound.
4. The Bloody Martell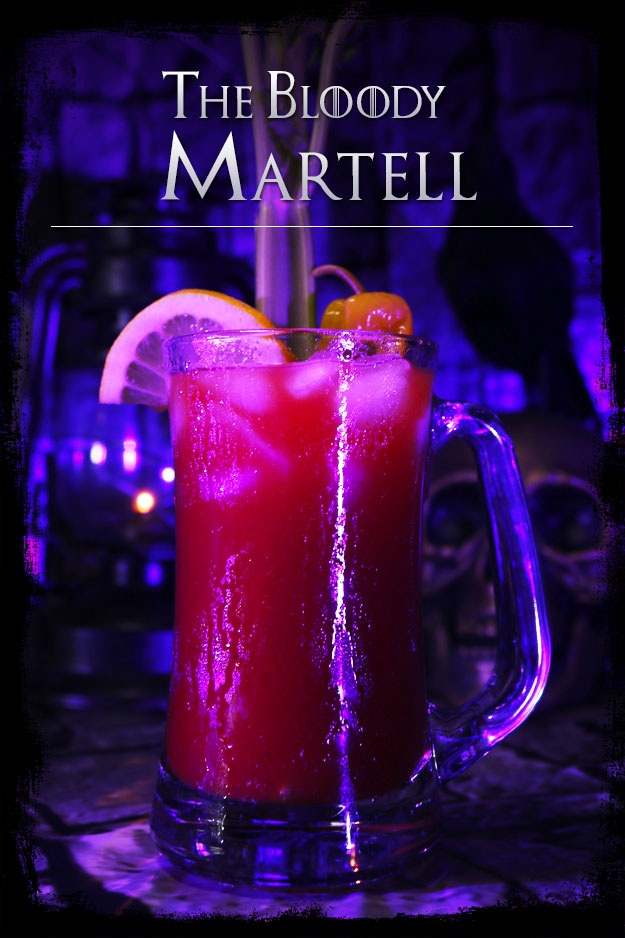 Bloody Mary mix of choice (the spicier the better)
1 ounce vodka
Worcestershire sauce to taste
Tabasco sauce to taste
Pepper and celery salt
Mix all parts and serve over ice. Garnish with celery, a lemon slice, a few pepperoncinis, and anything else you want to put in your drink. (May we suggest pickle spears, minced garlic, green olives, cubed cheese, a meat stick, and horseradish, to name a few more things?)
This one is a little too soon, but we couldn't leave our favorite new character of the season out of this list. Prince Oberyn Martell was admittedly kind of a hunk, but we couldn't help but to fall head over heels in love with the guy. So, when it was his time to go … well, we weren't happy. Creating a spicy Bloody Mary in his name just makes too much sense, though. Add as much pepper and tabasco sauce as you can handle and try not to think too hard about details of how he went out. We're not over it yet, either.
5. Littlefinger's Sloe Screw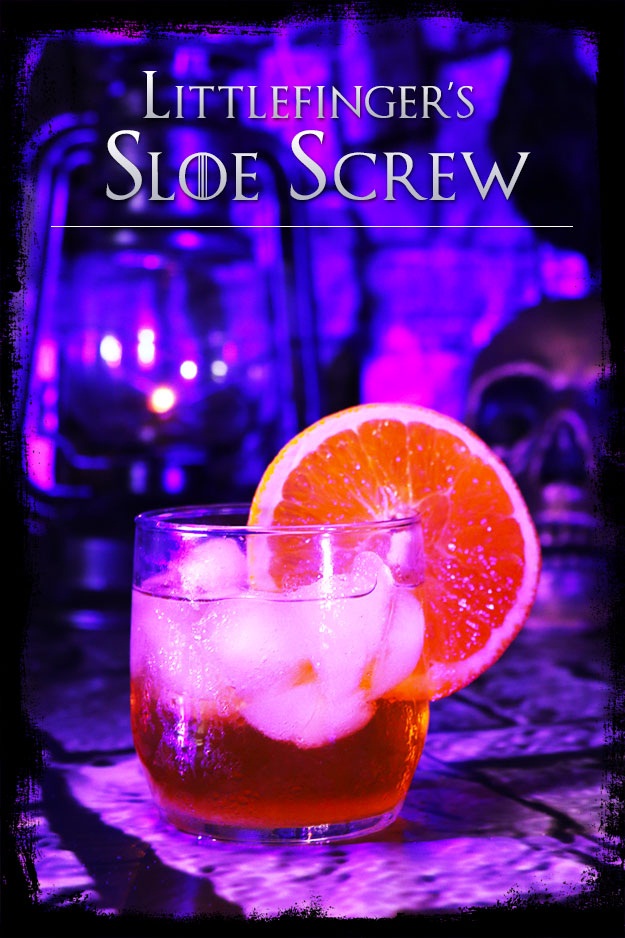 1 1/2 ounce Sloe Gin
Orange juice
Pour the gin over ice and fill to the top with OJ. Stir and add an orange slice for garnish.
Littlefinger is pretty sleazy, we can all agree on that. He's shady, he has his own prerogative, and you never really know what he's up to. Everything he has planned out is one slow build-up to screw over whomever is in his way. At least, that was the case for Lysa (and poor Ser Dontos!). We're still not sure what his plans are for Sansa, but we have a feeling it will benefit him and him alone. So as you enjoy your drink, just think of all the other ways Petyr Baelish has screwed someone over. Cheers!
6. Sansa Stark's Lemon Drop Martini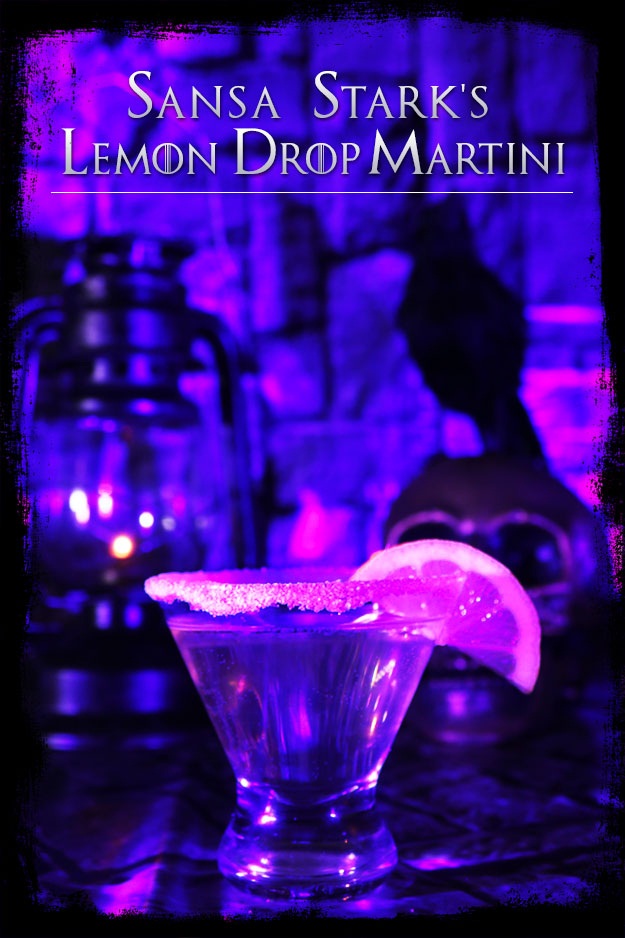 1 1/2 ounce citrus vodka
1/2 ounce lime juice
1 ounce sweet and sour mix
1 lemon
Sugar
Wet the edges of the martini glass with the lemon and dip the rim in sugar.
Mix the rest together in a shaker with crushed ice and pour into the glass. Garnish with a lemon slice.
A dainty drink for the auburn girl from Winterfell. Just like her mother, Sansa Stark has a weakness for all things sweet, especially lemon cakes. If she was invited to your party or wedding reception, Sansa would be all about this martini. It has a little edge to it, but the sweetness of the sugar and the tartness of the lemon even it all out to be a perfect mix.
7. The Night's Watch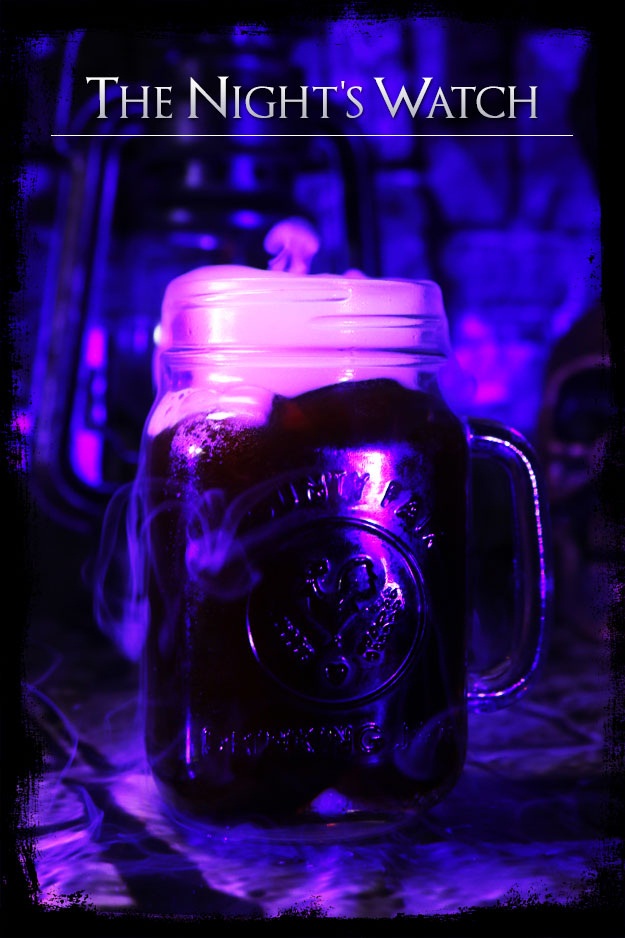 Piping hot coffee or espresso
1 (or 2, whatever!) shots of coffee liqueur
Drink while it's hot!
The watchers on the wall don't have the most fun job. It's really cold, really lonely, and really dangerous – especially after what happened last week in episode nine. After a night on the Wall like that, the guard deserves a hot toddy. Think of this as the late-in-the-evening cocktail if you're serving it at your themed Game of Thrones wedding. Perfect for long nights and chilly evenings that you need to stay alert.