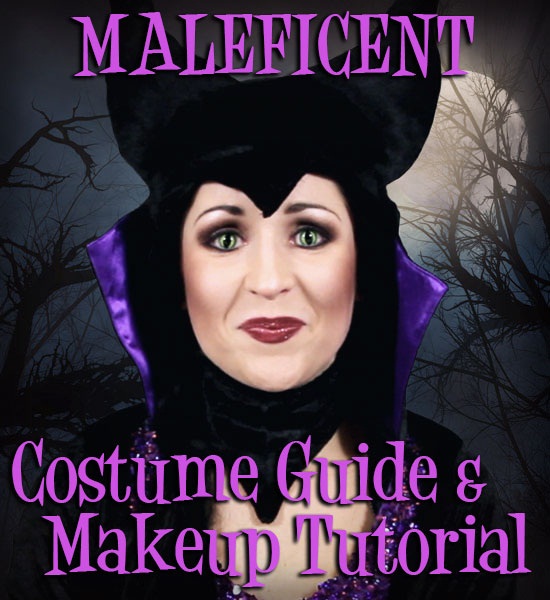 Maleficent is one of the most iconic villains in the Disneyverse. Or, perhaps as the new movie starring Angeline Jolie suggests, she is just one of the least understood heroines. Regardless, her style has been the envy of Disney fans for generations. This guide will show you variations of her costume to wear this Halloween, all the accessories needed to complete the outfit, and a makeup tutorial to finish the look.
Maleficent Costumes
Maleficent's costume is generally a long flowing black gown with a high collar and is always accompanied by a horned headpiece. Below in our costume round up, we feature the most current Angelina Jolie variation, alongside a few other options. Angelina's on-screen Maleficent style stays true to the original Disney version, with a few fun alterations. Also displayed is the classic cartoon Maleficent costume, a sexy fashion-worthy version featuring a trendy high-low hemline, and one more variant of the storybook sorceress that incorporates feathers and colors into the design.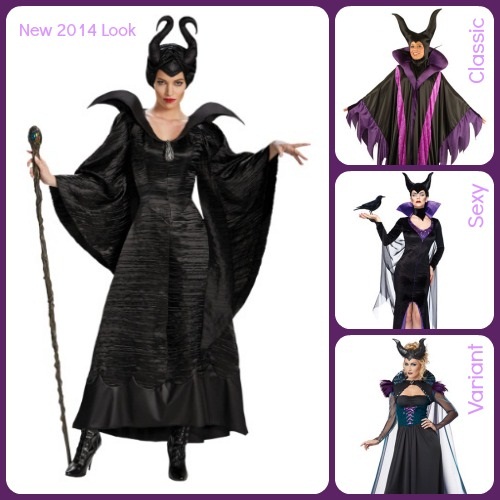 Maleficent Costume Classic Maleficent Costume
Maleficent Accessories
There are many accessories available to enhance your Maleficent costume DIY. Most of the Maleficent costumes come with a horned headpiece, but if you decide to piece your own costume together (or you just want the Angelina Jolie style horns!) you can get the headpiece separately. If you decide you want to portray Maleficent in her fairy likeness, a pair of dark angel wings is the perfect addition to your outfit! Other excellent additions include Maleficent's staff, a pet raven for your evil assistant, or a pair of green and yellow contact lenses to mystify all your subjects.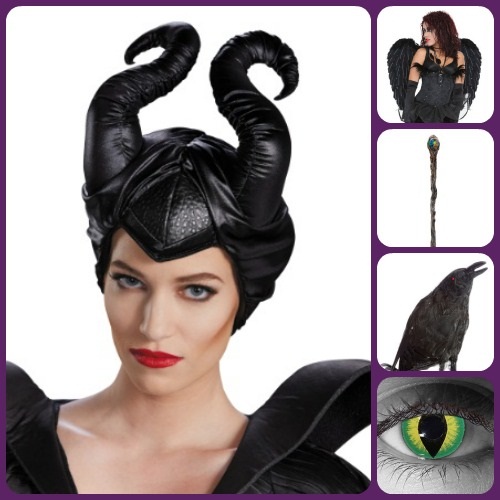 Maleficent Horns Headpiece Dark Angel Wings
Maleficent Makeup Tutorial Video
Maleficent Makeup Tutorial Video Transcript
Hi, this is Christy from HalloweenCostumes.com. Today I am showing you a Maleficent makeup tutorial. The products we'll be using today are an eyeshadow primer, I'll be using a beige, a tan, and a dark brown eyeshadow, and then a "taupe-y" brown shadow and a black eyeliner and mascara, a dark brown pencil for the brows, and then a deep mulberry lip liner with a dark red lipstick, and a little bit of gloss on top.
Let's get started! So, first apply your primer to your eyelids. Next, apply the tan shadow to the bottom halves of your eyes. And then, apply the deeper brown color to the crease. And then, apply that deeper shade underneath the eye as well. And then, take that light-ish shade and apply it below the brow bone. Go ahead and repeat that on the other side.
Now, I'm going to add a coat of black eyeliner. Next, I'll apply a coat of black mascara. Next, take that brown liner and just fill your eyebrows. And then, you can just take a q-tip and smooth them through.
Next, I'm going to take my contour brush and apply the brown shadow into the contours of the cheeks. So, kind of suck in your sheeks and apply it to the hollows. What I ended up doing was using the brown "taupe-y" shadow, and ended up mixing it with a little bit of bronzer to give it a little more warmth.
Go ahead and line your lips with that mulberrylip liner. Fill the lips with a red lipstick. And then, just add a little bit of gloss to the bottom for shine. Here is your completed Maleficent makeup tutorial. All you need now is your wig, costume and contacts, and you are set. Be sure to subscribe to our YouTube channel, and check out more makeup tutorials!
This makeup tutorial will guide you through all the steps necessary for completing your Maleficent look for this Halloween. Here are the tools and products that you'll need:
Eye shadow primer.
Eye shadow in beige, tan, and dark brown to get the stunning smoky-eyed look.
Taupe brown shadow for the accented cheekbones.
Black mascara and black liquid eyeliner.
Dark brown brow pencil.
Deep mulberry lip liner, dark red lipstick, and red lip gloss.
Eye shadow and blush brushes.
Additional Resources and Supplies
Looking to go out this Halloween as a mother-daughter pair? Or perhaps with your own Prince Charming?