It's one of the last weekends before Halloween and you're all geared up to do some costume crafting. You're looking for an ensemble that's easy to put together but will still make a big splash at your Halloween event. Something that says..."I'm empowered both as a woman, and as a crafter." "I have a commanding knowledge of pop culture, and I'm not afraid to show it."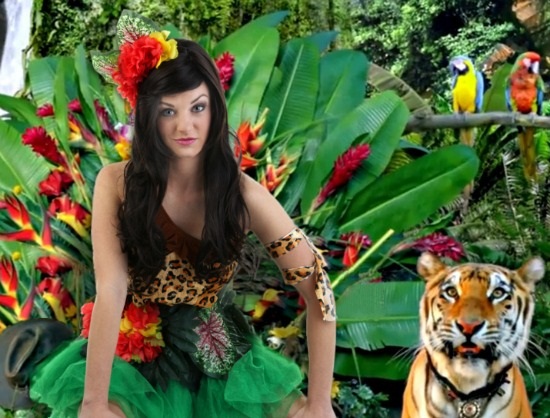 If this description is hitting home (it got a little specific there for a minute...) then we have the PERFECT DIY idea for you: It's Katy Perry's Jungle-themed outfit from her hit music video ROAR! We also include a guide on how to create a fun accessory from the video, a miniature spear complete with banana! Lastly, we have a cute idea for making this a costume theme for two - for either you and a gal pal, or a man friend! Hint: there are stripes involved.
The Video
More than 130 million views and counting. Whether you haven't had the chance to see it yet, or like us, you've watched it 5,000 times, give the music video a play for some inspiration while you're scrolling through our how-to! Careful though, it's mighty catchy and you'll most certainly be humming this little ditty the rest of the day.
The Finished Look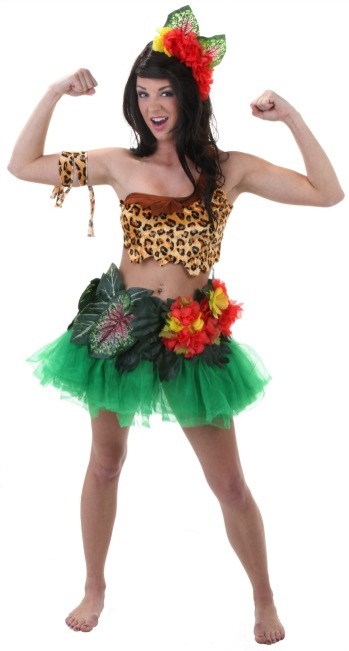 Grr, baby - major grr. This colorful ensemble practically POPS off the page!
The Basic Supplies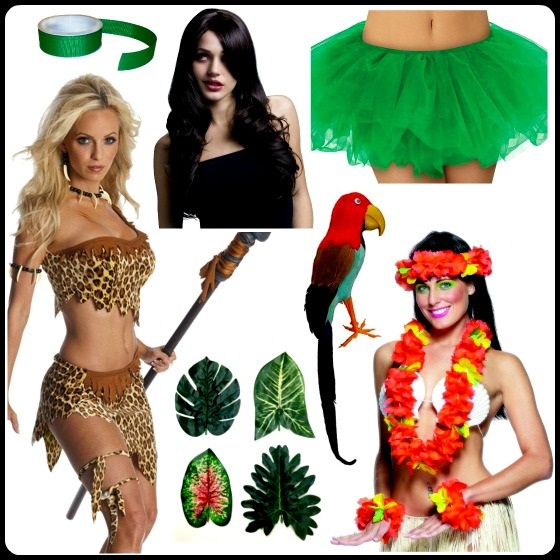 Jane of the Jungle Costume - Shop Long Black Wig - Shop
Green Tutu - Shop Hawaiian Flowers Pack - Shop Parrot Prop - Shop
You Will Also Need:
A selection of large tropical silk leaves (These are from our local dollar store! SCORE.)
Green grosgrain ribbon (Again, dollar store. That place rules!)
Two small pieces of velcro
A hot glue gun
The Skirt and Headband
Our products provide the perfect base for this costume, but you'll need a tropical leaf skirt and flowery headband to bring the look together!
The Skirt:
Cut a length of green ribbon that is the same circumference as your hips.
Place a small piece of velcro at both ends of the ribbon, to serve as the closure.
Use a hot glue gun to adhere your tropical leaves to the ribbon. Don't let any ribbon show through - overlap the leaves to make sure.
Cut the strings off of our Hawaiian accesory kit, and glue individual flowers to the skirt until you're satisfied with the amount.
Remember that in the video Katy assembled these items herself from the jungle, so no worries if the leaves and flowers are askew!

The Headband:
The headband is achieved in the same manner as the skirt. Just hot glue a few leaves to a plain black headband, and then glue on the individual flowers until the fullness you desire is achieved!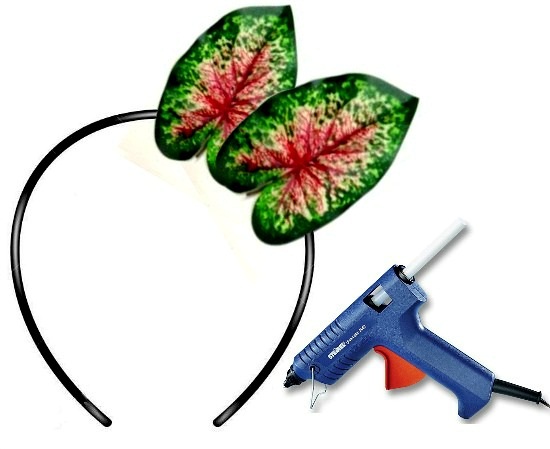 Almost There!
[Source]
Katy has a little parrot friend, so don't forget yours!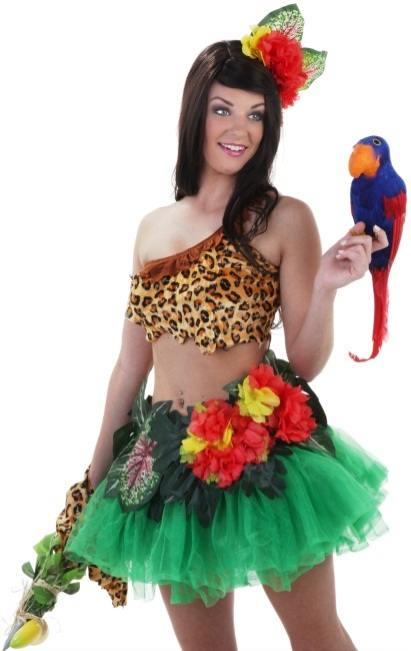 Beautiful! You could stop here, but WHY, when you can make a banana spear?!
DIY Spear Prop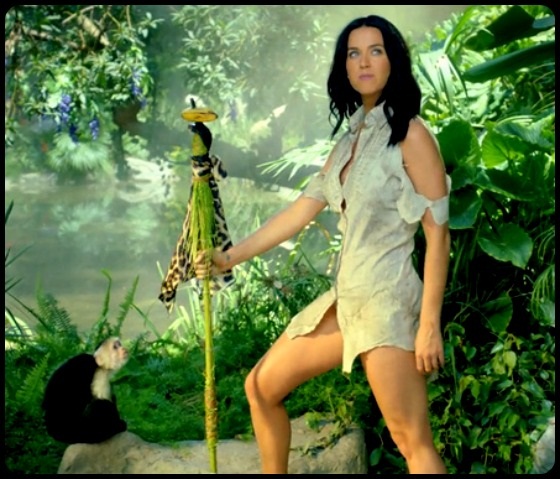 [Source]
Fairly certain that in the video, she uses a stiletto as the spear tip. We didn't include this in the DIY because....GAH don't waste a shoe!
Products Used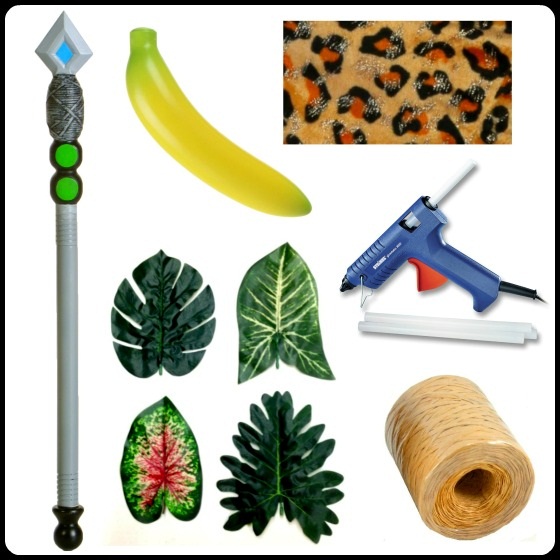 Wooden Spear Inflatable Banana
You Will Also Need:
Additional Hawaiian Silk Leaves
Raffia
Assembling the Spear:
Hot glue leaves around the plastic spear, until nothing but the spear tip is visible.
Tie the banana to the top of the spear using raffia in a criss-cross diagonal pattern.
Tie the bottoms of your "Jane of the Jungle" costume around the spear.
Cover the top of the spear in a few more leaves, and top the whole thing off with some raffia at random.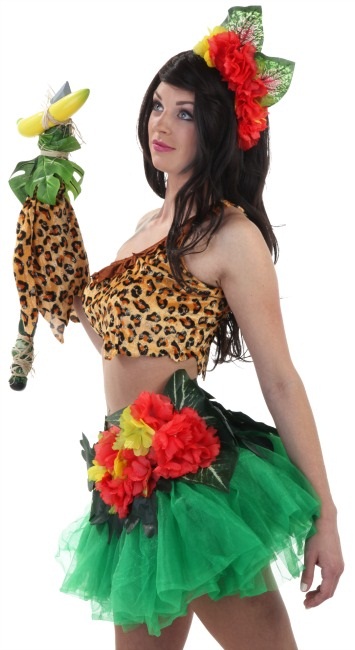 Ethereal and beautiful - nailed it!
Couples Costume Idea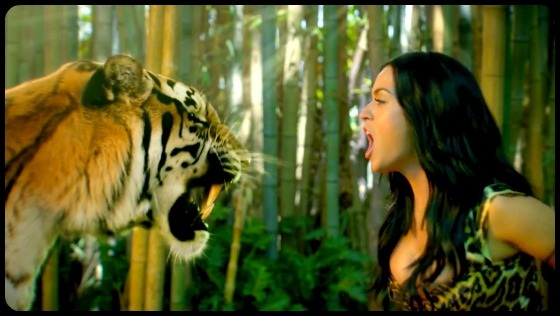 [Source]
Terrifying yet adorable.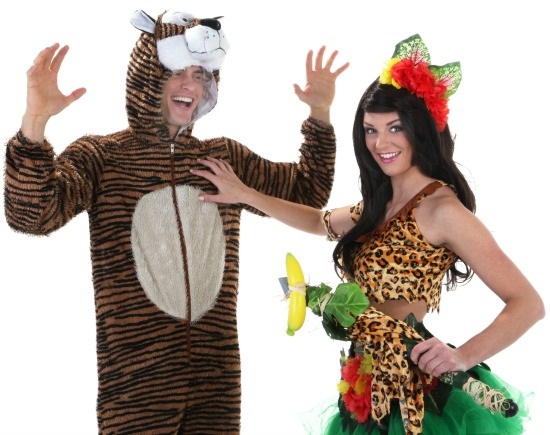 If your special someone is outgoing, then you'll both have a blast seeing who can roar the loudest!
Tiger Costume Options