2019 Update: We now carry more Dia de los Muertos costumes for all the best Day of the Dead costume ideas!
The Day of the Dead ('Dia de los Muertos' in Spanish) is the Mexican holiday celebrating loved ones who have passed on. Festivities take place on All Saint's Day and All Souls' Day throughout Latin America and other world cultures. These are the 2 days directly following All Hallow's Eve, a day we know better as - Halloween!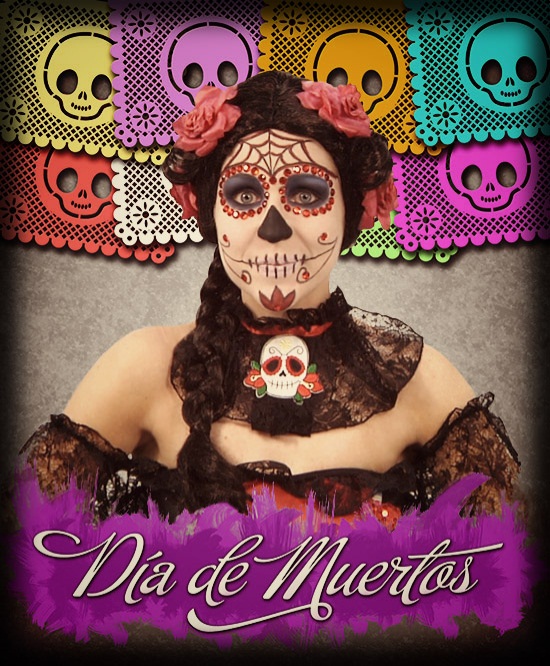 Instead of being a drab, morbid affair, the Day of the Dead is a true celebration known for incorporating bright colors, flowers, and superb artistic design in everything that is displayed. There is no better example than the beautiful skull motif which is found in the decorations, masks, trinkets, and makeup showcased during the celebration.
Día de los Muertos found a foothold in the Southwestern United States with Mexican and Latin American communities, and over the last decade has fused into popular culture. Day of the Dead costume ideas have become some of the most coveted and beloved Halloween costume choices. The costumes' use of color, elaborate makeup designs, and macabre theme make them a favorite among men and women alike!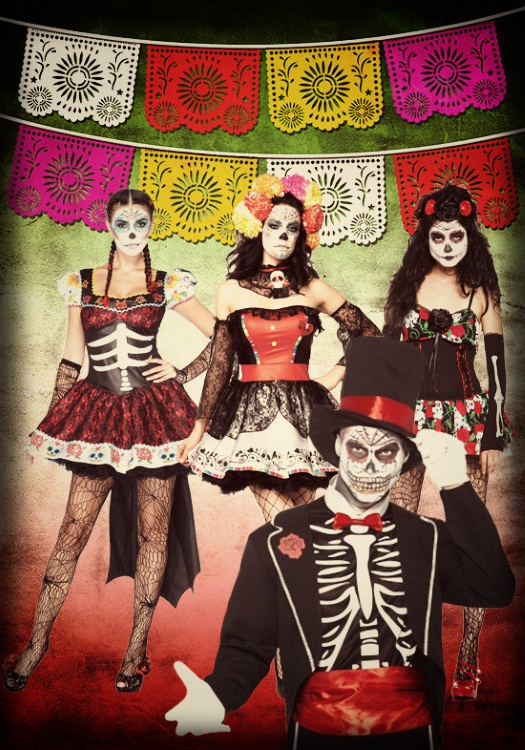 Día de los Muertos makes for a great group costume idea
Day of the Dead Accessories
If you are planning on a Day of the Dead costume DIY, start with black clothing as a base. You could even start with a Skeleton t-shirt to make your own Day of the Dead costume. Then add a dash of color (we recommend green, yellow, or red) using a sash, accent piece, or flowers pinned onto your outfit or into your hair. Finally, be sure to incorporate that skull motif with one of our exquisite sugar skull masks or a skull makeup kit. Be sure to use fans or flowery hair accessories to complete your look!

Day of the Dead Makeup Tutorial
If you are looking to take it to the next level with your costume, you can try our more elaborate Day of the Dead makeup tutorial. No worries though, we have broken down all the steps to make it a painless process. First, assemble all the necessary makeup elements:
(2) Eyebrow pencils for creating the linework and webs across the face. Get one black one and one colored one (we went with red to match the gems we chose).
Makeup brushes (be sure to include a finer brush for the detailed areas).
Colored powder eye shadow (we went with blue to contrast the red being used elsewhere).
Colored Gems (can be purchased at your local craft store).
Spirit Gum adhesive (for attaching the gems).
Eyeliner and mascara.
You can customize your color arrangement based on personal preference and what compliments the outfit you have put together. Once all the pieces are assembled, let our makeup expert guide you through the application process in the video below:
Women's Day of the Dead Costumes
After replicating or recreating your Dia de Los Muertos makeup look inspired by our makeup expert Chrissy, you'll need a Day of the Dead outfit. For embroidered flowers, lace, and ruffles check out our women's Day of the Dead costumes down below! We have standard, plus size, sexy, and full-coverage styles to make sure you find exactly what you need!
Men's Day of the Dead Costumes
Let's not let the women have all the Day of the Dead fun! We also have a great selection of men's Day of the Dead costumes. Check out the classic Day of the Dead costume, the more colorful option, or the unique Señor Bones set. If you've got your outfit ready and only need a mask, check out our Day of the Dead fabric mask and wig combo. This is a great option if you have sensitive skin or worry about an allergic reaction to face paint.
Children's Day of the Dead Costumes
While the holiday is slightly macabre, kids can still dress up and take part in the Day of the Dead. We have a great selection of Day of the Dead costumes kids will love, ranging from a fun and bright trimmed tailcoat option for boys, a similarly colorful dress costume for girls, and two different señorita costumes. Get the entire family involved and celebrate Hispanic heritage with these adorable Dia De Los Muertos child costumes.
Another great part of Day of the Dead costumes and makeup is the variety of ways to do it! Be sure to share your own Día de Los Muertos costume pics with us. We would love to see what you do with this style: SHARE WITH US!