Costumes are incredibly fun for everyone. But they aren't always that easy to put on or take off, and sometimes they don't feel that comfy. Our goal is to make sure that everyone has as much fun as possible whenever they dress up in our costumes. Whether you're heading out for a night of trick-or-treating at Halloween, enjoying a movie marathon in cosplay costumes, or having a superhero dress-up day at school, everyone should be able to take part! That's why we're happy to offer several styles of wheelchair costumes and adaptive costumes, so all those events are inclusive. Scroll through to see some examples of adaptive Halloween costumes for purchase and to learn how they work!
Wheelchair Costumes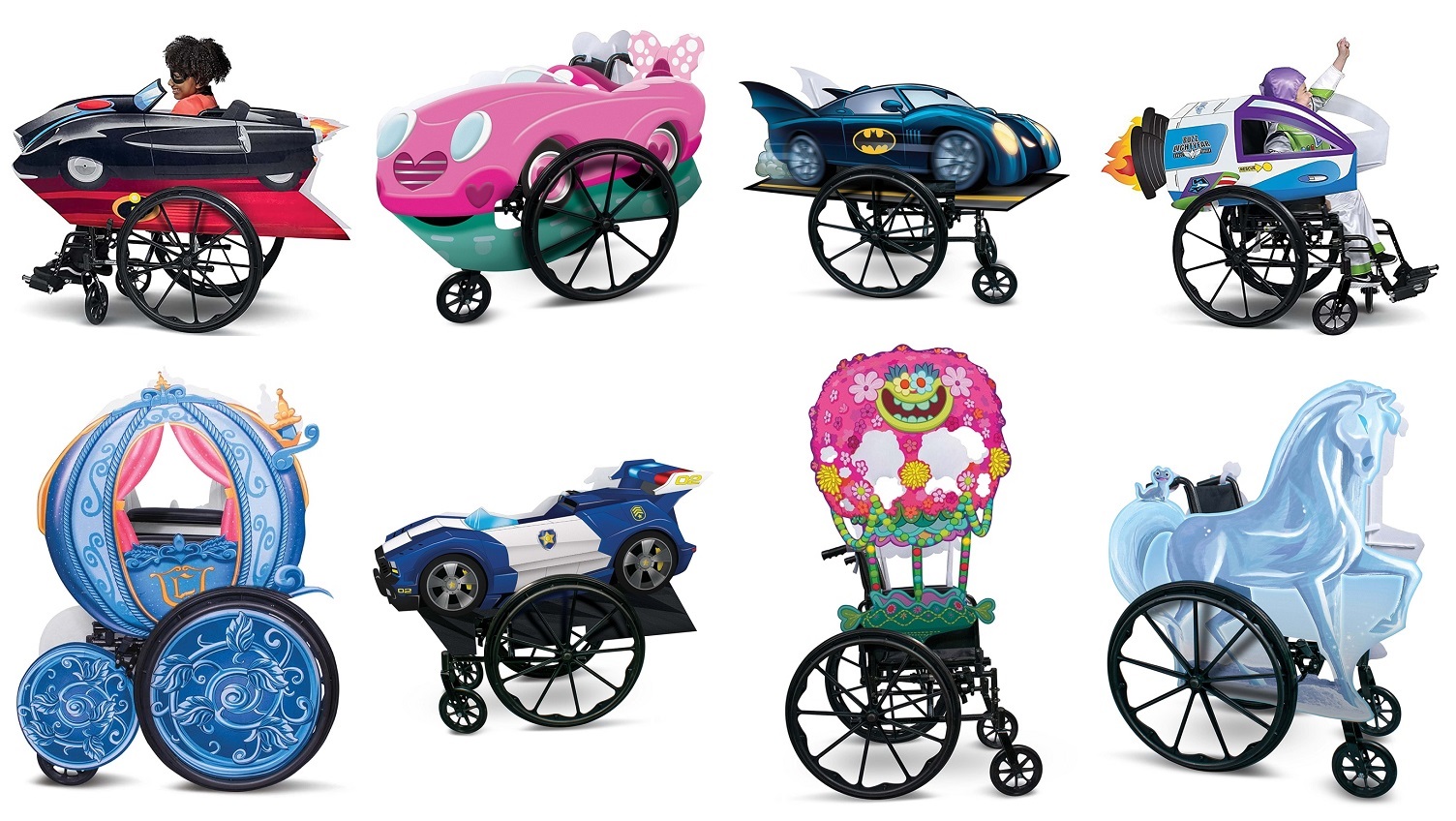 Wheelchair Halloween costumes are a must-have when it comes to costumes for kids in wheelchairs. Wheelchair covers help to bring extra fun to the costume you're already wearing by transforming the wheelchair into a vehicle. Not only does that include the wheelchair in the costume fun, but it even elevates the costume over the competition. After all, everyone knows it is fun to dress up as Batman, but what's the point if you can't zoom off in the Batmobile, too!? Wheelchair cover costumes are typically made of stiff felt and supportive plastic piping that assemble easily (with included instructions) and have hook and loop or self-stick fabric strips to keep everything in place. So you can easily transform your wheelchair to live out a magical Disney dream or zoom off into adventure with the PAW Patrol or your favorite superheroes!
Adaptive Costumes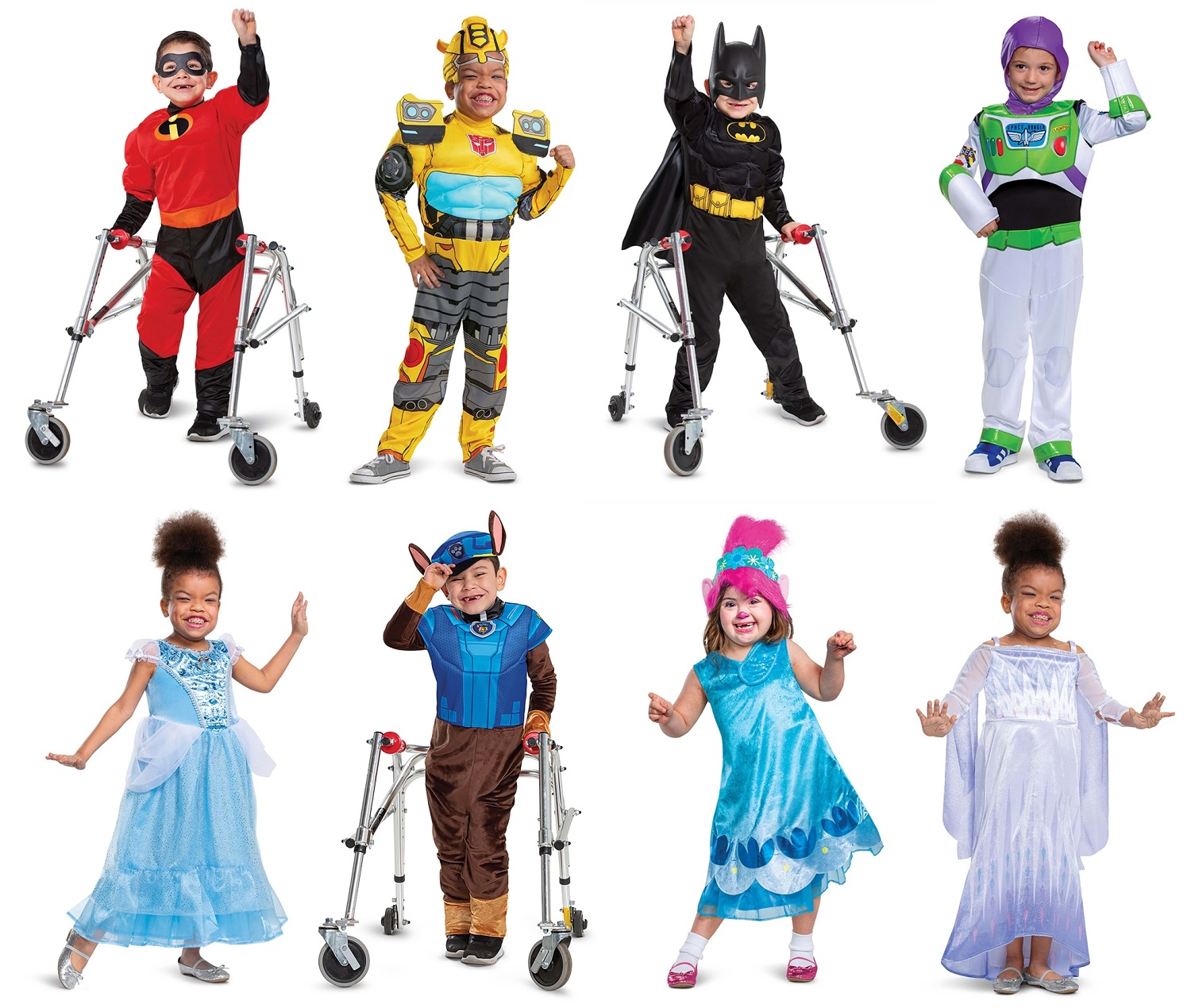 Everyone wants to participate in costume events, but not all costumes make that particularly easy. Adaptive costumes solve a lot of those problems, making any event accessible and fun. If you've got a princess with sensitive skin, an adaptive Disney costume will offer overlapping skirt fabric so they can be the belle of the ball. Hook and loop sections on our inclusive costumes make it so you don't have to create your own DIY Halloween costumes with walker accessibility. Your tykes can dash into Incredibles fun or work to save Gotham while wearing comfortable costumes that fit their individual needs. From Toy Story adaptive costumes to the Transformers, you'll find some of your favorite franchises available, so take a look to give you some adaptive costume ideas!
Adaptive Costume Details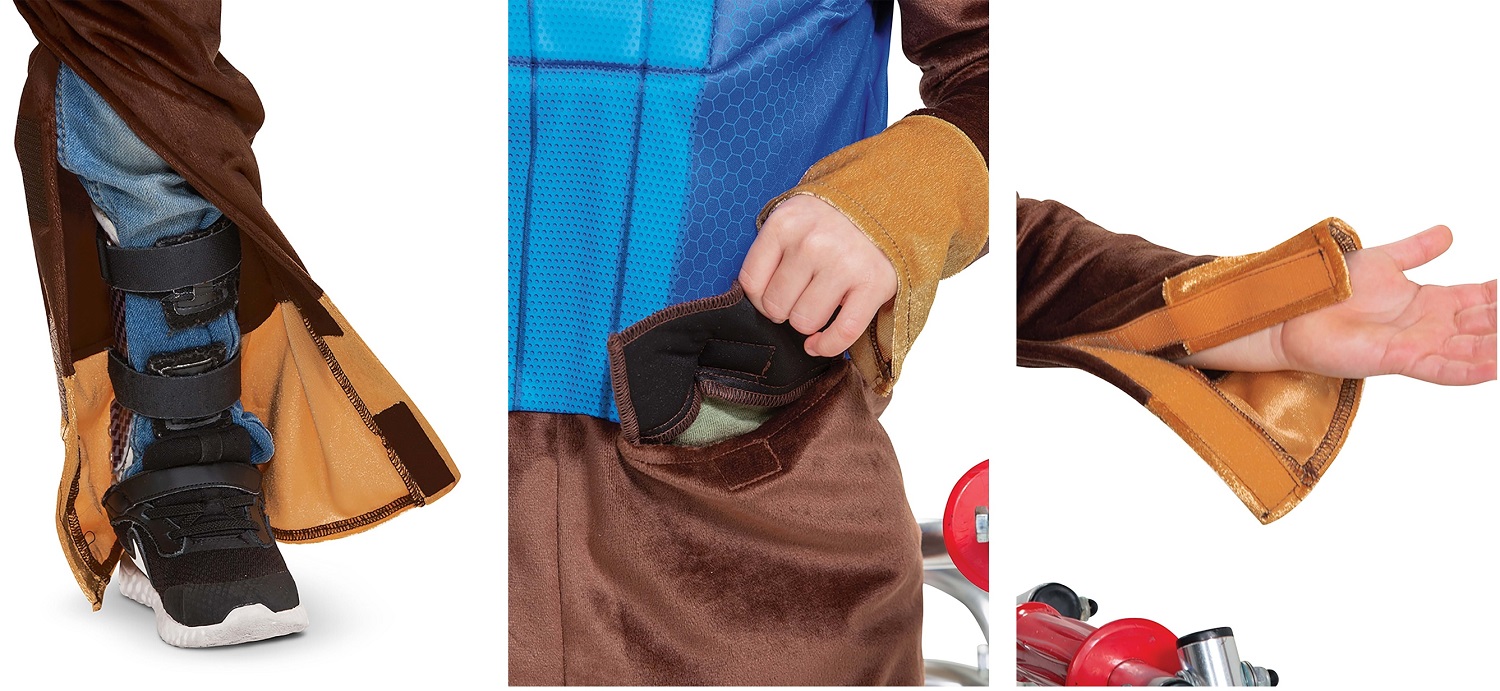 There are many reasons that adaptive costumes are great for anyone. You might have sensitive skin and find that some costumes just don't feel enough like clothing. (Or maybe you like your own clothes so much that you want to wear them under the costume.) Fumbling fingers can have a tough time with snaps or zippers, and modifying costumes to offer easier access to medical devices or feeding tubes can be quite the hassle. And anyone who has ever helped a toddler in or out of clothes knows that can be an hour-long process!
That's where our adaptive and inclusive Halloween costumes can save the day. Softer fabrics, inner linings, and generous cuts in the fabric allow for a comfy fit or wearing your own street clothes under the costume. Magnets or pull tabs eliminate the struggle with tiny zippers or snaps, making it much easier to don or doff your costume (especially if you're helping someone else out). Some inclusive costumes have open backs instead of fronts, making it a lot more manageable when sitting in a wheelchair, too. For folks with medical devices, secret pockets give easy access to the midsection. Similar hook and loop openings on the arms and legs make costumes accessible for folks with braces.
Whether you and yours have special needs or simply want to make sure that everyone gets to enjoy the fun, our adaptive and inclusive costumes are here to make dressing up easier. Combine these costumes with standard ones to make a wholly inclusive group costume adventure, or consider them for when you need a costume to fit over your streetwear when you don't have time to change! We're constantly updating our sizes and selections, so check back anytime you're looking for the next, best adaptive costume.