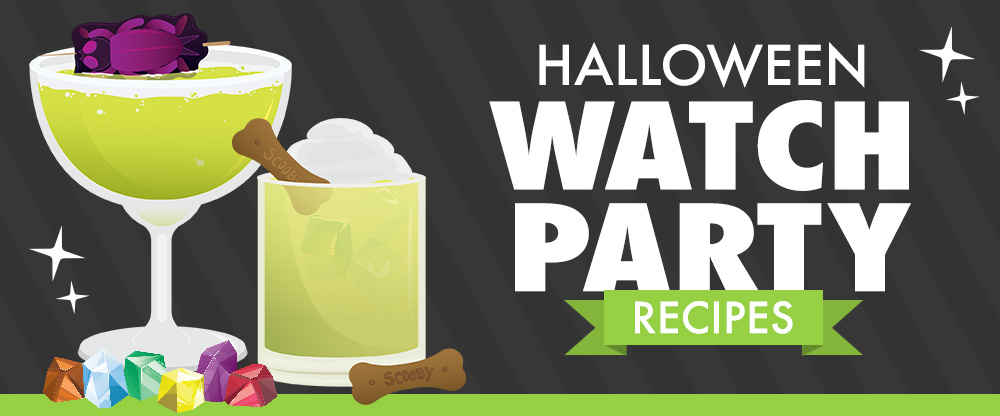 Many of us are social distancing or quarantining at home right now, but we're still looking for ways to hang out with our friends and loved ones. In the before times, we'd get together and watch movies or television and enjoy some themed snacks and drinks. Because we all love dressing up and decorating, our watch parties could get quite elaborate! Thankfully, virtual watch parties are an option and we're able to socialize online. So we'd like to share our watch party ideas to help you celebrate Halloween at home in 2020!
First off, everyone will need our themed snack and cocktail recipes because you'll each be making them.
That's because making and sharing your own culinary creations is part of the watch party experience!
Next up, you'll need to find an online platform. Both The Verge and Wired have some recommendations for throwing your own virtual watch party, but you can also use Twitch or other sites. Some platforms may have certain requirements so you'll want to plan this out in advance and make sure the choice works for everyone.
If you want to be a little extra, then consider dressing up and decorating your background. Browse through our Halloween décor for the perfect background knick-knacks and wall art. We'll also recommend some themed Halloween costumes in each section.
Now it's up to you! Take a look at our recipes, pick a theme, and plan that virtual watch party!
Click images to download and print high-resolution recipes
Ghostbusters Watch Party Ideas
The Ghostbusters films are perfect for watch parties, whether in person or virtual. They're funny, quotable, and they appeal to basically anyone with a sense of humor. And if you're looking for a fun, in-character experience while watching the movies, then check out our licensed Ghostbusters costumes. They'll elevate a basic watch party to mass hysteria levels. But no matter how you're dressed, enjoy our Slimed Food snacks and Slime Cocktail drinks!
Slimed Food Recipe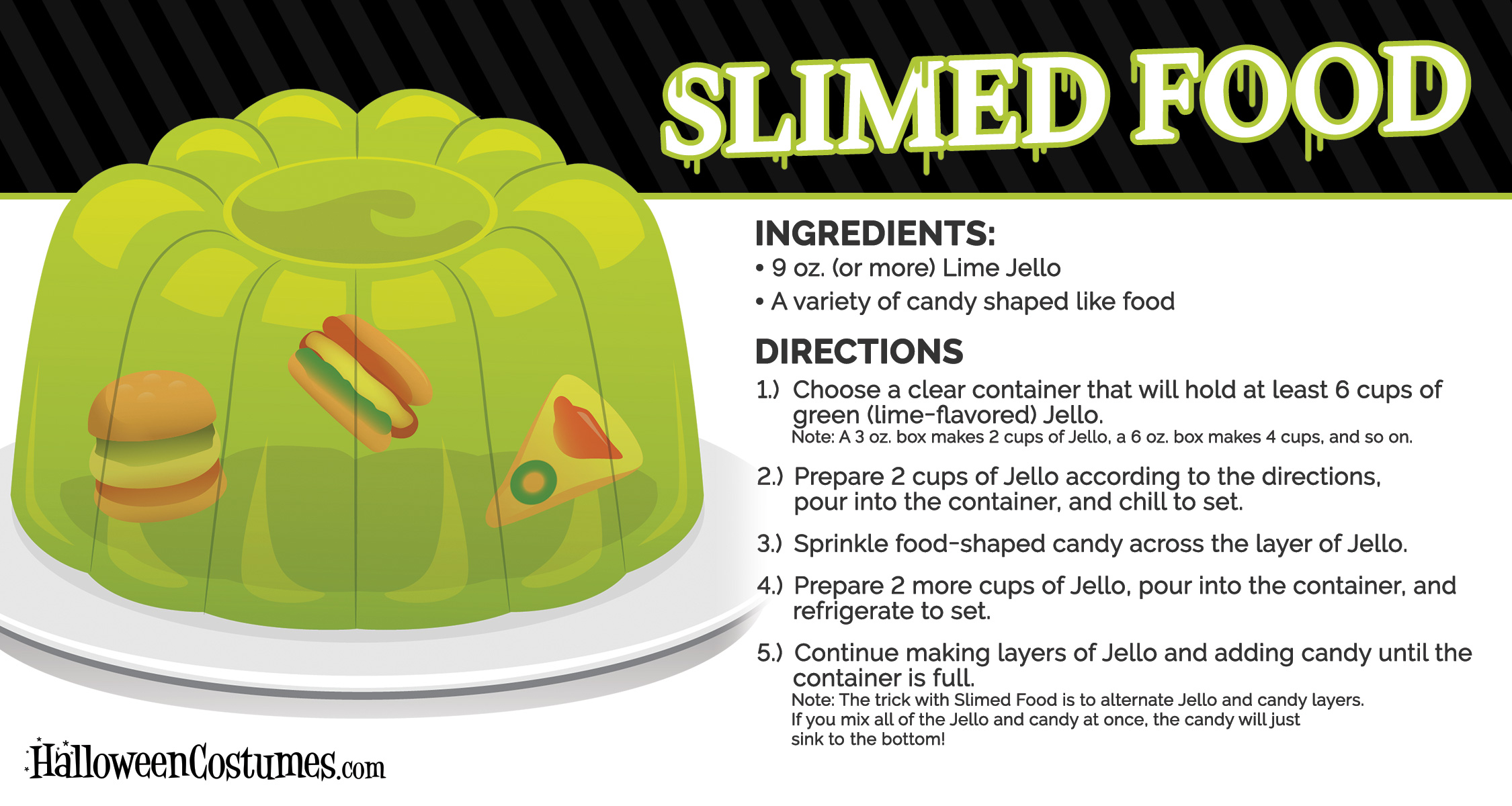 Ingredients
9 oz. (or more) Lime Jello
A variety of candy shaped like food
Directions
Choose a clear container that will hold at least 6 cups of green (lime-flavored) Jello. Note that a 3 oz. box makes 2 cups of Jello, a 6 oz. box makes 4 cups, and so on.
Prepare 2 cups of Jello according to the directions, pour into the container, and chill to set.
Sprinkle food-shaped candy across the layer of Jello.
Prepare 2 more cups of Jello, pour into the container, and refrigerate to set.
Continue making layers of Jello and adding candy until the container is full.
Note: The trick with Slimed Food is to alternate Jello and candy layers. If you mix all of the Jello and candy at once, the candy will just sink to the bottom!
Slime Cocktail Recipe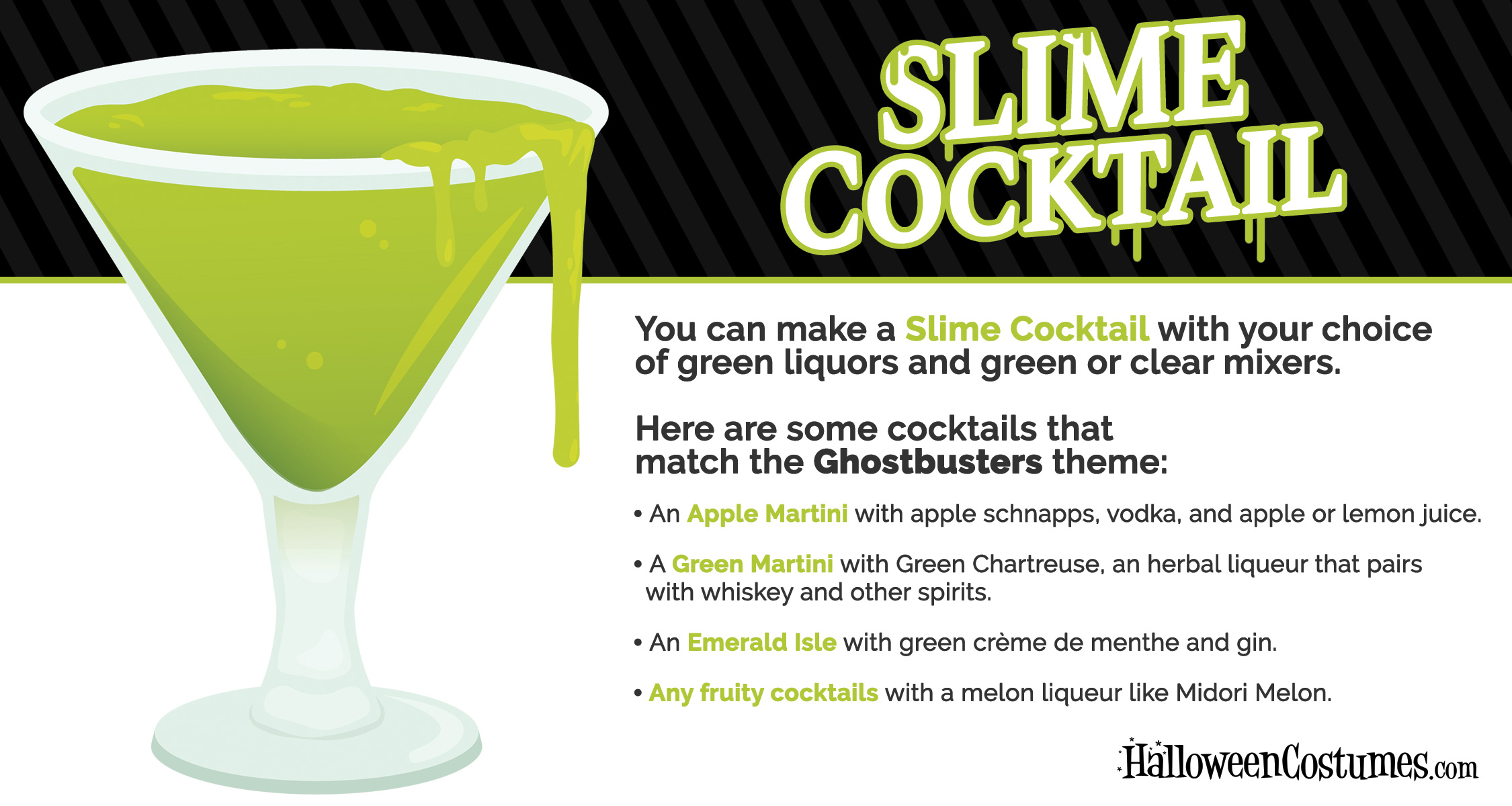 You can make a Slime Cocktail with your choice of green liquors and green or clear mixers. Here are some cocktails that match the Ghostbusters theme:
An Apple Martini with apple schnapps, vodka, and apple or lemon juice.
A Green Martini with Green Chartreuse, an herbal liqueur that pairs with whiskey and other spirits.
An Emerald Isle with green crème de menthe and gin.
Any fruity cocktails with a melon liqueur like Midori Melon.
Scooby-Doo Watch Party Ideas
You've got options when it comes to a Scooby-Doo watch party. Are you going to watch the original Scooby-Doo, Where Are You! and The New Scooby-Doo Movies cartoons? Or the later spinoffs and reboots? Or maybe even the movies? Whichever television series or movie you choose, our own Scooby-Doo costumes will help you recreate the classic Mystery, Inc. lineup. Just don't eat too many Scooby Snack biscuits or drink too many cocktails or you won't be able to solve the mystery. Who are we kidding, it's always the cranky old caretaker!
Scooby Snack Biscuits Recipe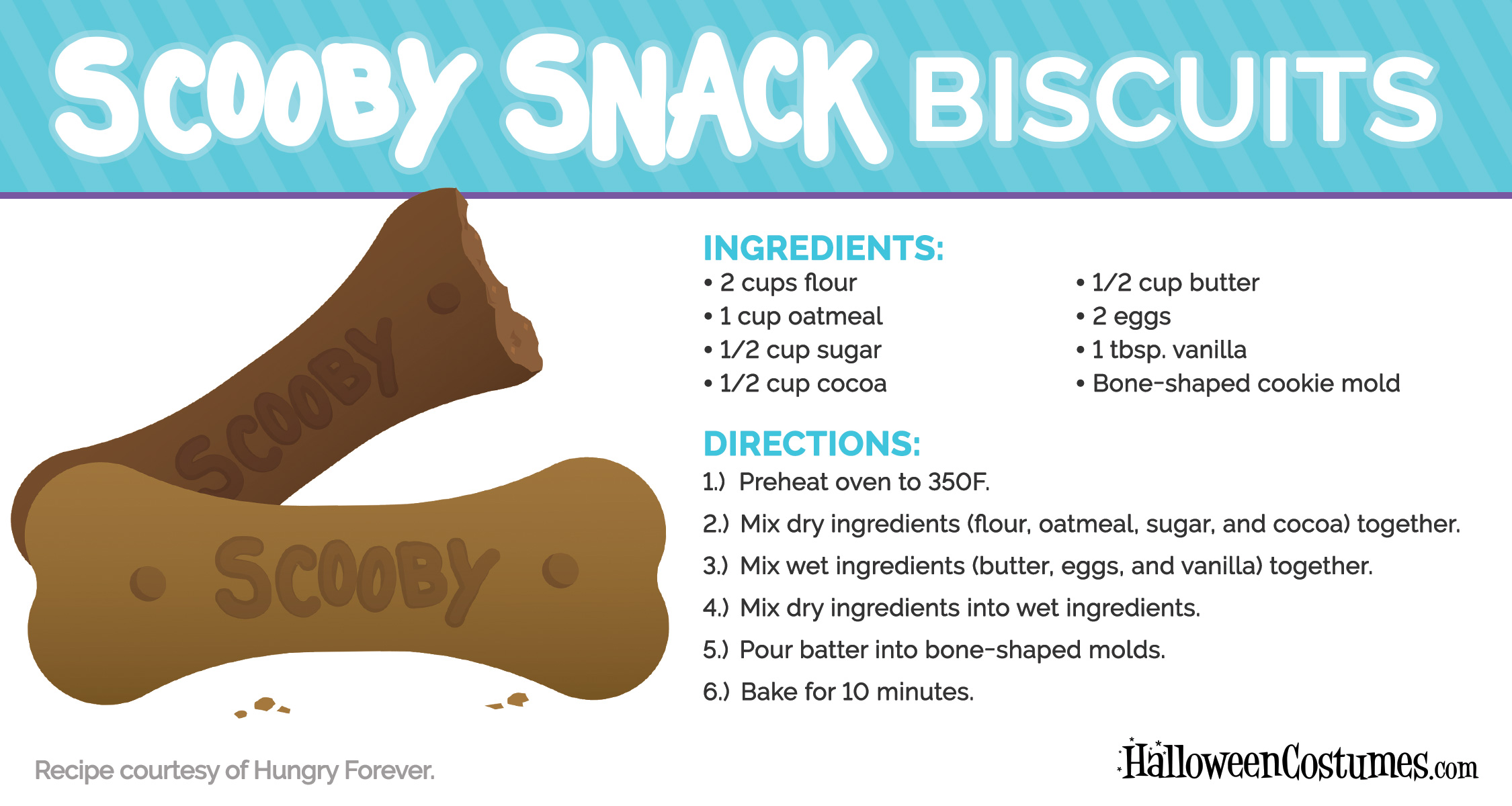 Ingredients
2 cups flour
1 cup oatmeal
1/2 cup sugar
1/2 cup cocoa
1/2 cup butter
2 eggs
1 tbsp. vanilla
Bone-shaped cookie mold
Directions
Preheat oven to 350F.
Mix dry ingredients (flour, oatmeal, sugar, and cocoa) together.
Mix wet ingredients (butter, eggs, and vanilla) together.
Mix dry ingredients into wet ingredients.
Pour batter into bone-shaped molds.
Bake for 10 minutes.
Recipe courtesy of Hungry Forever.
Scooby Snack Cocktail Recipe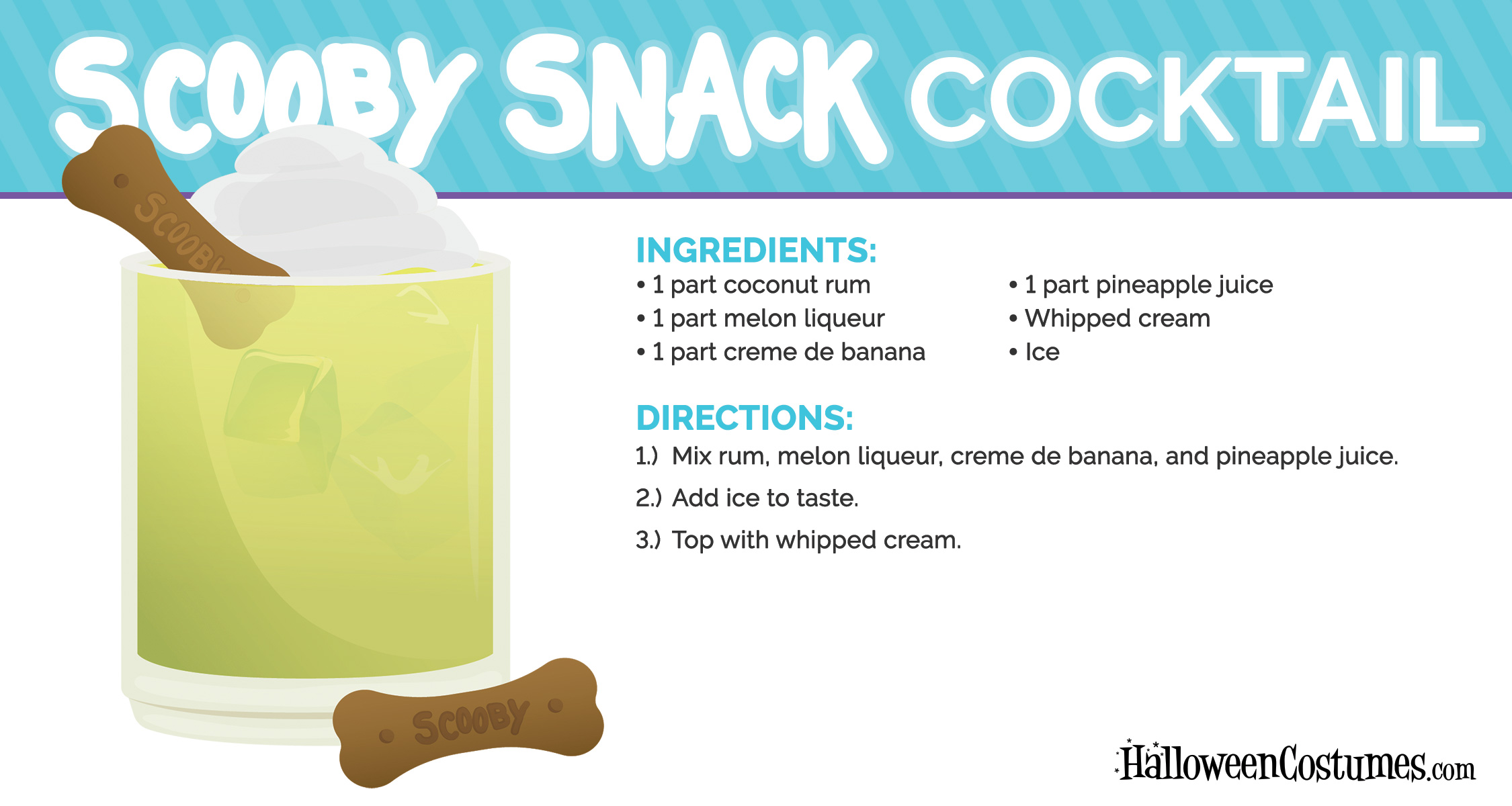 Ingredients
1 part coconut rum
1 part melon liqueur
1 part creme de banana
1 part pineapple juice
Whipped cream
Ice
Directions
Mix rum, melon liqueur, creme de banana, and pineapple juice.
Add ice to taste.
Top with whipped cream.
Beetlejuice Watch Party Ideas
We'll watch a Tim Burton movie any day of the week, but there's something special about experiencing them in a group. They have a delightfully quirky style and plenty of fun songs, too. Beetlejuice is no different. And the perfect Beetlejuice watch party is one where everyone gets involved! We have some Beetlejuice costumes if that'll help you out, plus our Zagnut cookies and Beetlejuice cocktail will also get those limbs limbered up for the epic dance number!
Zagnut Cookies Recipe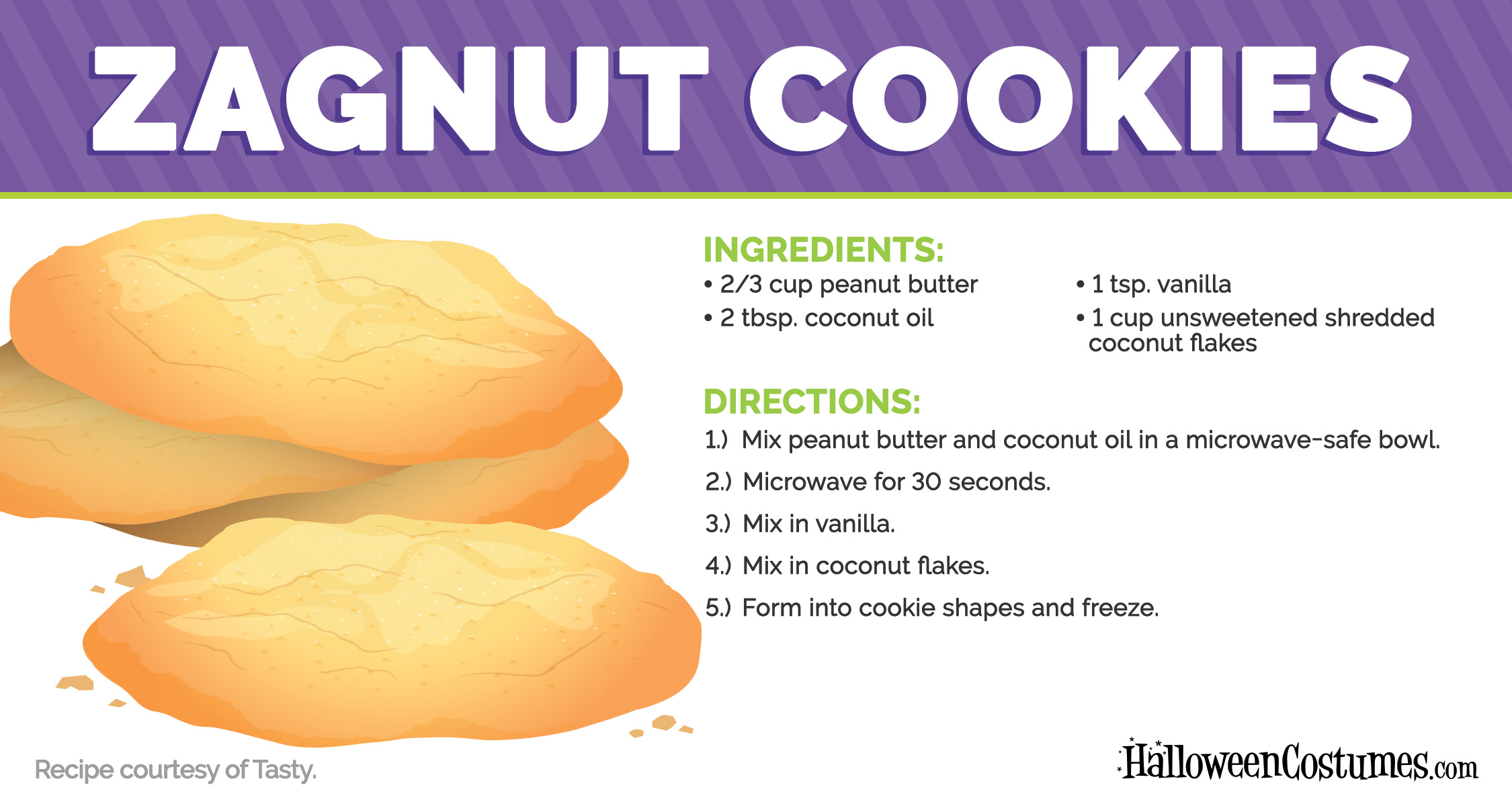 Ingredients
2/3 cup peanut butter
2 tbsp. coconut oil
1 tsp. vanilla
1 cup unsweetened shredded coconut flakes
Directions
Mix peanut butter and coconut oil in a microwave-safe bowl.
Microwave for 30 seconds.
Mix in vanilla.
Mix in coconut flakes.
Form into cookie shapes and freeze.
The Zagnut bar in Beetlejuice is a real candy bar made by The Hershey Company, though it isn't available everywhere. A Zagnut is simply a peanut butter and coconut cookie, so we used this recipe from Tasty.
Beetlejuice Cocktail Recipe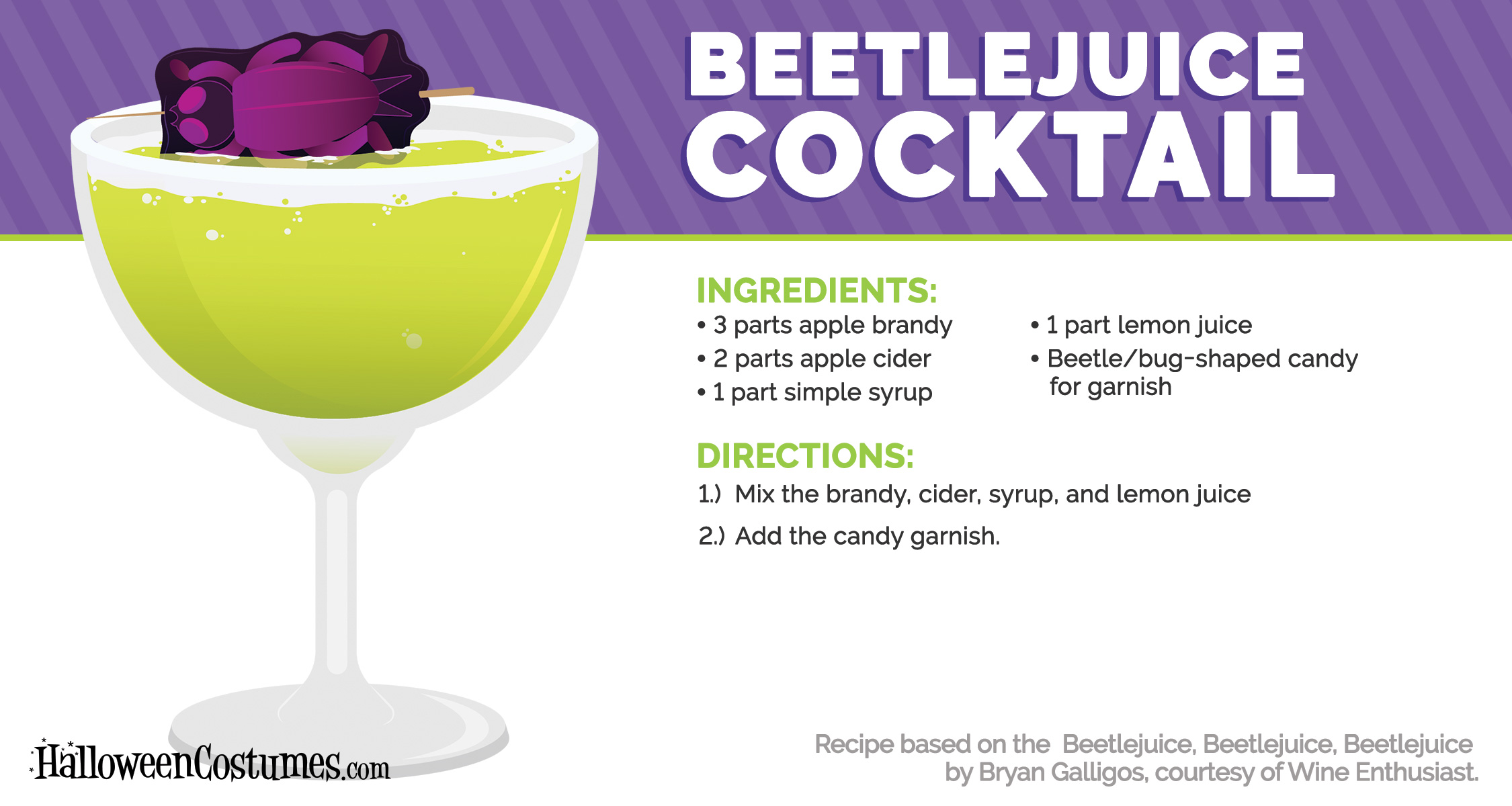 Ingredients
3 parts apple brandy
2 parts apple cider
1 part simple syrup
1 part lemon juice
Beetle/bug-shaped candy for garnish
Directions
Mix the brandy, cider, syrup, and lemon juice, then add the candy garnish.
We based this cocktail on the Beetlejuice, Beetlejuice, Beetlejuice by Bryan Galligos from the Bacchus Bar, as reported by Wine Enthusiast. The original recipe included charred rosemary, basil leaves, and a real beetle. Give that version a try if you're ready to see what shakes loose!
The Avengers Watch Party Ideas
So far, we've been throwing out watch party ideas, but we're getting into watch marathon territory here. That's because we're talking about The Avengers and potentially the rest of the Marvel Cinematic Universe (MCU). If your crew is only going to watch 2012's The Avengers, you're looking at just over 2 hours and 20 minutes. That's easy. If you choose all 4 Avengers movies, now we're talking 10 hours and change. But how about the MCU in full? Well, that's going to take more than 2 days and 2 hours. Maybe space that out over a few weekends? And if you're watching it all, you may as well wear some Avengers costumes so you can do it in style! We also recommend planning ahead on the snacks, because our Infinity Stones rock candy may take a week or longer to form. Thankfully, the Black Widow cocktail is strong but fast, just like Natasha Romanoff herself.
Rock Candy Infinity Stones Recipe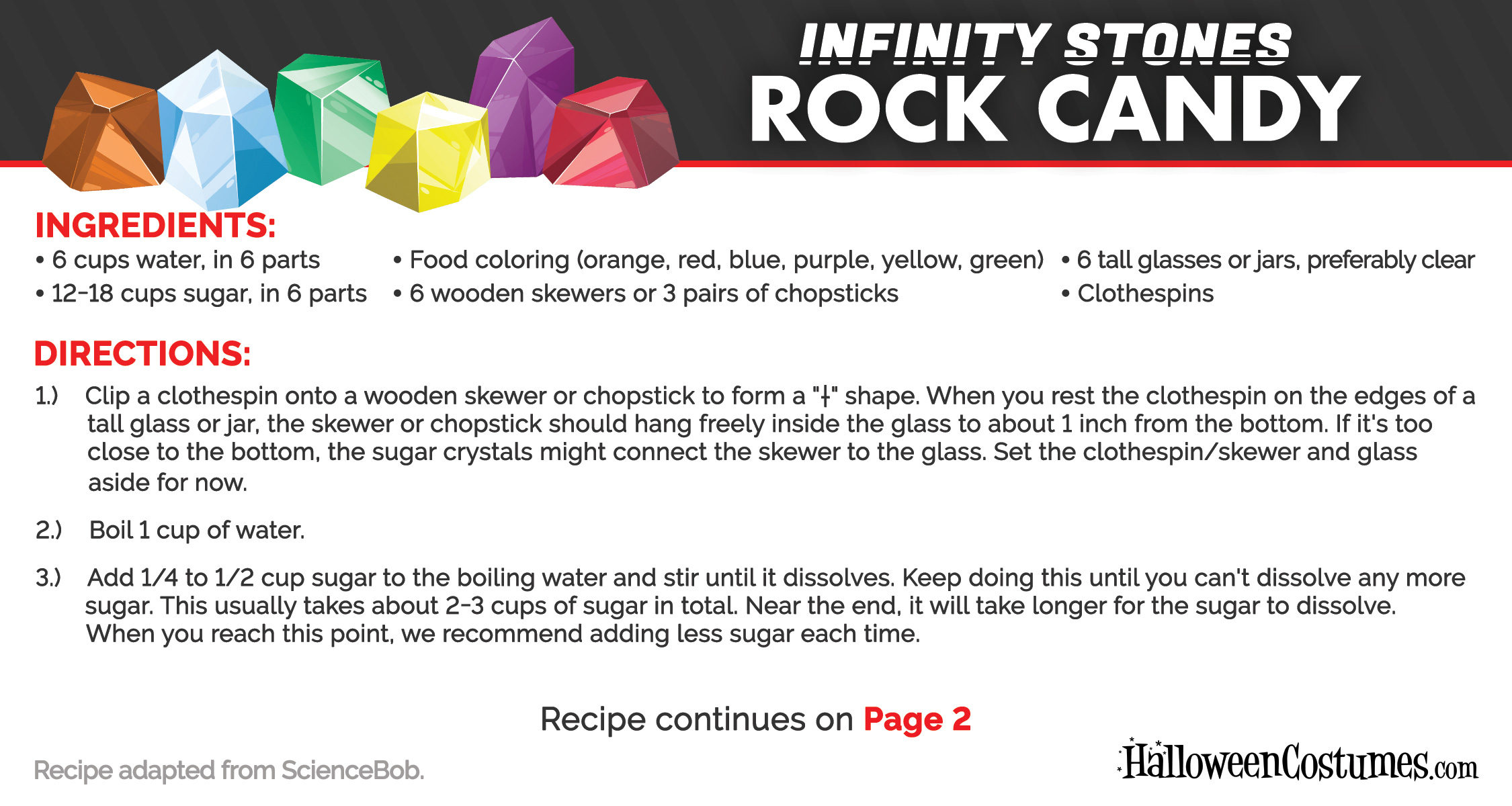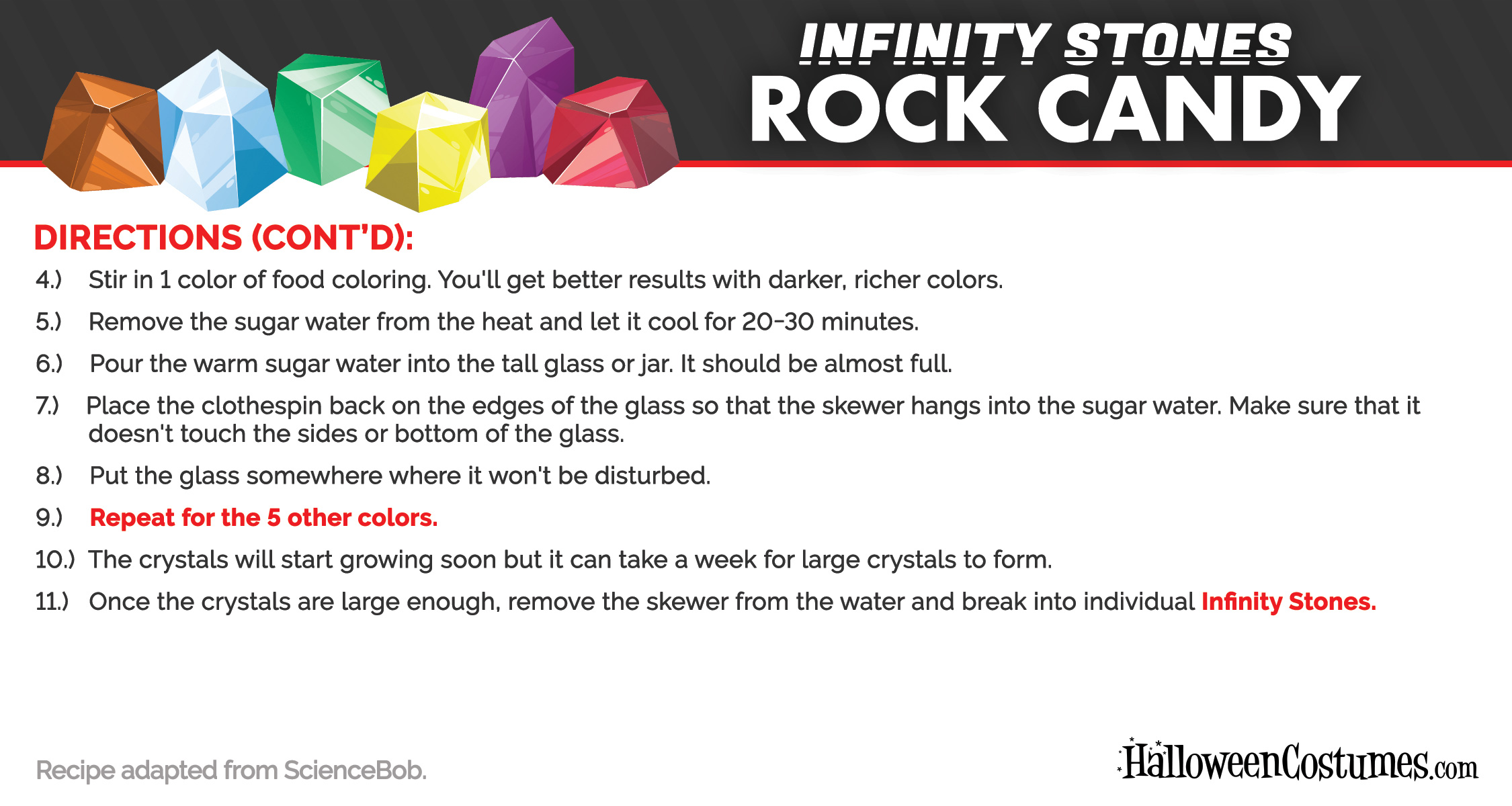 Ingredients
6 cups water, in 6 parts
12-18 cups sugar, in 6 parts
Food coloring (orange, red, blue, purple, yellow, green)
6 wooden skewers or 3 pairs of chopsticks
6 tall glasses or jars, preferably clear
Clothespins
Directions
Clip a clothespin onto a wooden skewer or chopstick to form a "†" shape. When you rest the clothespin on the edges of a tall glass or jar, the skewer or chopstick should hang freely inside the glass to about 1 inch from the bottom. If it's too close to the bottom, the sugar crystals might connect the skewer to the glass. Set the clothespin/skewer and glass aside for now.
Boil 1 cup of water.
Add 1/4 to 1/2 cup sugar to the boiling water and stir until it dissolves. Keep doing this until you can't dissolve any more sugar. This usually takes about 2-3 cups of sugar in total. Near the end, it will take longer for the sugar to dissolve. When you reach this point, we recommend adding less sugar each time.
Stir in 1 color of food coloring. You'll get better results with darker, richer colors.
Remove the sugar water from the heat and let it cool for 20-30 minutes.
Pour the warm sugar water into the tall glass or jar. It should be almost full.
Place the clothespin back on the edges of the glass so that the skewer hangs into the sugar water. Make sure that it doesn't touch the sides or bottom of the glass.
Put the glass somewhere where it won't be disturbed.
Repeat for the 5 other colors.
The crystals will start growing soon but it can take a week for large crystals to form.
Once the crystals are large enough, remove the skewer from the water and break into individual Infinity Stones.
Recipe adapted from ScienceBob.
Black Widow Martini Recipe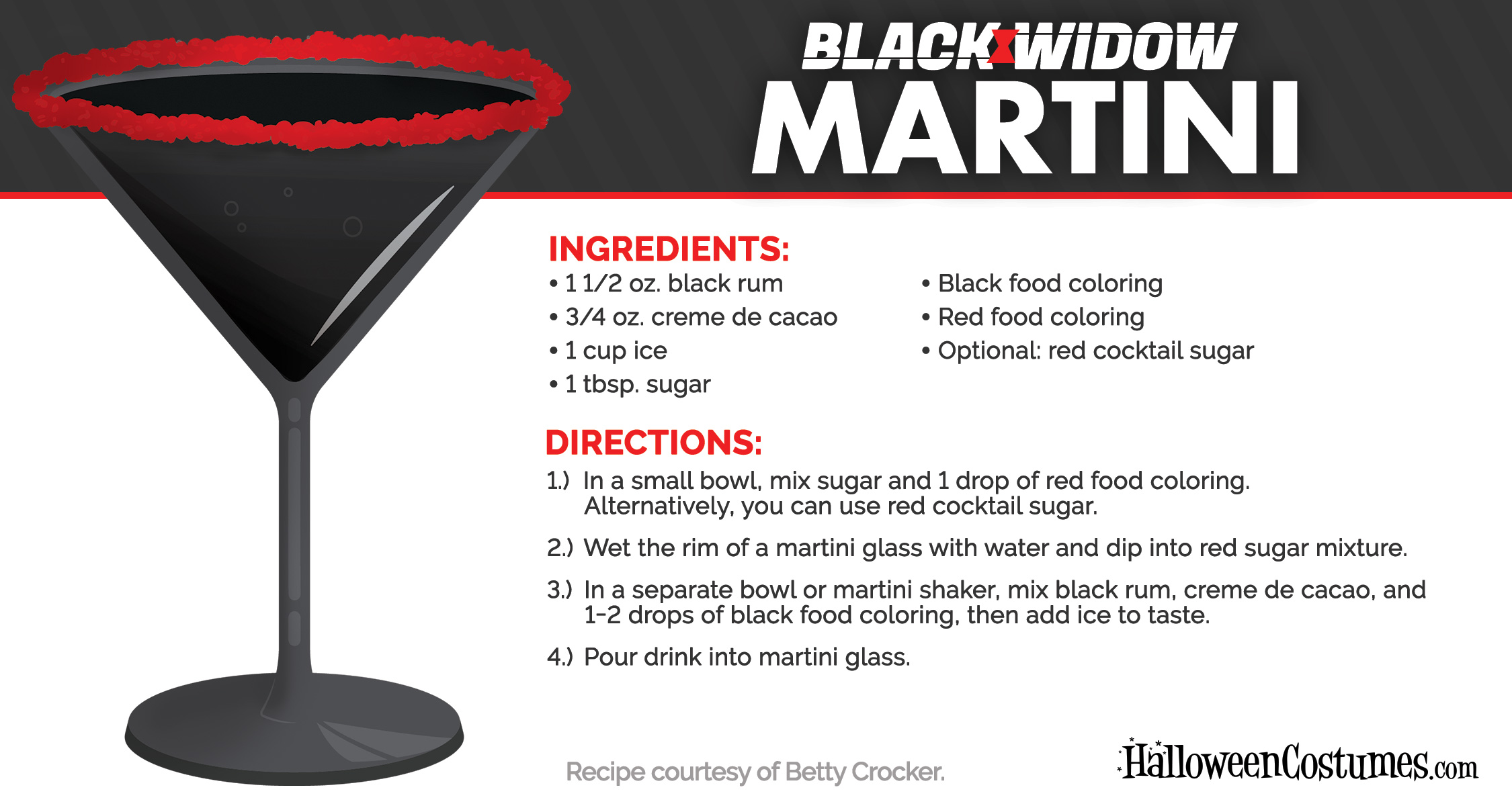 Ingredients
1 1/2 oz. black rum
3/4 oz. creme de cacao
1 cup ice
1 tbsp. sugar
Black food coloring
Red food coloring
Optional: red cocktail sugar
Directions
In a small bowl, mix sugar and 1 drop of red food coloring. Alternatively, you can use red cocktail sugar.
Wet the rim of a martini glass with water and dip into red sugar mixture.
In a separate bowl or martini shaker, mix black rum, creme de cacao, and 1-2 drops of black food coloring, then add ice to taste.
Pour drink into martini glass.
Recipe courtesy of Betty Crocker.
Did you make any of these snacks or cocktails? Did we inspire you to host your own virtual watch party? Tell us all about it in the comments! Also let us know which movie or television series we should tackle next! Maybe something on our list of must-watch horror movies?
And if you're still planning out your Halloween celebrations, then check out our How to Halloween 2020 guide for plenty of fun ideas!