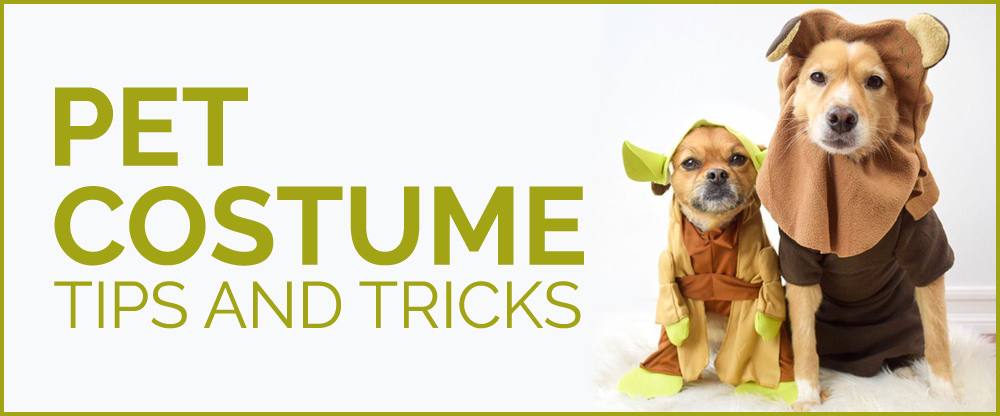 We love our pets here at HalloweenCostumes.com! A coworker's new kitten or golden-yeared doggo is always one of the favorite topics of discussion. And when a coworker happens to bring their furry friend into the office before heading off to the vet, there's always a circle of us fawning over the creature as if America's sweetheart just stopped in to pay us a visit. With this in mind, we were all amped when our selection of pet costumes was expanded! The cuteness was about to get outta hand!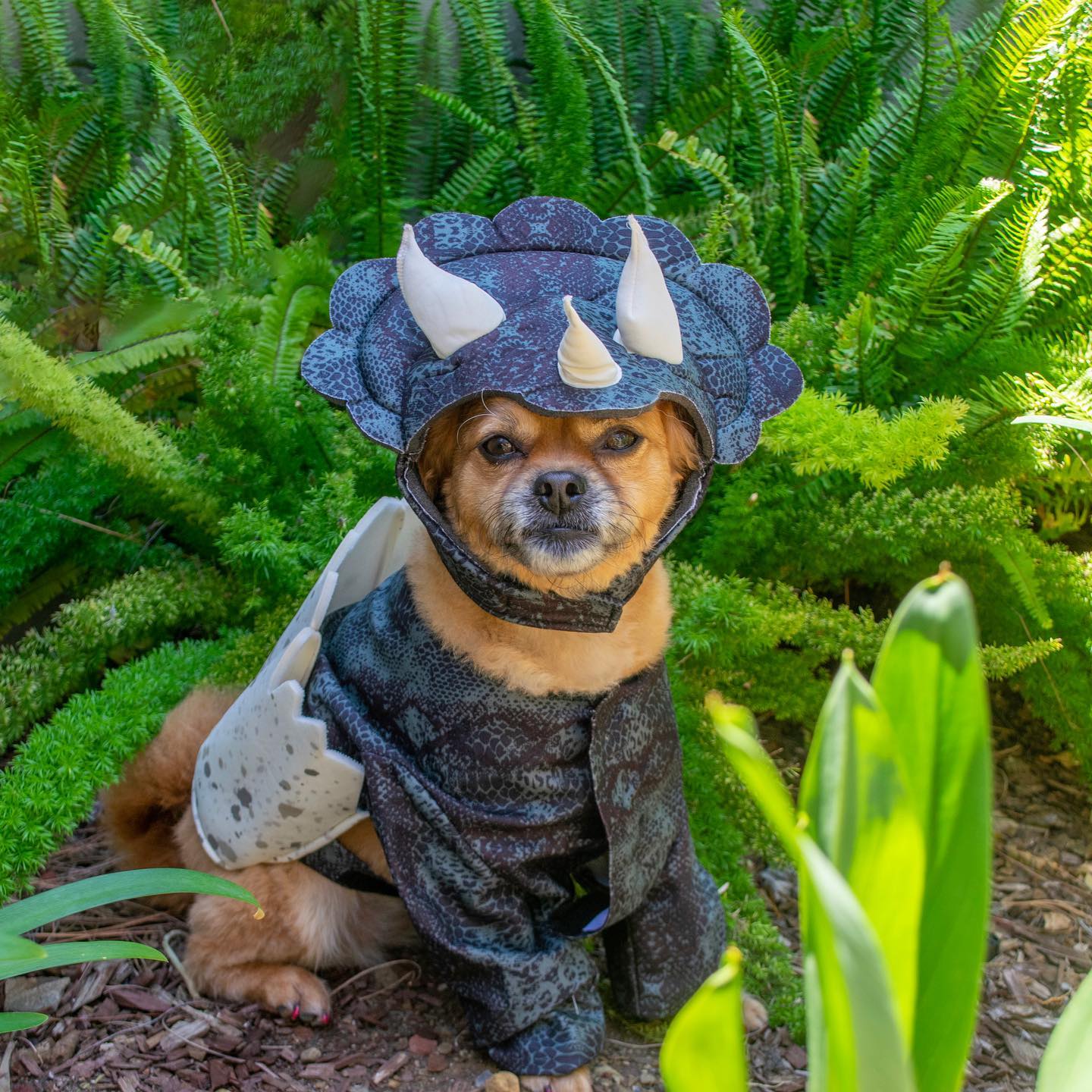 Working from home, a lot of us have had the time to spend more time with our cuddly companions, and we've also had a chance to let them try out our new dog costumes. Mostly, it's been a virtual parade of cuteness, but there have also been some questions. How do we make Buddy feel comfortable in his new Business Suit so that he can show up to the virtual company meeting in style? How do we make sure that Bella the cat's chicken costume is going to fit comfortably? How do we photograph the wise demeanor of Rosie the poodle in her Jedi robes? With all these questions in mind, we're here to help all you pet-owners answer your pet costume questions so your Halloween festivities can play out cuter than ever before!
How to measure your Pet's Size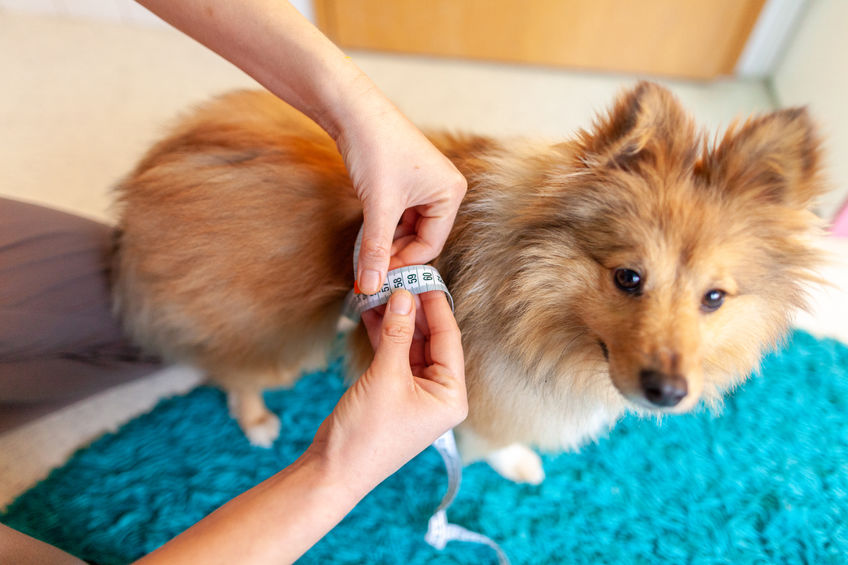 If you want Spot to look spiffy, you have to buy a costume that fits! And finding the right fit all starts with getting the right measurements. Taking your animal's measurements is nice and simple and we're pretty sure your pet won't mind the extra attention! All you'll need is the kind of soft measuring tape that is used for taking body measurements, and a pen and paper to mark down the numbers. If you can recruit someone to hold your pet steady and administer treats while you take your little beastie's measurements, that's sure to make things even simpler!
First, you'll want to measure your pet's girth. On our size chart, this measurement is typically labeled as "chest". Get your pet to stand up and try to locate the widest part of your dog's chest. Usually, this is right behind the points of your pet's elbows.

To measure for easy reading, wrap the soft measuring tape under the widest part of your pet's ribcage and around the opposite side of their body. This will allow you to join the tape where you started and easily see the numbers on the tape. The tape measurer should be snug but not tight.
Be sure and write down the measurement labeled as "girth" or "chest".

Next, you'll measure your pet's length. This is the length from the base of the neck to the base of the tail. Be sure and keep your pet standing, having someone there with treats and encouragement while you work is sure to be helpful!
You may see measurements for "waist" and "neck circumference" listed on our size charts as well. This is just to give you a little more information. If you want to be sure those sizes will work, you can apply the techniques we mentioned in the first step to measuring the smallest part of your pet's waist and the base of your pet's neck, where their collar usually rests.
How to Prepare Your Pet to Wear a Costume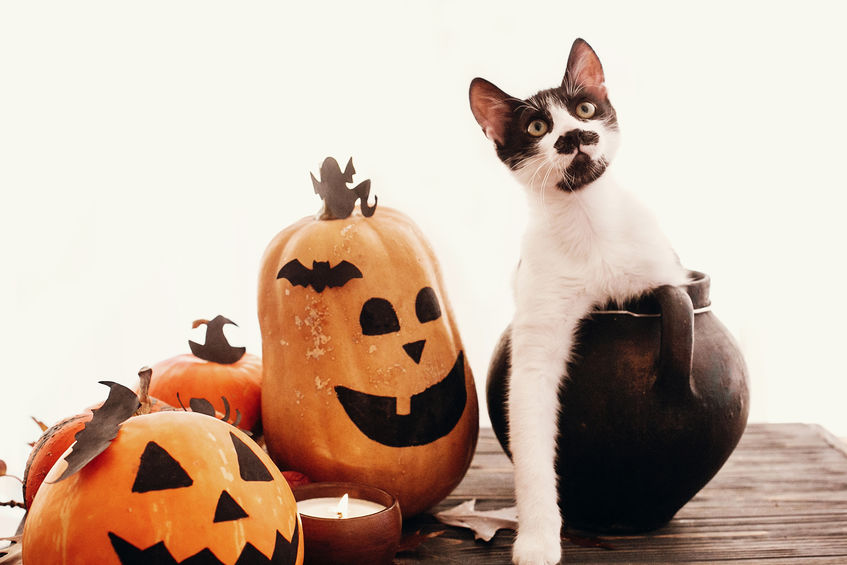 Some pets love the extra attention that comes with them flaunting a new ensemble. Other pets are rather hesitant. If you've got hesitant critter companions, these tips may help your pet get ready for their debut on Halloween.
Pick a costume that's comfortable and won't limit movement. Your pet should be able to walk, eat, see, and hear clearly. They should also feel comfortable relieving themselves.
Prepare your pet for their debut days before their costumed event. Hand out plenty of treats as soon as the costume is out of its package. Pet your animal with the costume and let them sniff it and get used to the smell. Rest the costume over their back days before securing the costume around their body.
Pay attention to your furry friend's body language. If dogs are yawning, panting, or lip-licking, then they might be feeling stressed. You can also lookout for a tucked tail and ears, a sure sign that they aren't really feeling their new ensemble and need more encouragement or a break from the situation. Pacing or freezing is one more sign that your pup is uncomfortable.
If they freeze while in the costume, coax them with treats or toys to convince your pet that they can, indeed, move while wearing their new look.
Have your pet try on their costume in a calm environment with plenty of treats and encouragement. When you finally secure the whole outfit, shower your pet in praise but take it off after a bit. That way, they are less likely to balk when it's time for the main event.
Let's not forget about pet-safety when we dress up our friends! Make sure your pet's ID tags are visible and their microchip is up to date. If you have a senior pet dealing with arthritis, consider choosing accessories such as a hat, wings that can be attached to their harness, or a spooky-themed bandana. And finally, never cover your pet's mouth and nostrils, this may restrict breathing and put your four-legged friend in immediate danger.
Taking Pictures of Your Pet in Costume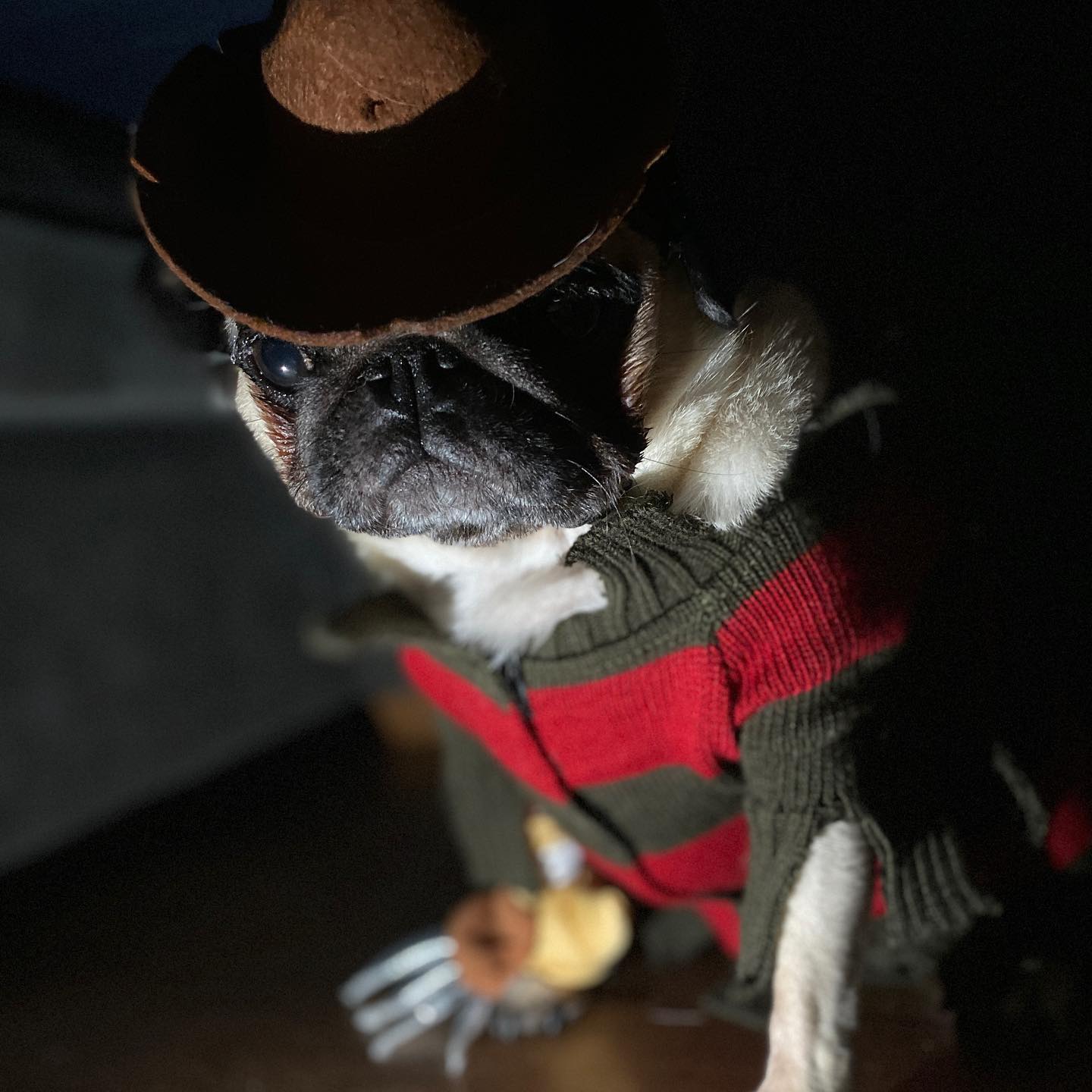 We're sure your pet will look great in their new costume, whatever you pick! But in this day and age, did it really happen if there aren't any photos? We want to make sure that our fellow pet-lovers have the skills to take Insta-worthy photos of their furry friends in costume. Here are some tips to capture your pet in costume and make some Halloween memories.
Bribery will get you everywhere. As you may have noticed, treats have been a running theme and it's not going to stop here. Be sure to choose a treat that your pet likes but one that won't make them too desperate for the pay-off, that sort of panicky delight might stop them from staying still for the photo.
Get face to face. Getting down to your pet's level will capture your pet's expression, not to mention your pet's new outfit!
Choose a calm location. Don't expect Fido to be calm and courteous if there are trick-or-treaters running around or other pets playing nearby. Your furry friend might look completely different in their disguise but your animal still has the same personality that you know and love!
Pose them in a way that'll flaunt their ensemble. Get a friend to hold a treat and help convince your pet to stay still while you play photographer.
Pay attention to the background. A Triceratops costume will look awesome with those ferns in your backyard while a Chef Pet costume will be adorable in your kitchen.
If you've got a pet that never stays still, consider choosing a costume for yourself that matches. Then you can simply invite your pet on your lap and take some selfies.
Choosing the Right Pet Costume for You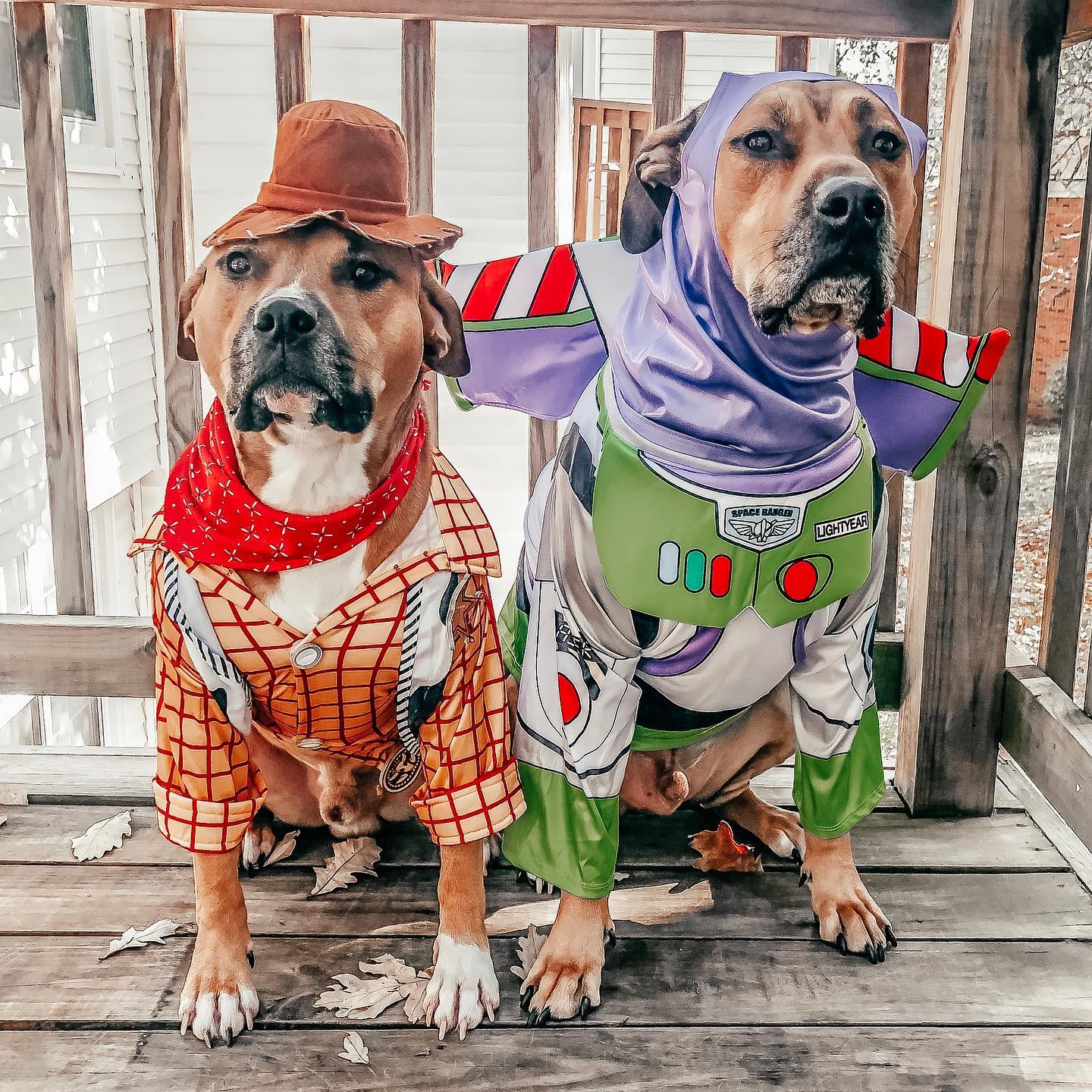 Before you choose a costume for your pet, think about your pet's personality. If your pet is a little fireball, choose something that matches their wild behavior. A pirate or a werewolf...well, that's a classic for the Halloween season! Or if your furry friend is a pampered, people pup then they'll be a perfect candidate for something sweet and cuddly. Maybe a teddy bear or princess?
Of course, the theme isn't the only aspect to consider. If your pet is always up to mischief, then a costume with a cape or arms that might catch on something is not a good option. A pet that's uncomfortable with clothes around their torso might prefer accessories like the Wizard Hipster Pet Scarf or Angel Wings. There's a costume out there for every cute and cuddly pet, and we're sure you'll find the right one.
We hope that you found this article helpful! And if you use our photography tips to get some photos of your furry friend in disguise, then tag us on Instagram @FunCostumes. Do you have any other questions about choosing a pet costume? Or your own tips for other pet owners? Let us know in the comments below
If you're still looking for the perfect costume for the doggo or kitty cat, then be sure to check out our selection of pet costumes. We wrote about our absolute faves in a guide to pet costumes, too. Be sure to check out our How to Halloween resource page with tips for safe trick-or-treating, pairing masks with costumes, and more. We hope you have a great time this Howloween!