If you watched Marvel's Moon Knight, you might have been surprised to see alter ego Steven Grant's "Mr. Knight" costume. Or maybe you knew it was straight out of the Secret Avengers and Moon Knight comics. In any case, the costume made quite a comical appearance! Our first thought—after "whoa, how cool!"—was how easy it would be to make a Mr. Knight DIY. (Costumes are our thing, after all!) Keep reading for the history behind this classy Moon Knight costume and how to pull it off!
History of the Mr. Knight Suit
The Mr. Knight suit was designed by artist Michael Lark and writer Warren Ellis for Secret Avengers #19 (cover-dated January 2012 but released in November 2011). Ellis and artist Declan Shalvey brought the suit back for the 7th volume of the Moon Knight solo series in 2014. The live-action Moon Knight television show required a durable tuxedo to survive the action sequences, leading costume designer Meghan Kasperlik to make the suit out of upholstery fabric. Thankfully, you can assemble your own costume from a suit, mask, and some light crafting.
Mr. Knight DIY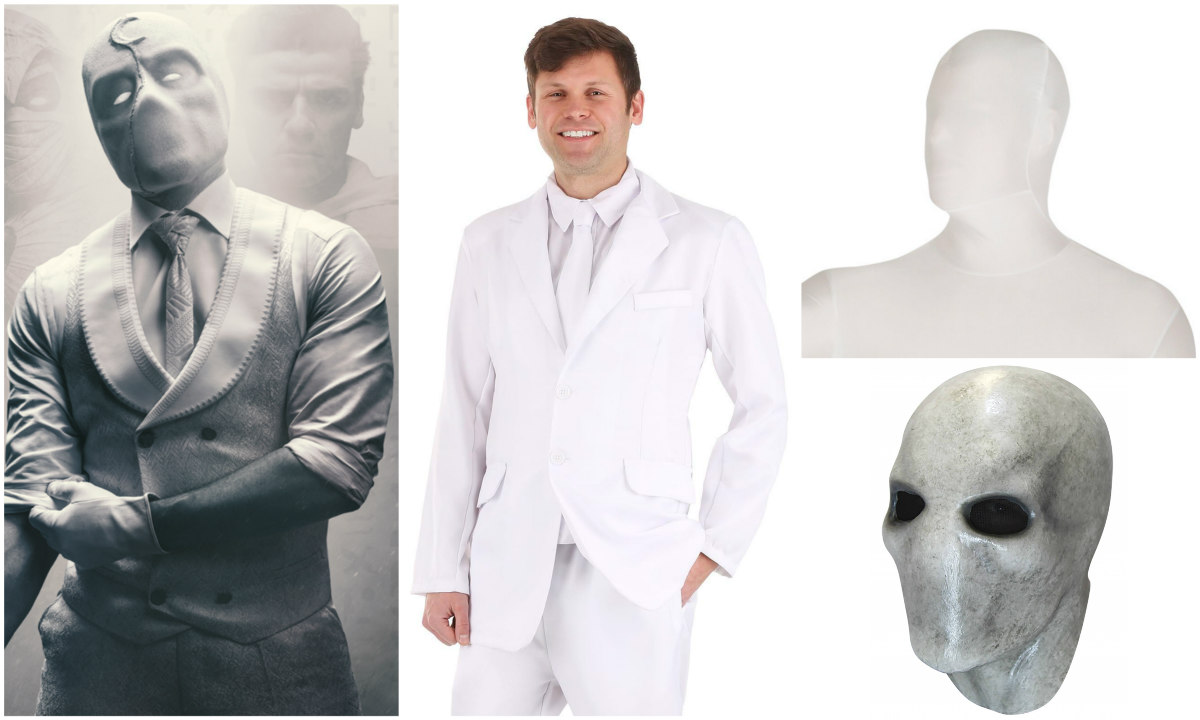 Your Mr. Knight costume starts with a basic white suit. We have them available in standard, plus, child, and toddler sizes. For a mask, you have options! The white Morphsuit is a full-body suit, but you can cut out the head and shoulders section to make it more comfortable. If you're crafty, you'll want to sew stitches across the head and right cheek and add the moon symbol. That symbol can be made out of EVA foam, thick cardstock, or even clay! Paint it white, seal it with Mod Podge, and you're set. Easier (but less realistic) options include iron-on vinyl or painting the symbol with fabric paint or a fabric marker. (Permanent markers like Sharpies may bleed, so we don't recommend them.) No matter what you do, putting the mask on a foam/mannequin head or similarly-sized round object will help with placing the symbol and also avoid bunching or stretching the fabric. If you prefer latex over cloth masks, we suggest the Slenderman mask for adults or the Silent Stalker mask for kids. Simply paint them white and add a crafted moon symbol—or paint it right onto the mask. Add accessories like white gloves and an ankh and you've got a Mr. Knight costume!
We hope you enjoyed this easy Mr. Knight DIY! If you try this DIY yourself, tell us how it went in the comments. Also let us know about other DIYs that we should try, whether they're easy or not!