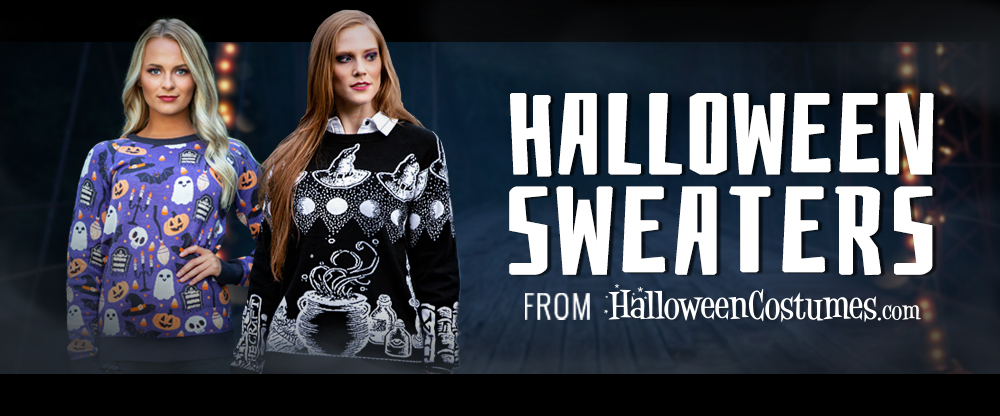 Halloween is getting closer and the days (and nights) are getting colder. It's sweater weather! But not just any sweaters, Halloween sweaters. Our take on the "ugly" Christmas sweater has been a smash hit, so of course we've brought them back for 2022 with all-new designs. Let's look at some of our exclusive "Made By Us" sweaters, but be sure to check out our full line of ugly Halloween sweaters for designs from It, Annabelle, The Nun, Scooby-Doo, Friday the 13th, A Nightmare on Elm Street, Beetlejuice, and more!
These Horror Sweaters Are Full of Spooky Fun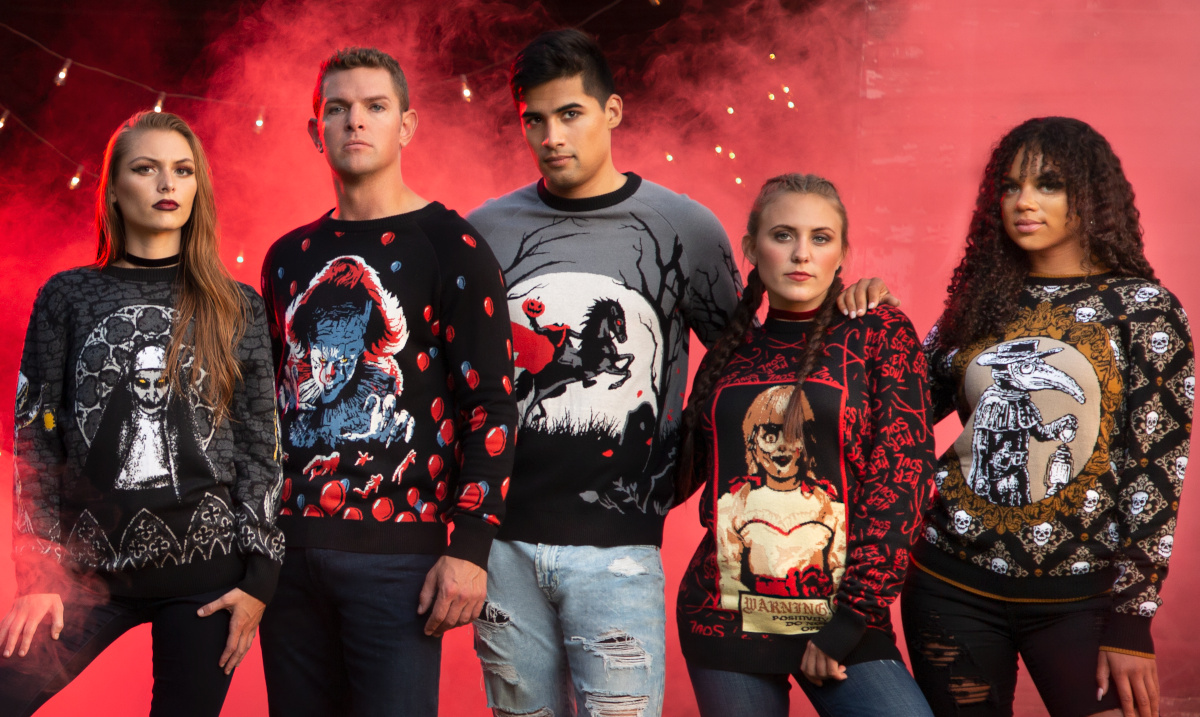 Are you ready for Spooky Season? Our line of horror Halloween sweaters features some of our favorite horror icons, including Pennywise, Valek and Annabelle. Of course, not to be outdone, the Headless Horseman made sure to show his...face? He looks like he can carve a mean pumpkin! For those in love with vintage vibes, our plague doctor sweater is sure to please. Accessorizing with a plague doctor mask is optional.
Our 2021 Halloween Sweaters Lineup was Huge!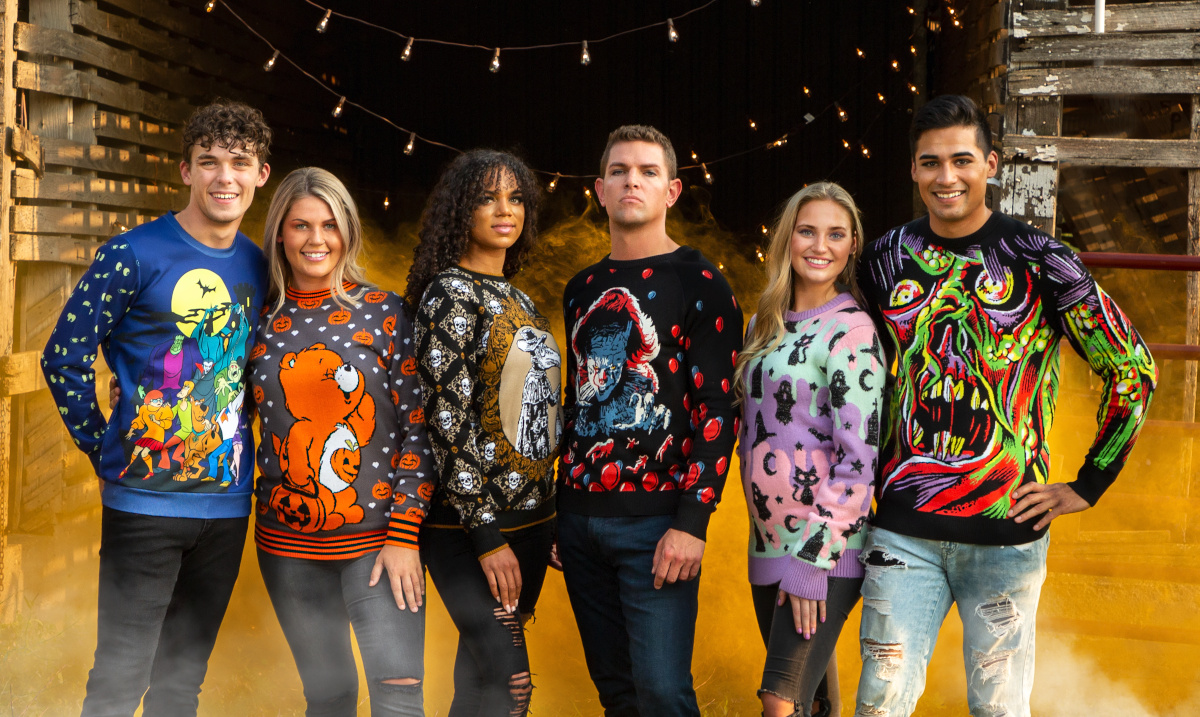 Not everyone who loves Halloween is into horror, and that's okay! We have adult Halloween sweaters and sweatshirts to fit anyone's sense of style. Our colorful Scooby-Doo sweatshirt features the gang that we know and love, as well as a few of the costumed villains that they've unmasked. Should you be hunting for cute Halloween sweaters, the Care Bears Trick-or-Sweet Bear sweater is simply adorable, but you also have the option to look pretty in pastel. However, it's hard to overlook a spooky Halloween classic with a scary monster face featured on your shirt. We'd love to see how you fit this monster face sweater into your alt fashion style!
These "Ugly Halloween Sweaters" Aren't Ugly at All!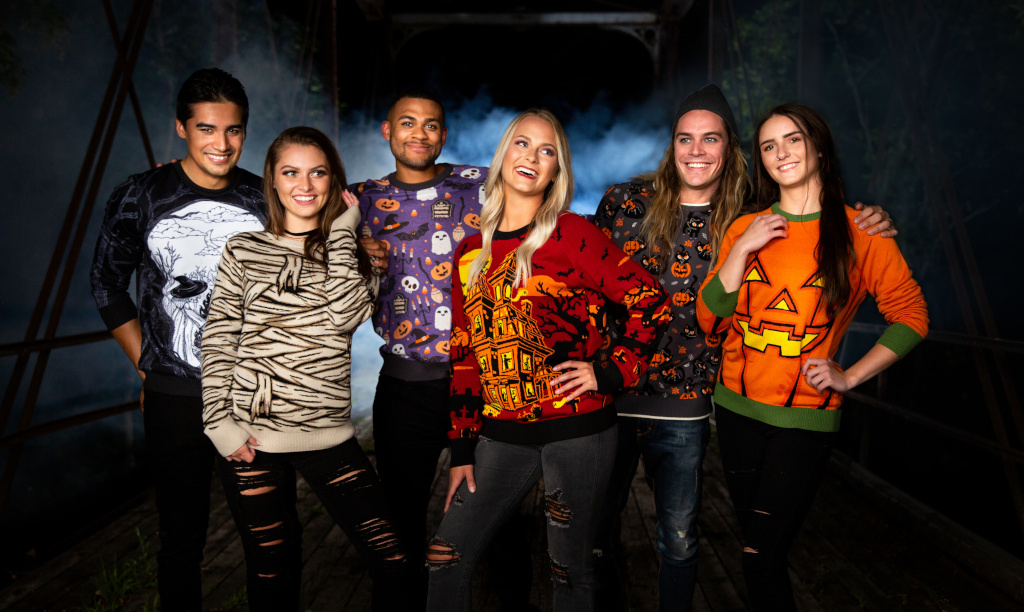 We get that you can't always wear a costume wherever you go. Which is why these "ugly" Halloween sweaters are perfect for showing your love for Halloween all month...or all year. The 2020 designs included vintage Halloween ghosts and jack-o-lanterns, mummy wrappings, and an eerie moon skull. There's really something here for everyone and anytime! So get a Halloween sweater right here and you'll always have a non-costume costume that's perfect for whenever you're feeling a little spooky!
The 2019 Halloween Sweaters Are Still Here!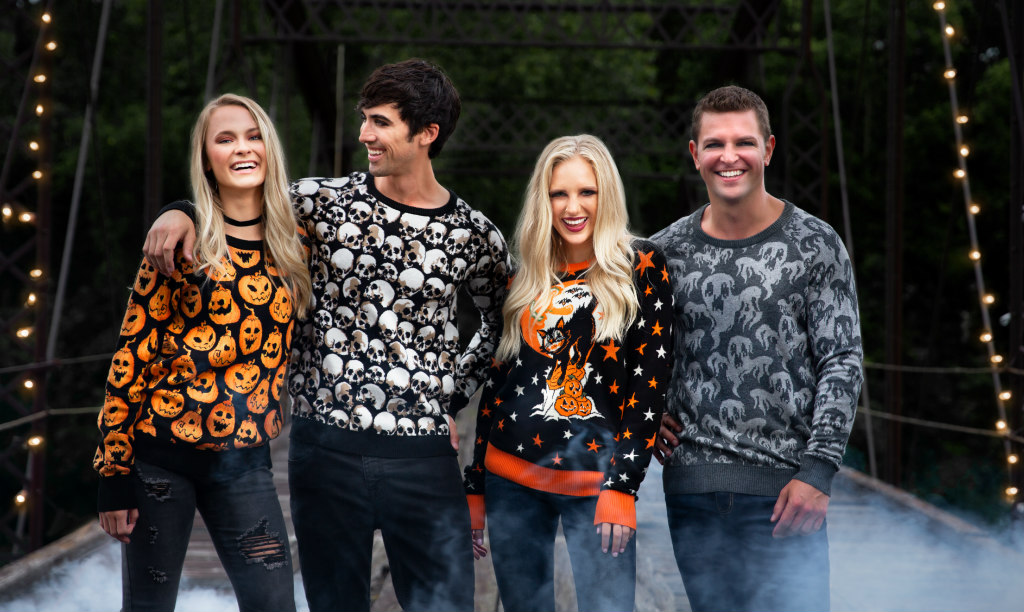 Our 2019 line of sweaters included all kinds of fun designs! We had spooky pumpkins and spooky skulls and spooky ghosts—are you sensing a trend? Plus there's a vintage Halloween cat under a spooky moon, just like you remember from Halloween cards. Note: creepy abandoned bridge and fog not included! You can order these Halloween sweaters online because they're exclusive to HalloweenCostumes.com.
The Original Halloween Sweaters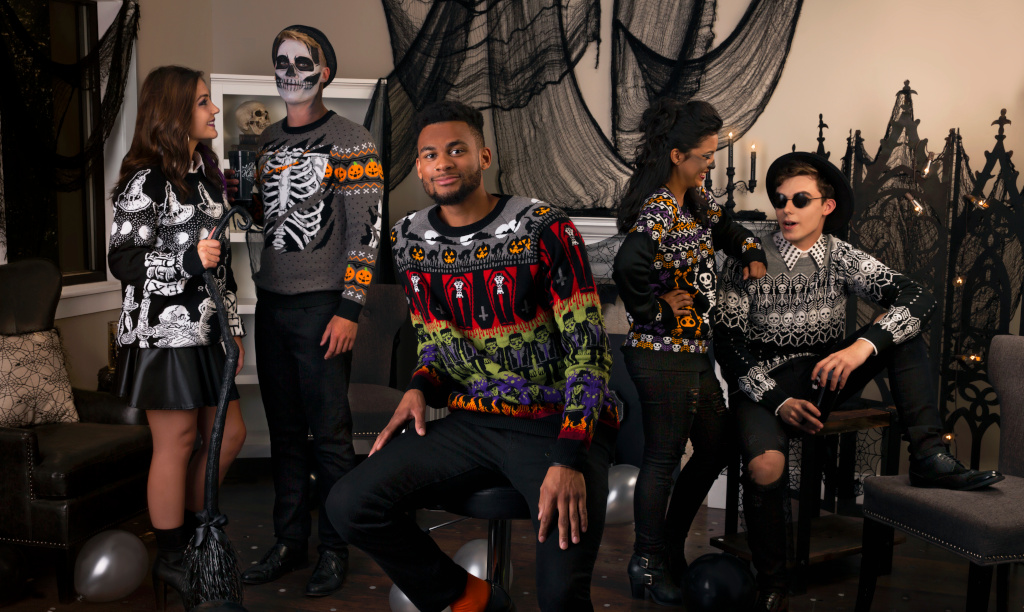 Our original Halloween sweaters made it all the way across the internet and back, so you've probably seen them around. But we figured we'd share them for everyone who's been living in a haunted house all this time. Our ugly Christmas sweaters have always been popular, so we thought "why can't we do something like that, but for Halloween?" So we did! We put witches and monsters and so many skeletons onto some sweaters and unleashed them upon the world. We hope you love them as much as we do!
We hope you enjoyed our new Halloween sweaters for 2022. Check out our full line of exclusive Halloween sweaters for more designs from the past! And if you have suggestions for future designs, be sure to leave them in the comments because we're also looking for fun new Halloween projects!