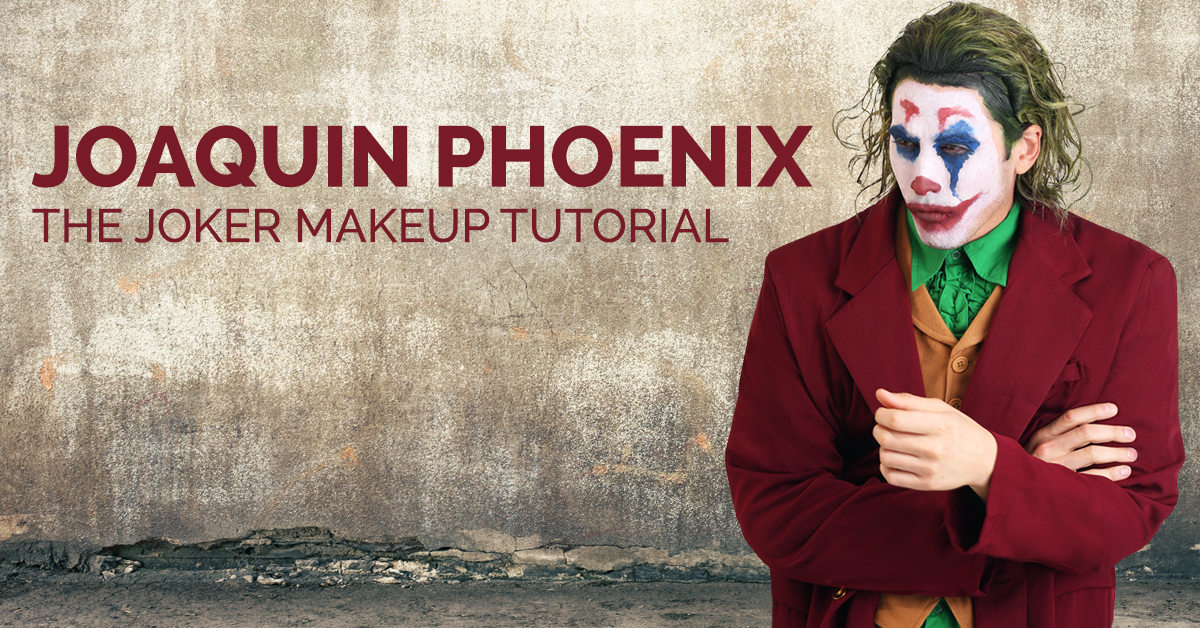 As one of the most prolific adversaries that Batman has ever faced, the Joker has gone through countless appearances and withstood the test of time. Whether you're fond of Cesar Romero's Joker with white makeup hiding his mustache, the musical laughter of Mark Hamill's animated Joker or Heath Ledger's gritty, unhinged villain, they all bring something new and exciting to the role. The latest actor to step into the Joker's clown shoes is Joaquin Phoenix. And while the movie is still in production, we're curious to see what this new Joker character has in store for us. If you're planning on dressing like the latest Joker for Halloween or if you're in the mood for a Joker cosplay, check out this makeup tutorial to see our tips and tricks for doing your own Joker makeup.
The Joker Makeup Tutorial Video
The Clown Prince of Crime needs his own YouTube beauty channel to show off all his makeup looks.
The Joker Makeup Tutorial Video Transcript
First, with a water-activated paint and a wet sponge, paint the face white. Make sure the paint looks uneven and blotchy. For this tutorial, I am using all water-activated paints.
Next, using a red water-activated paint, dab on the eyebrows with a brush. Now, create a larger-looking nose using the red water-activated paint. Heavily load your brush with water and color to make a more drippy effect.
Next, to create Joker's scary smile, add red to the lip and make it look messy. next, get creative and make The Joker look messy.
Next using the color blue, create a drippy diamond effect on the top and the bottom of the eyes. To create a more drippy effect, tilt the model's head back and let the paint pool around the eyes. Slowly tilt the head back up to allow the paint to drip down.
Now, do any clean-ups or touch-ups, and your Joker look is complete.
Recreating the Joker Movie Costume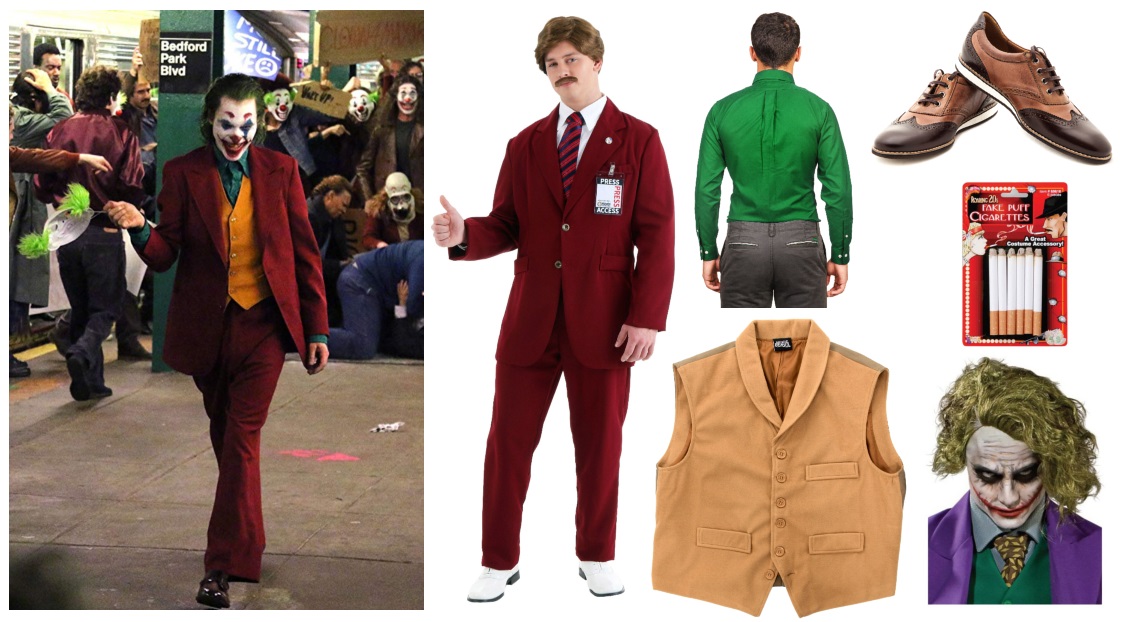 If you're attempting pull off a Joker cosplay inspired by Joaquin Phoenix, you'll need the rest of the costume to accompany your makeup. And luckily, all the pieces to this costume button up so you can put them on after doing the makeup. That way you won't have to worry about smearing makeup all over! We used an Anchorman Ron Burgundy costume as the base and put a Newt Scamander vest under it, paired with a green collared dress shirt. Other accessories you will need to finalize the look are some brown shoes (they appear to be bi-color in the set photos), fake cigarettes and a green-haired wig. (We used the Heath Ledger Joker wig and slicked it back with water and hair spray, and adjusted the hairline with makeup.) The face makeups we used were all water-activated face paints, which will help achieve the running, drippy makeup appearance. Once you throw all these elements together, you'll be looking like Joaquin Phoenix's Joker in no time! However, if you're interested in other looks, we carry a variety of Joker costumes.
The completed Joker Look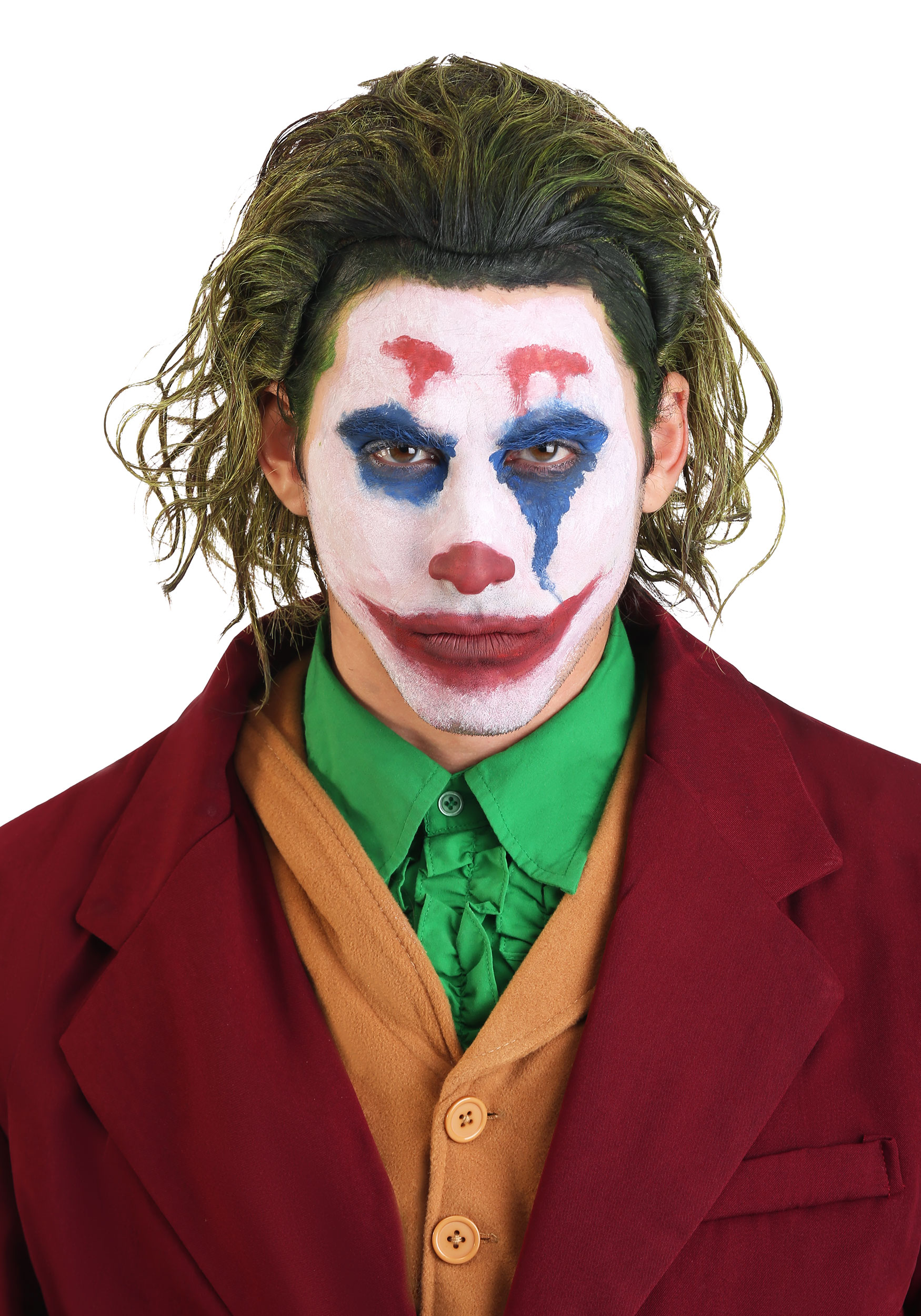 "Let's put a smile on that face!"
"Wait 'til they get a load of me!"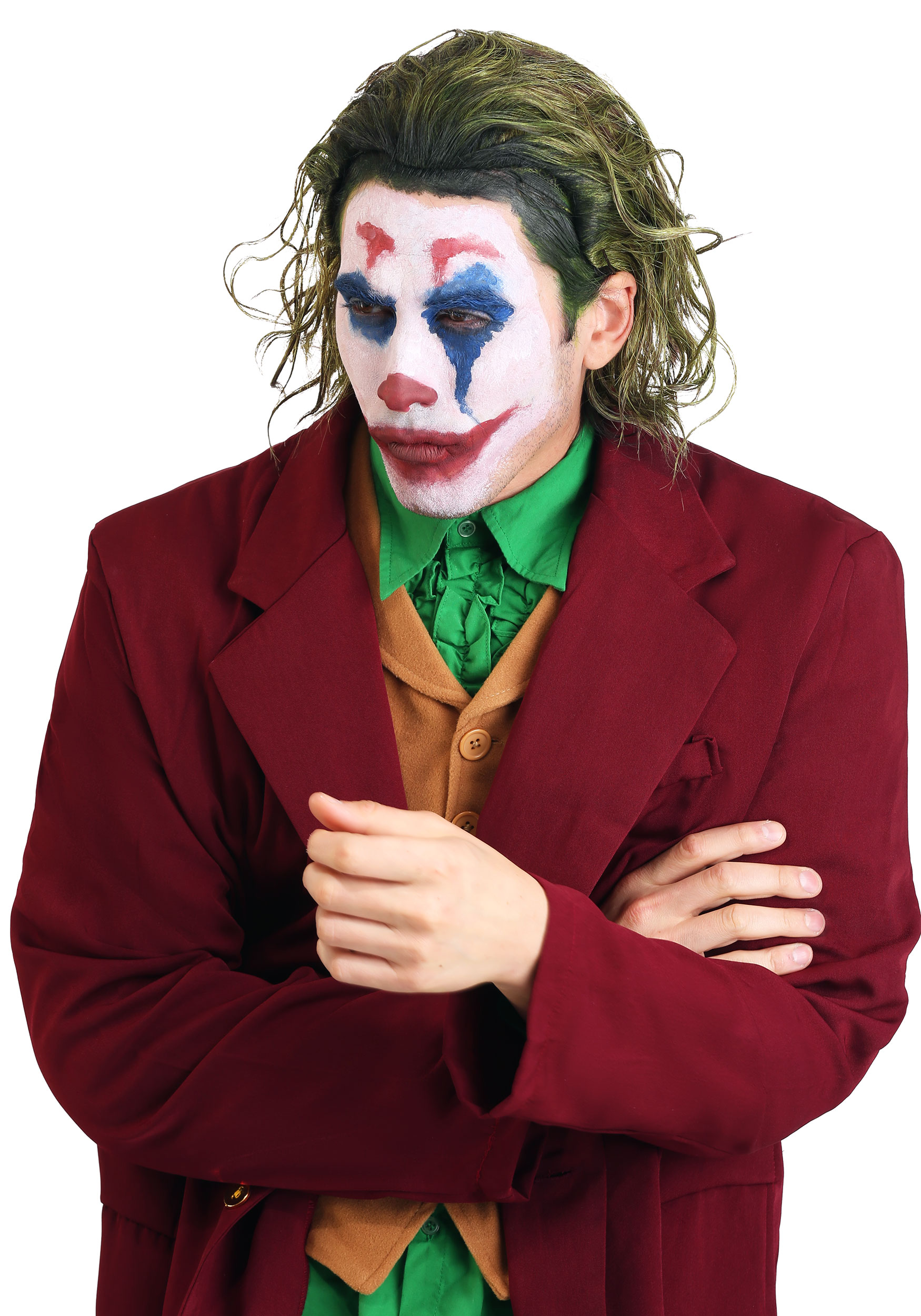 "See, I'm not a monster. I'm just ahead of the curve."
Are you ready to take over Gotham as the Clown Prince of Crime? Have you dressed up as any other Batman characters? Feel free to share your Gotham expertise with us in the comments below, and should you happen to refer to this makeup tutorial, we'd love to see it! If you're looking for more Batman costumes, there are plenty to choose from for your costuming and cosplay needs.