Street Fighter Halloween Costumes
Ah, those nostalgic Street Fighter moments! Maybe it was at a friend's place, cousin's house, or that lucky day you snagged your own copy. Either way, the thrills, the Hadoukens, and the epic face-offs are all etched in our memories. Fast forward, and now it's your shot to relive the fun, but with a twist! With our Street Fighter Halloween Costumes, step into the virtual arena and bring those pixelated battles to life. The best part is that no lifetime practice is necessary!
Street Fighter fans, level up your Halloween game with these iconic video game costumes! Remember those hours mastering combos and special moves? Those poor Nintendo controllers. Now's your chance to step into the shoes of your favorite character. Whether you're channeling Ryu's disciplined warrior vibe or leaning into Chun-Li's kicking energy, there's a fit just for you. Let's turn this Halloween into a real-world arcade showdown! You might even shoot a fireball!
Hey, if full-on video game costumes aren't your style, we've got a treat. Dive into our range of costume apparel, like sweaters. Casual, comfy, yet unmistakably Street Fighter, they're perfect for marathon gaming nights or a more laid-back spooky season gathering. They nod to our beloved Street Fighter franchise without going into full combat mode. Whether you're hitting up a Halloween bash or chilling with fellow gamers, we have you covered. Pick your fighter suit up!
Chun-Li Costumes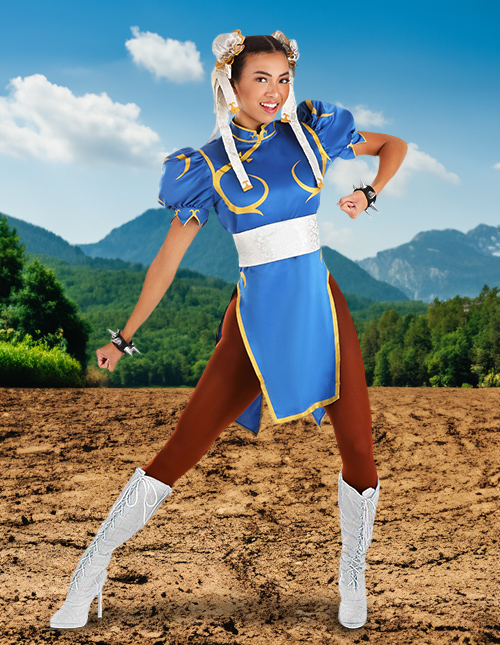 Chun-Li could be considered the first lady of arcade combat. And remember her kick combo? It was a game-changer! She was the first ever female fighting game character to go mainstream. Now's your chance to channel that energy into your woman's costume and reenact her quest for revenge against M. Bison. Embody the fierce spirit of the legendary female fighter who stormed the gaming world with this Chun-Li Costume. Kick it up a notch and be the star of any gathering!
Ryu Costumes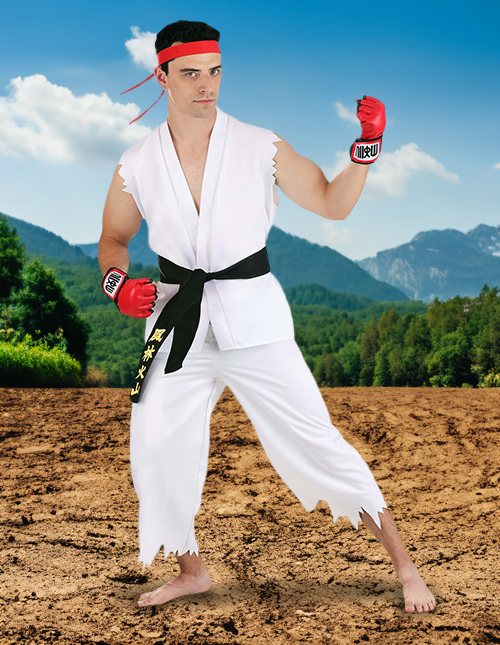 Amidst Street Fighter's cast of exciting characters, Ryu stands out, feeling every bit of the classic '80s video game hero in his torn Gi. He's more than just a beginner's guide to the classic game—he's a nostalgic throwback to arcade days. Though his style has evolved with the games, there's something about his vintage look. Dive back in time and rock that retro Ryu flair with this men's costume. Channel your inner fighter and Hadouken with a hard-hitting Ryu Costume!
Ken Street Fighter Costumes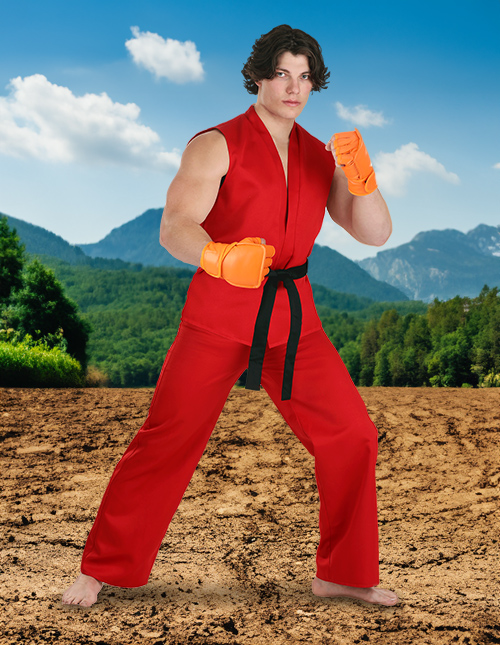 Ken's fiery evolution in Street Fighter has been epic from clone to standout. His specialty is all about charging in, leaving opponents dazzled with blazing moves before they can get their footing. Are you a devotee of this hot-headed yet humble pupil of Gouken? Then this Ken Street Fighter Costume is your ticket to channeling that rush-forward, flames-first vibe. Show the world Ken's unique flair with this adult costume. Dive into the fight and ignite the scene!
Street Fighter Sweaters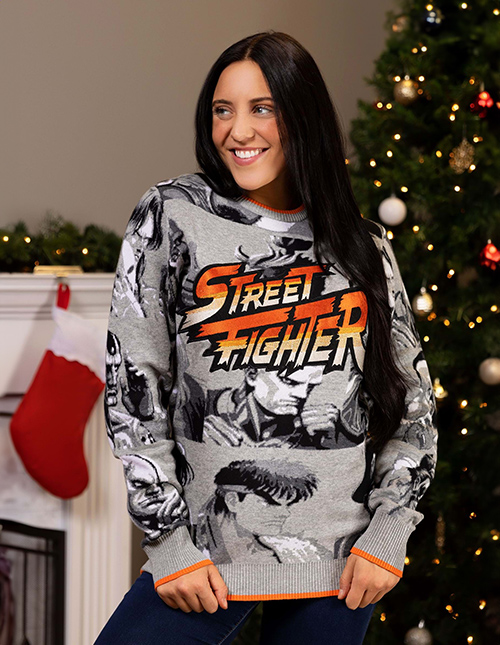 Combo your winter style with this Street Fighter Sweater! No need to Hadouken the cold when you've got this cozy number. Whether you're a button masher or a combo master, this sweater gives off ultimate gamer vibes. Get nostalgic and warm, all while repping your favorite gaming franchise like Ryu, M. Bison, Guile, Sagot, and tons more from the classic Street Fighter roster. Dive into those chilly nights with this epic addition to your sweater collection. Ready? Fight!