Kids Ninja Turtles Costumes
If your kids are fans of the latest Teenage Mutant Ninja Turtles movies, then we're willing to bet that these are the TMNT costumes they are looking for! In the modern TMNT movies, we were all reintroduced to this awesome fighting turtle team and got to see their appearances reimagined as well. If your kids are after the movie reboot TMNT costumes, then these officially licensed ninja turtles costumes for kids are exactly what they need.
Raphael Costume for Kids
This is Raphael, and usually when he's not mouthing off to Master Splinter he's out looking for trouble. He's got a bit of a temper, but ultimately he'd do anything to protect his brothers.
Leonardo Costume for Kids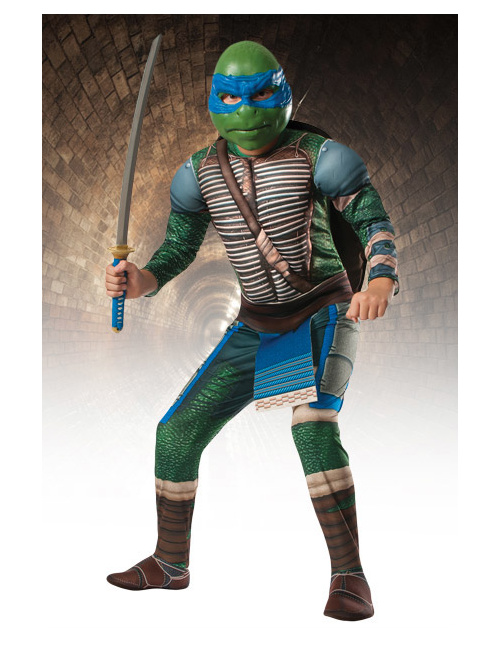 Leonardo is decked out to fight and protect as leader of the Teenage Mutant Ninja Turtles. Will he be able to keep April O'Neil safe?
Donatello Costume for Kids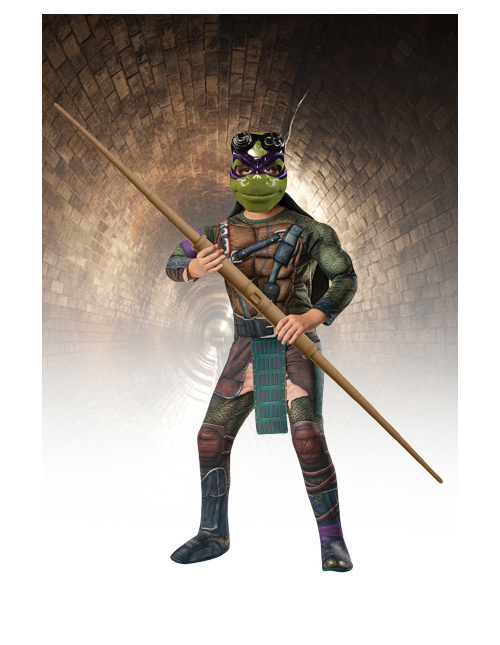 If Donatello can, he'll solve the New York City's Foot Clan problem using technology and his genius inventions. And if that doesn't work, he'll fight along with the rest of the turtles to eliminate the threat.
Michelangelo Costume for Kids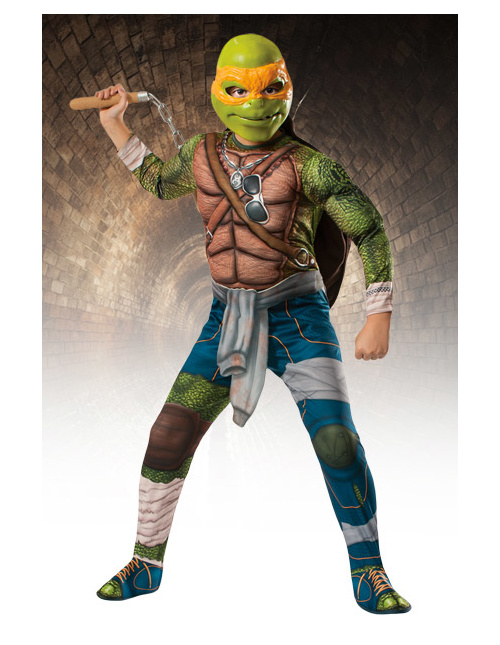 Michelangelo is down with beating up the Foot Clan but still wants to flirt with April and eat plenty of pizza. Seriously, if hearing Mikey sing "Happy Together" doesn't woo April, nothing will.
Ninja Turtle Weapons
If you are going to fight like a ninja turtle, you need to get your hands on the right equipment. Here's a quick rundown of each turtle's signature weapon and how they are used in fighting Foot Soldiers and the like. Don't get confused and grab the wrong weapon; it's important to recognize that each turtle has unique skills and therefore needs the right prop weapon accessory to best match their abilities.
Raphael's Sai Accessory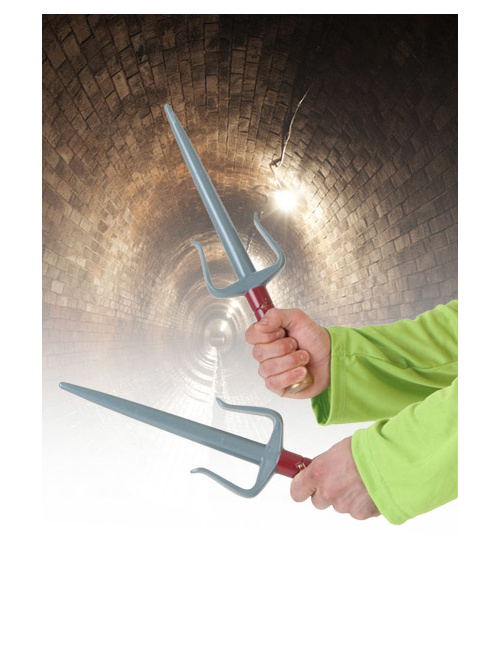 Raphael uses a pair of sai. Described as the resident bad boy of the TMNT, these weapons work well with his aggressive nature. There are several different blocks, strikes and captures that can be performed with these against attackers from all directions.
Michelangelo's Nunchucks Accessory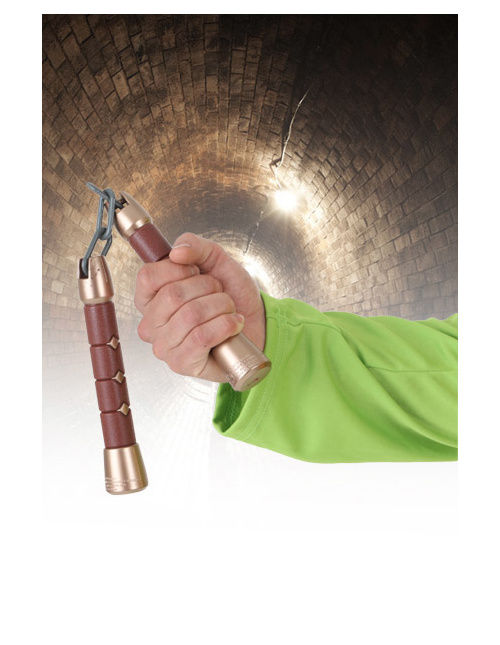 Michelangelo is the party guy who wields a pair of nunchuks, a traditional martial arts weapon that requires quick reflexes. Each weapon consists of two long sticks connected by a chain.
Leonardo's Katana Accessory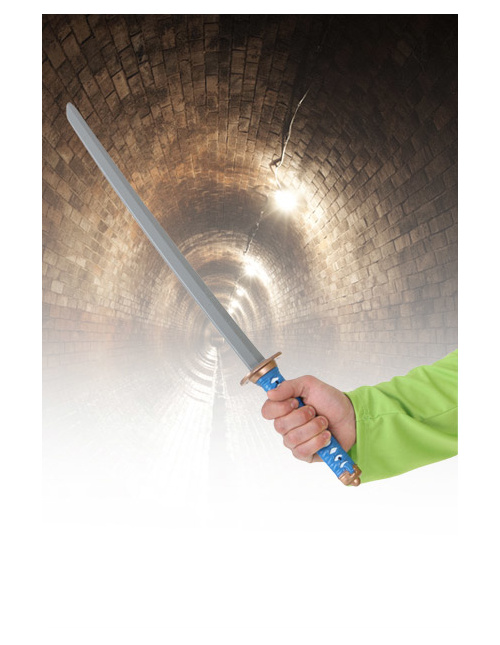 Leonardo is the leader of the ninja turtles and fights the good fight with a couple of katana swords. He is a good leader whose strong direction often has him at odds with Raphael.
Donatello's Bo Staff Accessory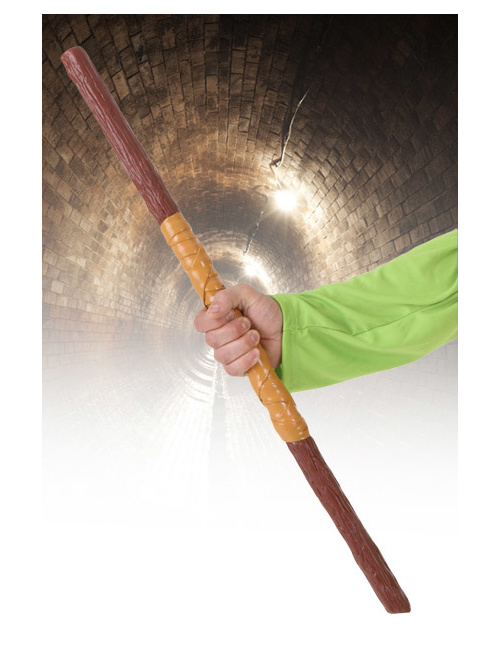 Donatello is the smartest of the turtle gang and uses a bo staff in battle. He is more likely to use his brains than his brawn when he's able, but in a pinch you can count on him to fight bravely.
Ninja Turtle Accessories
Looking for the extras that will make you feel more like a real ninja turtle? Check out these sweet TMNT costume accessories and you're sure to be inspired. If you are looking to go the extra mile in becoming a turtle, you need to go beyond the costume. You need to embellish your turtle exterior with these awesome extras.
Teenage Mutant Ninja Turtle Mask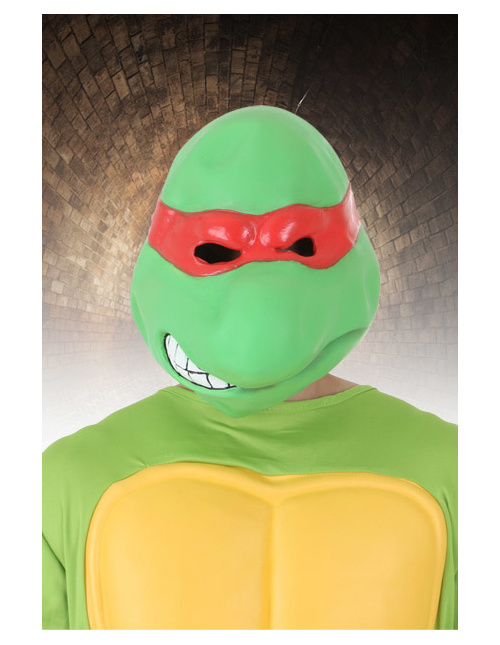 If you're thinking that your regular, human shaped face isn't going to convince anyone that you're actually a Teenage Mutant Ninja Turtle, then try on this mask instead. It's shaped exactly right for an authentic appearance.
Ninja Turtle Shell Backpack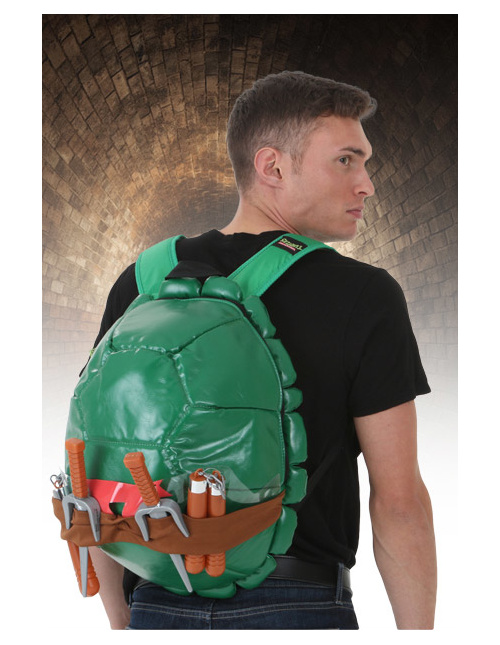 Is your back lacking some shell? This turtle shell backpack can solve that problem and as a bonus comes with some handy toy weapons should any bad guys attack.
TMNT Poses
Learn how to handle any enemies you encounter with a quick 'ninja skills 101' session taught by Donatello. The Teenage Mutant Ninja Turtles are taught patience, precision and to use force as a last resort by Master Splinter. With this tutorial you learn how to stay calm, give your enemy a chance to retreat, be prepared and even how to properly celebrate your ultimate victory over evil. It's all in a day's work when you're a ninja turtle!
Show Off Ninja Turtles Muscle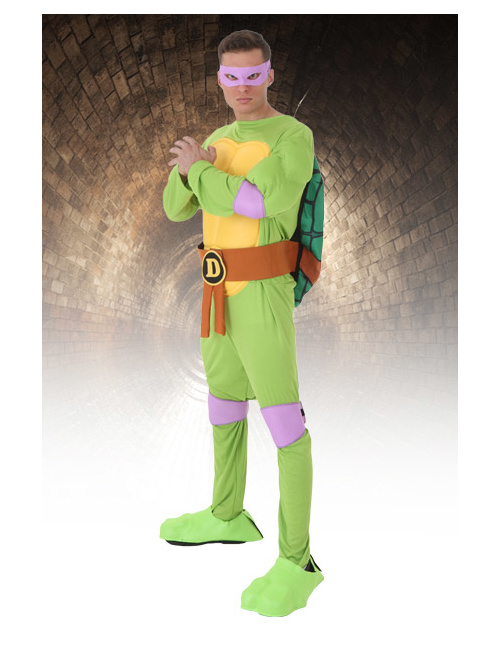 The first lesson Donatello will teach you is to show strength while negotiating a truce in an effort to avoid the use of force. Rather than show excessive aggression, it is best to let your foes know that you are not afraid but also that you are not looking for a fight.
Get Your Ninja Turtle Weapons Ready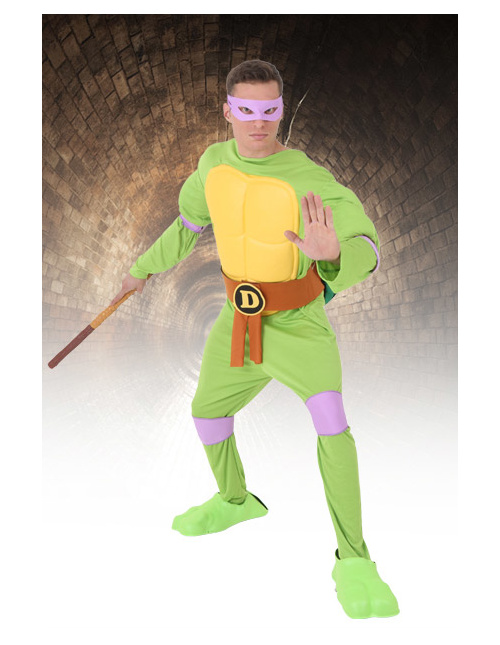 If the enemy continues to advance, your next step is to ready your weapon and assume an attack stance. Again, do not engage them as there still may be time to resolve things peacefully. However it is important to show that you are prepared to defend yourself.
Defend Youself with a Turtle Attack
If all attempts to avoid a fight have failed, now is the time to attack. Defend yourself with honor and protect the innocent people around you from harm.
Celebrate with a Ninja Turtles Pizza Party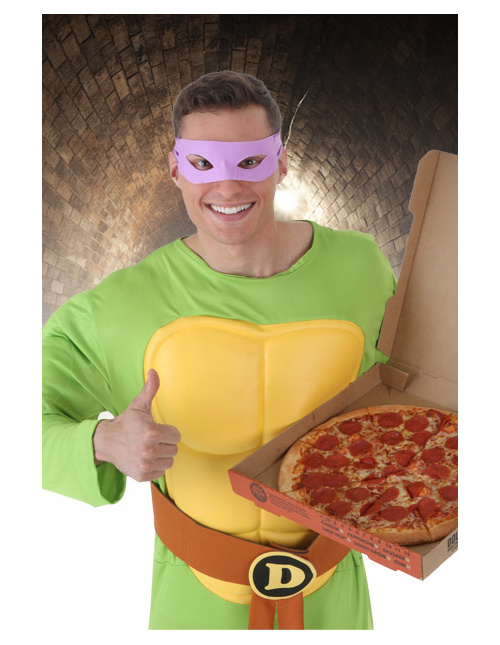 After the battle, recover and celebrate with the preferred nourishment for ninja turtles... pizza! A good day's work deserves a good slice of hot cheese and pepperoni.
TMNT Couples and Group Costume Ideas
Unless you're Raphael, always claiming he doesn't need his brothers' help in defeating his enemies, you prefer the company of your fellow TMNT characters when dressing up. Here is a trio of ideas whether you are a group of friends, a family or a couple looking for ways to create an epic Teenage Mutant Ninja Turtle look that works for everyone.
Teenage Mutant Ninja Turtle Couples Costumes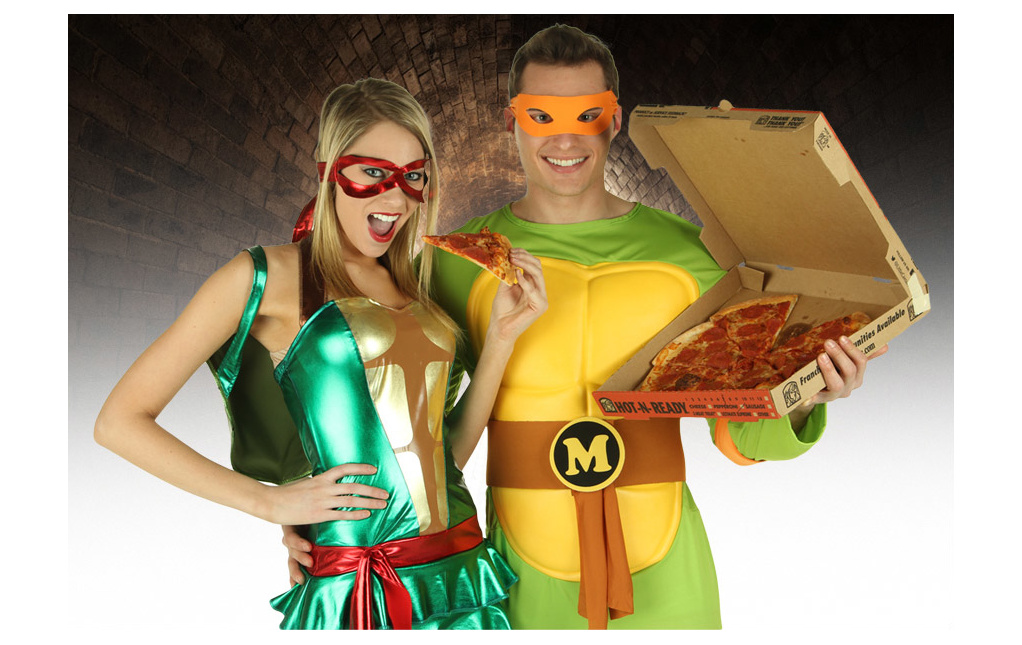 With ninja turtle costume styles for both men and women available, it's easy to create the perfect TMNT couple. All that's left is for you each to pick your favorite character. These two are sharing a pizza for the perfect turtle prop and certainly having some hot and delicious food to share at a party won't hurt their popularity. Now if they can just brush up on their ninja skills they'll be unstoppable.
Ninja Turtle Family Costumes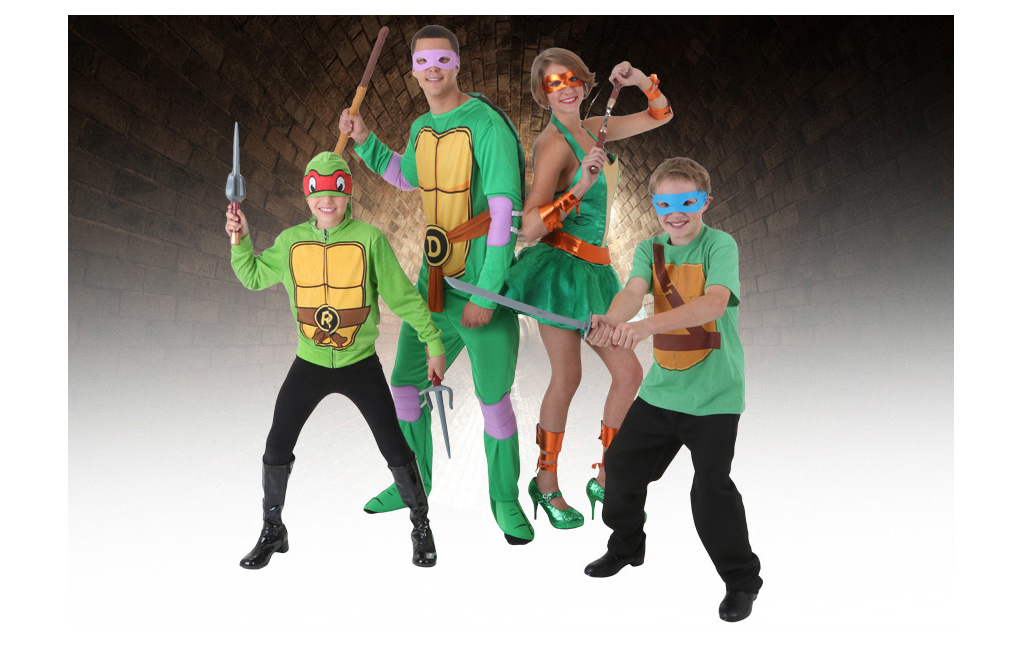 This family proves that dressing up as the Teenage Mutant Ninja Turtles together is a great idea. From comfy t-shirt and face mask sets to cozy costume hoodies, it's easy to get an awesome ninja turtle costume that your kid will be comfortable and warm in. And the best part? When your trick or treating duties are done, the grown-ups are perfectly dressed for heading out to party.
TMNT Villains Group Costumes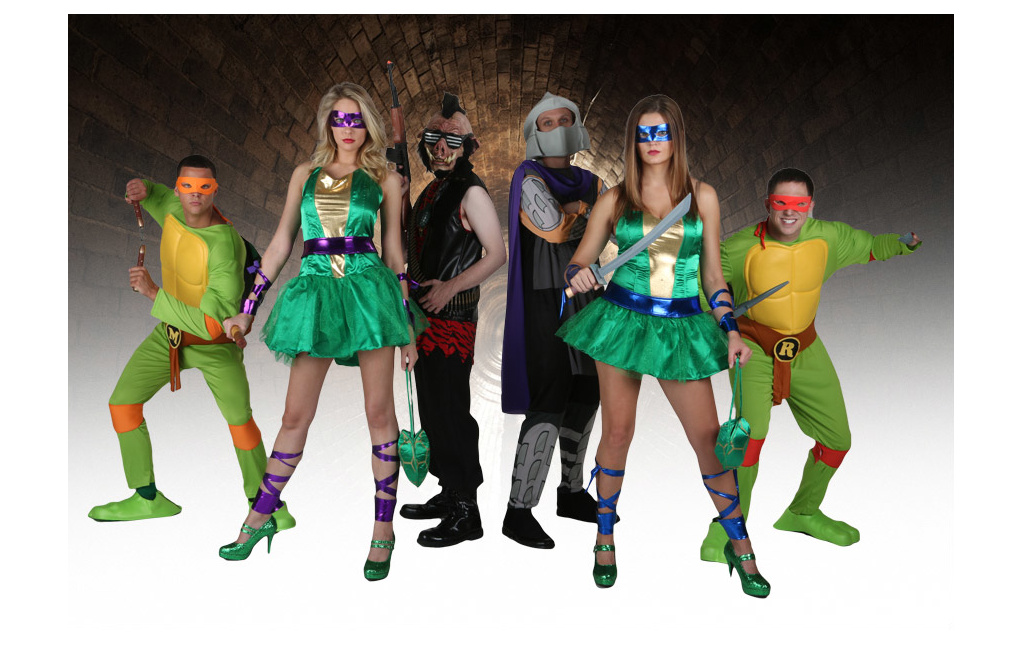 There's always room in your group to add another TMNT character, the more the better! If you think going to a party as the four turtles is good, then try inviting a few more friends to dress as the Shredder, Master Splinter, Rock Steady, April O' Neal, Casey Jones and more. You'll have the ultimate group that will dominate every costume contest and have everyone wishing they were friends with such cool people so that they could have joined your TMNT gang.