Nacho Libre Costume & Accessories
So, you've decided on a Nacho Libre costume for Halloween. That means you're about to dip your toes into the world of lucha libre wrestling. And, as Ignacio finds out in the movie, becoming a luchador takes a lot of work. As your favorite costume experts on the web, we've gone ahead and taken care of the hard part. Because we've crafted our Nacho Libre costumes for adults as officially licensed outfits from the movie! They're exclusively Made By Us, a collaboration of our expert team of costume designers and Paramount Pictures.
The cult classic movie has legions of fans around the world, and we've already gotten a massive response from its fans who have let us know that our Nacho Libre outfits are the real deal. So, we're pretty confident in saying that choosing a Nacho Libre costume for men is a great idea! We want to make sure you have all the info you need to make your purchase and that you get the most out of your costume outfit.
So, we put together this HalloweenCostumes.com How-To for Nacho Libre Halloween Costumes. Whether you're looking for more info on the design and details of our Nacho Libre Luchador costume or are looking for tips and tricks to recreate the antics of Jack Black in the role, we've got you covered. Just read on to learn more about these epic movie costumes!
Our Nacho Libre Halloween costume is set to help you relive the zaniest moments from the 2006 movie. Officially licensed by Paramount Pictures, we painstakingly studied the outfit worn in the movie to recreate the lucha libre style of Ignacio's alter ego. We're sure you'll love that our costume's style is true to the movie!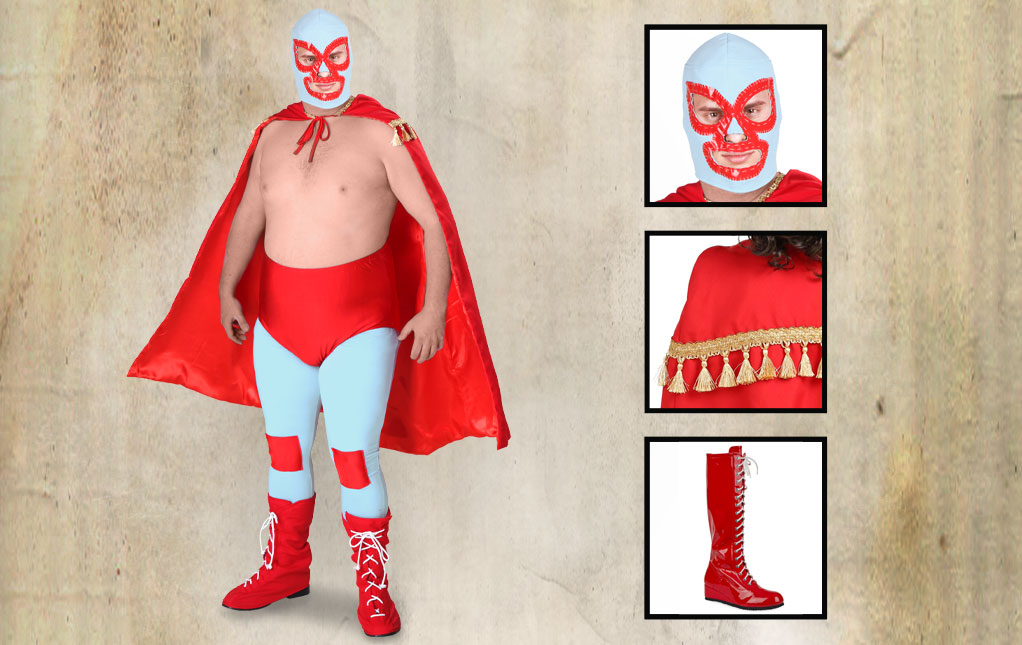 Exclusively Made By Us
If you've heard the word of mouth around the web, then you already know. Our Made By Us costumes are some of the leading Halloween costumes in the industry! We control the creative design and manufacturing process from start to finish. And that means they have exceptional designs and quality that's just not found on single-use costumes available elsewhere. We also focus on the customer experience, and our customers have let us know that our Nacho Libre wrestling costume has hit the mark. Almost as if we hit it with a flying elbow!
Nacho Libre Mask
Lucha libre, the form of professional wrestling native to Mexico, has many colorful aspects that make it stand out from other forms of wrestling worldwide. And no aspect of lucha libre is as important or as well-known as the famous masks worn by luchadores. Of course, Jack Black's character Ignacio donned a mask to become Nacho Libre in the movie. And we've recreated the Nacho Libre mask with a level of detail that true fans will appreciate! The mask that comes with our adult costume covers the whole head and features foam-backed fabric and red vinyl trim to recreate the look from the movie outfit.
Nacho Libre Cape
The colorful attire of Luchadore wrestlers plays an important part in each wrestler's ring persona. In Nacho Libre, Ignacio knows some over-the-top styling will be essential for his character gimmick, and he adds some extravagant style to his wrestling getup thanks to red velvet and gold tassels taken from the monastery. We've worked to recreate that luxurious look for the cape that comes with our Nacho Libre costume! The rich red cape features gold trim with fabric tassels to make our costume look like it came right off of the movie set.
Nacho Libre Boots
A word to the wise before you step into our Nacho Libre costume and hop into the ring: boots are not included. But if you want the look of authentic wrestling boots instead of sneakers, we do have a perfect pair to complete the outfit. Our exclusive men's red wrestling boots copy the style of wrestling footwear worn by lucha libre wrestlers and professional grapplers all over the world. They have a brilliant glossy red finish and a side zipper so that they're easy to get on and off. Use this pair of red boots for your Nacho Libre cosplay, and you'll look just like a real luchador!
Nacho Libre Halloween Costume Ideas
If you're going as Nacho Libre for Halloween, there are many ways to get the most out of your faux wrestling fun. From recreating your favorite movie moments to a Nacho Libre couples costume and even Nacho Libre kids costumes, we've got all the outfits you need. Check out these ideas for the best Halloween outfits and then shop the costumes. It's for fun!
Nacho Libre Blue Outfit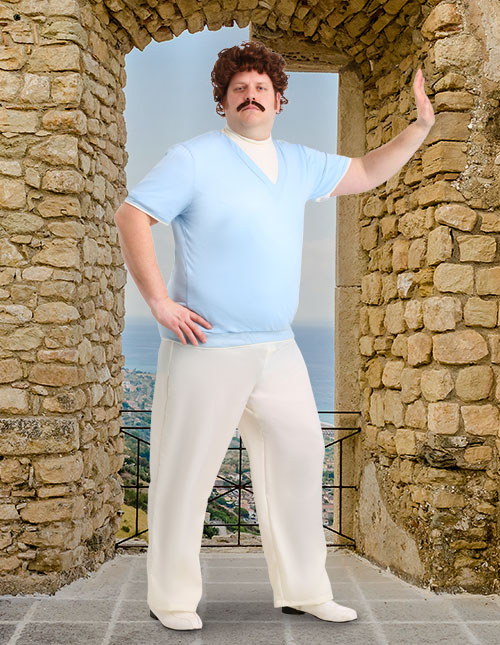 Aside from the amazing lucha libre costume Ignacio wears when in the ring, there's another hilarious outfit that's featured for some of the movie's funniest moments. That is, of course, when he slips into his "recreation clothes" to impress Sister Encarnación. So, you can be sure we have a Nacho Libre recreational clothes! Our costume recreates the look of his mockneck shirt and v-neck sweater and includes wide-leg pants so you can make a big impression at your next costume party!
Nacho Libre Kid's Costume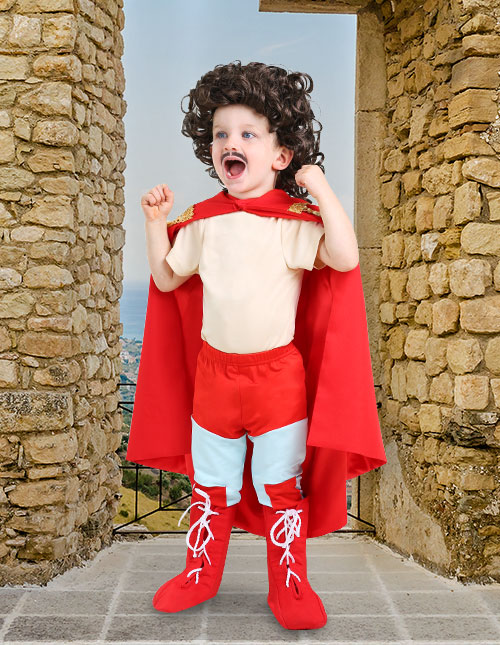 Kids always love zany character costumes for Halloween, so we're sure any kiddo would love to suit up as the wacky wrestler Nacho Libre. Our Nacho Libre toddler costume is a pint-sized version of our adult costume. It features pants with attached briefs and a flesh-toned t-shirt, making it an easy and comfortable costume for your kiddo to wear. It even comes with a Nacho Libre wig and mustache, since we're guessing your little guy doesn't have a stache of his own yet!
Nacho Libre and Nun Costume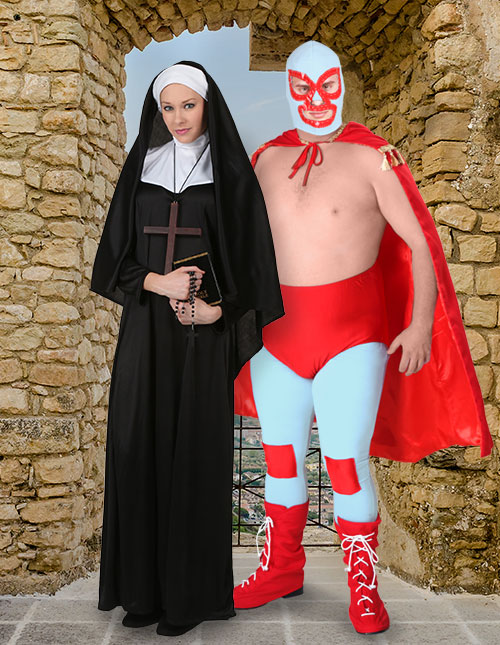 Ignacio has got a bit of a thing for Sister Encarnación. So, if you're set to be Nacho Libre and have a gal pal who wants to team up, there's an easy way to get her into the fun. She just needs our Nun Costume! Our nun outfit is a close match to the movie for an accurate Nacho Libre and Encarnación costume. Both the Lucha libre wrestling outfit and the Nacho Libre recreational clothes costume work great with the Nun costume. Either combo is sure to be a fan favorite at your costume party!
Nacho Libre Wig and Mustache Kit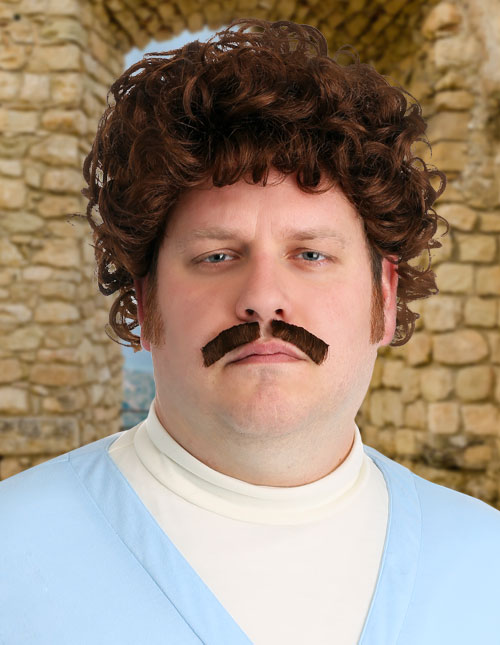 Jack Black has sported lots of long hair and beards over the years. But he's rarely sported a look as preened as the carefully coiffed perm and mustache he wears as Ignacio in Nacho Libre. If you're not much of a self-stylist, there's no need to worry about whether or not your hairdo and facial hair will fit your Nacho Libre costume. Just get our Nacho Libre mustache and wig set! An officially licensed set to recreate Black's look in the movie, it's a needed add-on for any adult Nacho Libre costume.