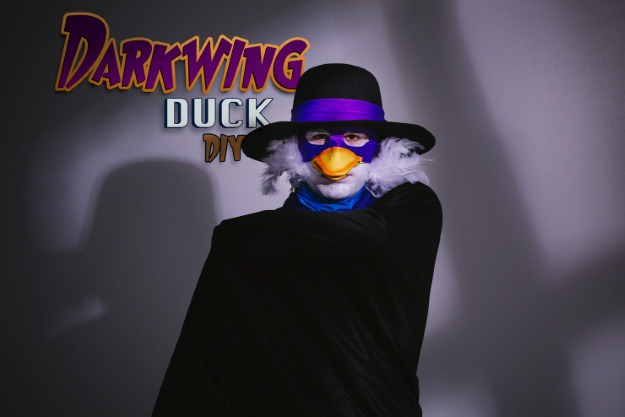 You're not just an average citizen punching the clock every day. You're the terror that flaps in the night! You're the batteries that aren't included! Sometimes, you're outwitted by a highly intelligent inverse version of yourself, but you always find a way to prevail for the righteousness of St. Canard. And, of course, you regularly yell out your bone-chilling battle cry, "LET'S GET DANGEROUS!"
Okay, so maybe you aren't all of these things just yet. But, you can be this Halloween if you sport this Darkwing Duck throwback costume. Ahhh, sweet 90s nostalgia! For anyone who doesn't remember, this crime-fighting duck was a spinoff of the Disney hit, DuckTales, throughout the 90s. Going by the secret identity of Drake Mallard, Darkwing would appear unaware of the dangers unfolding around him, but he always managed to prevail over evil.
DIY Darkwing Duck Costume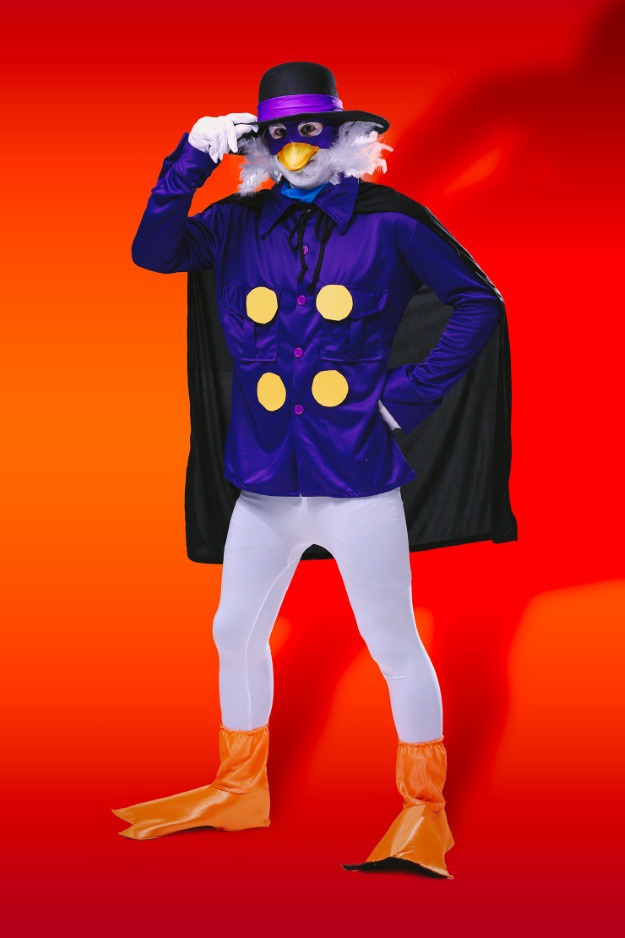 Let's Get Dangerous!
Here's the complete look for D.W. For everyone who grew up in the 90s, recognizing Darkwing will be a no-brainer, so be prepared to quack "Let's get dangerous" on occasion, just to let people know you were serious when deciding on this costume. Please, pleeease keep in mind that you have no actual super powers, though. This costume does not give you the ability to fight crime and you could be seriously injured. We understand as a kid you re-enacted fight scenes and jumped off your bed into action, but you're much older, taller, and more likely to break a bone now. (We're being sarcastic, of course – well, sort of!)
Products Used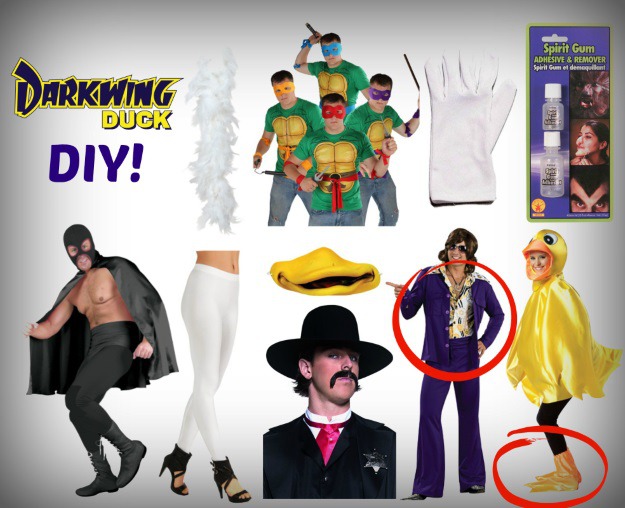 White Feather Boa Donatello Mask White Gloves Spirit Gum
Black and Red Cape White Leggings Duck Nose Black Hat
Purple Leisure Suit Duck Costume
We started with the jacket from our purple leisure suit, then layered it with a black cape to give it the superhero appeal! The four buttons were created with gold construction paper and cut using a coffee cup as the outline, each about four inches in diameter. A simple duck nose was used on the face along with the tie mask of Donatello from our Ninja Turtles kit.
We also dipped into the ninja kit to use the Leonardo blue fabric to insinuate the turtleneck portion of the costume. We decided to go with white tights to bring out the skinny, bird leg effect, and finished the bottom off with feet from our adult duck costume. Almost forgot! The western sheriff hat also has a purple tie used from the accessory kit, pulling together the black and purple theme D.W. is most known for.
The Finished Look

New LinkedIn profile pic?
Our favorite part of the costume might just be the makeup! After painting the entire face with white body paint, we cut a few feathers off of a white boa and attached them to both sides of the face using spirit gum. It takes a little bit of patience to learn how to not glue the feathers to your FINGERS, but we promise, a little bit goes a long way to put the finishing touches on this costume.
DIY Women's Darkwing Duck Costume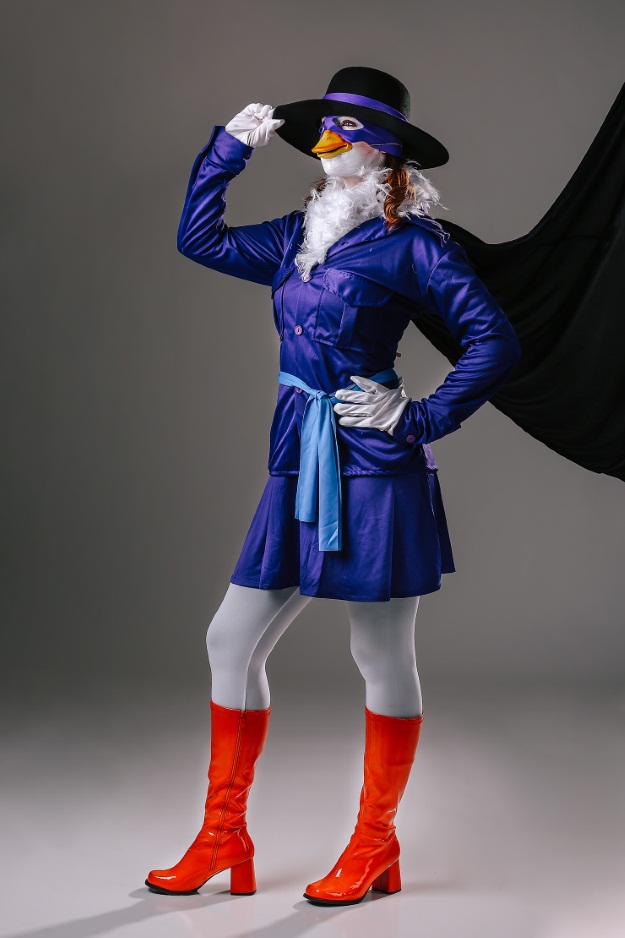 That's quack-tastic!
You might also remember Launchpad, Darkwing Duck's trusty sidekick, and his daughter, Groslyn, helping our hero fight off the evil villains of St. Canard. (Possible group costume alert!) While we didn't dig into the full group look, we did think all the 90s-nostalgia-loving ladies out there might also appreciate an option.
We made this female version super simply! Using most of the same products in the men's version (minus the paper buttons) we added the feather boa as a scarf and added a purple dress underneath for some extra coverage. We casually tied what was used as the scarf in the men's version around the waist, giving emphasis to the hips. Instead of duck flippers, our model wore these orange go-go boots instead.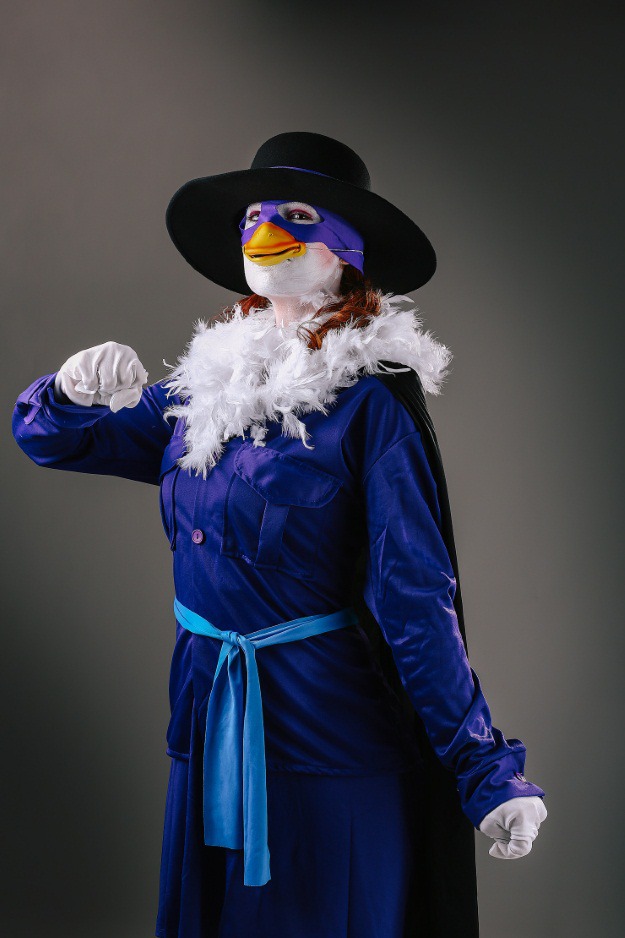 A different take on a "flapper" costume.

Do you remember watching Darkwing Duck as a kid? Do you have a favorite episode? Let us know in the comments below! This DIY costume is sure to have people reciting their favorite quotes from the cartoon. There are elements from quite a few costumes needed for this look, but we definitely think the experience will be well worth the effort!