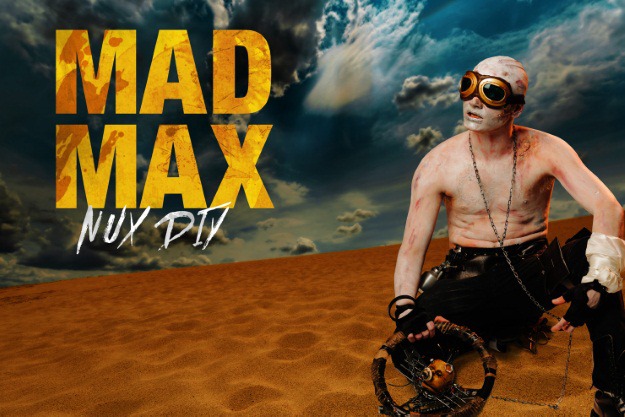 Oh, what a day. What a lovely day! The HalloweenCostumes.com office is full of Mad Max enthusiasts, so creating a Nux-inspired Halloween costume was definitely on our list of "must-DIY" this year. If you want to celebrate Halloween on the Fury Road, this costume tutorial will help you get there. We put together a total makeup look for Nux (steering wheel, tumors, and all), as well as a kid's costume, if your child wants to be a War Pup this October. And don't worry, we TOTALLY got some silver spray to make the costume so shiny and chrome. Sit back, watch our makeup tutorial video, take a look at the products we used, and you, too, can ride eternal to the gates of Valhalla. WITNESS!
Mad Max: Fury Road Nux Halloween Costume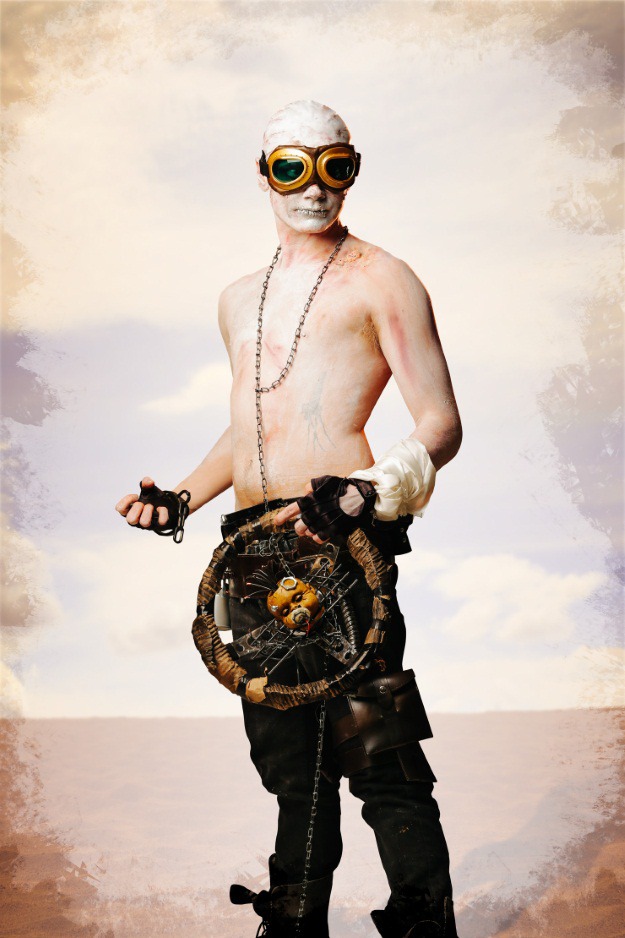 I live! I die! I live again!
For a non-mediocre costume, just remember- the more the merrier. Well, more belts and gear, that is. Not more shirts or hair. For this look, we added a few bandolier type belts, steampunk-esque pouches, and then loaded it up with tools and chains. The pants are just basic black and the boots are oversized combat boots.
Mad Max: Fury Road War Boy - Products Used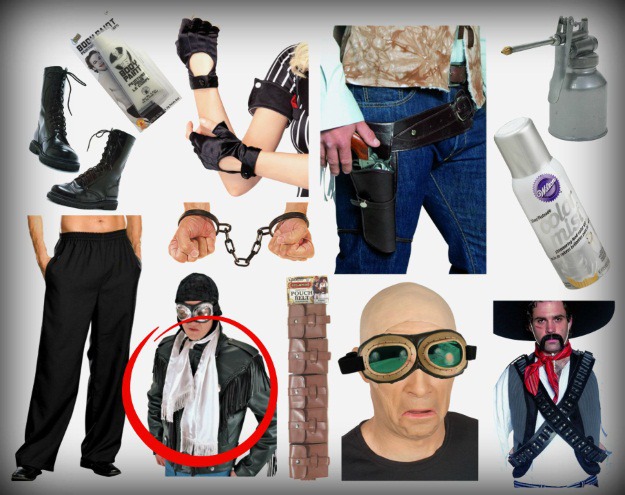 Combat Boots White Body Paint Black Fingerless Gloves
Western Gunman Belt Tin Man Oil Can Black Pants
Wrist Shackles White Scarf Steampunk Pouch Belt
Bald Cap Gold Aviator Goggles Bandolier Bullet Belt
Other items that we accessorized with were a pair of aviator goggles (for driving through the dust storm), a broken shackle (from when he gets separated from his blood bag, Max), and a white scarf, which is part of the wives' robes that he takes back to Immortan Joe. Last, but not least, don't forget this Tin Man's oil can, perfect for holding the shiny silver spray, which really got Nux geared up for a chase. Hook it to one of your belts - there has to be a free loop to hang it from somewhere!
Mad Max: Fury Road Nux Makeup Tutorial Video
Here is a sped-up time-lapse video of our artists applying this makeup to our model. Yowza! We used the products listed above, but definitely used a lot of items from this Special Effects Complete Makeup Kit by Mehron.
Mad Max: Fury Road Nux Makeup Tutorial Video Transcript
"I live, I die. I live again!"
Mad Max: Fury Road Steering Wheel Prop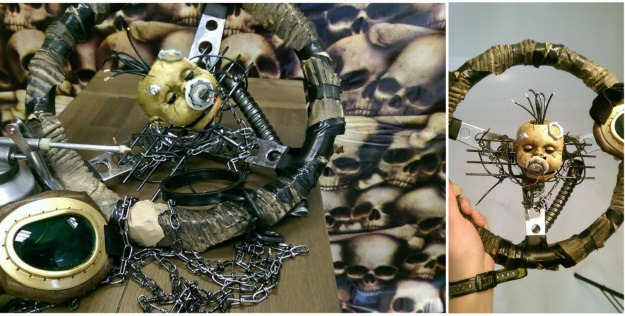 What's a black thumb without a one-of-a-kind steering wheel? Each War Boy pays homage to V8 as they take their wheel out on the Fury Road. We created this with parts we found laying out in our warehouse and an old ATV steering wheel. There's some corrugated cardboard painted black, taped on with some electrical tape. We also found some tubing, chain, and wires, and just affixed them as we went. The main piece of the wheel, though, is a creepy, cracked, doll head candle holder, glued to the center. The baby heads came with fake tea light candles, which we cut apart and glued to the mouth to add to the dirty, mechanical look.
Mad Max: Fury Road War Pup Halloween Costume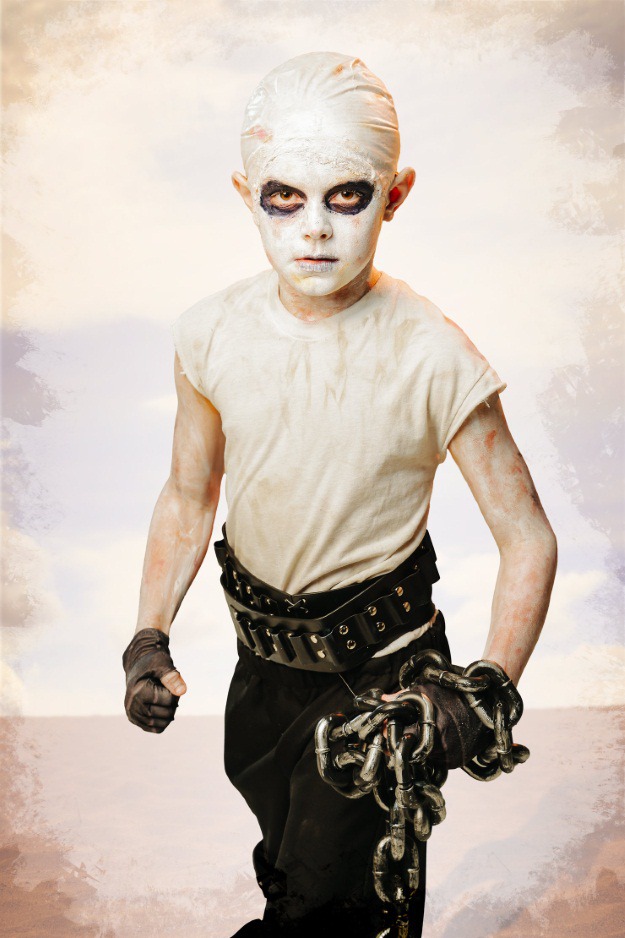 While we won't really advocate for letting your little kid watch this movie, we can't deny that there ARE children in the film! The War Pups are the little boys who stay back at the Citadel while the older War Boys go off to drive and fight. Here's how we put together this look for a Mad Max costume for a younger boy.
Mad Max: Fury Road War Pup - Products Used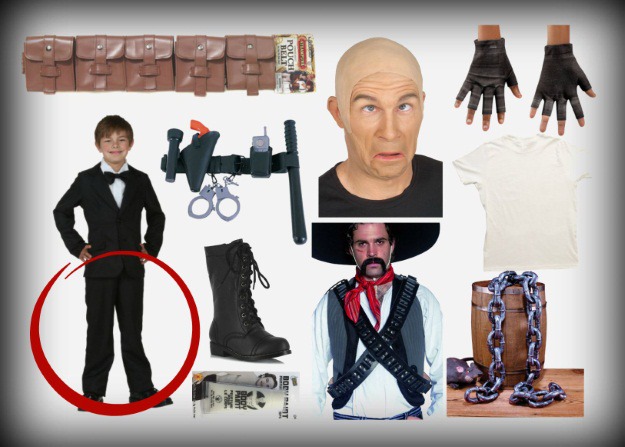 Steampunk Pouch Belt Bald Wig Cap Avengers Falcon Gloves
Child's Black Pants Kids Cop Belt White Body Paint
Kid's Military Boots Bandolier Bullet Belt Chain Link Rope
White T-Shirt
A lot of the gear used for the War Pup costume is the same as Nux - black pants, lots of belts, and combat boots. In this look, we had our model wear a sleeveless white shirt to make it school and trick-or-treating appropriate. The characters in the film are shirtless, but what's a good Halloween costume without some personalization, right?
The Completed Look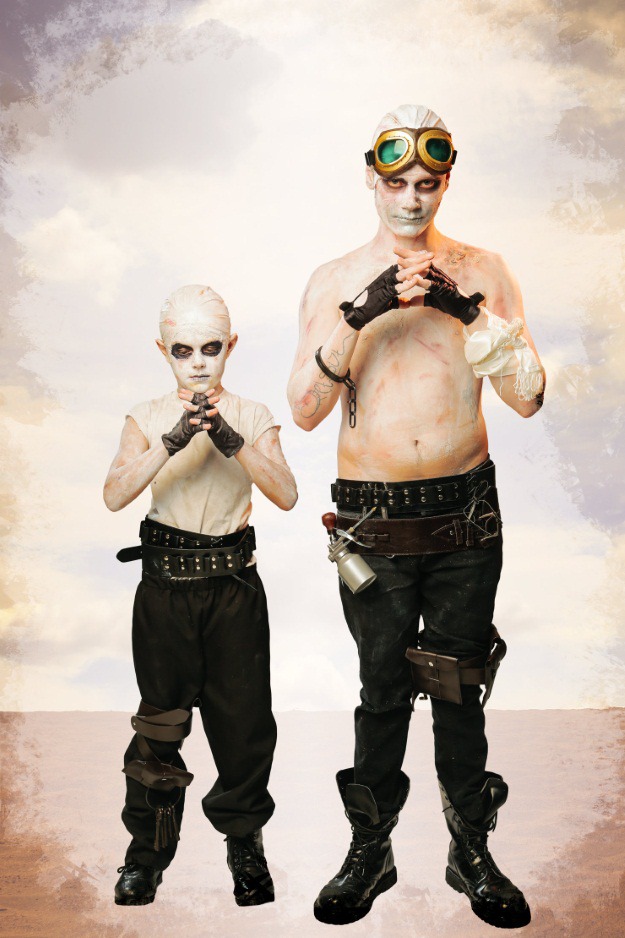 What a day! What a lovely day!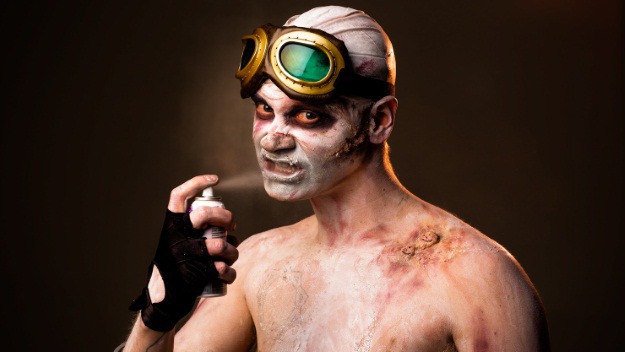 WITNESS ME!
The silver spray is the finishing touch! We found a bottle of food coloring spray from a party supply store. We do not recommend spraying it in your mouth, however, it does NOT taste good. Those War Boys are crazy. The above picture shows a great close-up of Larry and Barry, too, who are Nux's pet... tumors?
What do you think? Did we do George Miller's newest film justice? If you saw this guy driving a car towards you, would you turn around? Or would you fight back, trying to find some hope and redemption in the wasteland? Either way, if you dress as ANYONE from the Mad Max universe, show us in the comments below! We'll witness you.