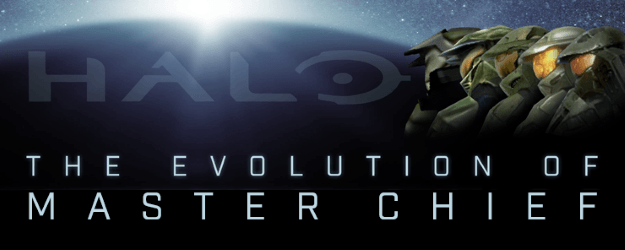 The best video games immerse the player in the action, taking them to a fantastic world of escape and entertainment. Game designers have plenty of tricks they can use to achieve this, but none are more effective than a nameless, faceless, and mostly silent narrator. Link, from the Legend of Zelda series is one example of this archetype; he is a taciturn hero that is used as an avatar to "link" the player to the game. Master Chief from the Halo franchise is one of the most popular and modern examples.
A hulking, powerful, space-marine, Master Chief is a cybernetically-enhanced supersoldier with little to no personality. This allows players to project their own selves onto this otherworldly icon of human heroism and science fiction awesomeness. The look of Master Chief has subtly evolved over the years, with his tank-like appearance being smoothed and modernized. Take a look at how this iconic, first-person avatar has changed through the years with this combat-ready infographic.
[Click infographic for a larger view]
Embed This Image On Your Site:
The Evolution of Master Chief Transcript
Master Chief of Halo will celebrate his 15th anniversary in 2016, making him one of the youngest creations considered to be a major video game icon—an exclusive club that includes Mario, Sonic, Lara Croft, and Solid Snake, among others. This feat is particularly impressive when you consider that he has only starred in five games. What makes him so recognizable?
Proto-Halo
(1998)
Bungie originally envisioned Halo as a real-time strategy game similar to their previous game Myth: The Fallen Lords. It had become a shooter by the time the first trailer was shown at Macworld in 1999. Halo was originally developed for Mac and PC, before Microsoft bought Bungie and made the game Xbox-exclusive.
Halo: Combat Evolved
(2001)
The earliest designs for Master Chief's armor used a lot of futuristic-looking curves and round shapes, but it was felt the character model wasn't masculine enough. The final armor was inspired by the look of modern tanks, with more straight edges and angular shapes. "Master Chief" is the highest enlisted rate (their word for "rank") in the U.S. Navy
Halo 2
(2004)
Master Chief's character model was given a major overhaul for the sequel. The new model was more complex, with an increased amount to detail, while the color textures were toned down in their vibrancy. The change was explained in-game as being an upgrade to the MJOLNIR Mark VI armor to replace his worn out Mark V armor.
Halo 3
(2007)
Aside from minor, subtle tweaks, the core design of the armor remained the same for the first Xbox 360 installment of the series. The green shifted in color again, but his visor was more vibrant than ever before. This was the first game in which Master Chief was called "John," a reference to the novels that named him John-117.
Halo 4 + Halo 5: Guardians
(2012 + 2015)
343 Industries took over for Bungie in 2011. In redesigning Master Chief's armor for a second trilogy, they wanted to retain the tank-like essence while also adding a bit of a jet fighter sensibility to make him look more agile. In Halo 5: Guardians, his visor was modified to be more reflective and vibrant, similar to how it looked in Halo: Combat Evolved.
Sources: The Art of Halo, Bungie.net, Halo Waypoint, Navy.mil
With the release of Halo 5: Guardians on October 27th, fans around the world are prepping their trigger fingers for the latest installment in this massively successful franchise. Beyond the traditional story-based campaign, the big draw to any Halo game is the multiplayer option, which pits you against a variety of human players from around the globe.
What are you most excited for in the new Halo game? Think there's any chance they will reveal Master Chief's face in this installment? Put yourself in the space-marine's heavy boots with one of our many Halo Halloween costumes. We have a deluxe Halo Master Chief costume for adults as well as a boys Master Chief classic costume. If you are simply looking for the helmet, grab the deluxe Halo light up helmet, available also for kids. The battle rifle is always a safe choice, but don't forget the forked foam LARP sword to take the fight up close and personal.
Design Credit: Kate Willaert