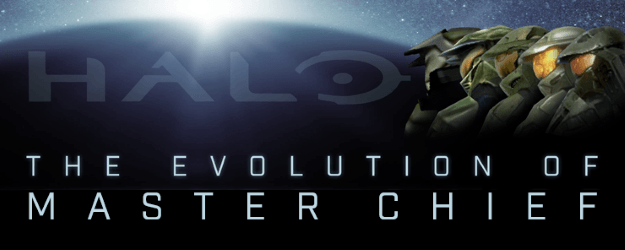 The best video games immerse the player in the action, taking them to a fantastic world of escape and entertainment. Game designers have plenty of tricks they can use to achieve this, but none are more effective than a nameless, faceless, and mostly silent narrator. Link, from the Legend of Zelda series is one example of this archetype; he is a taciturn hero that is used as an avatar to "link" the player to the game. Master Chief from the Halo franchise is one of the most popular and modern examples.
A hulking, powerful, space-marine, Master Chief is a cybernetically-enhanced supersoldier with little to no personality. This allows players to project their own selves onto this otherworldly icon of human heroism and science fiction awesomeness. The look of Master Chief has subtly evolved over the years, with his tank-like appearance being smoothed and modernized. Take a look at how this iconic, first-person avatar has changed through the years with this combat-ready infographic.
[Click infographic for a larger view]
Embed This Image On Your Site:
With the release of Halo 5: Guardians on October 27th, fans around the world are prepping their trigger fingers for the latest installment in this massively successful franchise. Beyond the traditional story-based campaign, the big draw to any Halo game is the multiplayer option, which pits you against a variety of human players from around the globe.
What are you most excited for in the new Halo game? Think there's any chance they will reveal Master Chief's face in this installment? Put yourself in the space-marine's heavy boots with one of our many Halo Halloween costumes. We have a deluxe Halo Master Chief costume for adults as well as a boys Master Chief classic costume. If you are simply looking for the helmet, grab the deluxe Halo 3 mask. The battle rifle is always a safe choice, but don't forget the forked foam LARP sword to take the fight up close and personal.
Design Credit: Kate Willaert