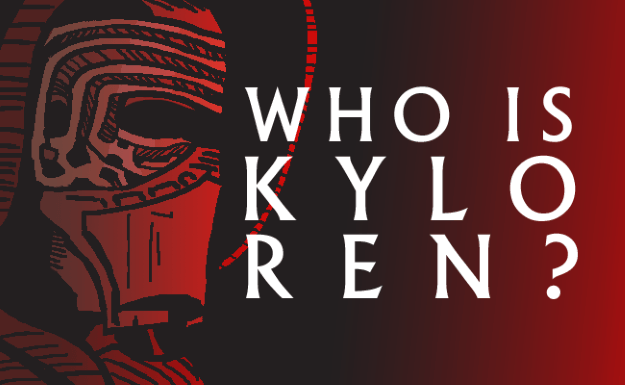 We are just a few months away from the highly anticipated release of Star Wars: The Force Awakens. There was initially some skepticism amongst Star Wars fans when news broke that LucasFilm and the entirety of the Star Wars universe was sold to the Walt Disney Company. How would the notoriously kid-friendly company handle the more mature subject matter (ignoring the Ewoks) of Star Wars? Would they dilute the franchise and create a tame, new, PG-leaning trilogy? It's safe to say any doubts super fans may have had were laid to rest in the last few months.
After the teaser trailers were released online and the behind the scenes featurette was shown at San Diego Comic Con, the fandom hype reached a fever pitch. No small part of that excitement is due to director J.J. Abrams' secrecy regarding the plot and many of the important characters. One of those key characters is Kylo Ren, who looks to be the main villain of the film. We are going to break down everything official we know so far about Ren. We will not be covering any of the rumors or spoilers, just information that has come directly from Disney, J.J. Abrams or the cast.!
His parentage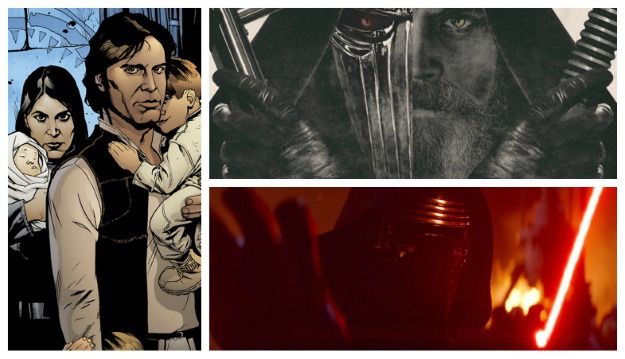 [Source: Left | Top Right | Bottom Right]

The question of Kylo Ren's parentage is one of the most important in the new Star Wars film. What makes it such a key part of the story is that it ups the emotional ante if Ren is the son of someone we know from the original trilogy. The official The Force Awakens Kylo Ren action figure from Hasbro confirms that he is Force sensitive, stating "A dark warrior strong with the Force, Kylo Ren commands First Order missions with a temper as fiery as his unconventional lightsaber." We know that Luke Skywalker is the last living Jedi at the end of Return of the Jedi, so the fact that another Force sensitive human is alive during the time period of The Force Awakens makes many think that he must be the offspring of either Luke or Leia Organa.
Characters like Ezra Bridger in the Star Wars: Rebels cartoon show that there are Force sensitive characters in the Star Wars universe, but that they generally need a Jedi to harness their skill and power. Who trained Ren? Who is pulling his strings? Is it Supreme Leader Snoke, the motion caption character being played by Andy Serkis? We will have to wait and see if these questions are answered in The Force Awakens, or in subsequent episodes of the trilogy.
His name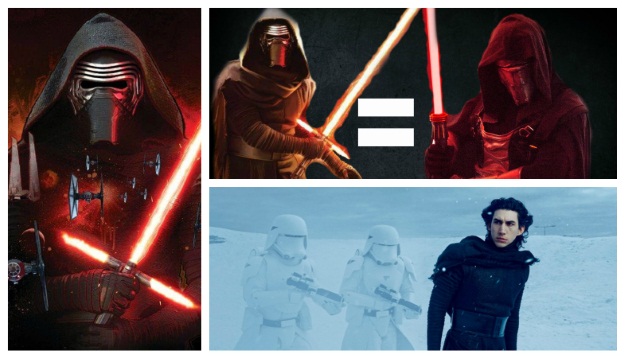 [Source: Left | Top Right | Bottom Right]

Immediately after being announced, fans made the connection between the name "Kylo Ren" and the name of one of the most beloved characters from the extended, Star Wars Legends universe, "Darth Revan." Revan is a playable character in the Star Wars: Knights of the Old Republic video game. The name similarity seems to be just a coincidence, with Abrams recently clarifying that Kylo Ren is not even his real name: "He is a character who came to the name Kylo Ren when he joined a group called the Knights of Ren." What Abrams' comment means, if anything, is that this opens the door wide on more fan-theories that Ren is actually a Solo or a Skywalker, and that like Anakin Skywalker, when he turned to the dark side, he was given a powerful and imposing new title.
His Lightsaber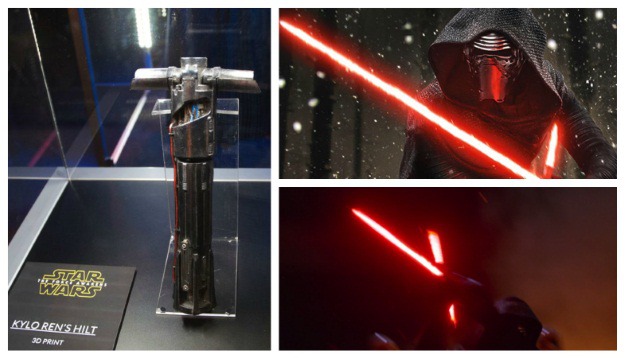 [Source: Left | Top Right | Bottom Right]

The first image we saw of Kylo Ren was the shadowy figure seemingly stalking someone through a dark forest, stopping in his tracks, and igniting a strange, three-pronged lightsaber. What has become known as the crossguard lightsaber, this unique weapon seems to be the key to understanding who Ren is, or at least, what type of personality he may possess. In a recent Entertainment Weekly story, an image of Ren featured a caption about "his homemade lightsaber." Abrams also confirmed the lightsaber is "something that he built himself, and is as dangerous and as fierce and as ragged as the character." The fact that Ren built the lightsaber himself says a lot. And the fact that the saber does not seem to be as high quality as those built by Luke Skywalker and Obi-Wan Kenobi, suggests he may not be far along in his training, or he has not even received any formal training.
A 3D print model of the lightsaber was on display at the most recent San Diego Comic-Con. The title of the display was "Kylo Ren's hilt" and inside the case was an obviously amateur and cobbled together lightsaber - not nearly as elegant and smooth as the ones we have previously seen in the Star Wars films. It seems that Ren may be more of a Jedi fanboy than an actual Jedi.
His Appearance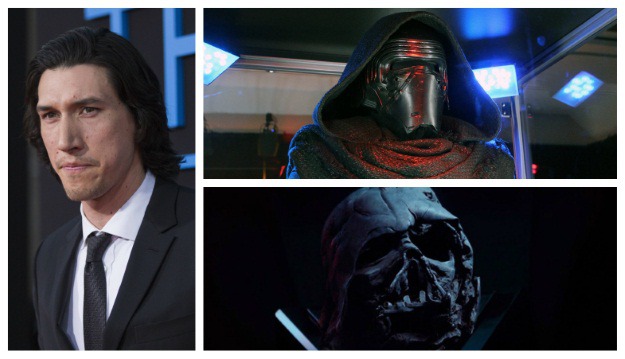 [Source: Left | Top Right | Bottom Right]

The Darth Revan theorists, who despite the evidence to the contrary still hold tight to the idea that Ren is Revan, often point to the helmet as their most solid lead. Abrams seems keen to cut his own path into the world of Star Wars, so it's unlikely he would grab a fully formed character from outside canon. On the other hand, Abrams and his designers took inspiration from Revan's mask as well as the classic Darth Vader helmet. He went so far as to confirm the Vader homage in his interview with Entertainment Weekly: "The movie explains the origins of the mask and where it's from, but the design was meant to be a nod to the Vader mask."
Why he wears that mask is still a mystery but if he is the face of the First Order, it's likely it is used to instill fear and intimidation. We have seen a picture of Ren without his mask on and it is obvious he does not need it for any sort of life-support or because of a disfiguration. Vader needed a mask to breath, but did it have to look so frightening? Of course not, but it helped him do his job as well as stay alive.
Kylo Ren Costumes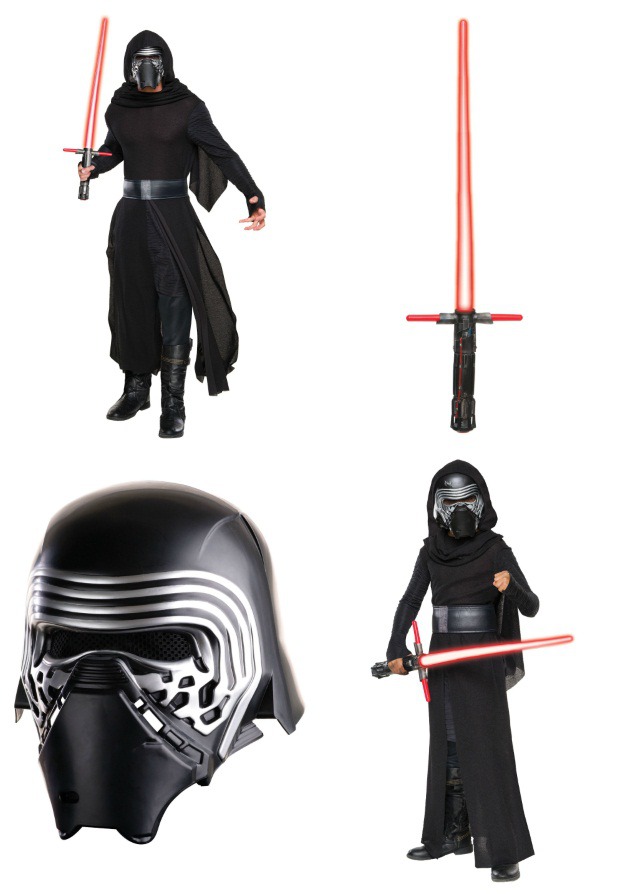 Adult Deluxe Kylo Ren Costume - Shop Kylo Ren Lightsaber Accessory - Shop
Deluxe Kylo Ren Helmet - Shop Child Deluxe Kyle Ren Costume - Shop
It may not seem like a lot of information, but the last months have frankly seemed like a deluge compared to where we were six to eight months ago. We have actors tied to character names, motives slowly starting to reveal themselves, and more information on the state of the Star Wars galaxy some 30 years after Return of the Jedi. In many ways it seems as if everything, and nothing, has changed. It will be compelling to see how Kylo Ren figures into this universe, a character who grew up hearing the tales of Luke Skywalker, Darth Vader, Princess Leia, and Han Solo. Who did he idolize? Who did he despise? What was his childhood like? We turn again to Abrams' illuminating interview where he says, "Kylo Ren is not your prototypical moustache-twirling bad guy. He is a little bit more complex than that…."
One thing IS for sure about the mysterious Kylo Ren, though - he'd make for one killer Halloween costume! To view our entire selection of Kylo Ren costumes and accessories, as well as our additional Force Awakens offerings, CLICK HERE!